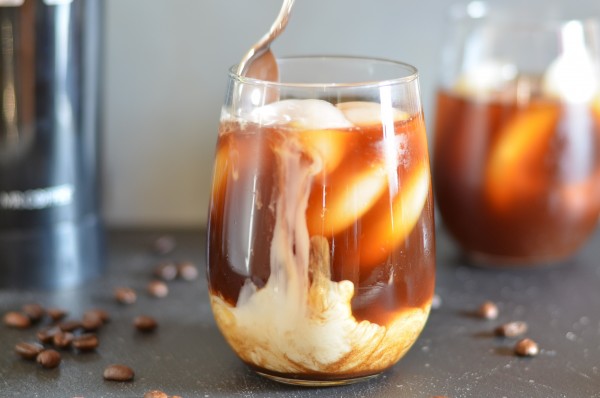 For having coffee as one of its namesakes, this little blog sure lacks anything coffee-related.
It's with good reason: I love coffee (love love love), but my coffee consumption is very boring.
Here's the routine: Nate and I split a pot of French press in the morning before work – Starbucks Caffe Verona or Italian Roast. And then…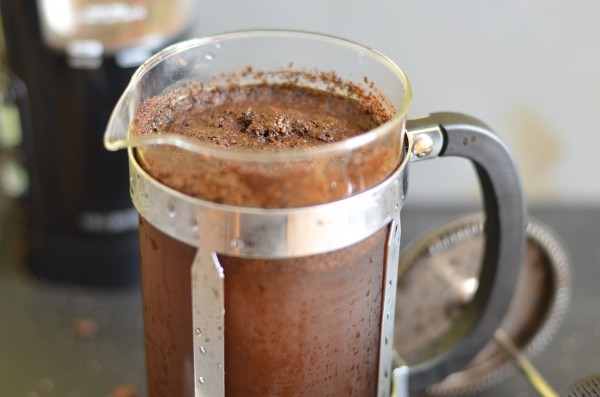 That's just about it.
Well, I put milk in it (usually almond). But that's really it.
If I have more than my one cup, my caffeine-to-food ratio is thrown off and I find myself desperate to eat something in order to stop shaking. Very unpleasant when you're stuck behind a desk! I also have trouble sleeping deeply if I over-caffeinated the morning before. I reserve that second cup for special occasions/emergencies: weekend brunches where my caffeine-to-food intake is skewed in the opposite direction (special occasion), nights when I'd rather sleep than go out but find myself getting ready for the bar anyway (emergency), and workdays – usually Fridays or Mondays – when I'm feeling especially unenthusiastic about leaving the house (another emergency).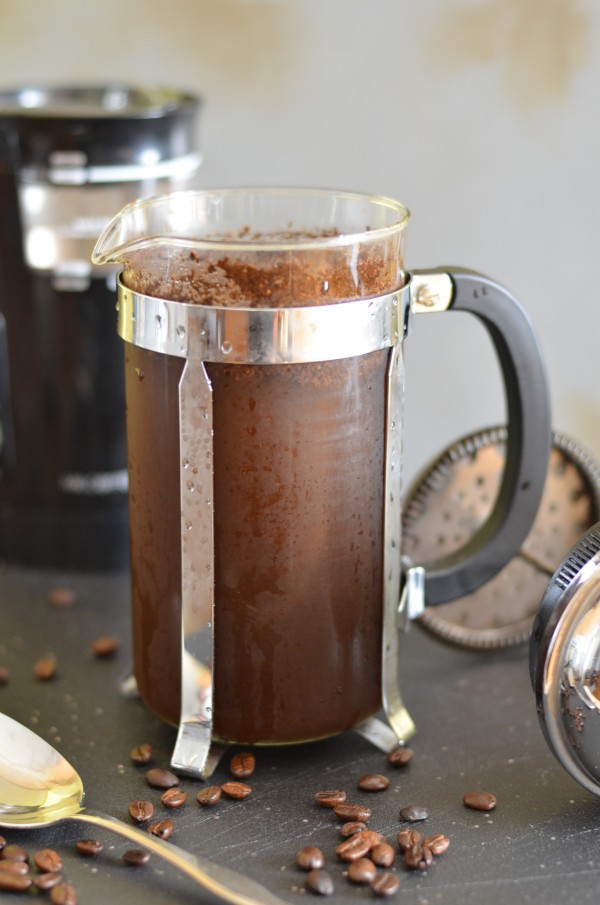 That's fine all winter, but when the warm weather hits, I start craving iced coffee, no matter the consequences to my poor caffeine-sensitive body. Iced coffee is so perfectly cold and caffeinated, and somehow it always seems OK to slip just a little more milk into it than usual… Starbucks iced coffee runs are definitely an afternoon highlight when they happen. And it's always Starbucks, because all iced coffee I've tried to make in the past has been terrible.
Until!!! very recently. Cold brewed iced coffee recipes have been floating around the blog- and pin-osphere lately, and I found myself wanting to give it another shot. Playing around with the recipe, and some coffee beans Nate recently brought back from Peru, I discovered a few secrets to make my perfect homemade cup of iced coffee. I didn't intend to share it here, because come on, I'm way past like the thousandth person to post this… but then I had a sip, got WAY too excited, and started shooting photos immediately.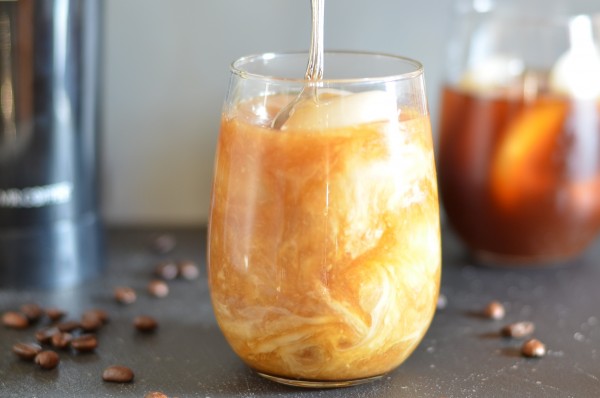 (It was my first time playing around with the self-timer… making a mess was obviously inevitable.)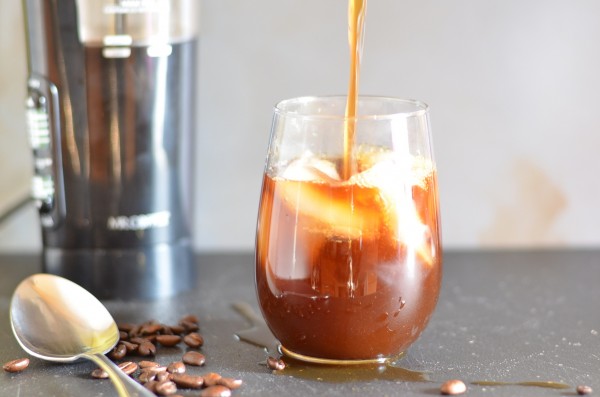 After all that, here are my recently discovered tips for cold brewing success:
1. Use a lighter roast than you like for your hot coffee. This one's important. I am a huge dark roast snob when it comes to hot coffee – I love Starbucks bold roasts – but I've found that when I use them for iced coffee, even cold-brewed, it tastes burnt. Like, pour-it-straight-down-the-drain terrible. The Peruvian beans Nate brought home, on the other hand, although they made a very mediocre, blah, bland cup of hot coffee, were delicious in the cold-brewed iced coffee! Stick to light or medium roasts when it comes to cold brew, since the dark, caramelized notes in bold roasts don't do well in iced coffee.
2. Use a French press. I've followed recipes in the past that called for buckets, strainers, plastic pitchers, gallons of water, and paper filters. I didn't have success until I used the French press. That also means making a smaller batch than you could with a bucket and a few gallons of water, but hey – just remember to make it the night beforehand, and you're set. Here is the French press I use.
3. Make your coffee strong. This is probably the reason the French press works so well. There's nothing more disappointing than a watery cup of iced coffee, especially once you add the ice. I like my coffee strong anyway, but even I was kind of alarmed at the volume of coffee grounds I was about to use for just 2 glasses of iced coffee. Don't let it scare you away! It's much easier to add more ice, milk, or even a splash of cold water to a too-strong cup of iced coffee than to try to strengthen a weak cup.
4. Add some treats! My hot coffee must be unflavored and unsweetened, but iced coffee is a different story! The milkier and sweeter the better. (Within limits – I still remember my utter mortification in high school upon being sent to Dunkin' Donuts to order my boss an iced coffee with 3 creams and 7 sugars  – "it's for my boss, I swear!" Ugh.) My mom taught me how to make Thai iced coffee, which is iced coffee with sweetened condensed milk. Even she, who takes her coffee black, enjoys Thai iced coffee. So chances are, even if it's not your preference for hot coffee, you'll still enjoy a slightly sweet cup o' joe on ice.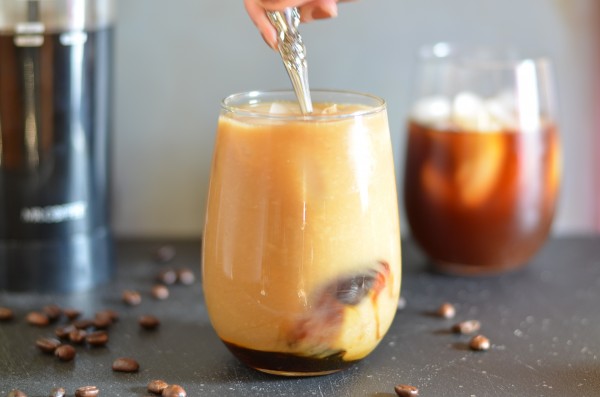 Aaaand that's why I've created cold brew maple almond iced coffee for you! It's a lightly sweetened, lightly flavored iced coffee that will become your new fave.
I'm not sure how my high school boss would feel about this drink, but let me tell you that it satisfies my caffeine craving and sweet tooth all in one. It's the perfect pick-me-up treat, which is exactly what I want from an iced coffee run. The coffee is cold brewed overnight in a French press, then pressed and mixed with unsweetened almond milk, a little spoonful of maple syrup, and a pinch of sea salt. If that sounds unusual to you.. give it a try! It's dark-roast-snob recommended. :)
You can treat the measurements below for almond milk, maple syrup, and sea salt as starting points. You may prefer to add a bit (or a lot) more of each! I went overboard on all 3 while taking these photos (the self-timer was just too much fun!) and the result was pretty darn delicious.
In related news, now I know why I never share anything coffee-related with you. I wrote this post in a caffeine-induced delirium and had crazy dreams that night. When it comes to recipe posts, I guess it's either that or a food coma!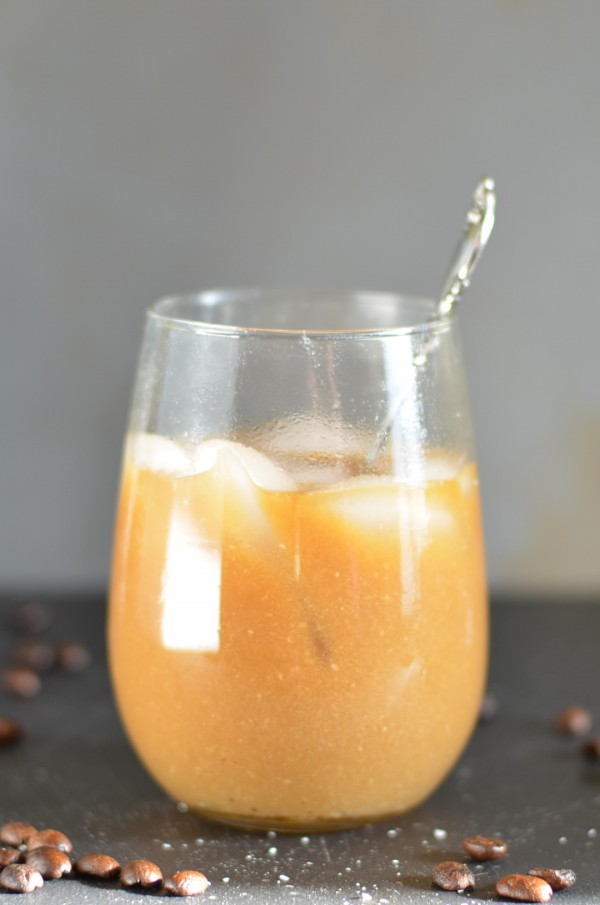 Cold-Brewed Maple Almond Iced Coffee
Ingredients
1 cup whole coffee beans (a lighter roast than you use for hot coffee)
cold water
1/2 cup or more plain unsweetened almond milk
2 Tbsp maple syrup
pinch of sea salt
Special equipment:
Instructions
Grind coffee beans so that they are coarse enough not to filter through the French press, but fine enough to make a strong brew. (This is the medium setting on my Mr. Coffee grinder.) You can also get the beans pre-ground for a French press, just use a scant cup of grounds.
Pour ground coffee beans into the French press. Fill to line with cold water and stir until thoroughly combined.
Keeping the press in the upright position (not pressed yet!), carefully place in fridge. Let "brew" overnight, 10-12 hours.
In the morning, press the coffee and pour into 2 glasses or a separate pitcher. (Make sure you pour the coffee once you press it; leaving it sitting over the grounds will make it extremely bitter.) Divide almond milk and maple syrup between two glasses (or add all to the pitcher), and stir together with a pinch of sea salt. Add ice if desired.
Serve cold! Cold-brewed coffee will keep for up to a week in the fridge. I recommend adding the milk, syrup and salt just before serving.