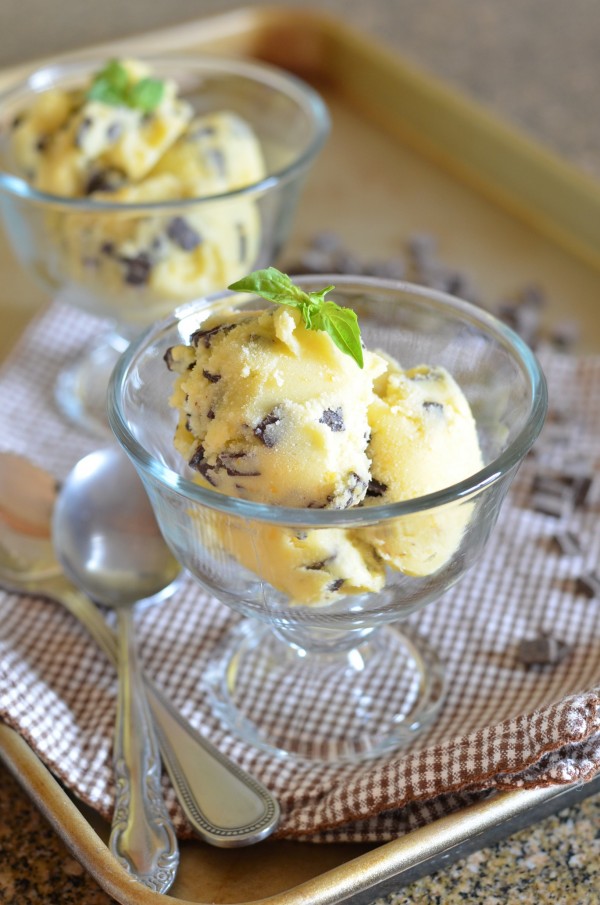 Just take a look at this pretty little concoction I have for you today.
The more I think about ice cream, the more I remember the flavors I enjoyed as a kid. And this is just such a flavor: Swiss orange sherbet.
Edy's Swiss Orange Sherbet was one of my childhood favorites, and was in constant supply at my aunt and uncle's (hi Aunt Liz!). Did you ever try it? (The brand is Edy's on the East Coast, and Dryer's on the West Coast.) When it popped into my head a few weeks ago, I knew I had to recreate it for you. I was surprised to learn, when I started researching it, that Nastle has retired the flavor! So sad – it's so easy to assume that everything from your childhood will stay the same forever.
In any case, I'm sorry if you missed out on the storebought version. It really was quite good. But I guess that's just another reason that we should all start making it at home.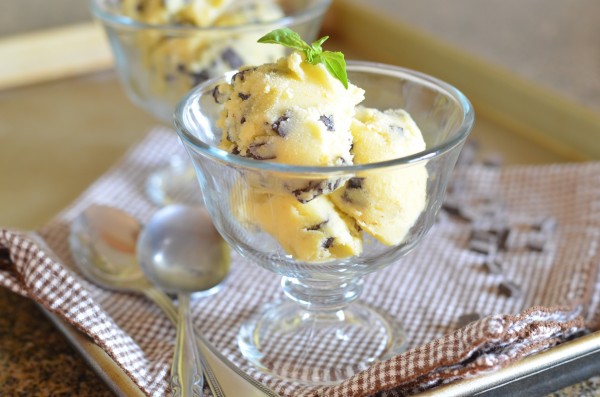 Now just what makes this orange sherbet Swiss, you ask? And how on earth do you pronounce sherbet? Well, while I can't really advise you on correct pronunciation (sherbert? sherbit? sherbeyyyy?), I will happily explain the Swiss part: it's because of those chocolate chunks! Can we just call everything Swiss and put chocolate in it? Swiss oatmeal. Swiss coffee. Swiss salads. I could get behind this, and I have a feeling the folks at Nestle could, too.
If you like the orange/chocolate combination, you will go crazy for this light, fresh-tasting orange sherbet studded with chocolate chunks. It involves no eggs, and nothing heavier than some whole milk and sugar. It's quick to whip up, as ice creams go, with no fancy ingredients. And even if you don't like fruit + chocolate together – I'm not big on orange chocolate stuff myself – you'll be very surprised. If my 8-year-old self liked it, you can bet it appeals to a wide range of taste buds.
I say we keep the Swiss orange flavor alive! Alive and well in our tummies forever.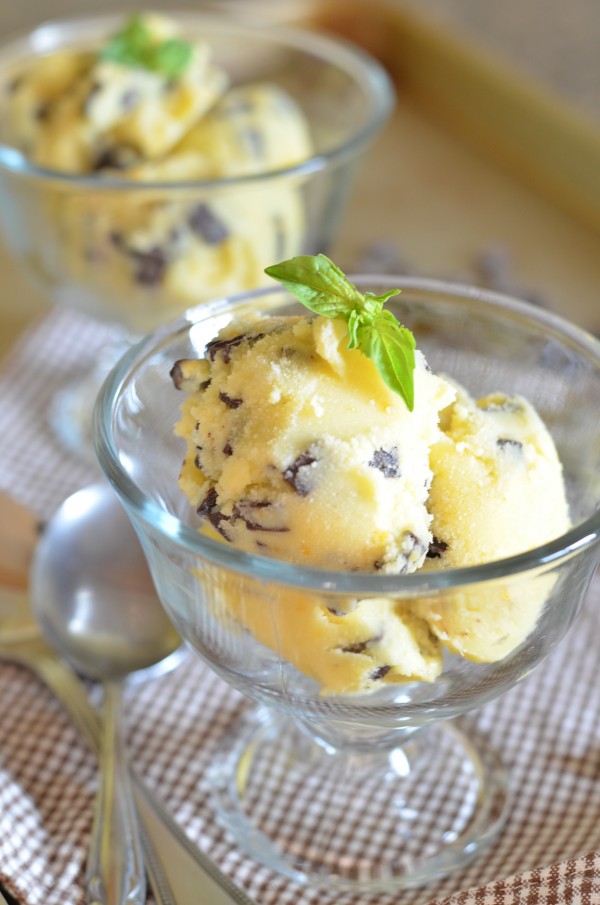 Copycat Swiss Orange Sherbet
Ingredients
2 Tbsp finely grated orange zest
2 cups fresh-squeezed orange juice (from about 3 lbs oranges)
1 Tbsp fresh-squeezed lemon juice
1/2 cup sugar
1 tsp vanilla extract
1/4 tsp kosher salt
1 1/2 cups whole milk
1 cup mini chocolate chunks or chips
Instructions
In a food processor or blender, puree orange zest, orange juice, lemon juice, sugar, vanilla, and salt until sugar is dissolved, about a minute. Pour into a bowl and stir in the milk. Refrigerate until very cold, 1-2 hours.
Churn in your ice cream maker according to manufacturer instructions. (This took about 20 minutes in mine.)
Stop ice cream maker and scoop sherbet into a separate container. Stir in the chocolate chips. Freeze until hardened, about 2 hours.
If freezing longer than 2 hours, set out at room temperature for 5-10 minutes before serving.
Enjoy!