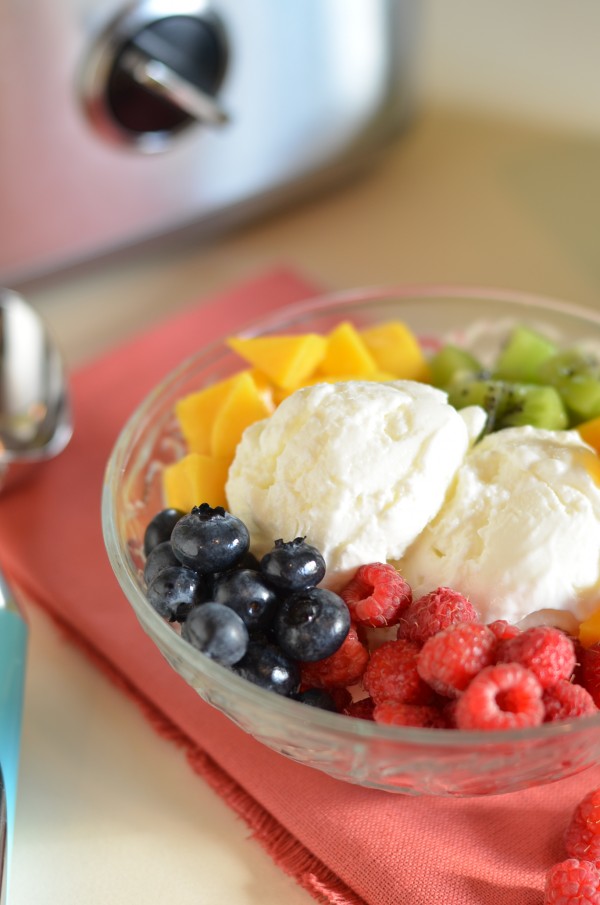 I've been eating fresh fruit like it's going out of style lately.
Berries alllll the time. I wasn't joking on Monday when I told you we'd eaten more than 2 pounds of blueberries over the course of a week. And by "we" I mean… mostly me. Blueberries for breakfast, lunch, and dinner. And snack. And another snack. And dessert.
You get the picture.
So naturally, I had to make sure I could work fresh fruit into this week's ice cream. The perfect solution? Pinkberry frozen yogurt!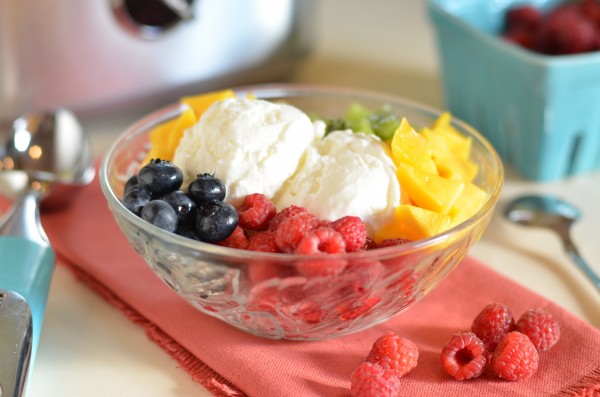 Are you familiar with Pinkberry? It's a popular frozen yogurt chain featuring tart-tasting yogurt and lots of yummy toppings, like fresh fruit. There are many similar yogurt shops and chains that have sprouted up around the country; I've heard that Red Mango is similar. And while I will generally pass on frozen yogurt, I make a serious exception for Pinkberry.
Pinkberry is different because of that tart taste. It's not trying to be ice cream – it really tastes like you took some yogurt and stuck it in your freezer. So… guess what I decided to do?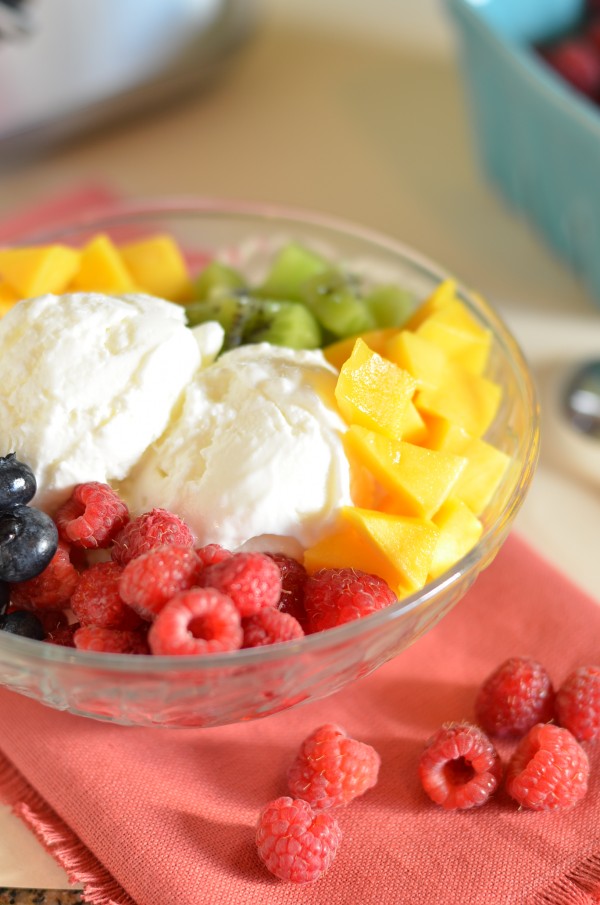 Oh yes.
This is a homemade version of Pinkberry's "original" flavor – no vanilla or other flavorings in the ice cream. Just Greek yogurt, milk, sugar, and a little lemon juice to replicate that tart taste.
I made several versions of this, and couldn't believe the results: the versions with low-fat or non-fat yogurt tasted the best (and by best I mean that they most closely resembled Pinkberry). I started out by making a full-fat version with whole-milk yogurt and cream, and while it was delicious, it tasted nothing like the Pinkberry in my memory. Using reduced-fat or non-fat Greek yogurt and milk, on the other hand, came very close to that perfect Pinkberry flavor and texture I was going for.
So it made sense when I learned that Pinkberry actually makes their frozen yogurt with non-fat yogurt and skim milk. Surprise! A chain that actually sells a healthy snack. Who knew?! Although I shouldn't speak too soon – here is the ingredient list in Pinkberry's original frozen yogurt:
Nonfat milk, sugar, cultured pasteurized nonfat milk with live and active cultures, contains less than 2%: cultured nonfat milk powder, fructose, dextrose, natural and artificial flavors, citric acid, guar gum, maltodextrin, mono- and diglycerides, lactoglycerides, propylene glycol esters, rice starch, and silicon dioxide (for anticaking). [source: The LA Times]
And here is the ingredient list in my homemade Pinkberry frozen yogurt (made with Fage yogurt and Simple Truth Organic milk):
Grade A pasteurized milk and cream with live active yogurt cultures, organic skim milk with vitamin A palmitate and vitamin D3, sugar, lemon juice.
Which one would you rather have?
Cheers to the weekend and a healthy frozen treat to get it off on the right foot!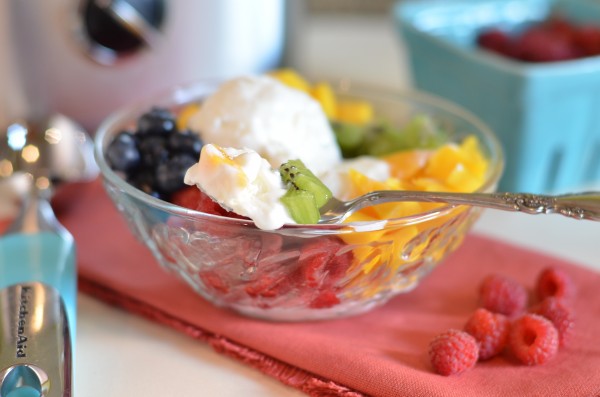 Homemade Pinkberry Frozen Yogurt
Ingredients
For the frozen yogurt:
3 cups non-fat or reduced-fat Greek yogurt (I used Fage)
1 cup skim milk
1/3 cup sugar
2 Tbsp lemon juice (from 1/2 a lemon)
For serving:
assorted chopped fresh fruit (or your favorite froyo toppings)
Special equipment:
Instructions
Freeze the bowl of your ice cream maker according to manufacturer instructions.
Whisk all frozen yogurt ingredients together in a large bowl. Pour into the bowl of your ice cream maker and churn until frozen. (This takes about 15 minutes in mine.)
Scoop immediately for soft-serve (delicious!) or store in a covered container in the freezer. My preference is to place in the freezer for 30-60 minutes before serving to harden the yogurt up just a bit and ensure that it doesn't melt immediately. Top with fresh fruit and enjoy!