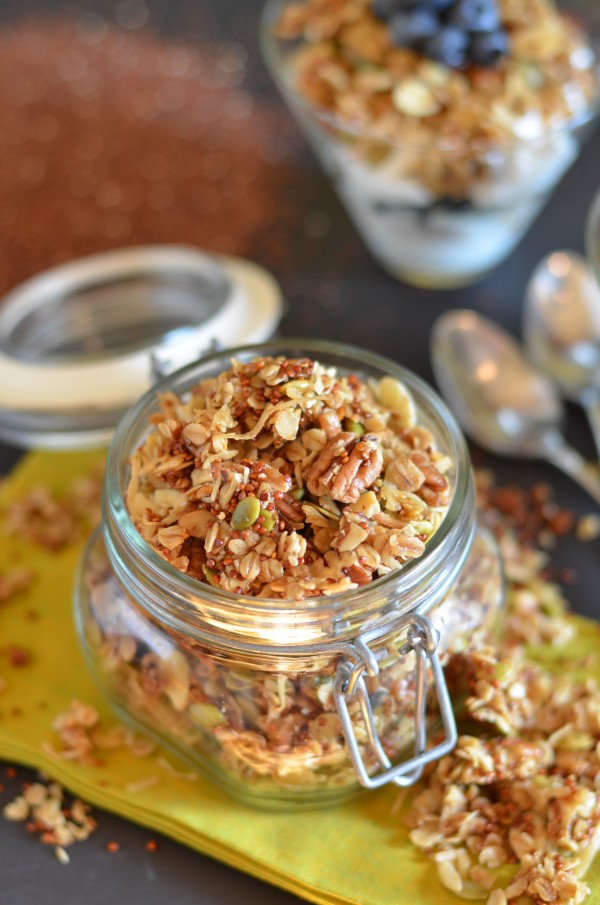 So Nate and I did something a little crazy last week.
And no, we didn't eat half a batch of granola in the course of 24 hours. (That was the weekend before.) But we did sign a lease on a new apartment!
Eek.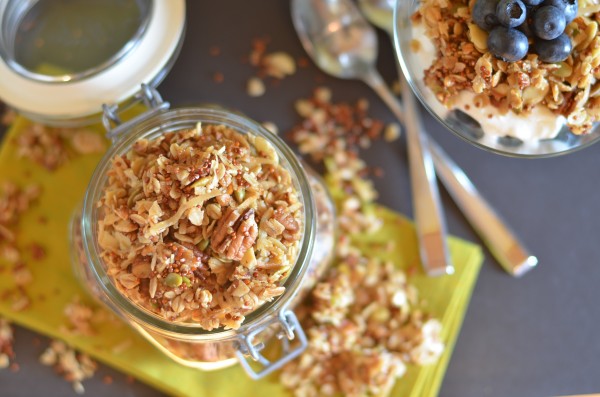 We were planning on staying in our current apartment for another year, partly because it's pretty nice and partly because we're lazy, when our lease is up at the end of this week. I've been meaning to email our landlords to tell them so for months, but somehow I hadn't gotten around to it yet. And then out of nowhere we found ourselves at an open house one night last week, falling in love with a gorgeous remodeled apartment in a big old Victorian house in our neighborhood. You guys… it is so pretty. High ceilings, beautiful crown molding, subway tile, two bathrooms… and the kitchen? I would think I was in heaven if I hadn't just written a check for the security deposit.
Somehow we were able to get out of our lease on 9 days notice, extend it a few days until our new landlord puts the finishing touches on the renovation (like installing a new washer and dryer in our unit! pinch me!), and are planning on moving next week. Such a whirlwind!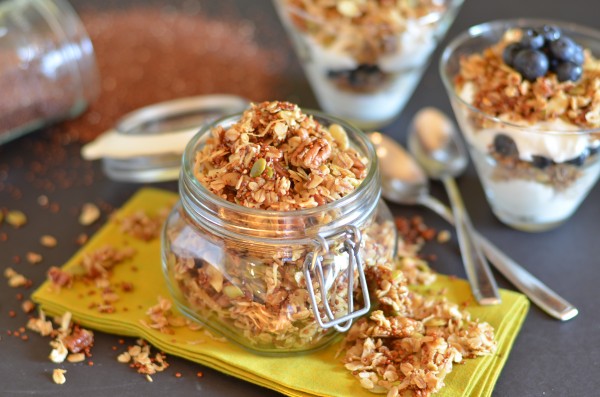 We have two weekends in between when we decided to move and the actual move date, so hopefully that gives us plenty of time to pack up. In addition to starting on the packing and cleaning out this weekend, I did get some cooking done, so I hope to continue sharing recipes with you throughout our move! And then we're gone for the three weekends after that… so we'll see how far I can stretch these recipe posts, ha.
It's amazing not only how much stuff I've managed to accumulate during two years in our current apartment, but the kinds of things that made the cut on my last move. Do you think it's finally time I got rid of my college German textbooks? Or do you think I'll be wanting to sit down and enjoy some Ernst Toller and Hugo von Hofmannsthal in the near future? I can't believe I hauled those things across the country. Toller and von Hoffmansthal, this time I'm saying goodbye to you.
In any case, you know what makes for a great snack in between boxing up books and transferring your electric service? Granola!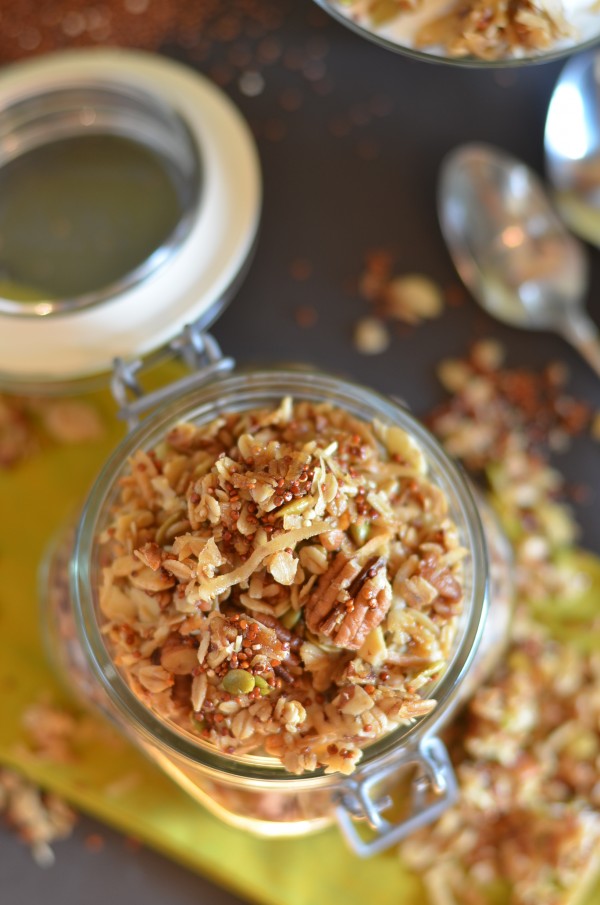 Granola is a delicious high-energy snack, not to mention breakfast or dessert. And to make it even better, this granola is healthied up with… quinoa! That's right, I put quinoa in your granola.
Now if you think putting quinoa in granola is the weirdest idea ever, I'm right there with you, sister. What makes it even weirder is that this quinoa is uncooked. Just raw quinoa mixed in and baked with the rest of the granola! I was skeptical the first time I made this, but I quickly became a believer: the uncooked quinoa isn't hard like you might expect. It's actually quite edible and adds a nice crunchy texture to the granola, quite unlike anything else I've ever added to it. It's awesome! I guess it makes sense, because quinoa is a seed, and you would totally add other types of seeds to your granola without thinking twice. Hmm. So don't think twice, just do it!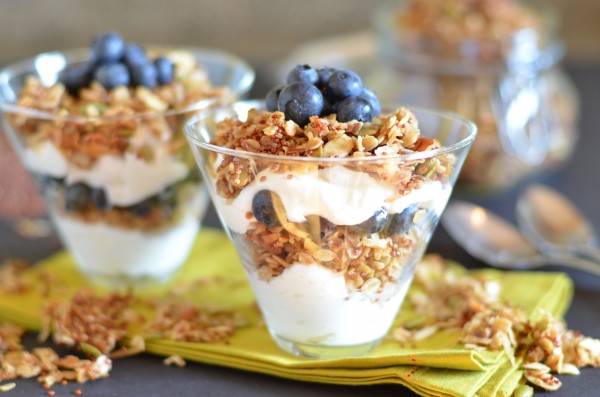 I often forget how much I love granola, and it's all downhill as soon as I remember. The best/worst thing about this stuff is that you can cover up your snacking so easily. Sneak a spoonful before you put it in the oven? No one will know. Grab a few pecans from around the edges while it's cooling? No big deal. Then all the sudden you get carried away, and have to break up the chunks and spread it all around a bit to hide the fact that you just ate a quarter of the pan. Not that you would do that or anything!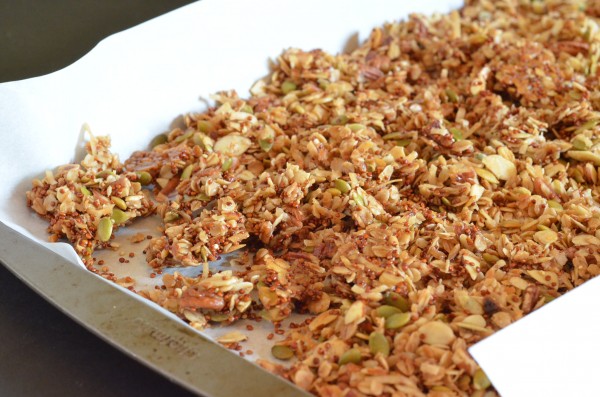 After baking, you press this granola down with the back of a spoon to help stick it together a bit more and form those big granola clumps we all love. You end up with a combination of big chunks and smaller pieces, perfect for picking at. And burning your fingers. And spreading the granola out to hide the bare spots. And then picking some more.
This quinoa granola is unbelievably delicious, especially given the fact that it's vegan and stuffed with healthy things like quinoa and oats. I'm not saying the end result is healthy, but you know, you gotta live on the edge sometimes. You end up with a granola that's sweet and nutty and maple-y and perfectly crunchy. It is so addictive with that yummy quinoa crunch! My favorite way to eat it is by the handful/spoonful right out of the jar. But I can also vouch for the fact that it's delicious with milk, or with yogurt and berries. (And I think it's especially pretty that way!)
Break off a clump and dig in!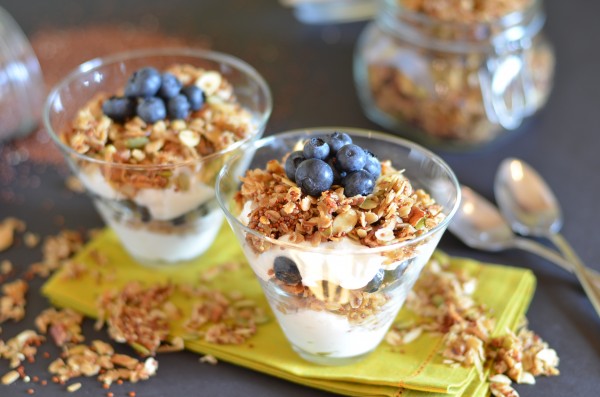 Quinoa Crunch Granola (Vegan)
Yields:
about 6 1/2 cups granola
Ingredients
2 cups old-fashioned rolled oats
3/4 cup uncooked quinoa (I used red quinoa)
1 cup pecans, roughly chopped
1 cup sliced almonds
1/2 cup pepitas (raw pumpkin seeds)
1 cup sweetened shredded coconut
1/4 tsp cinnamon
1/2 tsp kosher salt
2/3 cup maple syrup
1/2 cup coconut oil
1 tsp vanilla
Instructions
Preheat oven to 325 and line a baking sheet with parchment paper.
In a large bowl, mix together dry ingredients (oats through salt). Pour in maple syrup, coconut oil and vanilla and stir until well-combined.
Spread mixture on baking sheet and bake until golden-brown, 30-35 minutes, stirring once or twice.
Remove from oven. Using the back of a spoon, press mixture down into pan. (This helps form clumps).
Let cool completely before breaking into chunks. Store in an air-tight container at room temperature. Will keep for a week plus.