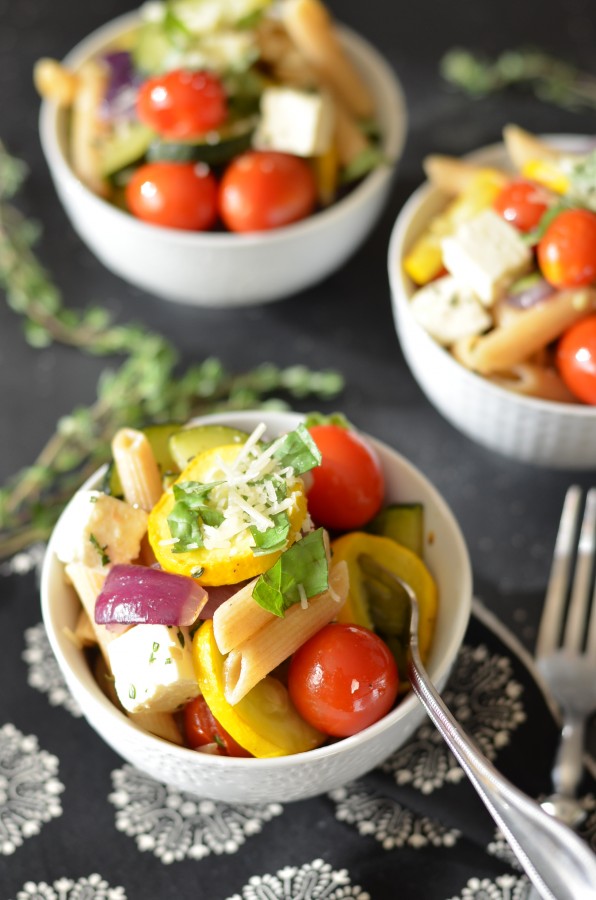 I am happy to report that I'm not yet sick of summer squash.
That might have something to do with being in a squash-free zone (a.k.a. beach vacation) all of last week. Or it might be because my CSA kindly rations the squash, giving me only 2 or 3 each week, which is quite manageable. All you people with green thumbs who harvest tons and tons of summer squash at once… I don't know how you do it. It's no wonder my grandma talks of leaving bags of zucchini on unsuspecting neighbors' porches during the summer time. Hah!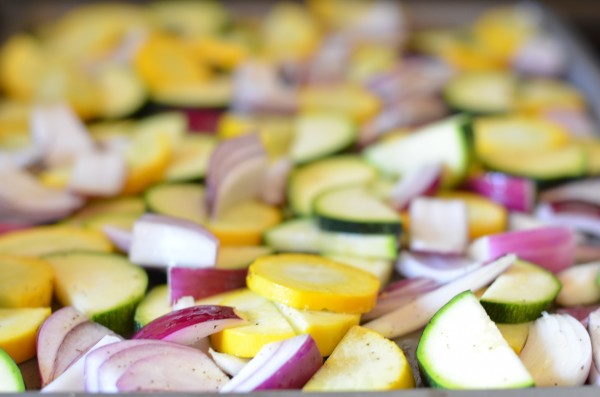 But me, I'm still quite enthusiastic about summer squash, especially roasted up with some other tasty veggies and tossed with pasta, cheese and herbs. Mmmmmm. If I were a zucchini, this is how I'd want to go.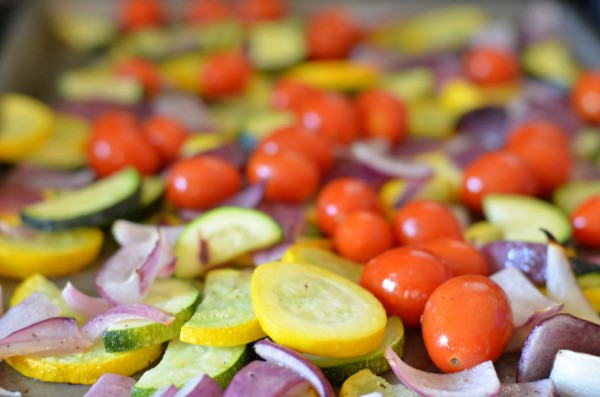 This is such a simple meal, but there are so many great flavors that you'll keep going back for more. Oh man is it tasty! I snitched some out of Nate's bowl as he was eating the leftovers the other night, and it was even better than I remembered. I promptly regretted my generosity with the leftovers!
As an added bonus, it will be on your table in less than half an hour, so that you can enjoy the rest of your summer evening. Pretty ideal if I say so myself!
I do have to admit that I forgot to include one of the key ingredients in this dish in the photos – nuts! No, like, I left out the pine nuts. They were sitting on top of my toaster oven as I took these photographs, and I had a little facepalm moment when I spotted them after packing up my camera and rapidly eating much of what you see here. When the food is done cooking, I go into panic mode and often forget any remaining ingredients that need to be added, never mind the garnishes I had planned. Then I find them on the counter later. Sigh.
Anyway, all that is to say that the toasted pine nuts are absolutely delicious in here (or almond slivers work too!), and I highly recommend actually adding them to your meal rather than leaving them sitting on the toaster.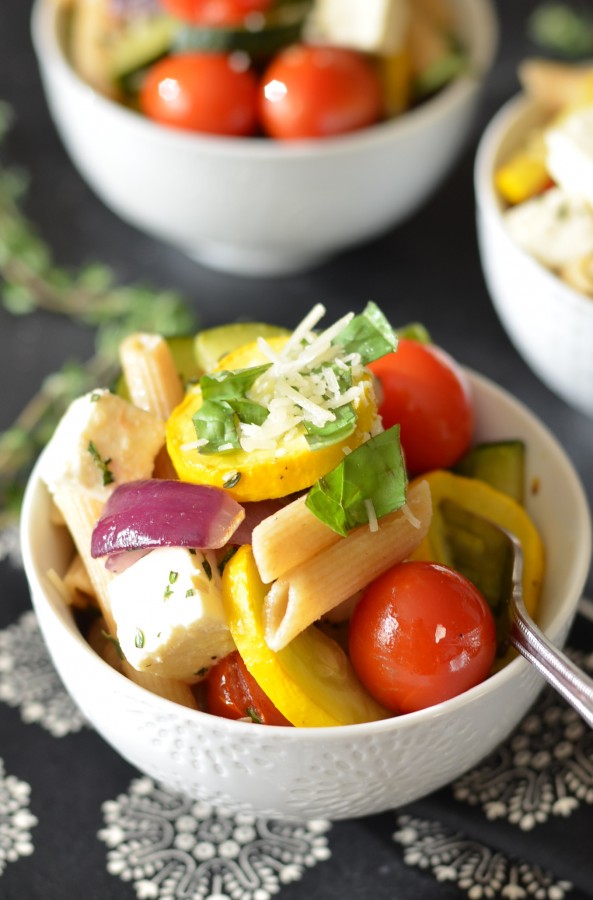 Now that I'm back from vacation, I hope to have some beach-y and food-y photos for you later in the week! No guarantees, though, because this getting back to reality stuff is tough.
Have a great Monday!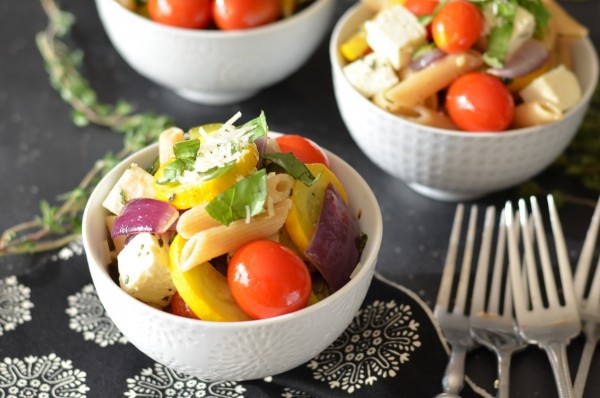 Roasted Summer Squash Pasta with Feta and Thyme
Ingredients
1 large zucchini, sliced into coins or half-moons
1 large yellow zucchini, sliced into coins or half-moons
1/2 large red onion, cut into small wedges
1 pint cherry or grape tomatoes
1 Tbsp + 1/2 tsp olive oil
salt and pepper
8 oz whole wheat penne (about 2 1/2 cups dry)
8 oz feta, cubed
2 Tbsp minced thyme leaves
1/2 cup pine nuts or slivered almonds, lightly toasted
1/4 cup thinly sliced basil leaves, for serving
sprinkle of grated parmesan or romano cheese, for serving
Instructions
Preheat oven to 425. Toss zucchini and onion with 1 Tbsp olive oil and a sprinkle of salt and pepper. Spread on a baking sheet and roast for 15 minutes, stirring once halfway through. Toss cherry tomatoes with remaining 1/2 tsp olive oil and another sprinkle of salt and pepper. Add tomatoes to the roasting vegetables and roast for 5-10 minutes more, until all vegetables are tender. Tomatoes do not need to be blistered, although they certainly can be.
In the meantime, cook penne according to package directions. Drain and place in large serving bowl.
Remove vegetables from oven and add to serving bowl. Toss with pasta, feta, thyme, and pine nuts. Serve with basil and parmesan to top. Enjoy!