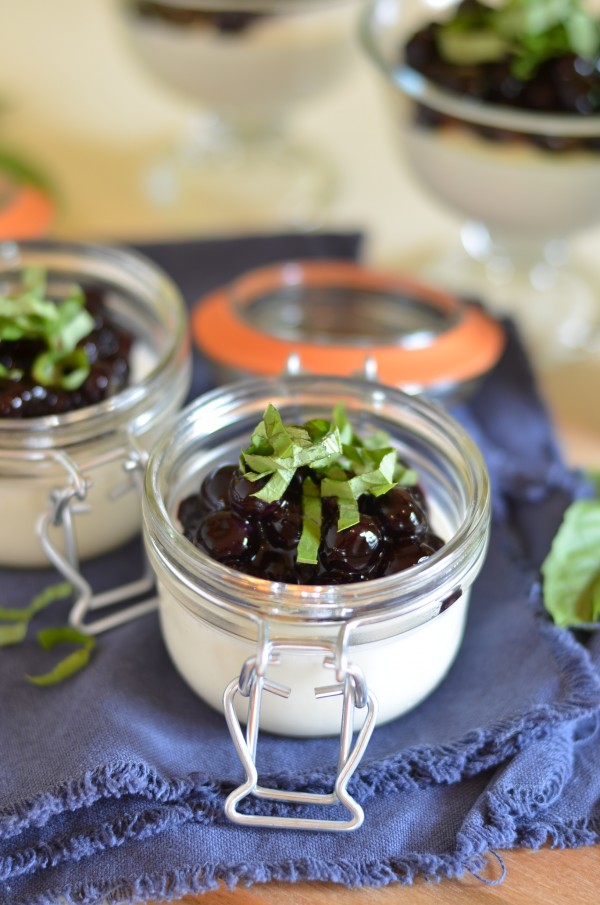 I don't think it's any secret that I like food. I mean obviously… I write this blog. But it's not that often that just the name of a recipe can elicit the response in me that this one did.
Every Wednesday I get an email from the farmer whose CSA box I buy with a few notes about the next day's pickup. She often includes a couple recipes, especially for ingredients you might not be as familiar with (like turnips!). And this past week, one of the recipes was this: Panna Cotta With Balsamic Blueberries.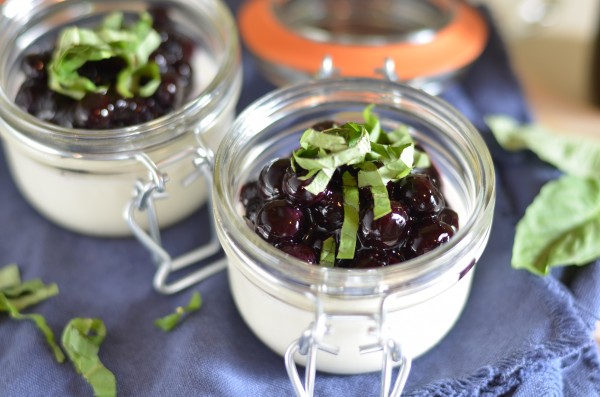 I gasped out loud… alone in my apartment.
Now, who in their right mind needs a recipe to inspire them to eat their farm-fresh blueberries, I'm not sure. But I wasn't sorry to be sent that recipe; quite the opposite. Blueberries and balsamic?! I needed to make it immediately. All other blog plans be damned!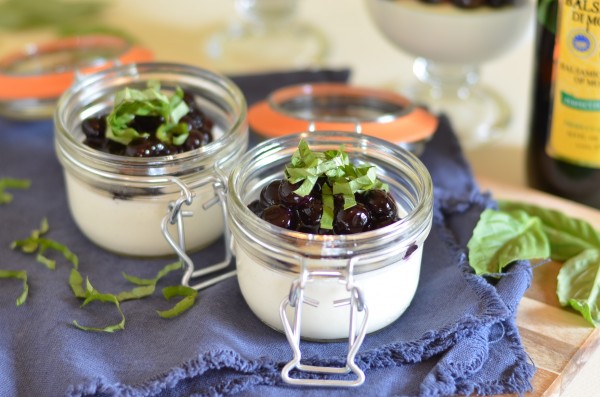 Which is odd, because panna cotta (or anything gelatin-related, really) has never been my thing. (Does it have chocolate? No? Well, moving on then.) But I was intrigued by this Smitten Kitchen yogurt panna cotta recipe, as I do love yogurt, and had been wanting to try it since Deb posted it this spring. And all the sudden, made mostly of yogurt and covered in a syrupy and tangy blueberry sauce, panna cotta seemed much more like my thing after all.
The original panna cotta recipe sent to me for my farm box was this Barefoot Contessa one with blueberries substituted for the strawberries. However, blueberries, as you might guess/already know, don't quite macerate the way strawberries do, so it wasn't the best substitution. Instead of using any part of that recipe, I opted to top Deb's yogurt panna cotta with a cooked blueberry balsamic sauce and fresh basil.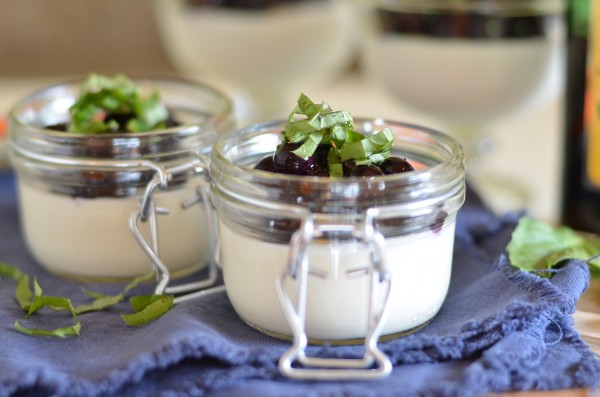 The blueberry and balsamic combination is everything I hoped it would be, never having tried it before: sweet yet with a bite, the two flavors blending together so perfectly that I couldn't even remember why the idea seemed so crazy to start out with. Add the creamy panna cotta and a sprinkle of fresh basil, and well… I hope you can imagine how good this is.
As for the actual pint of blueberries in my farm box, they didn't make it to this recipe. We consumed them plus two more pounds of store-bought blueberries this week, and I'm pretty sure my tongue is going to be blue for the remainder of the summer. But a permanently blue tongue is a hardship I'm willing to tolerate in order to take advantage of blueberry season.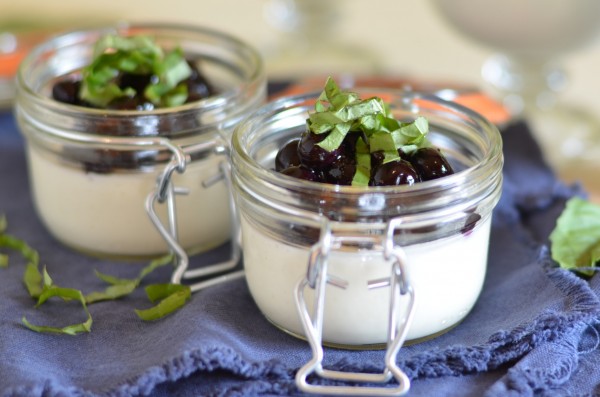 Yogurt Panna Cotta with Balsamic Blueberry Sauce
Yields:
7-8 individual servings
Ingredients
For the yogurt panna cotta:
1/4 cup water
1 packet unflavored gelatin (1/4-oz)
1/3 cup sugar
1 1/2 cups whole milk
1/2 cup heavy whipping cream
2 cups full fat Greek yogurt (I used Fage)
juice of 1/2 lemon
For the balsamic blueberry sauce:
4 cups blueberries
1/4 cup water
3 Tbsp balsamic vinegar
1 Tbsp cornstarch
For serving:
thinly sliced basil leaves
Instructions
For the yogurt panna cotta:
Stir water and gelatin together in a small bowl. Let sit until they form a gel, 5-10 minutes.
In a small saucepan, bring sugar and 1 cup milk to a simmer. Remove from heat and stir in the gelatin mixture until it dissolves.
In a large bowl, whisk together the remaining 1/2 cup milk, the cream, and the yogurt. Pour the heated milk/sugar/gelatin mixture in and stir to combine. Finally, stir in the lemon juice.
Pour into individual serving cups or ramekins. Cover and place in the refrigerator for at least 2 hours before serving. (It's probably best to make them a day ahead of time.)
For the balsamic blueberry sauce:
Bring 2 cups blueberries and water to a simmer in a small saucepan. Simmer until syrupy, about 5 minutes.
In a small bowl, stir together the balsamic vinegar and cornstarch until cornstarch is dissolved. Add to the blueberry syrup and simmer another 5 minutes or so, at which point the mixture should be thickened.
Remove from heat and stir in the remaining 2 cups blueberries. Let cool before serving.
To serve:
Top individual panna cottas with blueberry sauce and sliced basil leaves. Serve and enjoy!