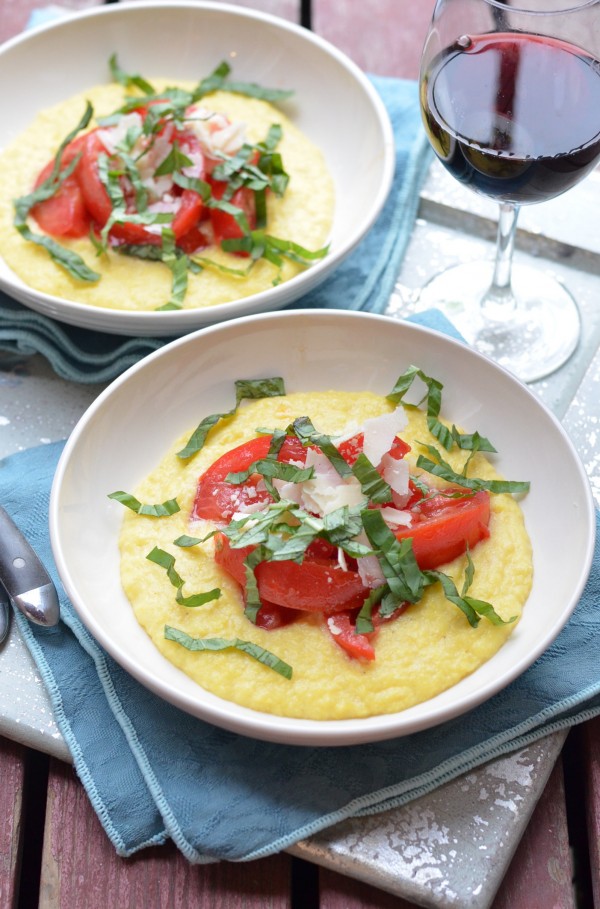 This polenta is my answer to the question, "What do I do with all this corn?"
We've been getting a ton of corn in our farm box recently. And by a ton, I mean three or four ears a week. I know, I know, that's not that much. My dad, who hails from the Midwest, could (and regularly does) eat that in one sitting… but for two city kids who mostly just put corn in our salads (can we still be city kids now that we live in Utah?), that is a whole lotta corn. But something fortuitous happened last week: in the few minutes that I was driving home from picking up our farm box, NPR was playing a piece about heirloom corn and making delicious polenta with it. Ding ding ding! We have a winner. What an awesome coincidence.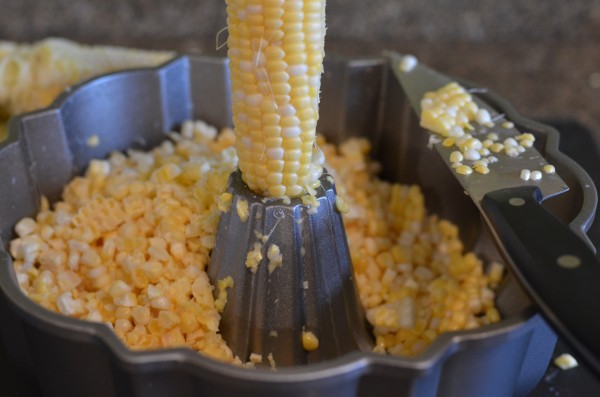 To be honest, I didn't even know you could make polenta from fresh corn – every recipe I've ever seen has involved cornmeal. Shows you how much I know! Turns out, you can make the most delicious polenta EVER when you start with fresh corn. And from the recipes I've seen, starting from scratch doesn't add to the cooking time of "regular" polenta.
Nate immediately pronounced this one of the best things I've ever made. Hours later, he was still bringing it up. And I have to say I agree – this polenta is straight-up delicious. Even before adding in the butter and cheese, it is creamy and amazingly flavorful. In fact, I think you could skip the butter and cheese altogether (as the chef in the NPR piece I listened to did), as long as you start with amazing fresh corn. I might try it with just a pinch of salt and pepper next time.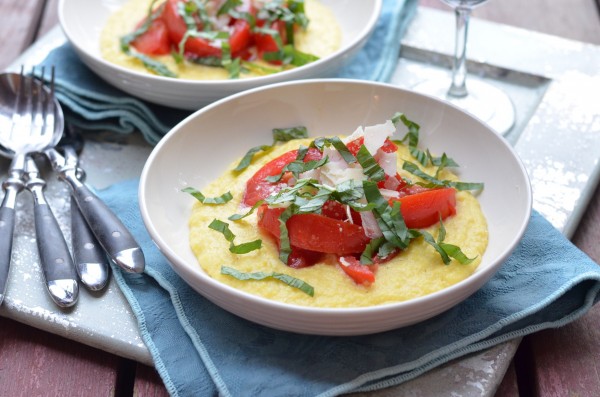 Despite the fact that I have several more ears of corn in my fridge right now, "next time" might not be until several weeks from now. I've mentioned that we moved to a new apartment last Thursday, and wow – moving was even more painful that I expected. Turns out we have a lot of stuff… especially kitchen stuff. My new kitchen counters are currently piled high with pots and pans, my oven is filled with miscellaneous tart and cake pans that I can't find space for yet, and the floor is stacked with boxes of dry goods. So much for my goals of cooking our first dinner in the new place for Labor Day! Instead, we sat on the stairs and ate Chunky Monkey ice cream with plastic forks – a new culinary low point. So yes, a meal that involves simmering, chopping, blending and stirring is probably not going to be served in my house any time soon!
In your house, however, this should happen very soon. Pick out the perfect ears of corn and whip up some fresh polenta for the perfect end-of-summer meal.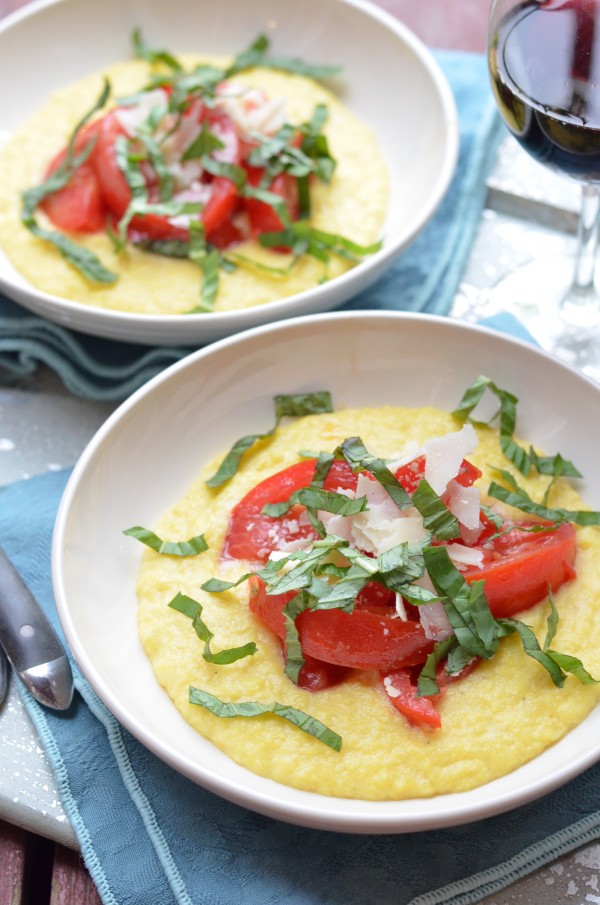 Fresh Corn Polenta with Tomatoes and Basil
Yields:
2-4 servings, depending on hunger!
Ingredients
For the polenta
6 ears of sweet corn, shucked and kernels sliced off
2 1/4 cup water
3 Tbsp butter, diced
1 cup grated parmesan cheese
pinch of salt and pepper
For the tomatoes:
4 vine-ripened tomatoes
1 clove garlic, minced
2 Tbsp olive oil
1 tsp white vinegar
pinch of salt and pepper
For garnish:
additional grated parmesan
1/3 cup loosely packed basil leaves, thinly sliced
Instructions
Add corn kernels to a large pot and cover just barely with the water. Bring to a simmer and cook on low heat, just barely simmering, for 12 minutes. Drain, reserving the cooking liquid.
In the meantime, slice the tomatoes into wedges. Combine in a bowl with garlic, olive oil, vinegar, salt and pepper. Stir together and let it all sit and get nice and juicy while you finish up the polenta.
Pour corn into your blender or food processor. Puree until the kernels are completely broken down and smooth (about 3-5 minutes, depending on your blender or food processor). Add some of the reserved cooking liquid if the mixture becomes too dry to process.
Once smooth, return the corn mixture to the pot. Depending on its consistency, you can add some of the cooking liquid, keeping in mind that the more you add, the longer it will take to cook off. (My corn was very juicy so I didn't add any of the cooking liquid.) Cook over medium-low heat, stirring and scraping the bottom of the pot, until the mixture thickens to a mashed potato-like consistency, about 10-15 minutes. Stir in the butter and parmesan cheese and cook until melted, about 2 minutes. Season to taste with salt and pepper.
Divide among bowls and top with tomato mixture. Garnish with additional parmesan and sliced basil. Enjoy!