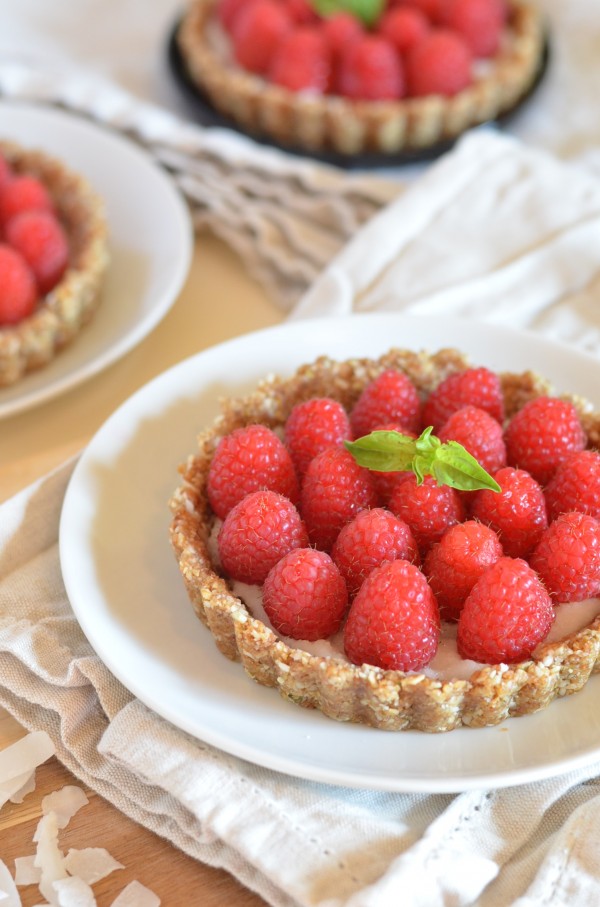 Greetings from the East Coast!
We just got back to my parents' house outside of Boston after a wonderful weekend in Maine. Our friends Ali and Ken (hi Ali!) got married at Bowdoin College, where they went to undergrad with Nate. It was so much fun to be back up in Maine (where I also went to college), reunite with all Nate's Bowdoin friends, and celebrate Ali and Ken, who are two of the sweetest people ever. Such a happy weekend!
Now that we're back in Boston, I'm looking forward to relaxing with Nate and my parents, working remotely for a few days, meeting up with friends, and going to some of my old favorite places! I'm thinking that it will be a pretty low-key week, which to be honest is exactly what I need after any wedding weekend. Sometimes I think I require more sleep than the average human.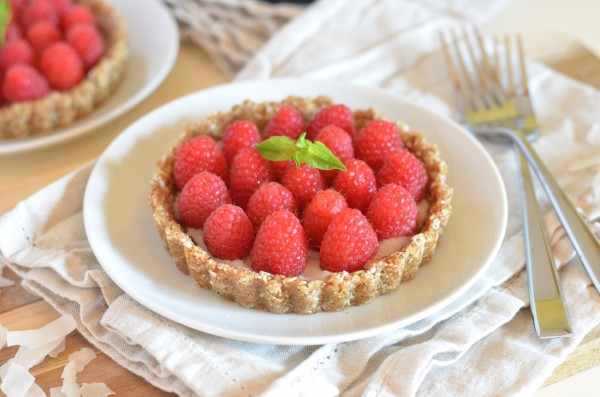 But let's talk about these tarts, shall we?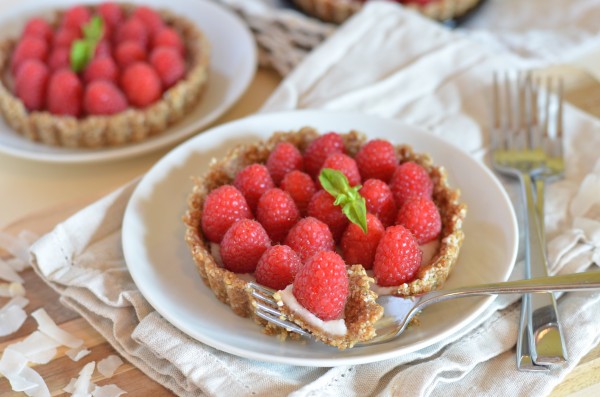 My mom bought me some adorable mini tart pans a while ago, and as soon as I saw this peach tart recipe, I knew I had found the perfect way to use them. I made that recipe for friends this summer, and decided the cute little tarts would be even more perfect with raspberries. Raspberries always make beautiful cake or tart decorations, and when they're so plentiful at the end of the summer, how can you resist? In fact, I almost bought a huge 12-ounce container of raspberries about 12 hours before we left for Maine, just because Whole Foods really knows how to suck a girl in with their produce displays. (Also, who am I kidding, we totally could have eat 12 ounces of raspberries in 12 hours!) So whether you have to go to the store specifically for these raspberries, or are just making this as a way to use berries you already have… it's a VERY good idea.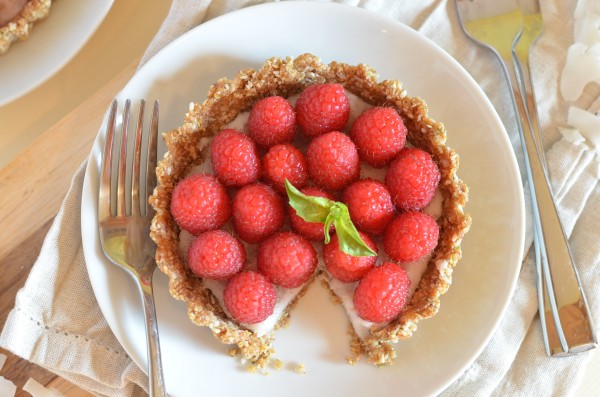 The crust on these tarts is genius because it's no-bake. It's essentially like a homemade Larabar recipe – mostly dates, oats and seeds – pressed into these mini tart pans. After being chilled for a few hours, the crusts hold up quite nicely, and are ready to be removed from their pans and filled with coconut butter and raspberries and drizzled with honey. Mmmm.
These tarts make a great presentation for dinner guests, or just as something special for a couple or family. I will say that the crusts are very filling – again, all those dates and seeds – so one tartlet is actually plenty between two people. But of course, the presentation is best when served one per person. So how you serve these totally depends on how casual the setting is and how hungry everyone came!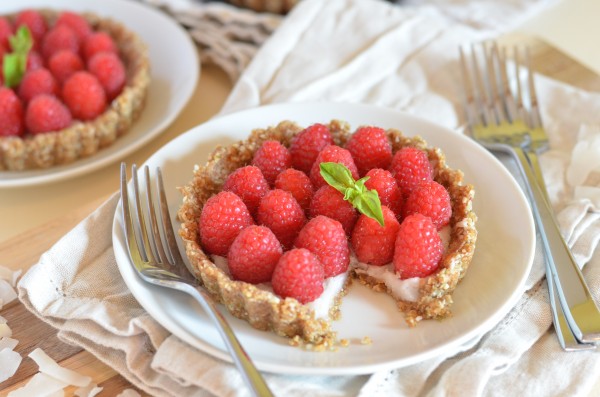 As I mentioned, you don't need to bake these tarts, which is ideal if you're still having hot weather. (Definitely not the case in Massachusetts right now… insert sound of teeth chattering here.) As noted in the post title, they can be made both vegan and raw. However, the way I personally make them (using honey and microwaving the coconut oil and coconut butter) is neither. To keep them vegan, sub agave for the honey. To keep them raw, make sure it's raw agave, and skip the step of melting the coconut oil or coconut butter, or this can also be done with warm water, I believe. (I'm not super familiar with raw cooking techniques, in case anyone would like to give any tips!) The vegan and raw tweaks are super easy, making these a great dessert for folks following either diet. But they are also just flat-out delicious, so I'd recommend them to you even if you are strictly carnivorous and eat only hot food! Seriously. You will love these no matter what.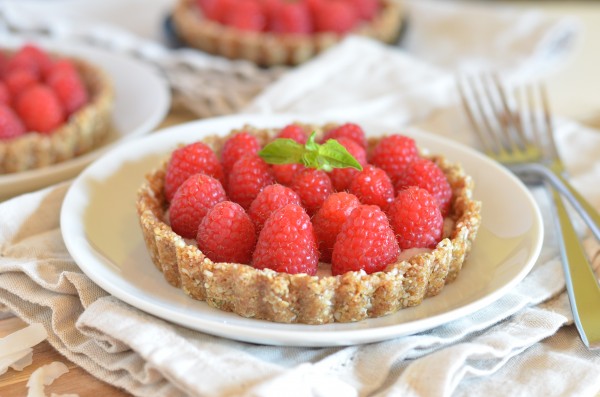 No-Bake Coconut Raspberry Tarts (Can Be Vegan & Raw)
Ingredients
For the crusts:
12 medjool dates, pitted and chopped
1 1/2 cups unsweetened flaked coconut
1 cup old-rashioned rolled oats
1/2 cup pepitas (raw pumpkin seeds)
1 tsp vanilla extract
1/8 tsp kosher salt
zest of one orange
2 Tbsp coconut oil, melted
1 Tbsp honey
For the coconut cream filling:
1/2 cup coconut butter, melted
2 Tbsp unsweetened almond milk (or other non-dairy milk)
For topping:
12 oz. fresh raspberries (no snitching, you will need them all!)
honey or agave for drizzling, if desired
Instructions
For the crusts:
In the bowl of a food processor, combine the pitted chopped dates, coconut, oats, pepitas, vanilla, and salt. Zest an orange over the top. Process until crumbly.
Stream in coconut oil and honey and process until combined. The mixture should still be crumbly, but should stick together when pressed between your fingers.
Divide mixture between four mini tart pans. Using your fingers or the bottom of a glass, press crust mixture firmly down and around the sides of the pans to form a crust. Refrigerate at least 4 hours before assembling tarts.
To assemble the tarts:
Gently remove each crust from its tart pan and place on dessert plates.
Make the coconut cream filling by stirring together the melted coconut butter and almond milk. Divide among the tart crusts and spread in an even layer.
Top with raspberries and a drizzle of honey or agave, if desired. Serve and enjoy!
Notes
These tarts can be made completely raw by using raw honey or raw agave in place of the honey and skipping the melting step for the coconut oil and coconut butter.
Inspired by and adapted from
The Kitchn
, where it was adapted from
Practically Raw Desserts
. Crust adapted from
Daily Garnish
.
link