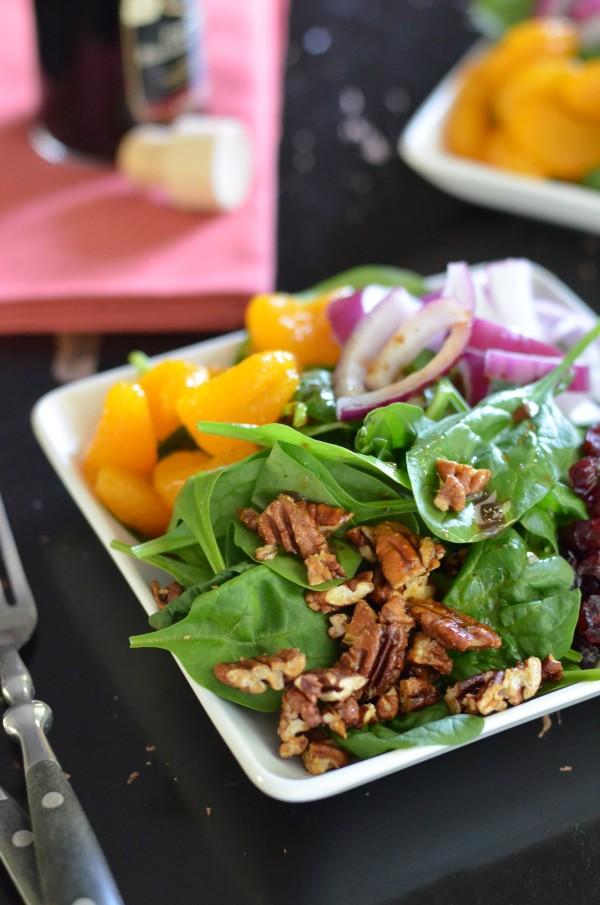 My salad brings all the boys to the yard, and they're like, it's better than yours…
What? No?
Here is the thing about salad (and blogging about salad): It doesn't exactly bring all the boys to the yard. You know what I mean? Now blogging about milkshakes, that's another story.
Despite this unfortunate truth, I'm bringing you a salad today, because this is my blog, and on my blog I get to share the food I like to eat, boys in the yard or no.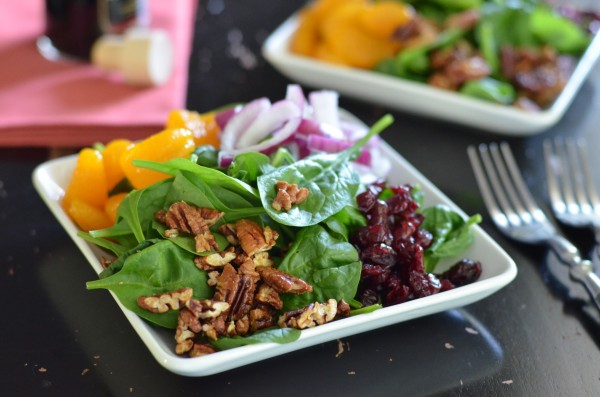 Well, like to eat is maybe a strong statement about salad.
To me, salads (and hard workouts, for that matter) are like classic works of literature: you want to have read them (or have eaten or have done them), but you do not want to read, eat or do them in the present tense. No, you want to look into your virtuous past and say "ah yes, I had a salad for lunch" with the same smug satisfaction you would say "ah yes, I've read Dostoyevsky." Rarely could I say with any truthfulness, "I want to eat a salad right now." (And I'm sorry, but the same goes for reading translations from the Russian.) In reality, I claim to want salad quite often, but it's because I'm thinking of the present as the future past. And in the future, I will want to have eaten a salad.
And I suspect that most people agree with me, because this is the type of salad that is on every restaurant menu lately. It's a non-salad salad. It's the salad that lets you claim you ate a salad (so much spinach!),  yet is also absolutely delicious. It includes enough sweet, tasty toppings to make you want to eat it in the present tense, and maybe even look forward to eating it. That might be because other than the spinach, it contains no vegetables. Wait, are onions a vegetable? This is getting confusing. The non-salad salad usually also includes some sort of soft cheese, often fried. I left that part out, because although the present tense is a different story, rarely do I wish my future past to include fried cheese.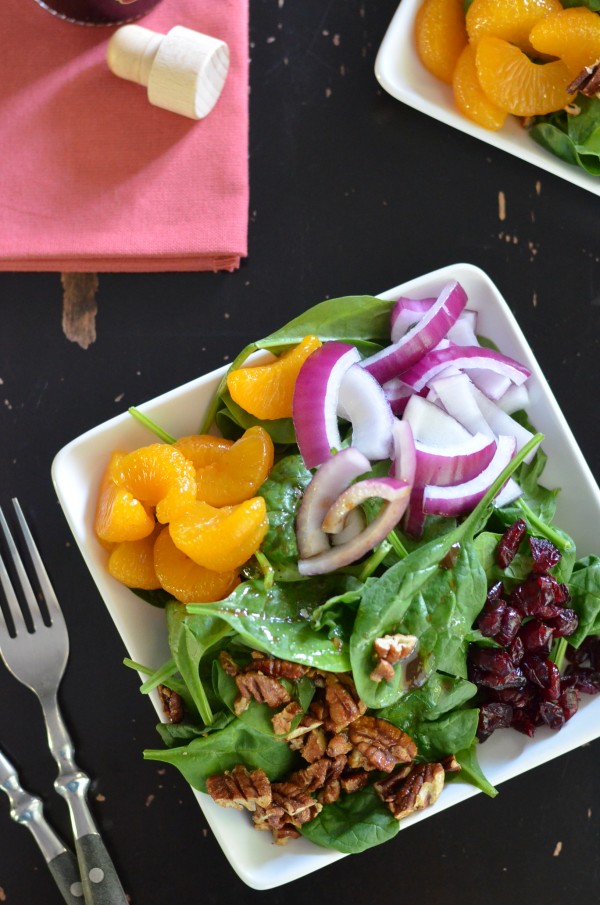 If you are cooking for someone who just can't seem to get as excited about vegetables as you do (or if you are that person), may I suggest this salad? It makes a great dinner side dish, and is very satisfying for a virtuous lunch when paired with quinoa, some carrots and hummus, an apple and cheese, etc.
Because don't you want to have eaten a salad?
P.S. I promise these maple glazed pecans are totally easy to make and take no more time than toasting regular pecans.
P.P.S. Pinky swear.
P.P.P.S. Did I just write a post about the milkshake song and Dostoyevsky?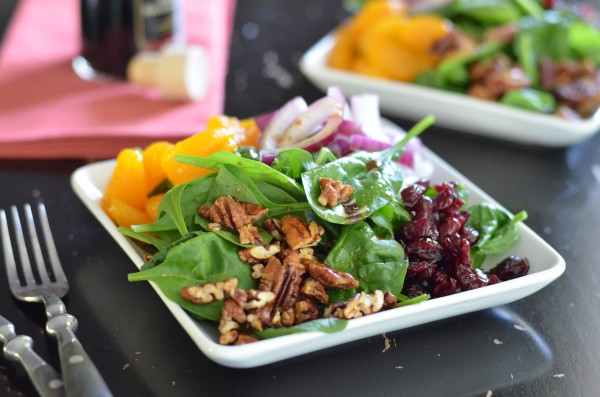 Super Sweet Spinach Salad
Ingredients
For the maple glazed pecans:
1 cup raw pecans, coarsely chopped
1 Tbsp maple syrup
For the dressing:
juice of 1 orange (about 1/4 cup)
2 Tbsp raspberry balsamic vinegar
1 Tbsp olive oil
pinch of pepper
salt to taste (I didn't use any)
For the salad:
4-6 oz. baby spinach
1/2 red onion, sliced
1 cup mandarin oranges pieces (from a can of mandarin oranges, drained)
1/2 cup dried cranberries
Instructions
Preheat oven to 350. In a small bowl, mix together pecans and maple syrup. Spread on a baking sheet and toast until fragrant and beginning to brown, about 6-8 minutes depending on your oven.
Whisk together dressing ingredients. Set aside until ready to serve.
To assemble salads, lay a bed of baby spinach. Top with onion (do not skimp on the onion!), oranges, cranberries, and pecans. Serve with dressing. Enjoy!