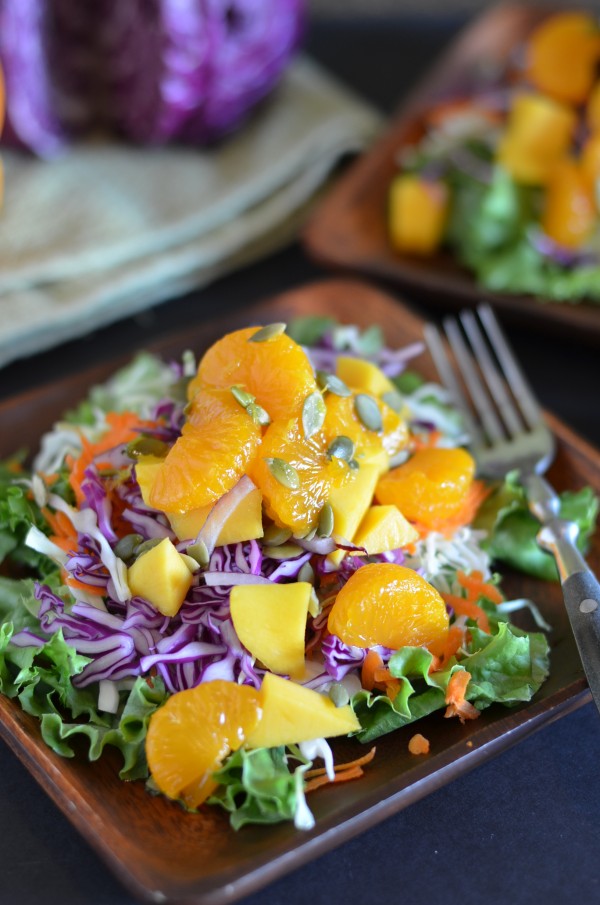 Something very exciting happened in my parents' town recently: they got a Whole Foods!
The old Johnnie's Foodmaster near the house I grew up in closed, and the blinking Foodmaster sign was replaced with the big green Whole Foods lettering. This is somewhat sad, as Johnnie's was a staple in my town and in my life: one of my best high school friends worked there for years while we were in high school and college (and can probably still tell you the code for just about every type of produce), and a band from my high school had a song called "Foomaster," inspired by the grocery store sign whose D always seemed to be dark.Yep, I have some nostalgia for the old Johnnie's. But Whole Foods is still a major upgrade.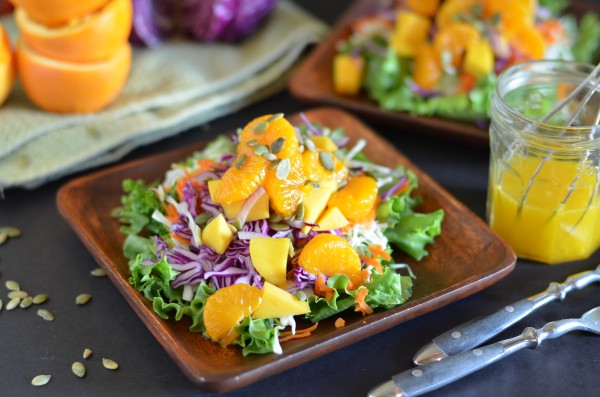 I visited for the first time in August, after my flights home from our family vacation got messed up and I knew I'd have to go into work the next day in Salt Lake with no food. While wandering around checking out the bulk bins (my favorite section) and comparing the offerings to my Whole Foods at home (the Salt Lake one near me is bigger), I picked out this salad for my lunch the next day. It looked delicious – check out those colors! – and I figured it would be a good way of starting off a little detox after some serious vacation eating.
Come Monday, the salad was devoured within seconds of walking in the door from the airport (after I first spilled half of it on the counter, oops). I was the kind of hungry that only traveling can make you, and I'm not even sure I had rolled my suitcase into the bedroom before I dug into this. It was bright and refreshing, crisp and crunchy, tangy and sweet, just the thing to fight my jetlag.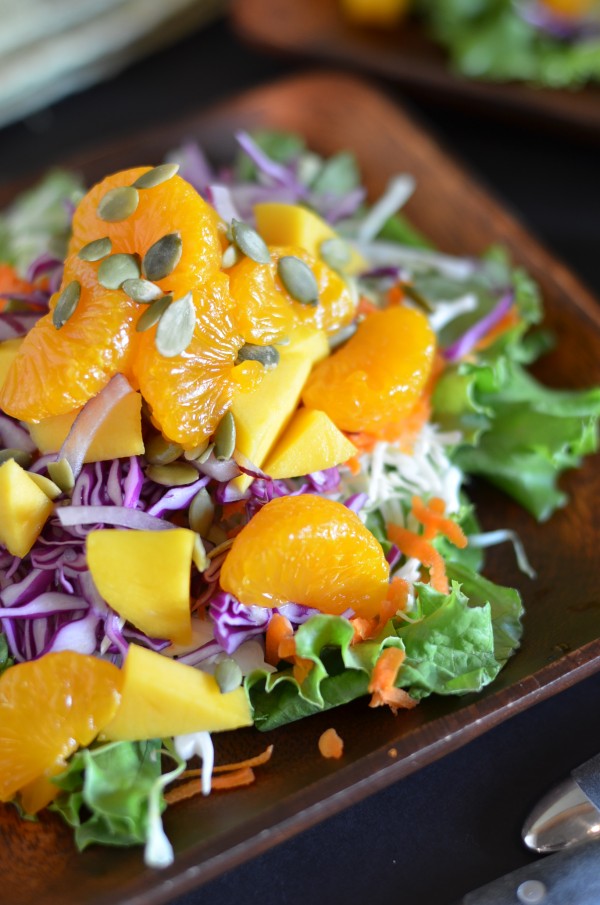 My post-vacation detox got off on the right foot with this salad… and was followed in rapid succession by crackers smothered in jam and goat cheese. Hmm. Does the salad still count? Definitely one of those "I'll start my diet tomorrow" moments.
Like I said… travel.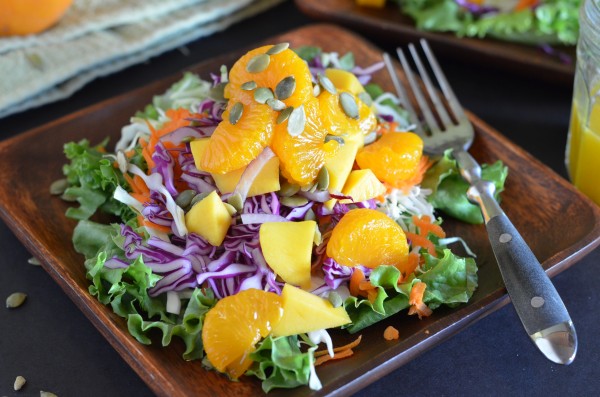 This is my recreation of that Whole Foods salad, complete with the oil-free dressing that accompanied it. Green leaf lettuce and red and green cabbage are used as a base and topped with crunchy carrots, onions, and pepitas; sweet mango and mandarin oranges; and a tangy dressing made up of orange juice, zest, vinegar, and honey. The result is seriously perfection. The slight bitterness of the cabbage and zing of the dressing perfectly balance out the sweet fruit. And the textures! Shredded cabbage is one of my favorite foods texture-wise. I can rarely come up with such inspired salad combinations myself, so I jump at the chance to be a copycat when I try a salad like this. You will love it for lunch, or for dinner with a little appetizer. (Crackers with jam and goat cheese, anyone?)
I almost always use olive oil in my salad dressings, but wanted to stay true to the original oil-free Whole Foods dressing here. If you want to add some oil in there, be my guest! Olive oil and orange flavors always go well together. And also, if you are irked by the fact that the recipe calls for small amounts of two types of cabbage… I know, it's annoying. No one will blame you if you use just one. In fact, want to come to my house and pick up 7/8 of a head of red cabbage?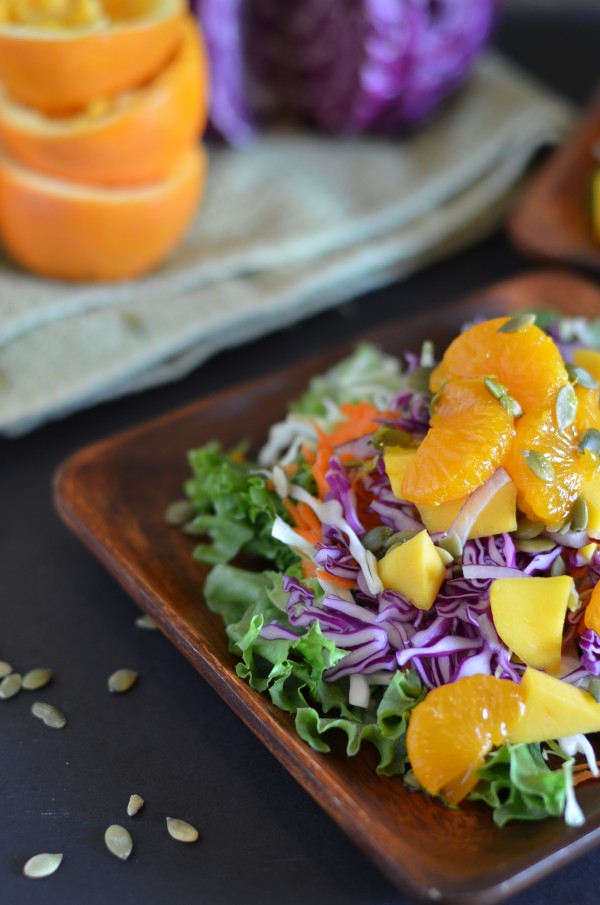 Whole Foods Tangerine Detox Salad with Oil-Free Dressing
Ingredients
For the oil-free dressing:
zest of half an orange
juice of 2 oranges
1 Tbsp white balsamic vinegar
1 tsp honey
pinch of salt and pepper
For the salad:
6 cups washed and torn green leaf or romaine lettuce
3 cups shredded green cabbage (about 1/4 head)
1 1/2 cups shredded red cabbage (about 1/8 head)
1 11-oz can mandarin oranges, drained
1 large carrot, grated
1 mango, chopped
1/4 cup thinly sliced red onion
2 Tbsp raw pepitas
Instructions
Whisk together all dressing ingredients. Taste and adjust as necessary. Set aside.
Layer salad ingredients on individual plates or in a large serving bowl. Top with dressing and serve immediately.
Notes
Inspired by Whole Foods.