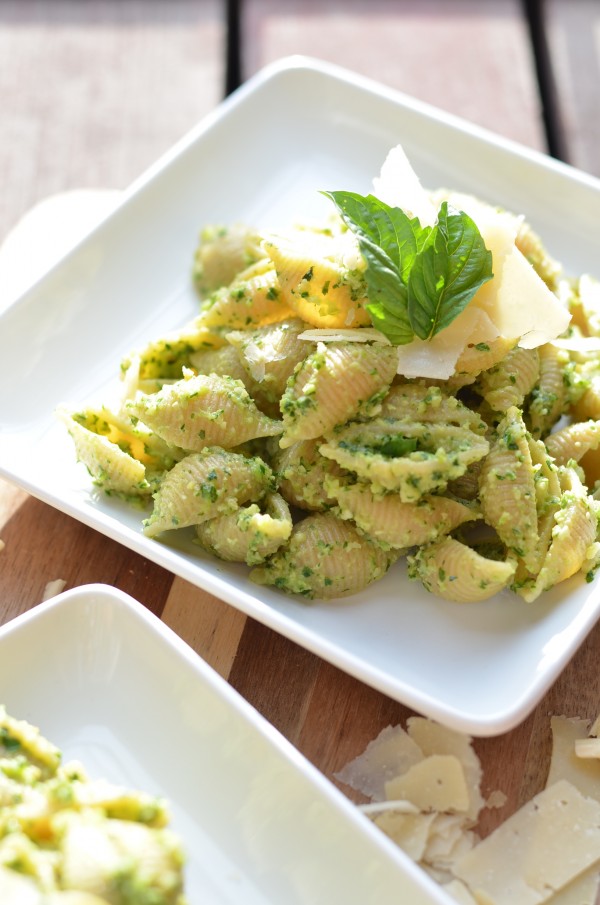 Reason #66 that I love pesto: You can make it out of just about anything.
Start with garlic, olive oil, parmesan, and some sort of nut, and you're basically guaranteed a delicious and pesto-y-tasting outcome, no matter where the rest of the ingredient list takes you. It's magical!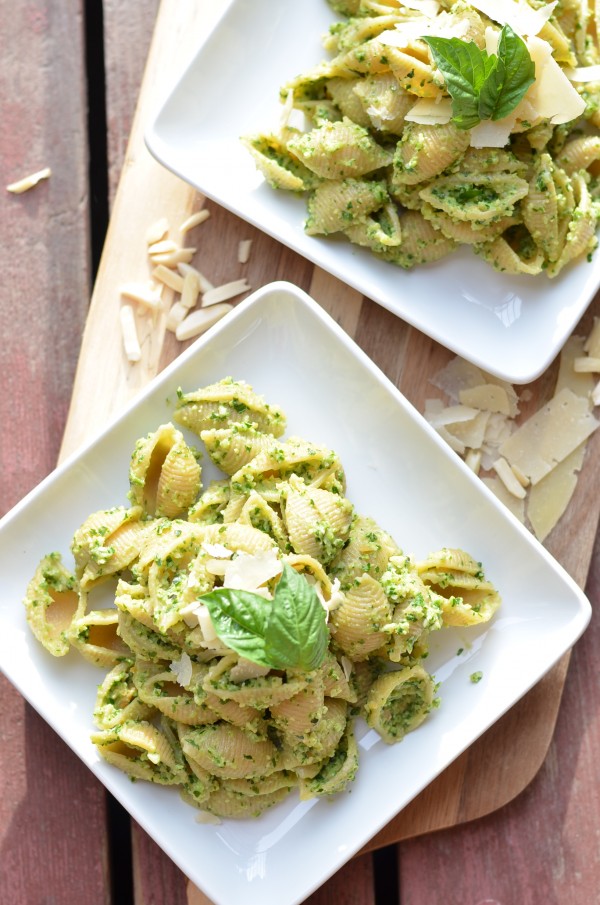 In case you're wondering, reasons #1-65 that I love pesto involve the taste of garlic, olive oil, parmesan, and nuts, the fact that it can be spread on just about anything, that it reminds me of my childhood, that it's quick to prepare, etc. etc. etc. Don't make me list them out one by one!
For this pesto, I was actually considering making some sort of zucchini noodles, but ended up thinking it would be too much trouble. Instead, I opted to roast the zucchini, throw it in the blender with all those other wonderful pesto ingredients, and toss it with regular pasta. Ta-da! A quick and satisfying seasonal pasta dish that doesn't involve me purchasing some sort of spiralizing equipment.
Speaking of which, can I get a quick opinion on zucchini spiralizers – worth buying one or not? I'm still considering it for next year, but have never tried zucchini noodles before in my life. What if, say, one is generally grossed out by the texture of raw summer squash? Are zucchini noodles still tasty? Guidance, please! And if you have a specific spiralizer (or julienne peeler!) that you recommend, links are appreciated. Although I guess I should try just making them with a regular peeler first, huh…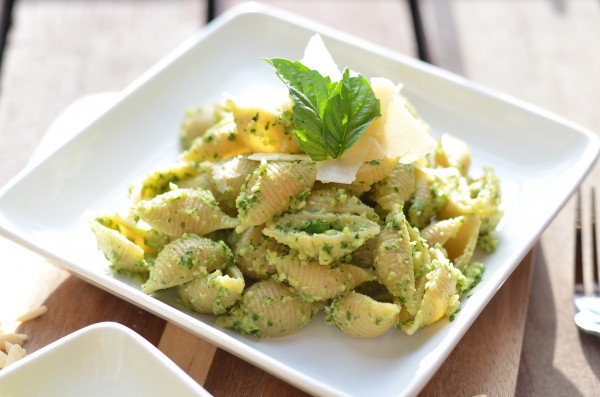 Anyway, back to the pesto. I chose almonds for the nuts in this version, mostly because that's what I had on hand. I also added basil and parsley for that fresh, herb-y, pesto-y flavor, and lemon for a little brightness. The roasted zucchini flavor is mild, and to be honest, I'm not sure you would be able to tell that there's zucchini in this pesto if you didn't know beforehand. But it's a great way to stretch all those other expensive pesto ingredients. Basil ain't cheap! Unless you grow it yourself, that is… but we all know that I've killed any basil plant that has ever come under my care. In any case, zucchini is most definitely cheap, and the flavor, though mild, is a perfect match for the parmesan, olive oil, etc. If you think about it, those are the exact ingredients you'd put on roasted zucchini anyway. So just blend 'em all up! Always a good idea.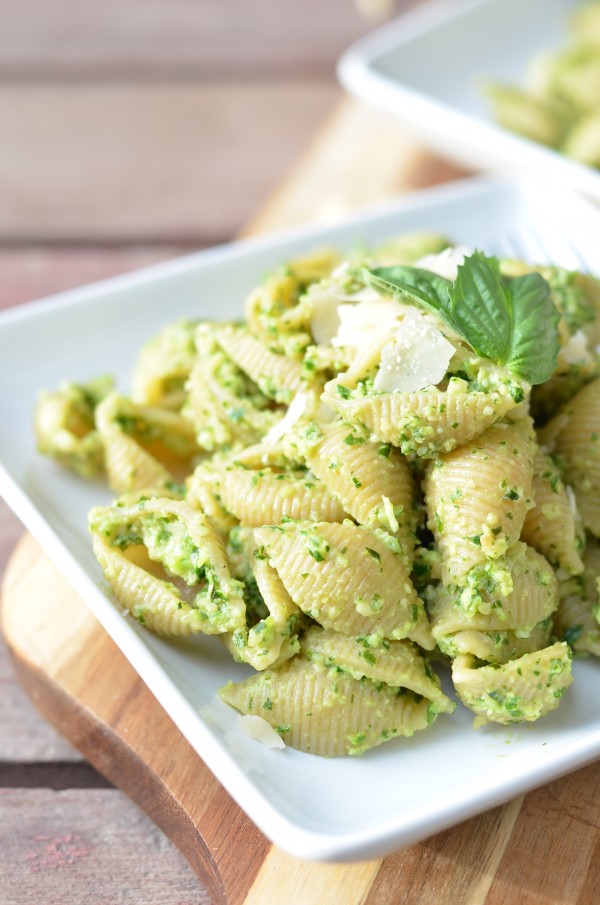 You guys, the New England weather has been depressingly fall-like while I've been here. It is gray and raining as I type this, and has been downright chilly at night. I am not ready for this! Where is my Utah sun?! I hear the West Coast has been having a heat wave, so hopefully you're all cool with zucchini and the other end-of-summer recipes that I have planned before we transition into pumpkin and sweet potatoes for the long haul. Because, if you've been reading since this past winter/spring, you know that once I get started with the sweet potatoes, there's no going back. But I'm holding off for now! Today, zucchini, and Friday, something frosty and breakfast-y. Summerrrr please don't go!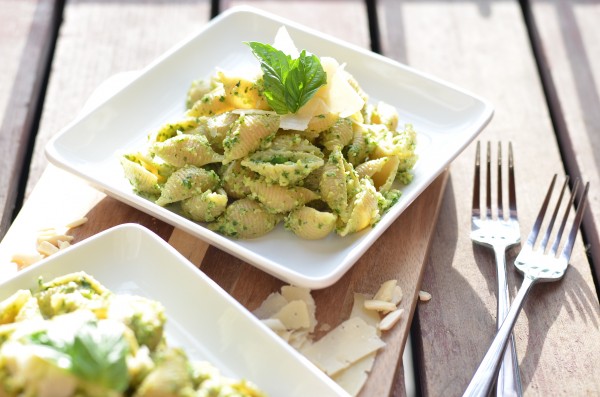 Zucchini Almond Pesto
Ingredients
1/2 cup slivered almonds
2 small zucchini, trimmed and halved
2 small cloves garlic, trimmed
1/2 cup packed fresh basil leaves
1/2 bunch parsley, stems trimmed off
2 Tbsp olive oil
1 Tbsp fresh lemon juice
1/2 cup grated parmesan cheese
pinch of salt and pepper
Instructions
Preheat oven to 425. Use the preheating oven to lightly toast the almonds. About 6 minutes should do the trick, but this will depend on how fast your oven preheats. Check them often!
Place zucchini cut-side-down on a baking sheet. Roast until tender, about 20-25 minutes.
Place garlic cloves in the bowl of your blender or food processor and pulse until finely chopped, scraping down the sides as necessary. Add zucchini, basil, parsley, olive oil, and lemon juice, and process until combined. Add in the toasted almonds and parmesan cheese and process until your desired texture is reached. Taste and add salt and pepper as necessary; pulse to combine.
Serve atop pasta or however else you like to use your pesto! Pack leftover pesto into a small dish and press plastic wrap down over the top; leftovers will keep this way for several days. Enjoy!