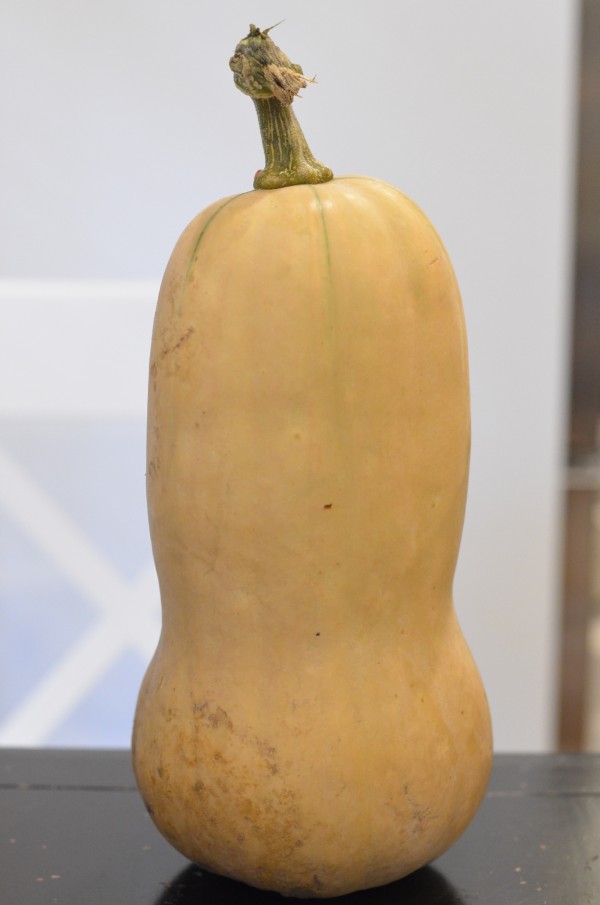 As I sit at my computer right now, I am staring at this enormous butternut squash.
For some perspective: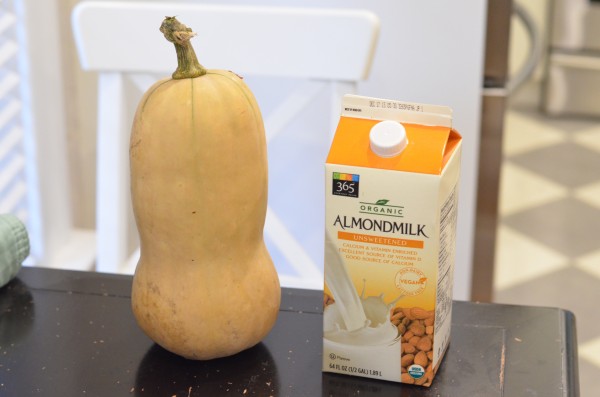 It's big. Really big. I would guess 4 pounds? Yowza.
I'm telling you this not just because it means more butternut recipes in your future (though of course it does – hooray!) but because I just picked it up as part of my last CSA box of the season. The harvest is winding down, and I'm going to have so start frequenting the grocery store again – crazy! (Not for squash, though. It looks like I'm set for the near future!) In any case, my first season as a CSA member was quite an experience, and I thought I'd share my thoughts in case you are considering joining a CSA next season. If you're interested, pour yourself a cup of tea, and then let me know what your CSA experience has been!
My reasons for joining a CSA
There were a few reasons I wanted to join a CSA this summer, mostly involving goals for myself. Some were successful, others not so much. They were:
– To support local farmers: Success
This is something I've been wanting to do for a while, but had never prioritized before this summer. The same farm that I buy my farm box from has stands throughout Salt Lake, including one just blocks from my apartment… but had I ever stopped there before this summer? No, no I hadn't. Signing up for this CSA was my way of forcing myself to buy local. It worked!
– To try new ingredients: Success
Let's put it this way: I tend to have a "go with the flow" attitude that does not necessarily lend itself to trying new things. Learning how to chop a pattypan squash, cook with turnips and make polenta? Those things definitely wouldn't have happened without this farm box.
– To wing it instead of plan meals: Fail
I am a planner. I love planning out my meals at the beginning of the week, doing my shopping, and crossing recipes off the list as I make them. Being inundated with an insane amount of produce every Thursday put a major wrench in my plans. Instead of waiting to plan until picking up my farm box, I still tended to grocery shop at the beginning of the week, making whatever I got in the farm box on Thursdays a "bonus." News flash: It's very hard to use up a 4-pound squash if it's just adding to the other veggies you already stocked up on at the grocery store. Maybe this would have been different if my farm box delivery were at the beginning of the week, or if my CSA let me pick what to receive in my box that week? Not sure.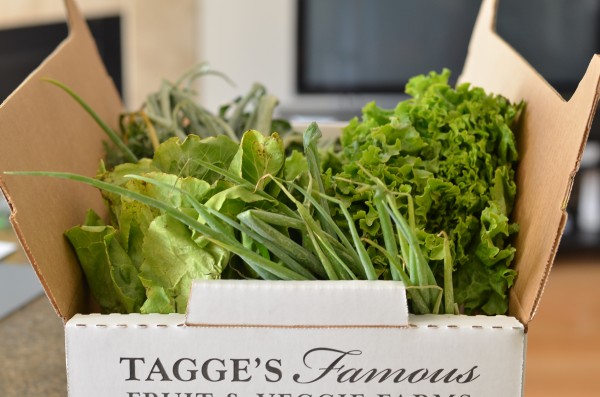 What I loved
There were some amazing benefits of getting a weekly box of fruits and veggies:
– One word: Peaches! OK, more than one word. The farm I bought from specializes in peaches, and the peaches I got in my box every week (and the tomatoes and berries, for that matter) are the best I have EVER eaten. Unbelievably good.
– Trying new-to-me fruits and veggies. Again those pattypan squash and turnips… plus rainbow chard, Italian plums and cantaloupe. They are all things I would not normally purchase at the supermarket. I loved discovering that I liked them all (probably would have fought you on the cantaloupe before) and that I could create delicious dishes with them. It has definitely expanded my produce horizons!
– Eating seasonally. This summer, I felt much more in touch with what was being harvested right now. Usually I am just going off of what is on sale at the store. This was great for blogging (although of course harvest times vary across the country and world), because I felt more in tune than usual with which seasonal produce I should be including in my recipes.
– Quality and freshness. This is the big one. Not only were the peaches, tomatoes and berries phenomenal, but I was surprised by some of the other produce – most noticeably onions, garlic, potatoes, and green peppers. I think of these four things as having a longer shelf life… and its obvious that the grocery store chains do, too. I could tell after having farm-fresh onions that the ones I buy from the grocery store have been sitting there for weeks. I didn't realize the flavor and freshness I was missing out on until I experienced this stuff straight from the farm.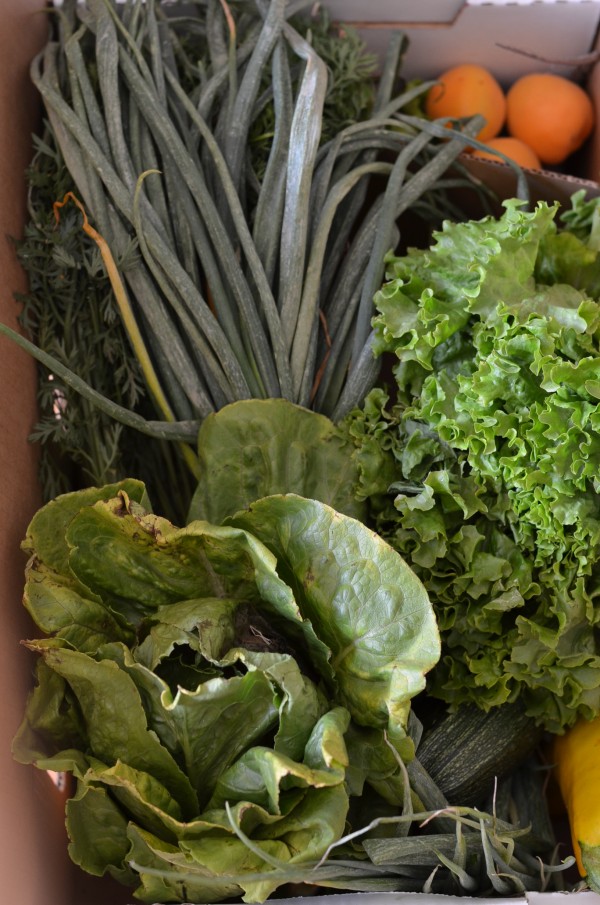 What I didn't love
…But of course, there were some things I didn't like so much:
– Midday pick-up. For the whole summer, our farm boxes were dropped off at the farm stand at 2 pm, and sat out until you got there to pick them up, which had to be before 6 pm. When temperatures were in the high 90s, I had to leave work, go home and put away my produce, and head back to work for the rest of the afternoon. And my lettuce wilted anyway. Not convenient. This is particular to the CSA I chose, of course, but pick-up time is definitely something to factor in if you're considering a CSA.
– Lack of control. OK, I guess I am a control freak. What if I don't want three heads of lettuce this week? Too bad! I didn't like that my ingredients were decided for me instead of me getting to choose. It was a goal to shake that mindset… but I couldn't do it.
– Wasted food. The aforementioned control issues led to some wasted food. Plus we received a LOT of food. If I had bought no other produce and cooked solely with what we received in our farm box, it might have been an appropriate amount for two people. But as things were, it was way too much.
– Lack of flexibility. I traveled a lot this summer, and on 3 or 4 occasions, I had to give away my CSA box to friends while I was out of town. If I'd wanted to, I could have traded that week for 2 boxes in a week later in the summer, but seeing as we were getting too much food anyway, I just gave it away. Better than wasting food, but it was wasted money instead.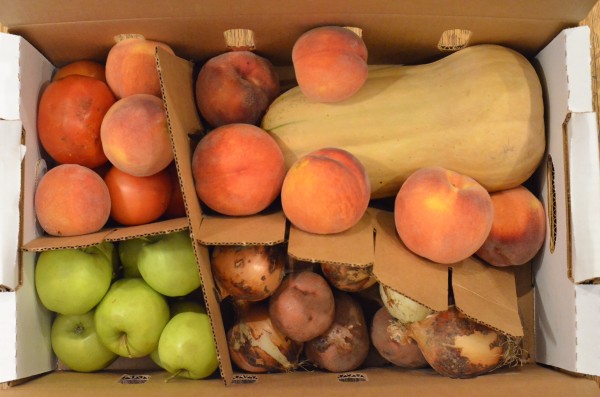 Main takeaways
– Eating locally and seasonally is not always convenient. (Duh… and that was during harvest season!) Sometimes it was worth the extra effort for me, and sometimes it wasn't.
– In general, I think that getting these high-quality fruits and veggies as well as having access to a supermarket for convenience is the best of both worlds. (Um, I could not be happier that I live in 21st century America!)
– I am a stubborn person. Go figure. Oh… and spoiled!
Things to consider before signing up
Are you thinking about a CSA? Here's what you should keep in mind when choosing:
– Family size. Are you going to waste food? If you are just one or two people, you probably want to avoid signing up for a set amount of food each week, unless you are absolutely committed to eating only what you get in your CSA box. Look for CSAs that allow you to pick out what you get each week… or just stick to the farmer's market.
– Convenience. Will it be a pain to get your box? Is the pick-up far away or at an inconvenient time, or will the food end up sitting out for hours until you get home? If so, look for options that are a better fit.
– Flexibility. Be realistic with yourself: Are you willing to let your CSA b0x have complete control over your menu? If so, that is awesome, and you'll eat well. If not, you may want to just go with the farmer's market.
– Picky eaters. Does your family like squash in all its forms? Seriously… ask yourself this question.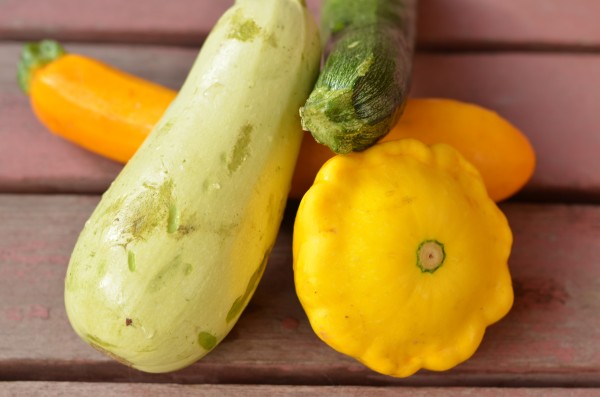 So will I do it again next year?
Well, probably not, but I'm not at all saying that you shouldn't! This is very specific to the farm I bought from, as well as me as a person. It definitely could have gone a different way if I were able to pick out what I got every week or pick it up later in the day.  As it was, the pros and cons kind of balanced out for me.
As I mentioned, the farm I buy from has a stand in my neighborhood, as well as at the weekly farmer's market, where they sell most of the same produce that appears in the boxes. If I can get myself to visit the farm stand weekly and buy most of my produce there, I feel like I'll be getting almost all the benefits of the farm box without any of the negatives. In addition, my office just started up a similar program, where everything can be picked up at work. That could be a better fit for me.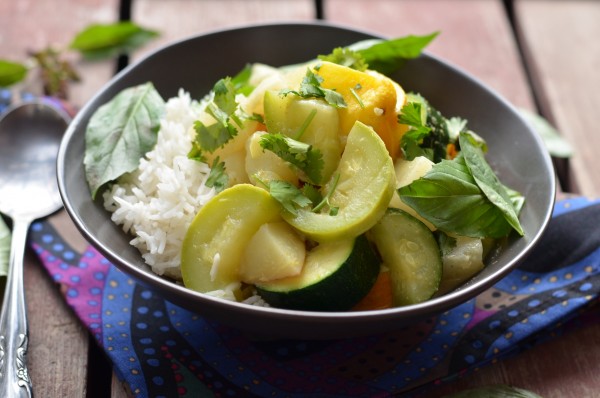 Take a look at my CSA-inspired meals!
Last but not least: The meals! My CSA produce inspired a lot of the recipes you saw here this summer. Take a look through! (There's a theme… and the theme is squash.)
Fresh Corn Polenta with Tomatoes and Basil
Fresh Lettuce Wraps with Peanut Dipping Sauce
Green Curry Stuffed Peppers (new from yesterday!)
Lemony Rainbow Chard Egg White Frittata
Orzo with Zucchini and Sweet Corn
Quinoa-Stuffed Acorn Squash with Figs and Sage
Roasted Summer Squash Pasta with Feta and Thyme
Summer CSA Salad with Red Wine Tomato Vinaigrette
Summer Squash Loaf Cake with Fennel and Almonds
Thai Green Curry with Turnips and Summer Squash
Yogurt Panna Cotta with Balsamic Blueberry Sauce
Do you sign up for a CSA? What has your experience been?