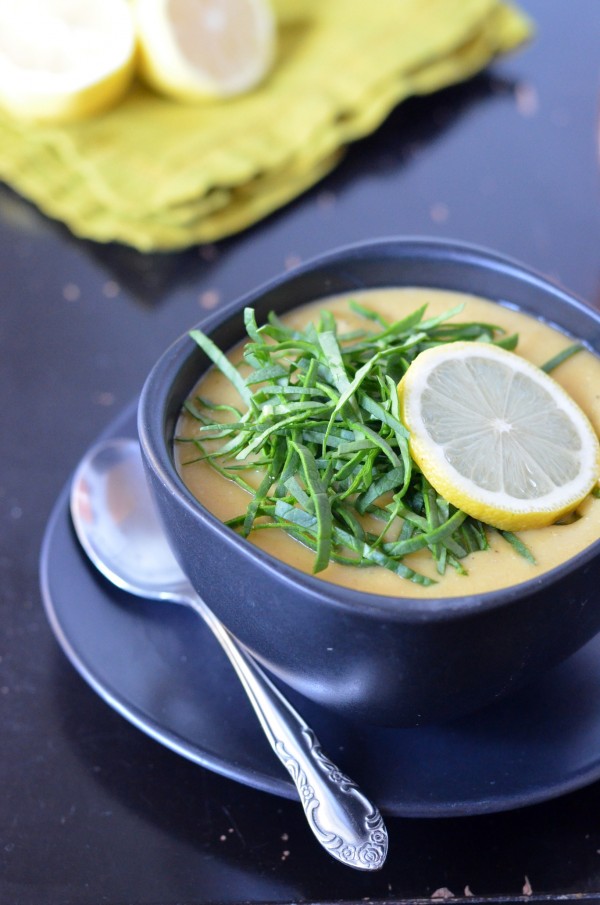 So yesterday I asked on Facebook whether you guys would prefer a soup or muffin recipe today… and somehow soup won. What?! You guys are crazy. But soup it is. Rest assured we'll do muffins on Friday.
Speaking of choosing soup over pastries… I just found out that a donut shop is going in below my yoga studio. And I'm conflicted.
On the one hand, I like donuts. I can't say I'm opposed to donut-y aromas wafting up into the studio as I lie in shavasana.
On the other hand, I don't feel like yoga and donuts really go together. I can't imagine I'll want to pick up a donut on my way out of my power class at 8 pm… which is probably a good thing. Just cancel all those chaturangas right out, will ya?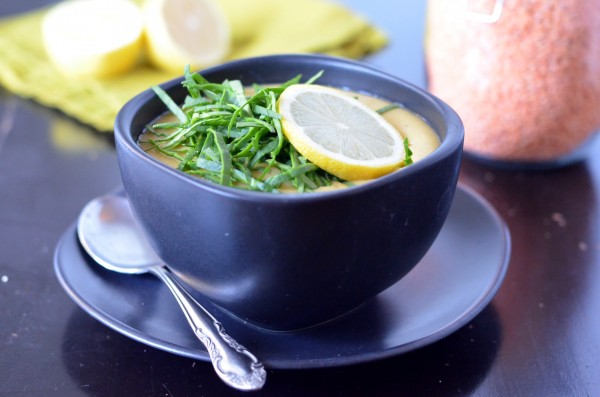 Nothing against donuts, but I have to admit I hoped (or maybe even assumed) that the space would go to a little vegetarian cafe I could patronize all the time in my sweaty yoga gear. Because that's obviously what happens to all businesses in the vicinity of a popular yoga studio – lots of sweaty patrons! At least in Salt Lake that's what happens… because here it's totally OK to go to a bar in your ski pants. True story. Going straight from your workout to a restaurant doesn't raise a single eyebrow.
Have my standards for dress and personal hygiene slipped since moving here? Possibly.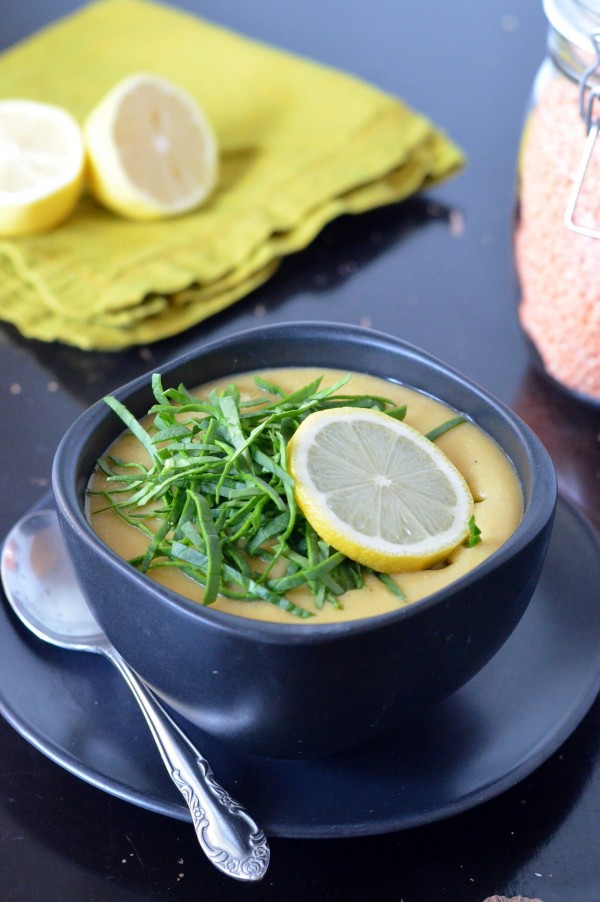 The other restaurant next to my yoga studio, which is regularly packed with sweaty yogis, is a Middle Eastern cafe. Now that is some food that goes well with yoga! They have some of THE best vegetarian grape leaves I have ever had, and I love ordering their sampler platter with grape leaves, muhamara (a red pepper dip) and tabbouleh. Sooo good. Definitely enough food to replenish my stores after dozens of chaturangas – never mind any donuts.
Another delicious menu item is this lentil-spinach soup. I gather it's pretty standard Lebanese fare, because I've seen it on the menu of almost every Lebanese restaurant I've visited, and a quick Google search will turn up countless recipes. There may be different variations, but the concept is very simple: A blend of onions, cumin, lentils and broth, topped with lemon and spinach. Pretty unassuming, but it's incredibly tasty and light and really hits the spot.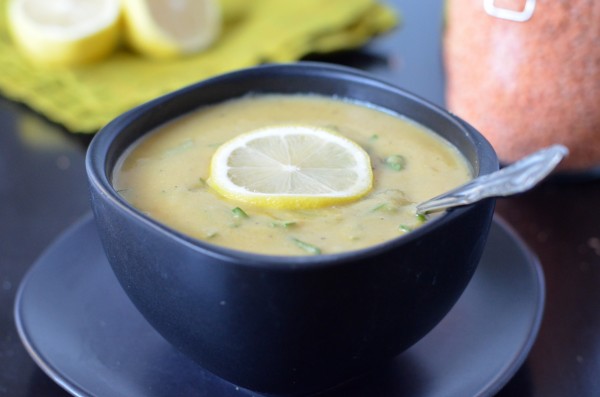 Dishes like this make me wonder why I try to dress up my soups by adding unnecessary ingredients and spices. It's true what they say: Less is more.
I recommend this soup to even the non-lentil-lovers among you. You'll love the way the lemon and cumin brighten up what could otherwise be an earthy-tasting lentil dish. It's quite light-tasting, actually! Make sure to serve with a few extra lemon wedges. And the spinach ribbons on top start out crisp but cook a bit as you eat the soup, so they're never mushy or watery. Mmmm spinachy, lentily, soupy heaven.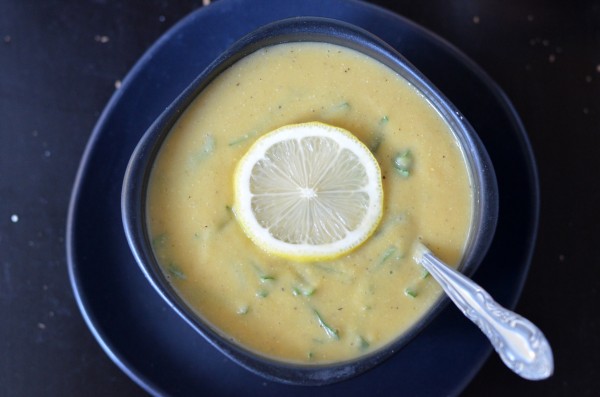 You could eat this soup after yoga, after work, or even after a donut. Sweaty attire encouraged!
No but seriously – it is great for lunch or a light dinner alongside some doughy pita bread. Or a salad! Or an apple, which is how I had it for lunch yesterday. And that's the plan again today! I love it when I still have leftovers by the time I post a recipe. Otherwise I look at the pictures in the morning and get HUNGRY.
Enjoy this soup, and enjoy your Halloween tomorrow! As you can probably tell, I don't really do Halloween recipes… but I most certainly do fall recipes, and I have just such a recipe coming up for you on Friday! Fall muffins. Just you wait.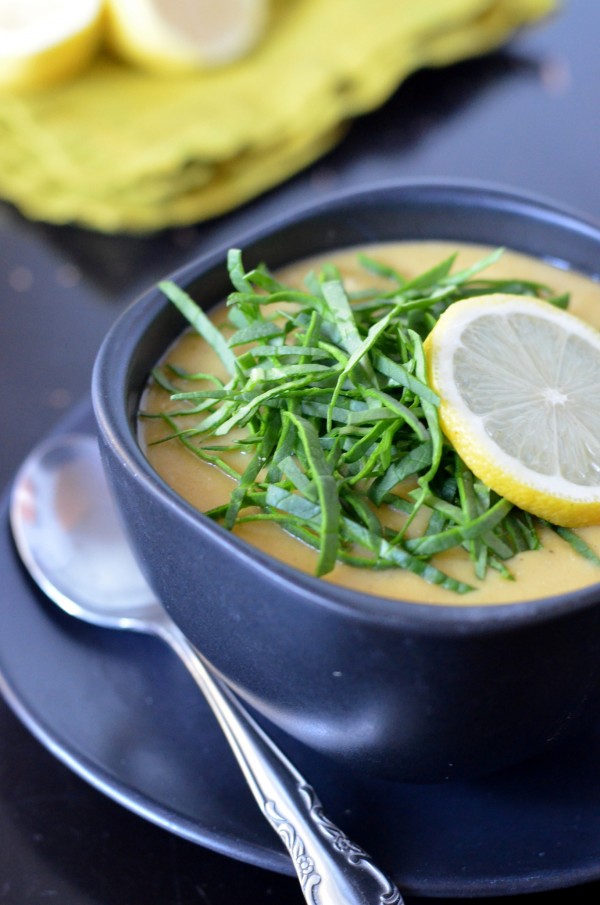 Lebanese Lentil-Spinach Soup
Ingredients
2 tsp olive oil
1 medium yellow onion, diced
1/2 tsp kosher salt
1/2 tsp black pepper
1 Tbsp cumin (yes, Tbsp)
1/2 tsp coriander
5 cups vegetable stock
2 cups split red lentils, picked over and rinsed
pinch of cayenne
juice of 2 lemons + extra lemon wedges for serving
2-3 cups thinly sliced fresh spinach leaves
Instructions
Heat olive oil in a soup pot over medium heat. Once hot, add onion, salt and pepper and saute until onions are soft, 4-6 minutes. Add cumin and coriander and saute an additional 30 seconds. Add vegetable stock and lentils and bring to a simmer. Cover and simmer over low heat until lentils are falling apart, 15-20 minutes.
Remove from heat and puree until smooth with an immersion blender. (You can also puree it in batches in a regular blender. Just make sure the steam has room to escape so it doesn't explode all over your kitchen!)
Stir in cayenne and lemon juice. Taste and adjust seasonings. If necessary, return to stove until hot.
Ladle into bowls and top each with a large handful of sliced spinach leaves. Serve with extra lemon wedges and enjoy!
Leftovers will keep covered in the fridge for up to a week. Some separation is normal; just stir together while reheating. The soup will thicken as it sits, so feel free to add more water to get it back to your desired consistency.
Notes
If red lentils aren't available, feel free to use green or brown. Just know that they will take longer to cook - at least 30 minutes.