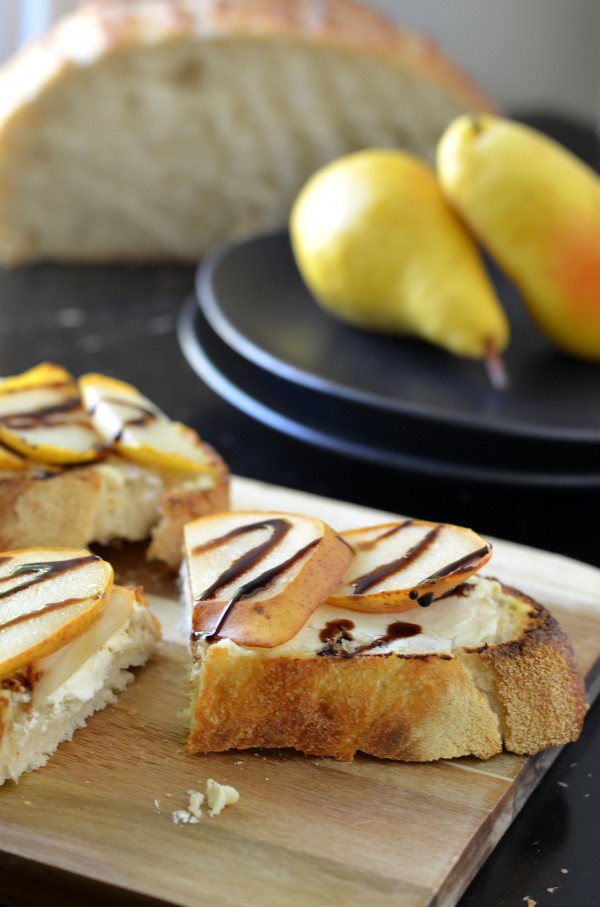 Here is something I discovered about myself when putting together this post: Apparently I really don't like sandwiches.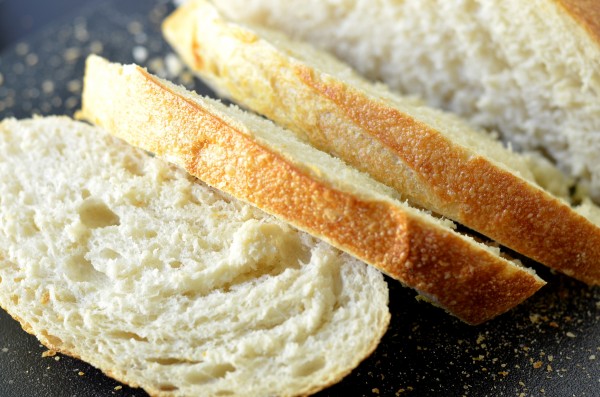 When I went to file this recipe under "Sandwiches," I discovered that there was no such category on this site. Not only have I not posted a single sandwich recipe over the past year, but this isn't even really a sandwich, either. It's a tartine, toast, open-faced sandwich – whatever you'd like to call it, I'm pretty sure no man would be willing to say this is a sandwich. Hmph.
A blog with no sandwiches is a problem. One that I will remedy in the coming months.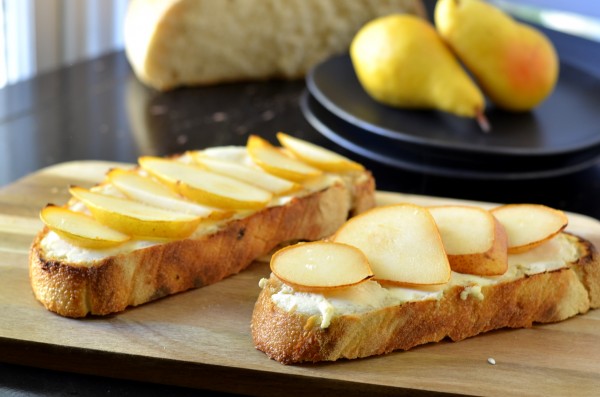 It's not that I don't like sandwiches; I guess I just don't eat them often enough to consider making one for the blog. In my defense, it's hard to make good use of a loaf of bread between two people before it starts to get stale. Excuses, excuses. But even I must admit that sometimes, especially on a chilly fall day, a crusty hunk of sourdough bread smothered in goat cheese is just what the doctor ordered.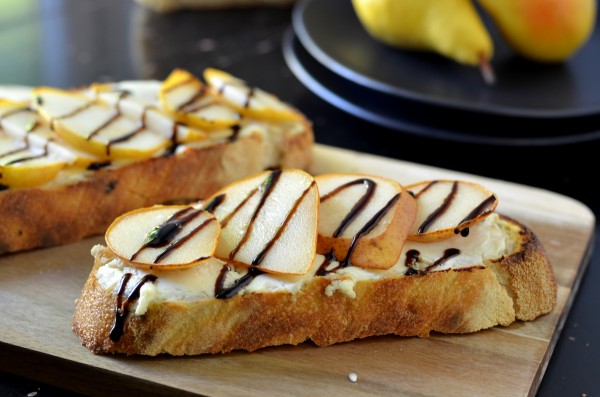 Yum.
Don't be deceived by the fancy "tartine" name – these are simple toasts. Just bread, cheese, pears, and balsamic. Because sometimes simple things are best. Especially when simple things involve goat cheese. <– Fact.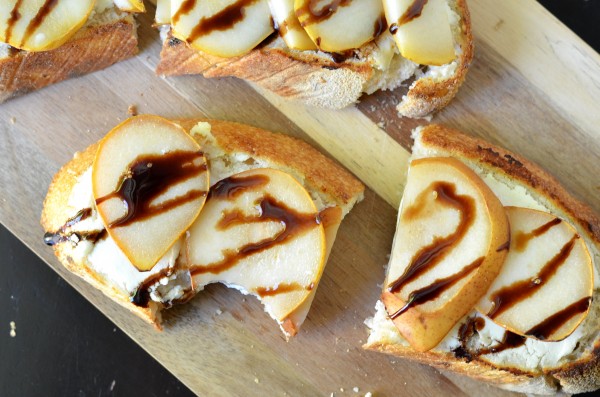 The pears around here have been delicious lately – I ate the most amazingly juicy one for a snack yesterday. I hope it's the same where you are! The downside with pears is that I can never seem to get them ripe at the grocery store; I have to leave them sitting around on the counter for at least a few days before they're ready to use. Definitely make sure your pears are plenty ripe before using them on these tartines. Even if that means you need to wait a few days to make them!
I enjoyed these toasts for lunch after a long run. They would also make a great appetizer – just use a baguette instead of larger slices of bread. And no need to use sourdough if it's not your thing; these would also be great with multigrain bread or any other type you prefer.
As long as you smother it in goat cheese, I'm happy!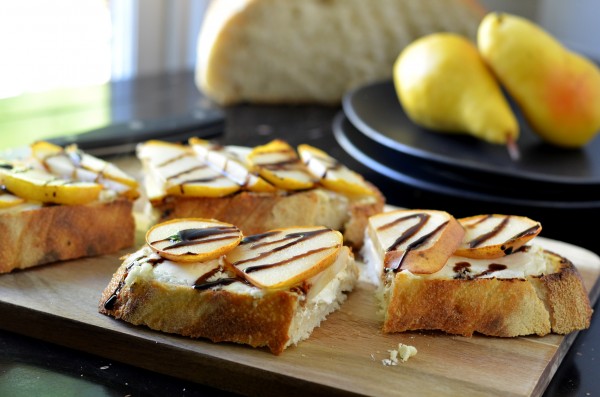 Pear & Goat Cheese Tartines
Yields:
2 large or 4 small toasts
Ingredients
2 large or 4 small slices sourdough bread
4 oz goat cheese
2 small pears, thinly sliced (Bartlett and Bosc both work)
balsamic reduction or balsamic vinegar, for drizzling
Instructions
Preheat your oven's broiler and position a rack close to the top of your oven. Whether you use the low or high setting will depend on your broiler; I started off with low.
Soften the goat cheese by microwaving for 10-15 seconds. Spread on bread and top with slices of pear.
Place directly on top oven rack. If your pears are especially juicy, you may want to position a baking sheet on a lower rack to catch any drips. Broil for 3-5 minutes, until bread is toasted and pears are juicy. You can adjust the broiler setting at any time - I did 3 minutes on low broil and then 2 minutes on high.
Remove toasts from oven and drizzle with balsamic. Enjoy hot!