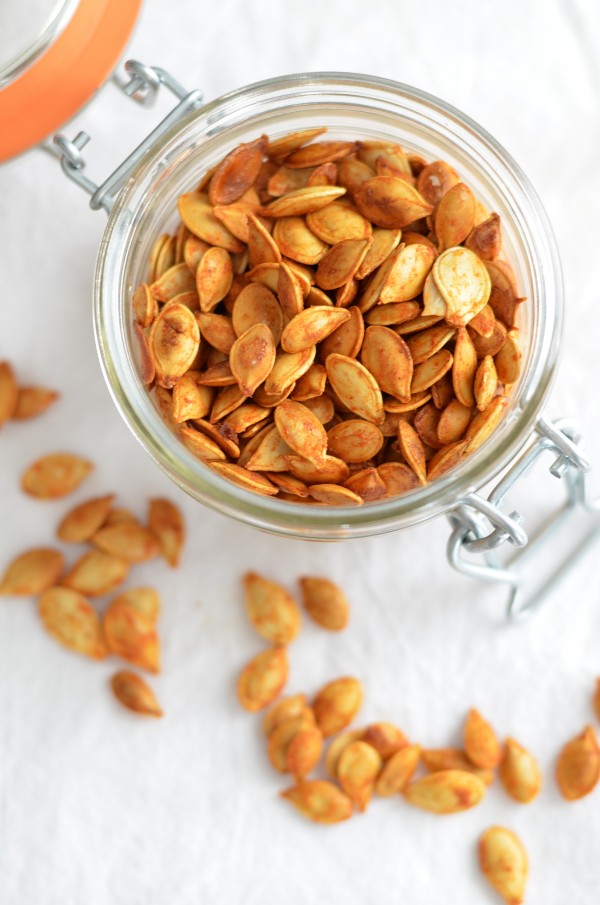 Stop! You with the stringy, goopy squash gook halfway to the trash can. Don't throw it out!
Save that stuff. Save it in a bowl in your fridge all fall so you can procrastinate making this recipe until a lazy Saturday afternoon when you finally work up the courage to submerge your hands in a cold bowl of squash gook.
On second thought, maybe just clean the seeds right up front and save a bowl of clean squash seeds in your fridge for when you want a snack on a lazy Saturday afternoon. Do as I say, not as I do.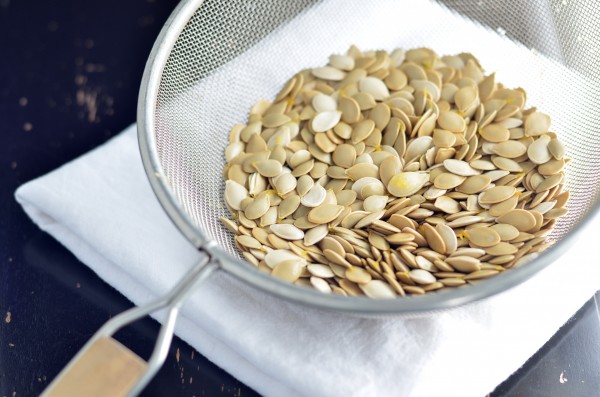 But let's back up for a second. Many people are familiar with roasting pumpkin seeds, especially after carving a pumpkin this time of year. But did you know you can do the same thing with the seeds of any other squash? If you're like me, you cook with other types of squash  much more often than pumpkin. And I love the seeds. Other than cleaning them, they are possibly the best part!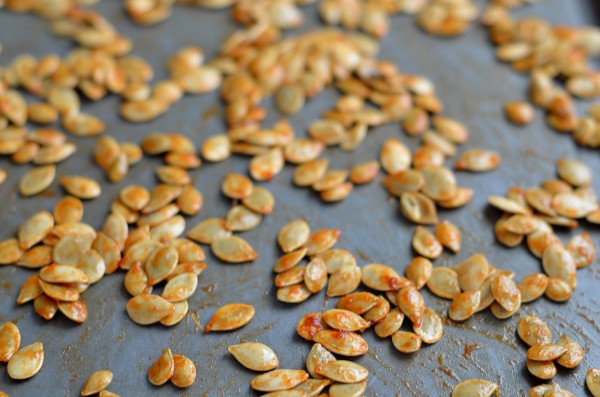 Sidenote: Does anyone have a quick way to separate and clean squash seeds? If so… don't tell me. Just give me your address, because I'd like to send you some squash innards and have you clean them for me with your quick and easy method, then send them back to me so I can roast and eat them. Sound like a deal? OK good.
For this batch, I used the seeds of a few acorn, spaghetti, and butternut squash. I often just roast them up with olive oil and salt, but I decided to go a little crazy this time with a spicy and sweet combo: honey, paprika, and cayenne. Delicious! This was such a fun and flavorful afternoon snack.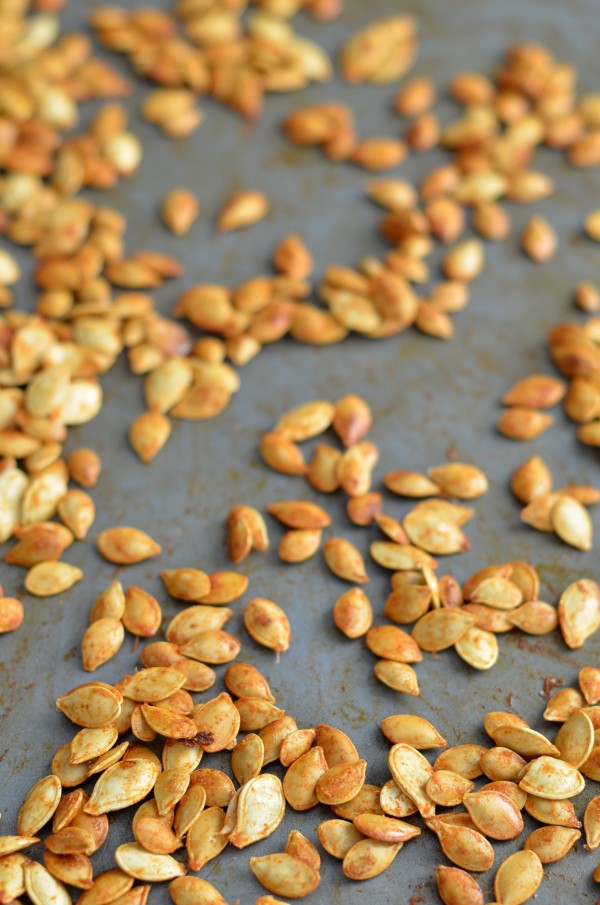 Of course, I had to roast some up plain with just olive oil and sea salt for a comparison. The spicy honey-roasted ones are different, but equally yummy. If you've only ever tried them plain, you have to make this seasoned version!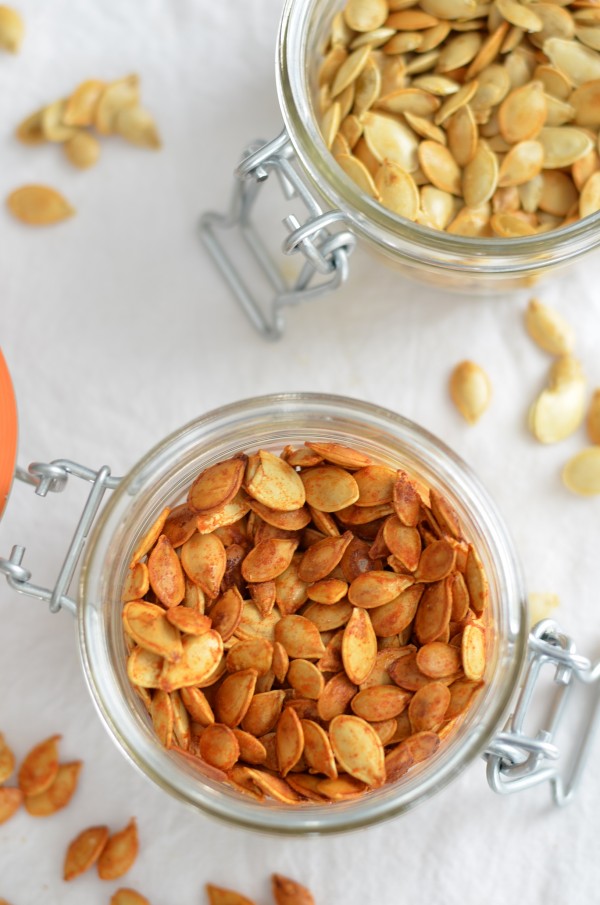 I love how crispy these squash seeds get, especially as the honey cools and adds an extra crunch. They are so addictive! If you plan on sharing with anyone, make sure they are in the kitchen when these come out of the oven… or they may not get any. Not that I would know anything about that!
Now… who wants to come over and clean the fresh supply of squash seeds in my fridge?!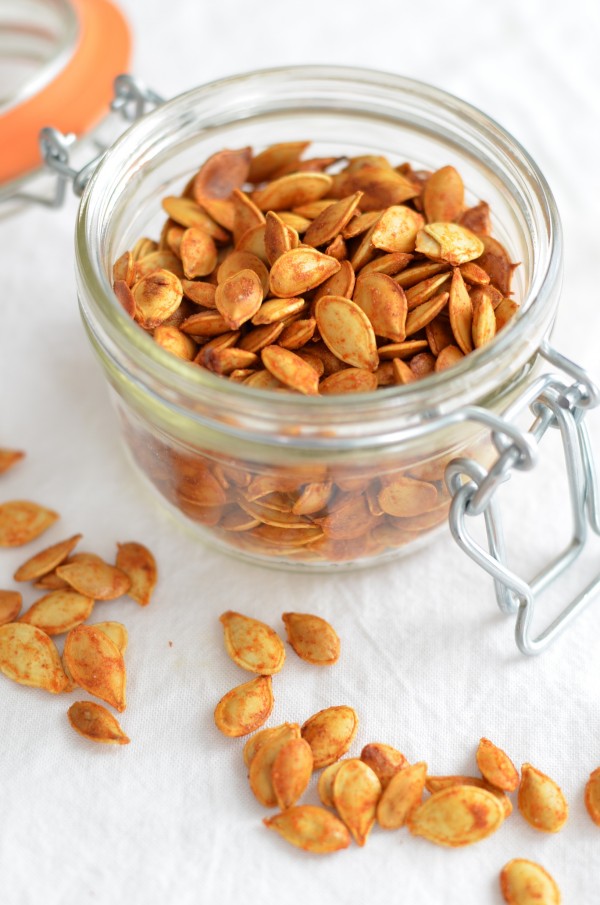 Spicy Honey-Roasted Squash Seeds
Ingredients
winter squash seeds (pumpkin, butternut squash, acorn squash and spaghetti squash all work)
kosher salt
honey
paprika (smoked if possible)
cayenne pepper
Instructions
First, clean the squash seeds by removing them from the stringy part of the squash. Place in a colander and rinse well.
Preheat oven to 325. Pour seeds into a small pot and cover with water and about 1 tsp salt. Bring to a boil and simmer for about 10 minutes. Drain and pat dry with a clean kitchen towel or paper towel. (They don't need to be super dry.)
Pour seeds into a small bowl. For every cup of squash seeds, you're going to want about 1 1/2 Tbsp honey. Warm honey in microwave (5-10 seconds) and pour over squash seeds. Sprinkle with paprika, cayenne, and a pinch of salt. For 3/4 of seeds, I used 1/4 to 1/2 tsp paprika and less than 1/4 tsp cayenne. Some of the heat will bake out, though, so don't be afraid to be generous with the spices! Stir to coat evenly.
Spread into a single layer on a baking sheet. Roast for 10 minutes, stir, and return to the oven for another 8-10 minutes. Check them often during the last 10 minutes, as oven temps vary greatly and you don't want them to burn! The seeds should taste toasted and the spices coating them will be a dark reddish-brown, but the outer coating of the seeds will not be crispy yet. This is because the honey dries as it cools.
Remove from oven and let cool until crispy. Snack uncontrollably!