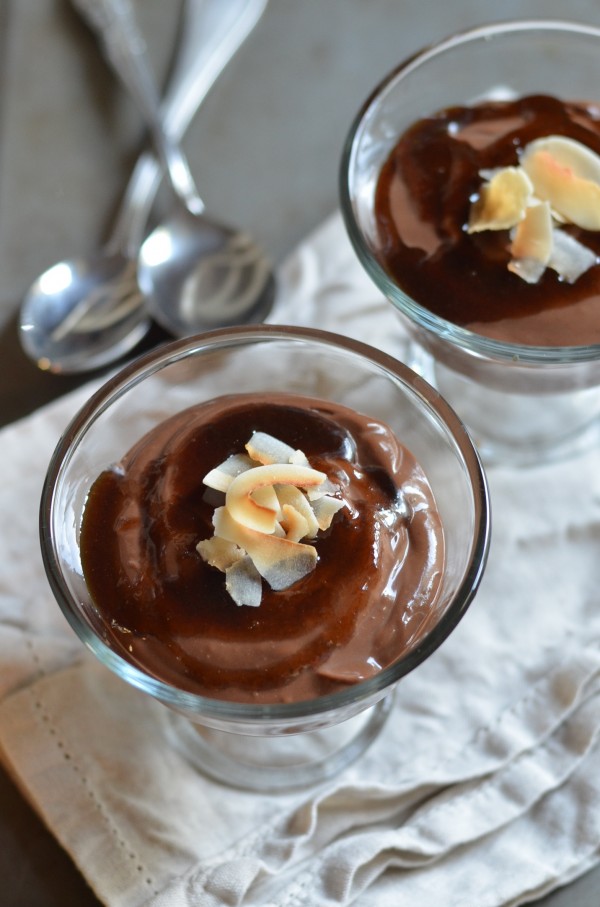 This is up there with the longest post titles I have ever published. Let's just go with it, though, because it's a special occasion.
One year ago today, I posted my first recipe on this blog. The site wasn't beautiful, the recipe wasn't great, and the food photos were taken with my iPhone on my living room floor. But I posted it anyway, because I knew I had to start somewhere.
I actually registered this domain name and published an introductory post almost 2 weeks earlier. But then I was kind of… paralyzed with fear. What should I write about? Should my first recipe involve quinoa? Crap, I don't even know how to develop my own recipes – I always follow other people's! So my little blog sat with no content for a while, until I figured it out. And that's why I'm considering the date of my first recipe post as my blogiversary – the day I decided to put my food out into the world and see what happened.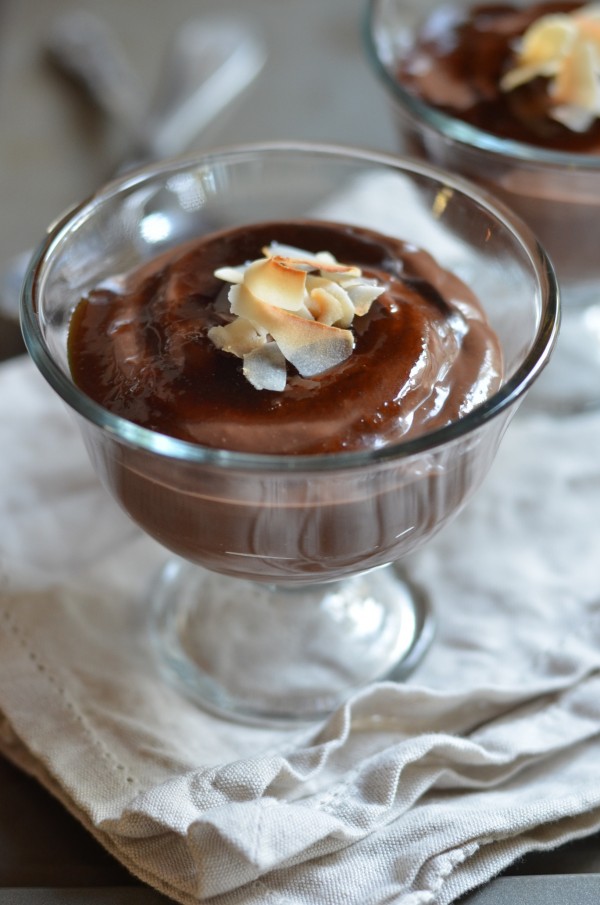 I knew that a year later, I might not be blogging anymore. And if I was, I would be embarrassed to look back on my first posts. I knew there were thousands of other bloggers out there who would always do it better than me. I decided to be OK with that and just take baby steps.
So here I am, a year later! The proud mama of a little toddler one-year-old blog. Happy to say that I am still blogging and that yes, I am embarrassed of my first posts, especially the pictures. But also that I know I have a loooot further to go… and I fervently hope that a year from now, it's these pictures I'll be embarrassed of, because I will have progressed that much further. There are still thousands of bloggers who do it better than me, and I'm still OK with that. Because the truth is that I love creating recipes and sharing them here with you all. It's the best creative outlet I've found, not to mention such a great community. That means YOU! Thank you so much for reading this food-related mumbo-jumbo that I post here. Every comment and email means so much to me – seriously. I feel so lucky to have you all as readers and invisible internet friends.
But enough of the mushy stuff. Let's eat dessert, shall we?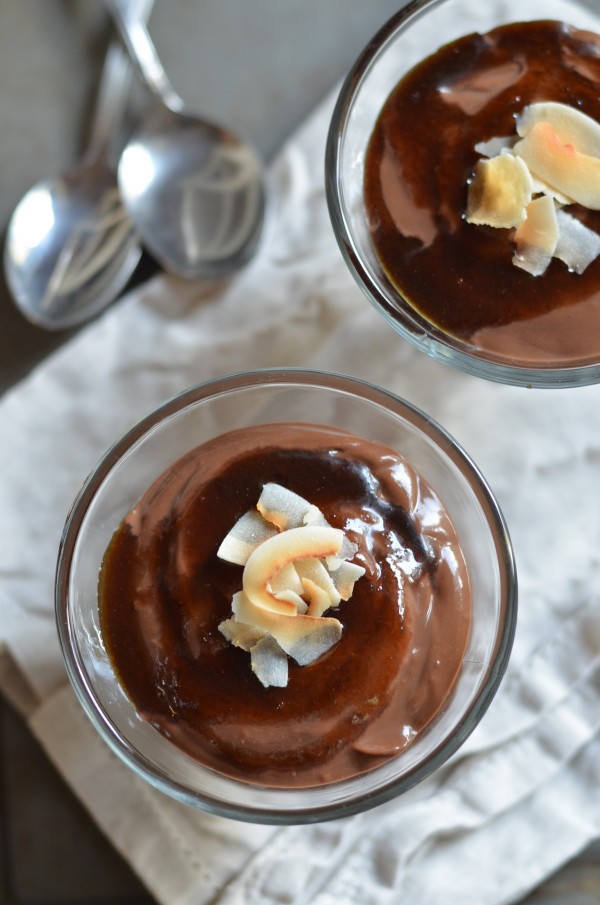 I whipped up this chocolate coconut pudding in celebration of my one-year blogiversary. I wanted to celebrate with a dessert, and it had to be two things: 1) chocolate and coconut flavored, in honor of my first post, and 2) vegan, in honor of the beginning of this blog. I snuck the caramel in there afterwards because I've been wanting to try a coconut caramel, and this seemed like the perfect time. (Still vegan though!)
Although the idea of a coconut pudding intrigued me, even I was surprised how well this turned out. I started with The Kitchn's recipe and modified it according to Deb Perelman's logic – basically, why settle for the type of sugar and fat used in solid chocolate when you can use cocoa powder and choose your own sugar and fat? This pudding, with its base of coconut milk and cocoa powder, turns out rich and chocolatey with just a hint of coconut. The caramelized notes of the brown sugar come through, using cornstarch as a thickener means we can make this totally vegan and low(-er) fat, and the coconut oil lends a silky finish. Topped with the coconut caramel sauce and more coconut (in flake form), it's just insane.
I will say, though, that the caramel and toasted coconut flakes are totally superfluous. If I were making this pudding on your average night, I would skip all the toppings and just go straight for the chocolate. But top with the caramel and coconut and you have a festive presentation, not to mention added depth of flavor, turning this into the perfect dessert to impress guests with.
Friends, throw yourself a party and serve this pudding. That's kind of what I'm doing right now!
Or, even better idea: throw your DAD a party if it's his real birthday tomorrow, not just a fake blog birthday you made up for yourself. Happy early birthday, Dad!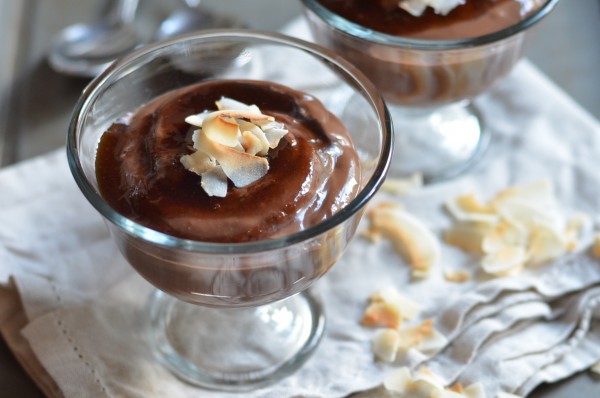 Vegan Chocolate Coconut Pudding with Coconut Caramel Sauce
Yields:
4 small or 2 generous portions
Ingredients
For the Chocolate Coconut Pudding:
14-oz can lite coconut milk, divided
1/2 cup packed dark brown sugar
1/2 tsp kosher salt
2 Tbsp cornstarch
1/4 cup cocoa powder
1/2 tsp espresso powder (optional)
1 tsp vanilla extract
1 Tbsp coconut oil
For the Coconut Caramel Sauce (optional):
1/2 cup lite coconut milk
1/2 cup packed dark brown sugar
1/4 tsp kosher salt
For garnish (optional):
1/4 cup unsweetened flaked coconut, lightly toasted
Instructions
To make the pudding:
In a bowl, whisk half the can of coconut milk, cornstarch, cocoa powder, and espresso together to make a slurry. Get it nice and smooth! This will ensure there are no clumps in your pudding.
In a saucepan, bring the remaining coconut milk, sugar, and salt to a low simmer. Slowly pour in the cornstarch and cocoa mixture, whisking constantly. Continue simmering and whisking constantly until mixture thickens, about 2 more minutes.
Remove from heat and whisk in the vanilla and coconut oil. Pudding should be smooth and glossy. Pour into a bowl (strain if necessary) and refrigerate until completely chilled, at least 2 hours. To prevent a skin from forming, press a sheet of plastic wrap down over the top of the pudding.
To make the caramel sauce:
Stir together all caramel sauce ingredients in a small saucepan. Bring to a light simmer over low heat, whisking until sugar is dissolved. Let simmer until mixture begins to thicken, about 10 minutes. Remove from heat and cool to room temperature before serving.
To serve:
Stir pudding and portion into bowls. Top with caramel sauce and toasted coconut flakes. Enjoy!
Pudding and caramel sauce can each be stored individually in the fridge for up to 5 days.