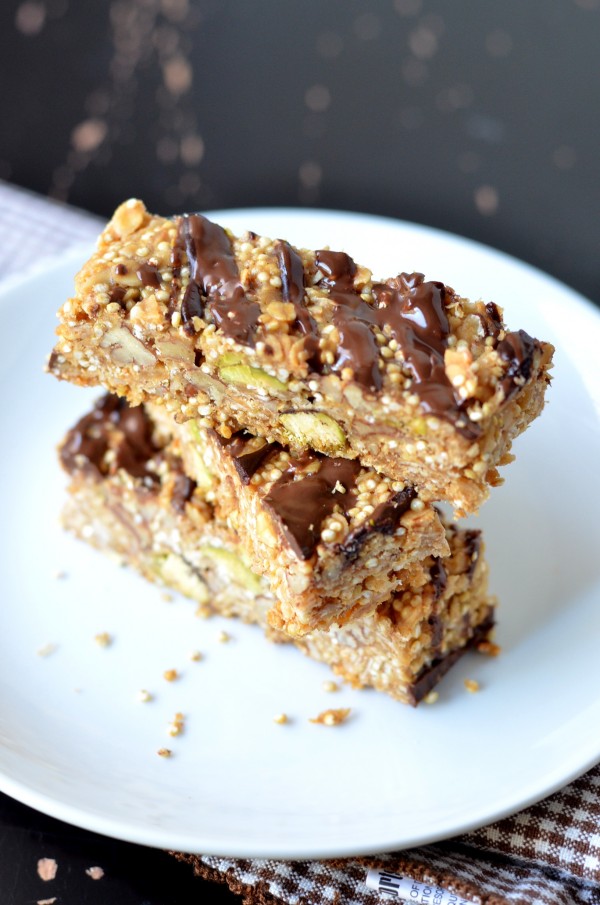 A year ago, I was a new blogger, trying to figure out how this whole blogging thing worked. Well, I am still trying to figure a lot of that out. The difference now is that there are a lot more people to witness it! Last year at this time, my family members were pretty much the only ones reading my blog or leaving comments on it. I loved them for it (still do!), but I can text them pictures of what I'm cooking anytime I want. And I do. No blog necessary.
Becky was one of the first people I didn't know to start leaving comments on my blog. I was thrilled to find out she was another new blogger, and also kind of shocked. She seemed to really have it together! Almost a year later, we still follow each other's blogs (and she still really has it together). And I'm excited to be throwing a surprise party today for her blog's first birthday!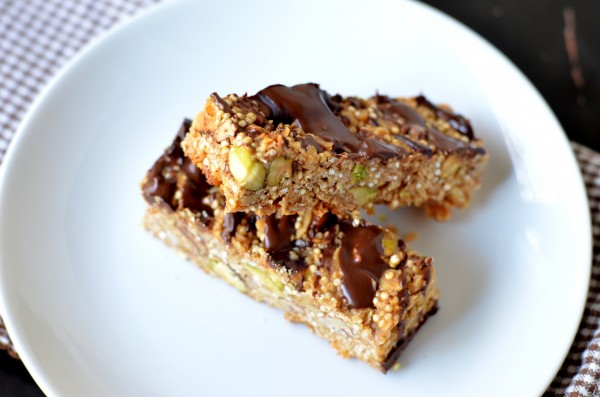 Surprise, Becky!
Today, Becky's blog, Olives n Wine, turns one year old! A bunch of Becky's blogging friends thought it would be fun to celebrate all the hard work she has put into her blog over the past year by making her recipes. Like me, Becky loves healthy entrees and not-so-healthy desserts, so there was a lot to choose from! In the end, I settled on something in between: these coconut-quinoa granola bars with a chocolate drizzle.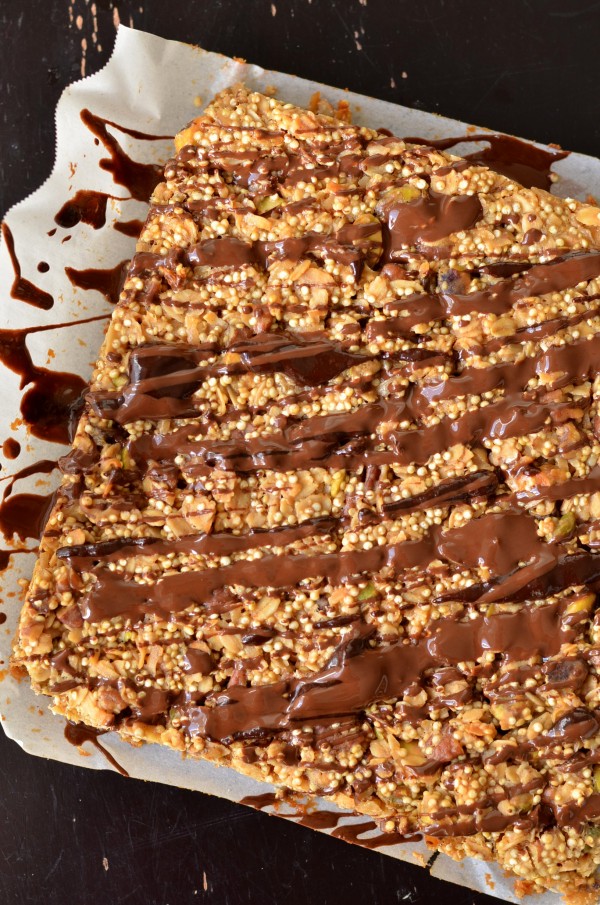 Yummmm.
It's been a while since I posted a granola recipe, but these granola bars may get me back in the swing of things. Peanut butter, honey, quinoa, oats, pecans, pistachios… there is so much good stuff going on! Just the right balance between chewy and crispy. And of course, topped off with a heavy-handed drizzle of chocolate.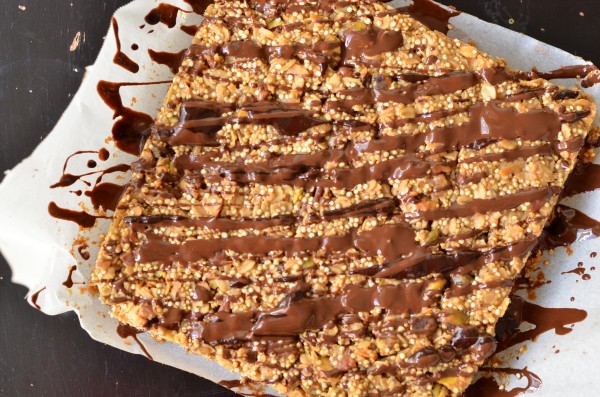 The recipe is over at Becky's blog, Olives n Wine. A few notes on changes I made from the original:
– I used a 9″ square baking dish instead of 9×13″.
– I drizzled the bars with chocolate instead of dipping them (and used vegan chocolate chips to keep it dairy-free). I used a quarter cup of chocolate chips melted together with 1 Tbsp coconut oil to make the chocolate more pourable.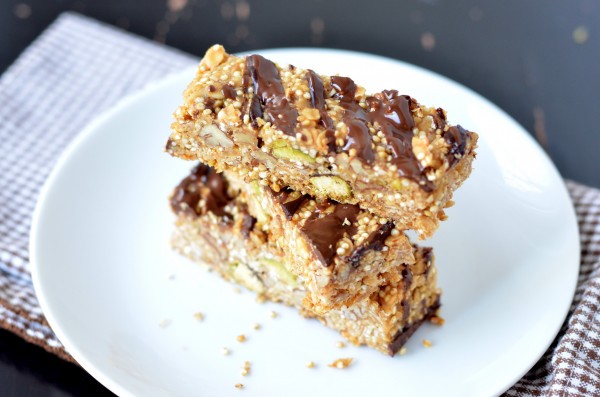 These granola bars made some of the best snacks I've had in quite some time. Nate thought so too, and the whole batch was devoured suspiciously quickly.
Head over to Becky's blog for the recipe, and wish her a happy first blog birthday if you get a chance!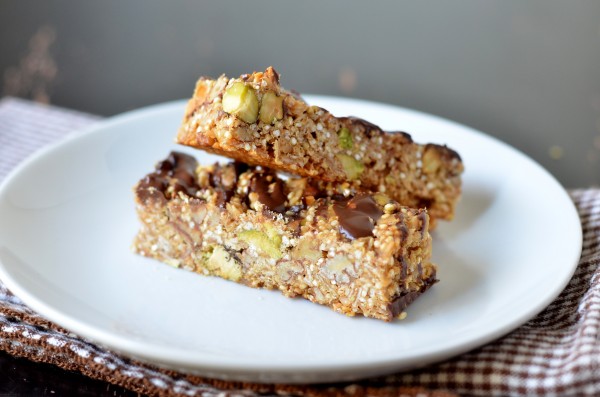 And if you'd like to check out the other bloggers who made Becky's recipes today:
Katie from Blonde Ambition made Dark Chocolate Pumpkin Cookies
Jan from Sprouts n Squats made Banana Bread Oatmeal
Jackie from Nacho Average Runner made Mexican Sweet Potato Casserole
Katie from Daily Cup of Kate made Peanut Butter Chocolate Cookie in a Mug
Holly from Eat Great Be Great made White Chocolate-Walnut-Coconut-Butternut Squash Dessert
Amanda from Running with Spoons made Easy Breakfast Cookie in a Mug
Dana from The Daily Moderation made Pumpkin-Nutella Bars with Cinnamon Cream Cheese Glaze
Katie from running4cupcakes made Banana Bread Nutella Cookies
Carly from Snack Therapy made Homemade Taco Seasoning
Amy from The Little Honey Bee made Skinny Chubby Monkey
Hannah from Clean Eating Veggie Girl made Jalapeno-Spiced Black Bean Burgers
Sam from Better with Sprinkles made Spinach and Cheese Lasagna Roll-ups
Davida from The Healthy Maven made Biscoff Chip Cookies
Sarah from Making Thyme for Health made French Onion Soup
Alisha from Alisha's Appetite made Healthy Beef and Broccoli with a Garlic Zing
Emily from Have Your Cake and… made Creamy Butternut Risotto
Brittany from Protein & Pumps made Antioxidant Froyo Bars
Heather from Fit 'n' Cookies made Chocolate Chip Birthday Cookies
Chelsea from Chelsea's Healthy Kitchen made Greek Spaghetti Squash
Ashlee from His-n-Hers Healthy-n-Happy made BBQ Tofu Pizza
Erin from The Almond Eater made Mini Pumpkin Spice Cupcakes with Maple Cream Cheese Frosting
Melanie from Beautifully Nutty made Paleo Pad Thai
Elise from 9toFit made Arugula & Goat Cheese Flatbread Pizza
Jennifer from Brunette Anthem made Chocolate-Covered Strawberry Smoothie
Sara from Fitcupcaker made Double Chocolate Chip Muffins
Caroline from The Trendy Trainer made S'mores Cookie Dough Bars
Natalie from Free Range Human made Biscoff Chip Cookies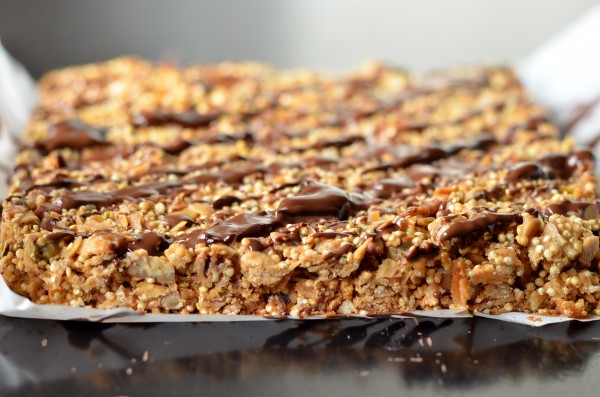 Have a good Wednesday, friends!