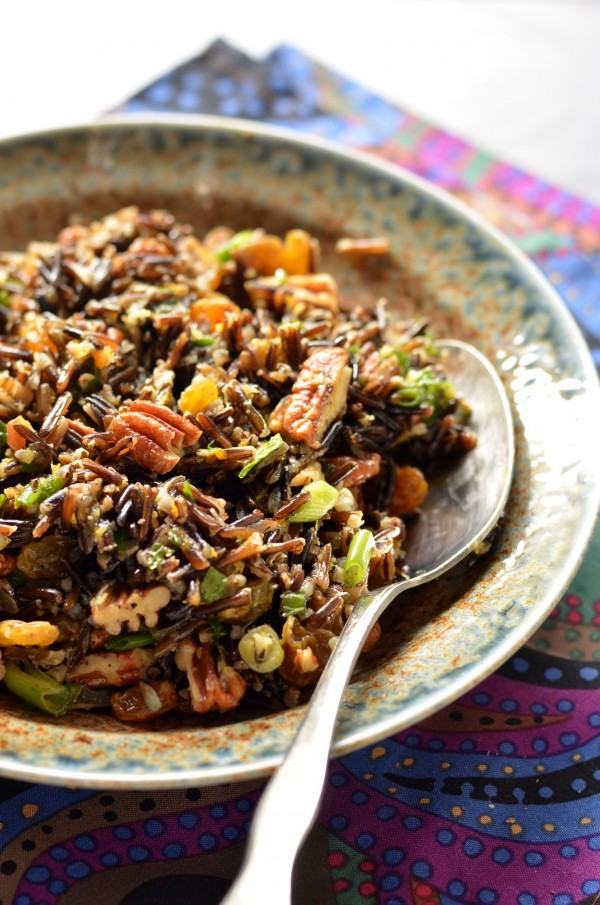 Good morning! It's Monday again, isn't it?
Well, I take that back. Some of you lucky folks probably have Veteran's Day off, making this just another day in a niiiice long weekend for you. Well hurumph. The rest of us have to work.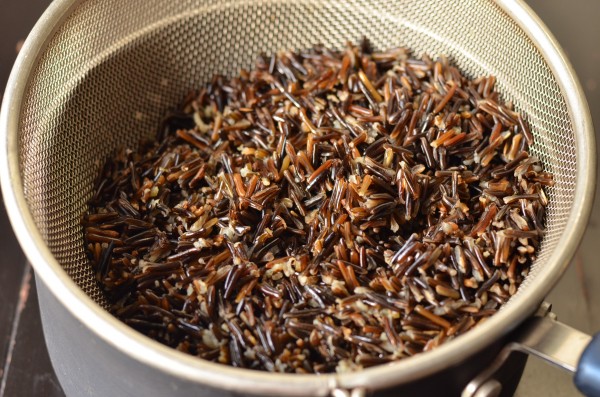 It's finally hitting me that Thanksgiving is right around the corner. Just two and a half weeks! My whole family is coming out to Salt Lake this year (minus one sister and brother-in-law! we will miss you Cait and Ben!), and my grandparents get here in less than two weeks. Cah-razy. I am psyched to have everyone out here. I am also realizing, though, that I've been considering Thanksgiving as an informal deadline for having our apartment totally put together… and that has not quite happened yet. Do you think we should finally get a living room rug after 3 months of living here? Let me think about that, better put it off a little longer. Not. Time to get on all of that.
Luckily, even with family visiting, I won't be doing all of the Thanksgiving cooking. My parents and aunt and uncle are renting a house, where prepping a Thanksgiving meal for 20 will be much more successful than it would be in my minuscule kitchen, which boasts all of 20 square feet of standing room. (Think about that for a second, lucky homeowners and even fellow apartment-dwellers… 4 feet by 5 feet.) Anyway. I get to play sous chef to my mom, which is a relief, as I would definitely be terrified of coordinating a whole Thanksgiving dinner myself. Once my parents get into town, we'll kick things into high gear with grocery shopping, pie making, and turkey brining. A holiday centered around food is a holiday well-celebrated in my family!
Since I'm starting to get in Thanksgiving mode, I thought I would share one of my favorite holiday side dishes with you all.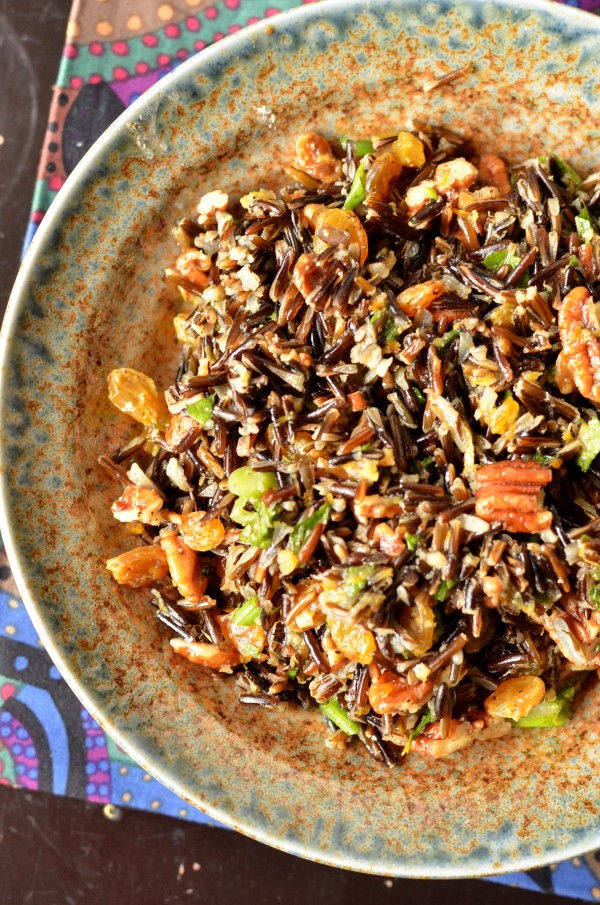 This is my mom's wild rice. It is full of good things like pecans, golden raisins, orange, and herbs, and it's been a holiday staple in our house for as long as I can remember. The flavor combination just screams holidays to me – but now that I think about it, I'm not sure if orange, pecans and raisins actually are holiday flavors or if my brain is just telling me that because I've always eaten this dish at Thanksgiving and Christmas.
Hmm. I've been thinking about it for a few minutes now and I still don't know. I will have to leave it up to you.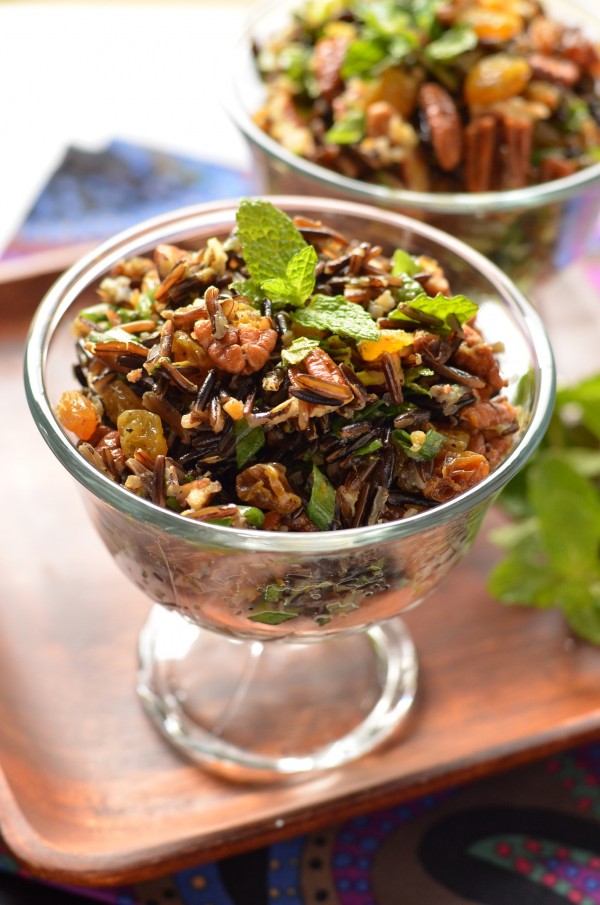 Strangely enough, before getting this recipe from my mom recently, I wouldn't have been able to tell you a single ingredient other than the wild rice… maybe the pecans. Is that weird? It must have something to do with taking your mom's cooking for granted while you're growing up… But also, the combination of flavors and textures is just so right that each ingredient is just part of the whole. Let's sing Kumbayah while we eat wild rice. Only after we finish chewing, though. Singing with your mouth full is rude.
Though the dish is technically Nutted Wild Rice, I think of this as just "wild rice" – to be honest, I'm not sure I've ever had it any other way. This is how wild rice was meant to be eaten, in all its nutty, chewy, colorful glory. With other chewy, nutty, colorful things like raisins, pecans, and herbs. They're so pretty, don't you think?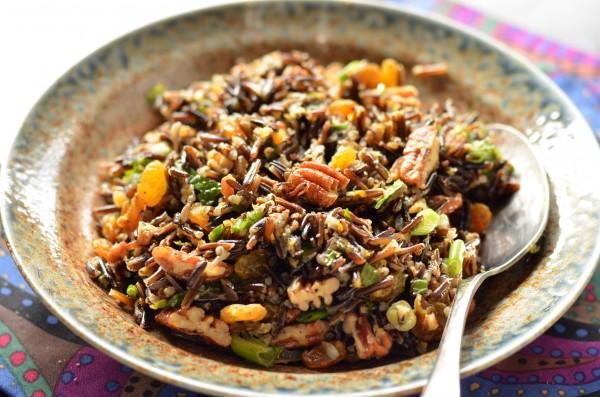 I'm planning on bringing this wild rice to a Friendsgiving party we're going to this weekend. It's the perfect make-ahead dish because it's served at room temperature and tastes best after it's had a while to sit. I don't know about your family, but I feel like most of our traditional Thanksgiving side dishes have to be made right before they go on the table (looking at you, mashed potatoes), so I love that this can be thrown together ahead of time. I'm hoping to convince my mom to make it for our Thanksgiving dinner, too, just so it's one dish we can have out of the way!
I can tell that this week is the beginning of the onslaught of holiday food from the blog world. I'm planning on having another Thanksgiving recipe or two for you over the next few weeks. Had to start with a Foulser family classic, though. Hope you enjoy!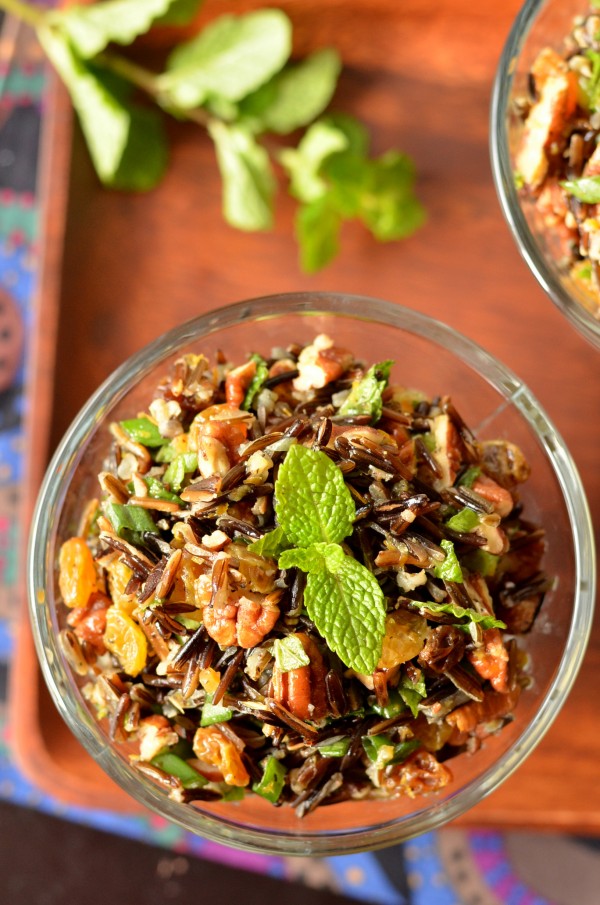 Nutted Wild Rice
Ingredients
4 cups vegetable stock or water
1 cup (6 oz) uncooked wild rice, rinsed
1 cup pecan halves, lightly toasted and roughly chopped
1 cup golden raisins
grated rind of 1 orange
juice of 1 orange (about 1/3 cup)
1/4 cup chopped fresh mint
4 green onions, thinly sliced (white and green parts)
2 Tbsp olive oil
1/2 tsp to 1 tsp kosher salt
ground black pepper to taste (I used 1 tsp)
Instructions
Bring stock or water to a boil in a small pot. Add wild rice and return to a boil. Cover, reduce heat, and simmer until tender, about 45 minutes. Drain rice and place in a large bowl.
Add remaining ingredients to the rice and stir. Adjust salt and pepper as necessary. Allow to sit for 2 hours to let the flavors develop. Serve at room temperature.