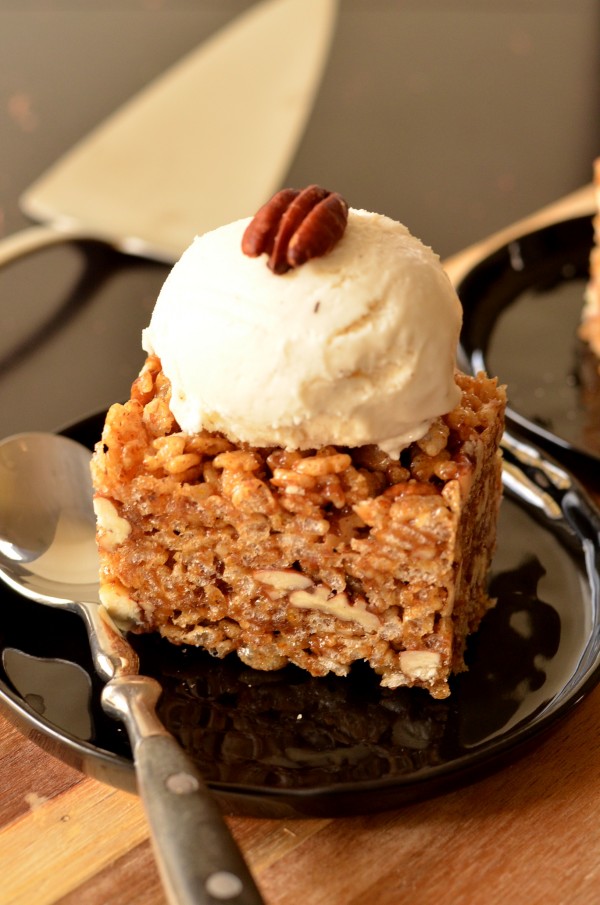 Happy day after Thanksgiving! I made you pie… kind of. Rice Krispie treat pie?
I'm sharing this recipe with you today not so much because I think you have a Rice Krispie treat craving (you probably don't), but because if you made pecan pie for yesterday, you probably have most of these ingredients already. And if you try to shove that half bottle of corn syrup back in your overcrowded cabinet, something else – probably something stinky, sticky and dark colored, and in a glass bottle, because that's how these things work – is going to come shooting out and explode all over your counter. Not to mention that next time you go to make a pecan pie, you will definitely have forgotten that you already have the corn syrup, and you'll buy another bottle, use half of that one, and then try to wedge it into your cabinet as well. Not that I'm speaking from experience or anything… and please don't count the half bottles of corn syrup in my cabinet.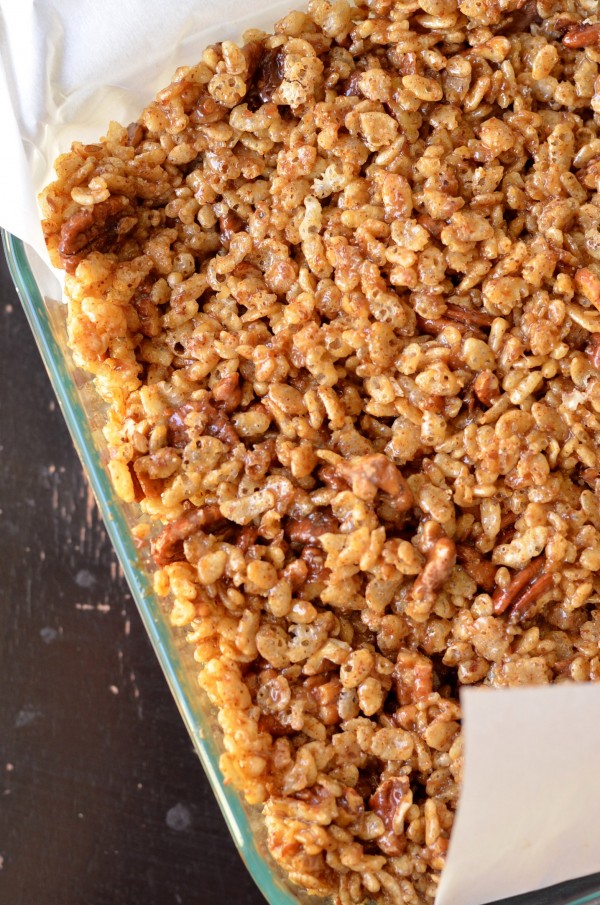 I recently learned that there is a pecan shortage this year, and that is why they've been so expensive?! I am slightly concerned that my personal pecan consumption over the past few weeks may have contributed to it, as roughly 5 of my past 6 recipes have contained pecans. Well OK, I'm not that self-centered, but pecans really have been a food group for me lately. 'Tis the season, I suppose.
Pecans are pretty out of control in my life lately, but pecan pie has always been my favorite. I mean… butter, corn syrup, sugar, eggs, vanilla, pecans – what could go wrong?! Nothing. Absolutely nothing. And I know this because yesterday I watched my mother make two pecan pies without measuring a single ingredient. She is amazing, and I hope to someday reach that level of baking prowess… but I sincerely doubt I ever will, because if it didn't pass through a measuring cup, it's not going into any baked good of mine. Unless my personality suddenly shifts and I become spontaneous enough to bake without measuring. Based on that sentence, I think you can tell that will never happen.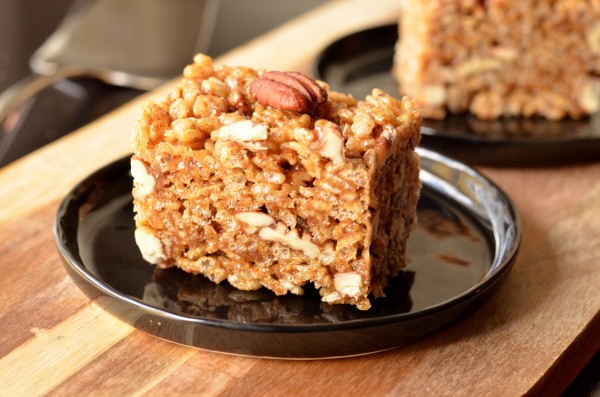 My family is a pie-for-breakfast kind of family. Mostly just on this day every year… and maybe the day after Christmas. Eating pie for breakfast on those days is totally acceptable! AND and and and… what if we added breakfast cereal to the pie ingredients?! Totally a breakfast food.
With ice cream?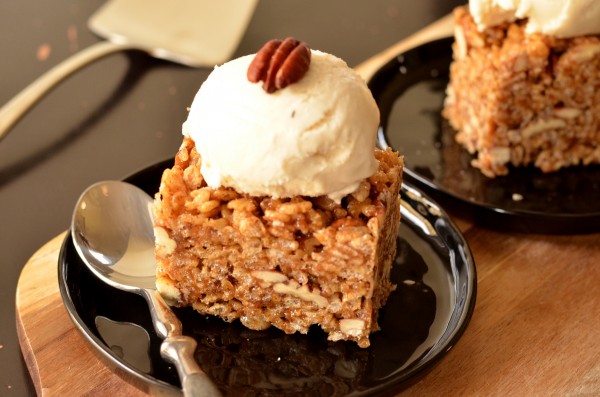 Maybe a stretch.
While maybe not breakfast food, Rice Krispie treats are definitely one of the best kid-friendly desserts, both for making and eating. No baking, minimal time between making and eating, and a nice satisfyingly sticky finger food. They are perfect for this weekend, when you might have family and kiddos around!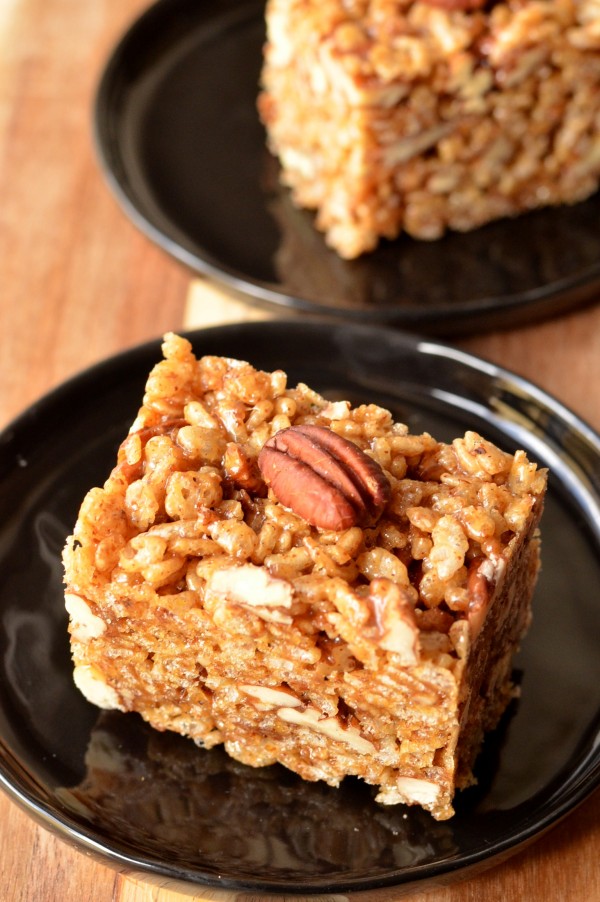 These are so much easier to make than a pie… whether you measure the ingredients or not. And yummm they are sticky sweet and totally addictive. Different than pecan pie, of course – much lighter and more fun to eat with your fingers! Perfect post-Thanksgiving treat.
As a bonus, this version is vegan. Yes ma'am! Rather than using marshmallows like many Rice Krispie treats, these bars are held together with almond butter and dark corn syrup for that delicious pecan pie taste. Plus nutty flax seed and two cups of pecans. And of course, the brown sugar, vanilla and butter really seal the deal. You can use Earth Balance to keep these completely vegan… or sneak some real butter in there, if you'd prefer. I won't tell!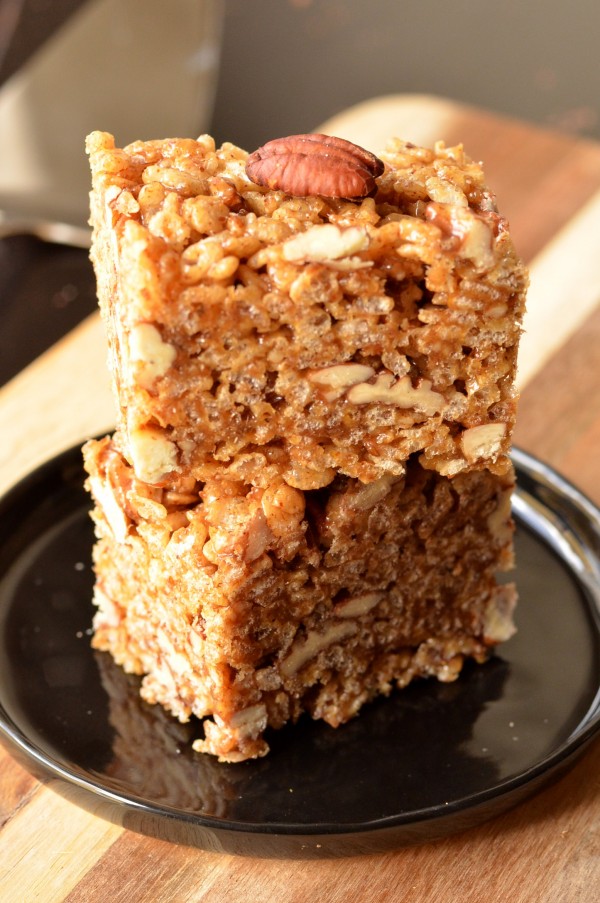 So we eat pie for breakfast. What are your traditions for Black Friday??
I am going to casually suggest that you start a new tradition by heading to the kitchen to make these. Because that pie you were planning on having for dessert tonight? I have a feeling someone ate it for breakfast.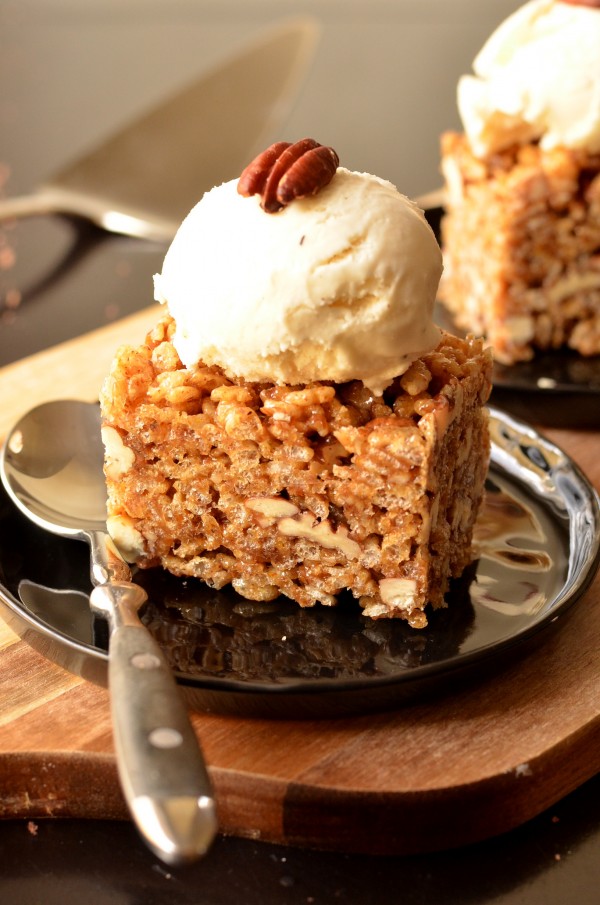 Pecan Pie Rice Krispie Treats (Vegan)
Ingredients
Dry ingredients:
6 cups crispy rice cereal
2 cups pecans, toasted and chopped
1/4 cup ground flax seeds
Wet ingredients:
1 cup dark corn syrup
1/2 cup creamy almond butter
1/2 cup dark brown sugar
2 Tbsp Earth Balance or unsalted butter
1 and 1/2 Tbsp vanilla extract
1/2 tsp kosher salt
Instructions
For best results, make a day ahead of time. Line a 9x13 baking dish with parchment paper. Grease with baking spray and set aside.
In a large bowl, mix the dry ingredients together.
Add all wet ingredients to a large pot or Dutch oven. Heat until melted and warm, stirring to combine.
Pour dry mixture into pot and stir to coat thoroughly. Press into baking dish. Let cool in fridge or on counter for several hours. Then, for best results, cover with plastic wrap and let sit overnight for the flavors to blend. If refrigerating, bring up to room temperature before serving. Cut into squares and enjoy!