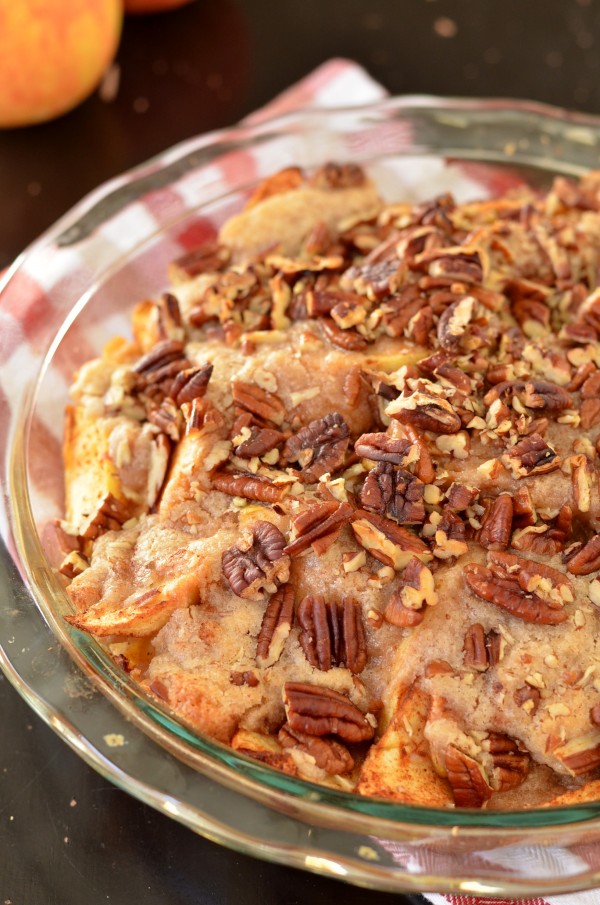 Let me just say that family traditions crack me up. Every family has their own thing. It's especially funny how traditions develop and then become set in stone, especially around the holidays. In my family, at least, they become quite rigid, especially where food is concerned. Making any changes is out of the question!
Example: Our Thanksgiving pie tradition. Now I realize we're not unique in this, but humor me. My mom makes three types of pie every Thanksgiving – pumpkin, pecan and apple, and usually two of each. No additions, subtractions, or substitutions! She's tried in the past to go down to two types, or maybe try something new for a change, but someone always complains. Hey, pumpkin's my favorite! Can't we make it? My mom is one of the most generous people I know, and certainly not one to let anyone go hungry. So before you know it, we're back at pumpkin, pecan and apple.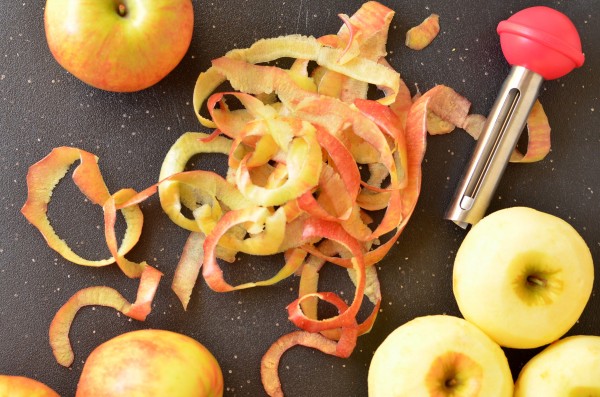 She's reconciled herself over the years to the fact that Christmas is a time to try out new and exciting dishes. At Thanksgiving, new and exciting is met only with "hey, where's the [insert traditional favorite here]?"
That sounds bratty, and maybe it is, especially because three types of pie is A LOT. My sisters and I have started helping out in the past few years… now that we're kinda sorta adults. And even then, we have to start days ahead of time. Operation Three Types of Pie should be getting ramped up around here in about T-8 days. Bring on the rolling pins!
Nate's family does pie, too, but their tradition is different. It features this Swedish apple pie, a recipe I was lucky enough to get a copy of from Nate's mom a few years ago.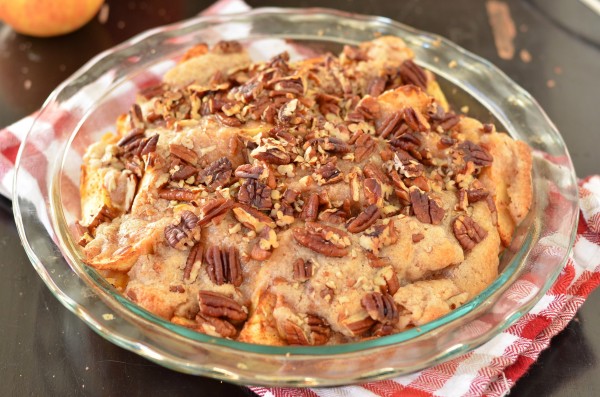 Somewhere between a pie and an apple crisp, it has no bottom crust (thank goodness) and a top crust that is simply mixed up, spread on, and topped with chopped nuts.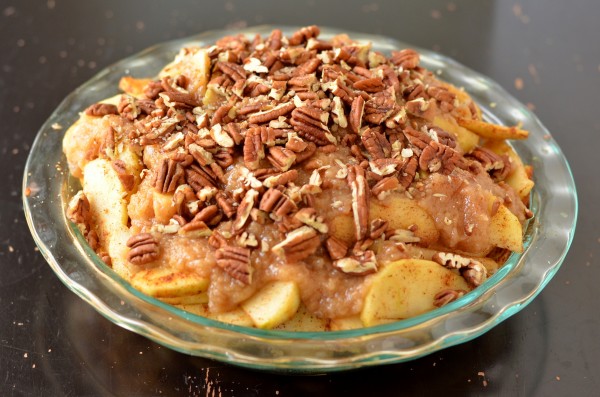 I'm not sure if you can tell from the pictures, but the topping is definitely a crust rather than a crisp or crumble. It is literally a dough that you spread with a spoon down across the top of the apples – so easy. I have yet to master a consistent pie crust, especially where rolling pins are concerned (although check back next Thursday and I think I'll a have a bit more practice under my belt), so the simple nature of this pie is a relief. It's also on the table in 60 minutes flat and made to be served warm, which I can't say for any other pie I've ever made. Ever.
I love this pie.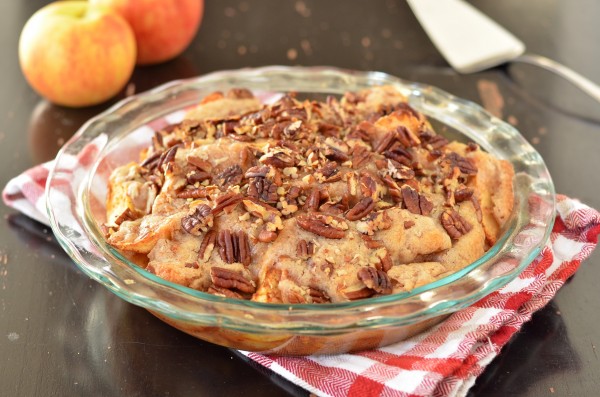 And did I mention I'm on a major pecan kick? I've topped my oatmeal with chopped toasted pecans every day for a month solid. So buttery and delicious, and totally perfect with warm, cinnamony-sweet apples. This is the only apple pie I've ever had with a full cup of chopped nuts in it, and that's probably the number one reason I'm completely obsessed.
I made no attempt to veganize this pie, as I wanted to replicate Nate's mom's original. But I suspect that a vegan version would be super easy – a flax egg, some Earth Balance, and done. I may try that out next time.
Like all apple pies, this one is just meant to be served a la mode. Just in case, for a moment, you had thoughts to the contrary! Cool and creamy vanilla ice cream is probably the only thing that could improve upon the already delicious apple-pecan combo. And it does… oh yes it does.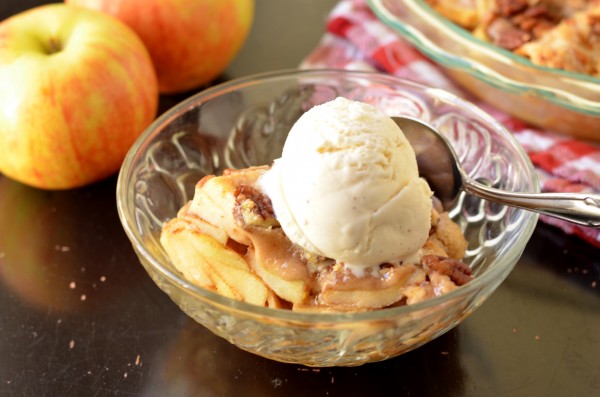 This may not be the most photogenic of the pies. Especially when you think you'll take just one cute bite for a photo, and end up diving into the melty, creamy, apply goodness spoon-first.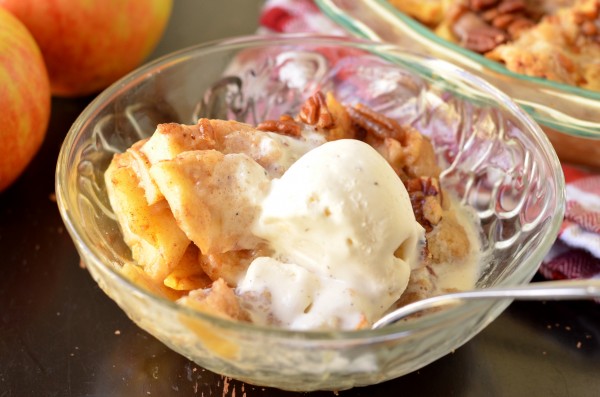 Never trust a blogger who can take just one bite.
This apple pie is best served warm, about 10 minutes after removing from the oven – like an apple crisp. The juices are still very runny at that point, though, and you can expect a big puddle of apple juice in the pie plate. If you'd rather make it earlier in the day and let it come down to room temperature first, that works, too, and the slices will hold up a little bit better. BUT you really can't beat this pie right out of the oven, so if you're OK with puddly apple juice, I say do that. You can even scoop it like an apple crisp, if you'd like.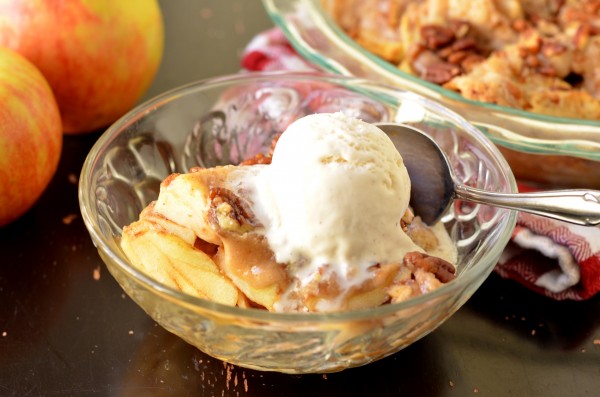 The best pie-related compliment a girl can receive from her boyfriend is that it tastes just like his mom's. I was delighted that this pie earned that seal of approval from Nate. I mean, I was using her exact recipe, but ya know. You can never tell where men and there moms are concerned.
Not to rock the boat, but I'm hoping to find a place for this pie on our Thanksgiving dessert table this year, rigid traditions or not. Will it end up happening? We'll see. After all, our traditional apple pie is my dad's favorite.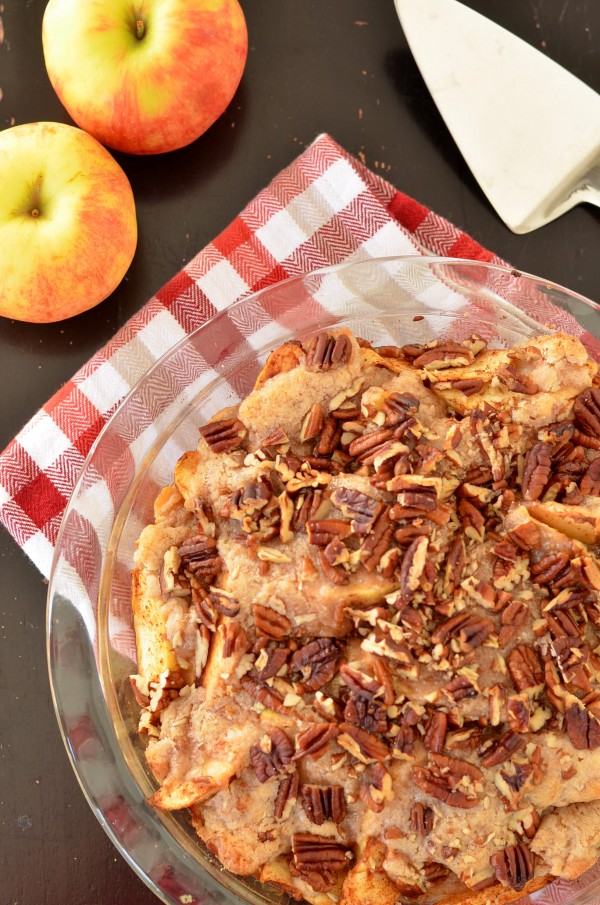 Swedish Apple Pie
Yields:
1 pie to serve 8-12
Ingredients
For the filling:
6-7 large apples, peeled, cored and thinly sliced (Granny Smith or Honeycrisp)
1 Tbsp sugar
2 tsp cinnamon
1/2 tsp nutmeg
1/2 tsp cloves
For the topping:
1/2 cup unsalted butter (1 stick)
2/3 cup sugar
2/3 cup flour
1 tsp cinnamon
1 egg
1 cup raw chopped pecans
Instructions
Preheat oven to 350. Grease a pie pan.
In a large bowl, mix together filling ingredients. Fill pie pan with the apple mixture.
In the microwave or in a small saucepan, melt the butter. Add sugar, flour, cinnamon and egg and mix together. Spread mixture over the apples and sprinkle with chopped pecans.
Bake at 350 for 35 minutes or until top is golden-brown. Allow to cool 10 minutes before serving, or bring fully down to room temperature. Serve topped with vanilla ice cream!
Leftovers will keep 3 days in the fridge. I recommend reheating them before serving. Enjoy!