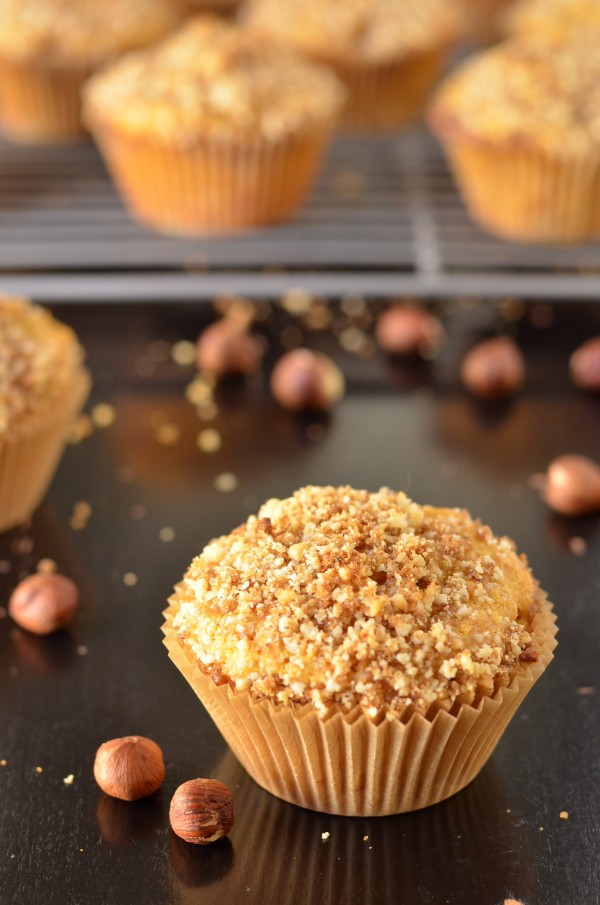 OMG muffins.
I am trying to concentrate on writing a nice little blog post for you, complete with a description of the flavor and texture of these muffins. But all I can think about is taking a gigantic nutty, squashy, apply bite out of one.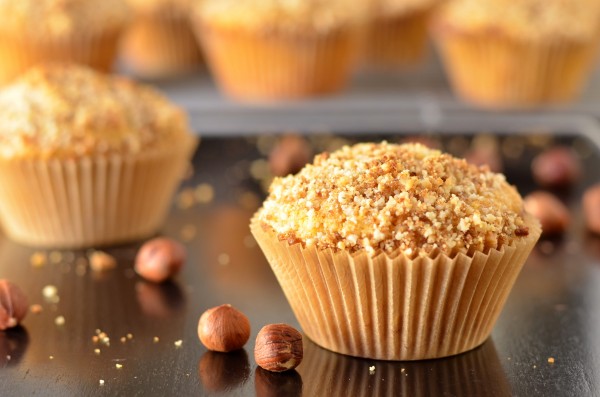 They are so good that all descriptions seem extraneous, and the thoughts swirling around in my head keep getting interrupted by interjections of "MUFFINS!" and "HAZELNUTS!" Funny how I really can't concentrate on anything, including stringing together a coherent description of these muffins, when presented with the thought of them.
Let's stick to listing the ingredients – that, I think I can handle. And I should tell you that I am excited about every single one of them.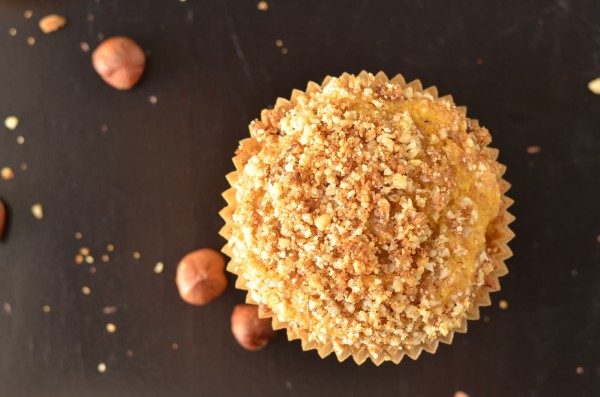 First of all, butter and brown sugar, creamed together. Forget oil – butter forms the best muffin base. These muffins are nice and cake-like, thanks to the butter – no squishy muffins. You know what I'm talking about.
Whole wheat flour, but only a little bit of it. For the rest of the flour, we're grinding up hazelnuts! OMG hazelnuts. They are amazing and they are for so much more than chocolate bars. Last October, I went to Oregon and there were hazelnuts everywhere (not to mention pinot noir!) and I was in heaven. Can you tell I'm distracted? Hazelnuts are so sweet and fragrant. Using them as the flour totally takes these muffins over the top.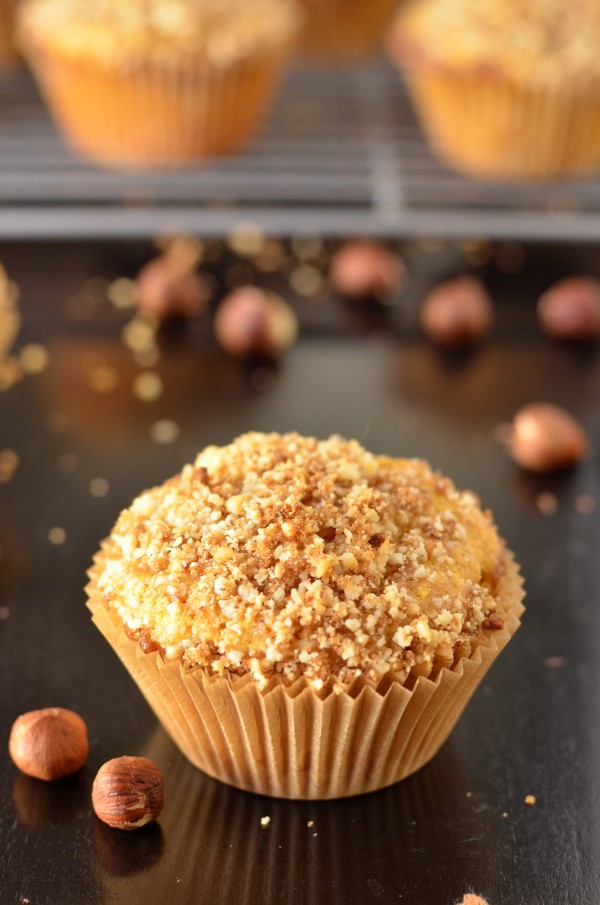 Pureed butternut squash. Crazy moisture, a fun orange hue, and a bit of that sweet squashy flavor I am going crazy for this fall. Plus those delicious warm spices it goes so well with.
An apple! Chopped up, no need to peel, adding another dimension of flavor and texture to these muffins. Honestly, they'd probably be good without it, too, but I like the texture of the big chunks of apple in there.
Finally, the topping: more of those ground-up hazelnuts plus more brown sugar. Seriously – hazelnuts and brown sugar. Can you even comprehend how good your kitchen is going to smell while these are in the oven?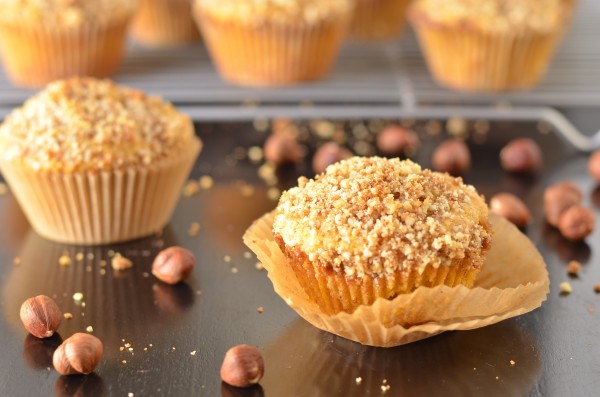 As if the sum of those muffin parts could be anything less than crazy good, we're also using a secret muffin technique here to get gorgeous domed muffin tops: Fill the cups all the way to the top, then bake at 425 for 5 minutes before reducing to normal muffin-baking temperature. The high heat puffs the muffins up without letting them spill over into one another (you know it's happened to you, too), leaving you with perfect little muffins you'll be proud to present to your family, friends, or brunch guests. It doesn't hurt that the perfectly domed tops come complete with crunchy golden hazelnuts and brown sugar. Hazelnuts and brown sugar. How many times do I have to repeat that phrase before you put on your frilliest apron and start baking?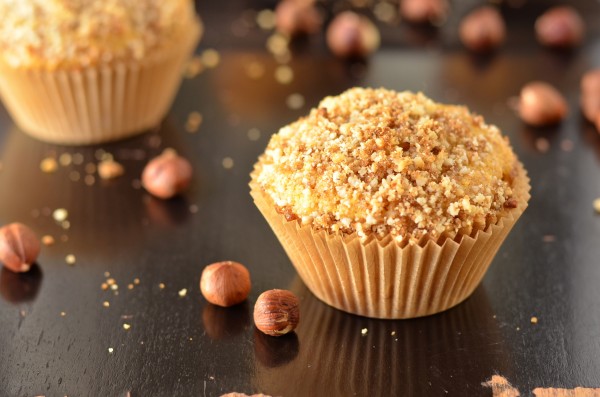 I will admit that these muffins take some planning ahead: roasting and pureeing the squash; toasting, de-skinning, and grinding the hazelnuts; etc. If you have the time, it's 100% worth the effort. But if not, here are my suggestions for cutting a few corners and reducing the prep time considerably:
– You can use canned pureed butternut squash (or even pumpkin) to cut out the step of roasting and pureeing the squash. (Or roast and puree the squash ahead of time, which is what I did.)
– You can also use almonds instead of hazelnuts to cut out the step of rubbing the skins off. I recommend almonds because they're just as hard as hazelnuts; something like pecans or walnuts won't hold up as well. You could even use almond meal so you can skip all the toasting and grinding.
But seriously, if you have fresh butternut squash and don't mind rubbing the skin off a few hazelnuts, DO THAT. The hazelnuts are what make these muffins, and along with butternut squash, they're one of my favorite fall flavors. I'm clearly obsessed. And you can find hazelnuts in the bulk bins at Whole Foods or at Trader Joe's.
HAZELNUTS AND BROWN SUGAR. Go make these now. You're welcome.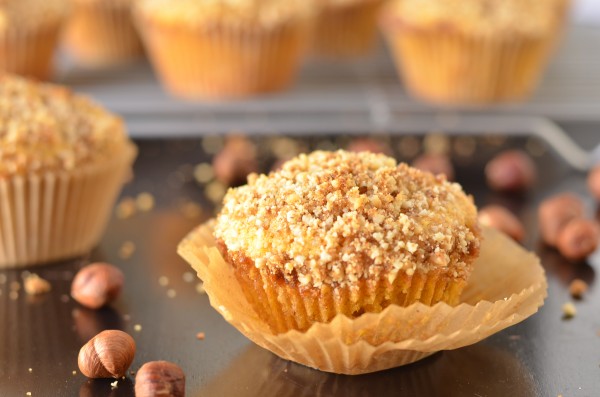 Whole Wheat Butternut Squash, Apple and Hazelnut Muffins
Ingredients
1 butternut squash, cut in half and seeds scraped out
2 cups hazelnuts
1 cup whole wheat pasty flour (or regular whole wheat flour)
1 1/2 tsp baking powder
1/2 tsp cinnamon
1/8 tsp ground ginger
1/4 tsp kosher salt
1 stick unsalted butter, at room temperature
3/4 cup packed dark brown sugar, divided
2 eggs
1 tsp vanilla extract
1 large apple, chopped (leave peel on and just chop around the core)
Instructions
To roast the squash:
Preheat oven to 375. Rub inside of squash with a bit of olive oil and place face down in a baking dish. Fill dish with about 1/2 inch of water. Roast until squash is tender, about 40-45 minutes. Set aside until cool enough to handle. Scrape out flesh and add to a food processor or blender. Puree until smooth. You will need 1 cup of squash for the muffins; save the rest for another use. Alternately, you can use canned butternut squash and skip this step.
To toast the hazelnuts:
Reduce oven temperature to 325. Spread hazelnuts on a baking sheet and toast until fragrant and golden brown, about 6 minutes. Remove from oven and pour hazelnuts onto a clean kitchen towel. Fold up the edges and let them steam for 5-10 minutes.
With the hazelnuts still in the kitchen towel, take the skins off by rubbing vigorously back and forth. There will always be a few whose skins won't come off. Just remove the skinned hazelnuts and try again with the few stubborn ones. It's OK if a few skins get left on.
Add the skinned hazelnuts to a food processor and process to a coarse crumb. Scoop out 1/2 cup of ground hazelnuts and set aside for the topping.
To make the muffin batter:
Preheat oven to 425. Line a muffin tin with paper liners or grease with baking spray.
Add the remaining ground hazelnuts to a large bowl. Sift in the flour and baking powder and add the cinnamon, ginger and salt.
In another large bowl, cream together butter and 1/2 cup brown sugar with a hand mixer until light and fluffy. Beat in the eggs one at a time, then vanilla, then 1 cup of squash puree.
Pour the wet mixture into the dry mixture. Using a wooden spoon, stir gently until just combined. Gently stir in the chopped apple.
Spoon the muffin batter into lined or greased muffin tin, filling each cup to the top. I like to use an ice cream scoop for this to create nice little domed tops.
To make the topping:
In a small bowl, stir together the 1/2 cup ground hazelnuts you set aside at the beginning and the remaining 1/4 cup brown sugar. Spoon over muffins. You should have enough to top each muffin generously.
To bake the muffins:
Bake at 425 for 5 minutes, then reduce oven temperature to 375 (without opening oven door!). Bake until a toothpick inserted in the center of a muffin comes out with most crumbs, about 13-18 minutes longer.
Let cool before serving. Enjoy!