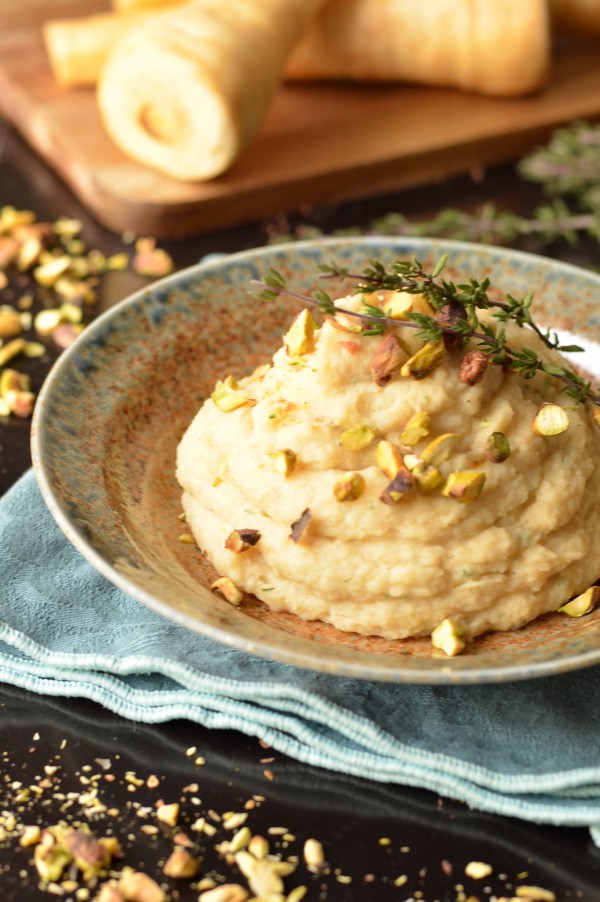 Today I made you some mashed pahsnips.
Pahhhhsnips. That's me with my Boston accent. I don't actually have one, but if I did, this would be a fun vegetable for you to hear me pronounce. I pahked the pahsnips in Hahvahd yahd… you know.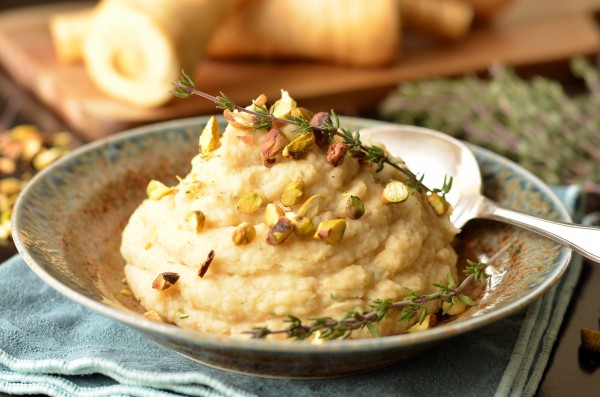 Speaking of Boston accents, that is where I am headed at the end of the week! I will be home for Christmas and then for a few days afterward, when my mom and are planning to bang out some major wedding planning. So far my mom has taken care of everything, and – gulp – we booked our venue without me having seen it in person. I can't wait to see it myself, taste the delicious food they're going to make us, meet with photographers, etc. Maybe that will make it all seem a little more real! Because right now it still seems like just a reeeeally good dream. A really good dream that is taking over my Pinterest boards.
The wedding may have been occupying the majority of my mindshare lately, but I haven't forgotten about that upcoming holiday! I even mashed up an exotic root vegetable for you in honor of it.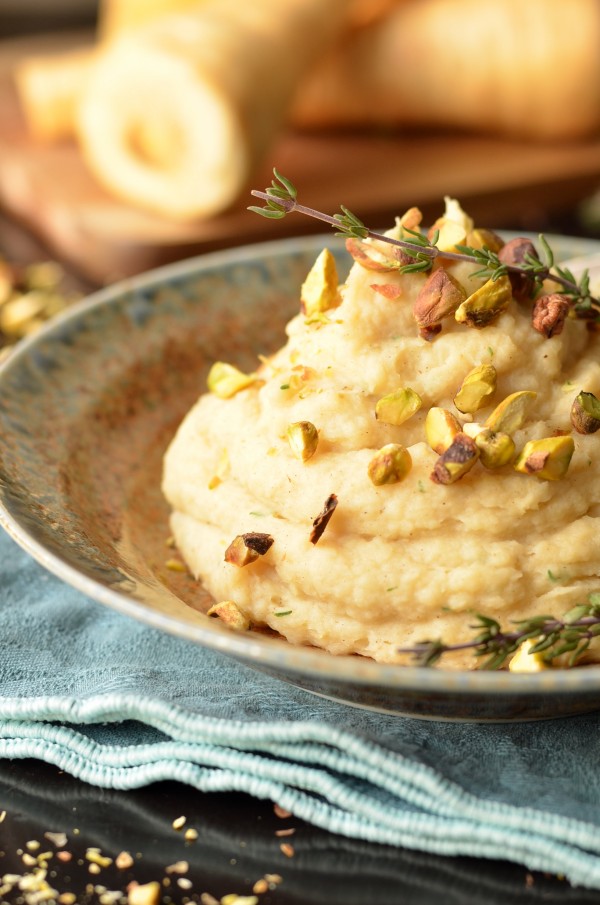 Ah yes, pahhhsnips.
I don't have too many parsnip recipes on this blog, mostly because I'm never quite sure what to do with them. To me, they seem like a cross between carrots and potatoes, both in looks and taste. And that's a little confusing. I like to eat carrots raw, but… not potatoes. And I like to dip potatoes in ketchup, but… not carrots. So what to do with a root that's somewhere in between?
Browned butter to the rescue!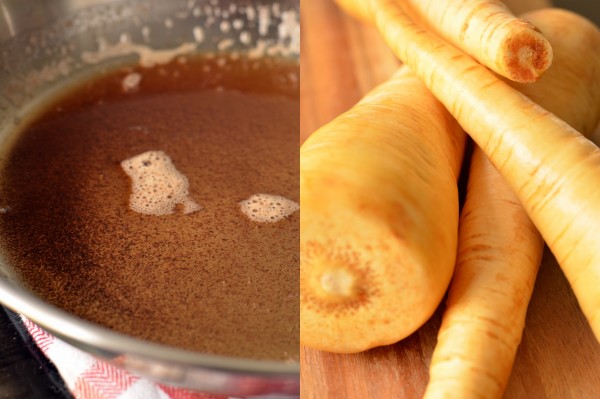 Browned butter, coriander, thyme and pistachios, that is. It's a great combination for solving the problem of what to do with a vegetable halfway in between a potato and a carrot.
These mashed parsnips are much liked mashed potatoes in texture, but they definitely have their own parsnip-y taste. With a little boost from the browned butter, of course. I used 2 tablespoons of butter here, but you can feel free to up it to 4 tablespoons for even more deep browned butter flavor. I also loved the coriander and thyme combination – herbal but not overly so, perfect to complement the rich butter.
These would be the perfect side dish for Christmas dinner – something a little different than mashed potatoes, but still familiar enough not to scare anyone off. I can't help imagining them with some meaty gravy dripping down the side! But that's not very vegetarian of me, is it?
Christmas dinner – I can't believe it's in one week. So many cookies to bake and presents to wrap before then!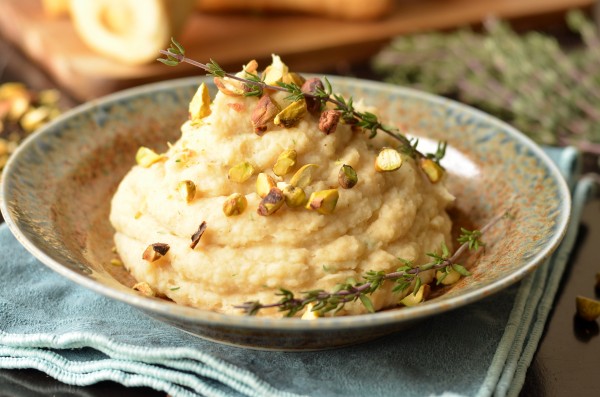 Browned Butter Mashed Parsnips with Coriander and Thyme
Ingredients
2 lbs parsnips, peeled and chopped into large, evenly-sized chunks
2 Tbsp unsalted butter (increase to 4 Tbsp for deep browned butter flavor)
1/2 Tbsp packed fresh thyme leaves
1/2 tsp coriander
salt and white pepper to taste
2 Tbsp shelled pistachios, toasted and chopped, for garnish (optional)
Instructions
Place chopped parsnips in a pot and cover with cold water. Bring to a boil and simmer until fork-tender, 6-10 minutes. Drain.
Meanwhile, in a small pan, warm butter over medium heat. Once butter is melted, swirl over heat until browned. Remove from heat and set aside until parsnips are finished cooking.
Placed drained cooked parsnips and browned butter in the bowl of a food processor. Process until smooth, scraping down the sides as necessary. (The parsnips and butter can also be whipped with a hand mixer in the pot used to boil the parsnips.) Add thyme leaves and coriander and process until smooth. Add salt and pepper to taste.
Serve immediately, sprinkled with toasted pistachios. Enjoy!