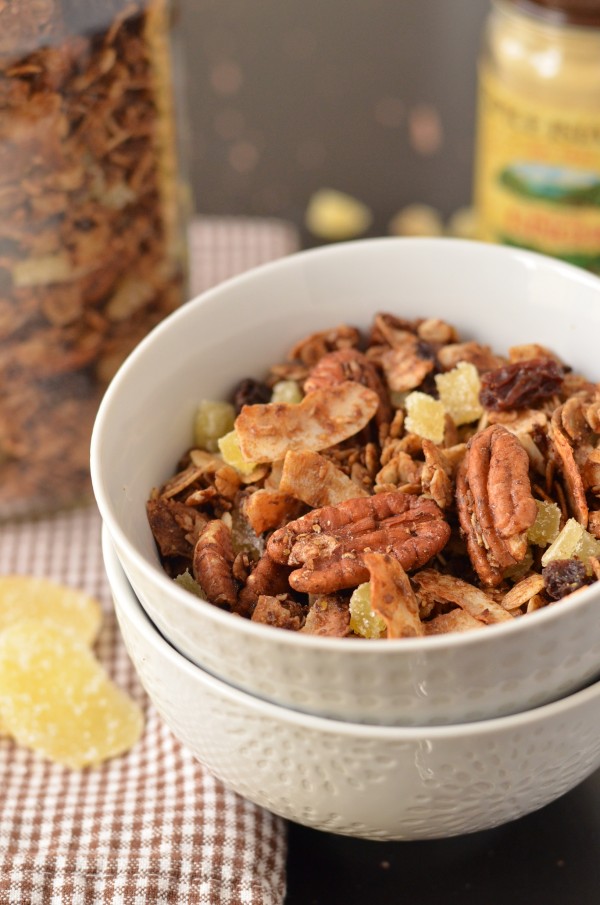 It's been a while since we talked about granola… so let's make today about my favorite crunchy snack.
Granola is one of my biggest food weaknesses. If it's visible in my apartment, I want to be eating it. That is great when it comes to things like dreaming up new granola flavors to make for you! Not so great when I have several test batches of said granola sitting around the kitchen all weekend. They may as well be tapping me on the shoulder, begging to be eaten.
These are the kinds of problems I have in my life. Remember Friday's post about feeling lucky? Mmm hmm.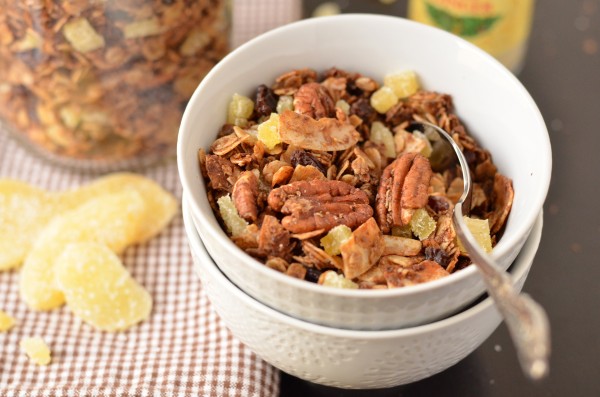 This is not your bland garden-variety granola. Two types of ginger (ground and crystallized!) pack some serious zing. I would go so far as to say that you must love ginger to enjoy this granola. If you don't? More for the rest of us, as my mom would say. (And Mom loves ginger.)
In addition to ginger, this granola is spiced with cinnamon, nutmeg, and a pinch of cloves. Plus molasses! We can't forget the molasses when we're talking about gingerbread. All of that sweet, spiced goodness coats the oats, ground flax seeds, and pecans and bakes up to a gingery perfection. Each crunchy bite will make you feel like you're eating warm baked gingerbread!
Let me mention again that this granola is seriously gingery. Perfect for grabbing handfuls from the jar when you can't resist it! Or sprinkling over yogurt, or even ice cream for dessert. I think a bowl of it with milk might be a little much, but ginger lovers: feel free to prove me wrong. (Looking at you, Mom!)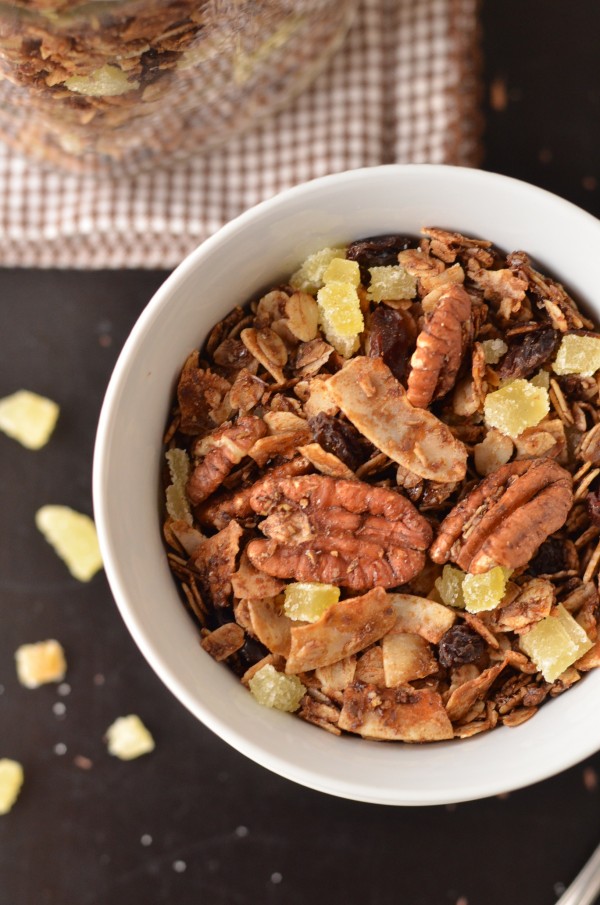 Double-Ginger Gingerbread Granola
Ingredients
Dry ingredients:
3 cups old-fashioned oats
1 and 1/2 cups pecans
1 and 1/2 cups unsweetened flaked coconut
1/4 cup ground flax seed
1 tsp ground ginger
1/2 tsp cinnamon
1/8 tsp allspice
1/8 tsp ground cloves
1/2 tsp kosher salt
Wet ingredients:
1/2 cup melted coconut oil
1/4 cup maple syrup (I use grade B)
1/4 cup blackstrap molasses
1 tsp vanilla extract
Add-ins:
1/2 cup finely chopped crystallized ginger (about 3 oz.)
1/2 cup raisins
Instructions
Preheat oven to 325 and line a baking sheet with parchment paper.
Toss dry ingredients in a large bowl. Pour in wet ingredients and stir to coat.
Spread on prepared baking sheet and bake until toasted, about 25-30 minutes, stirring once midway through. Remove from oven and set aside to cool. Granola will become crunchy as it cools.
Stir in crystallized ginger and raisins. Enjoy by the handful!