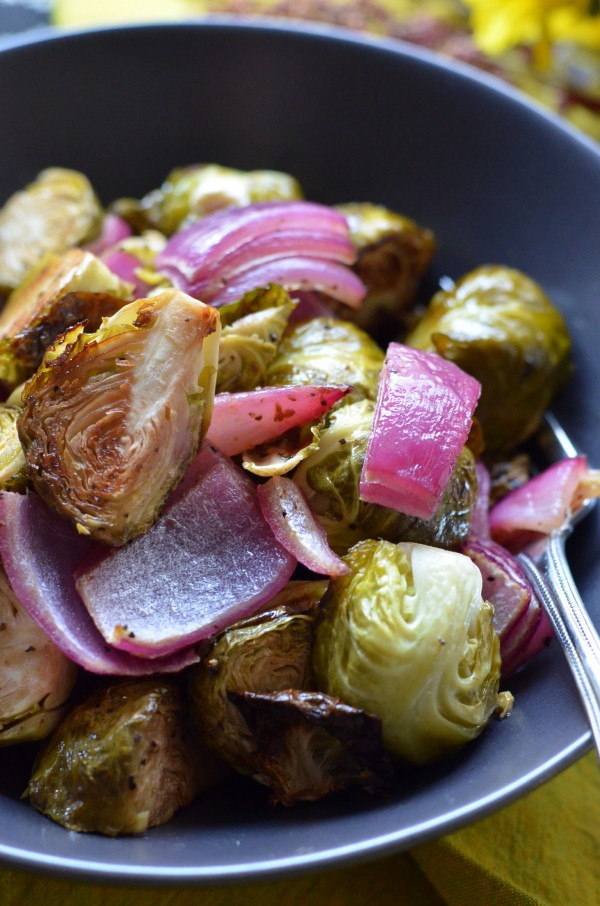 Thank you so much for all your sweet comments on Monday's post! They mean so much. Nate and I could not be happier. Life is good!
I hadn't counted on starting wedding planning quite so early, but venues book up fast! We had to start looking if we wanted any chance of getting married in 2014… and we may have found a place! Fingers crossed, but I think we will be getting married next fall. Hooray!
I wasn't really looking forward to all the planning – I usually procrastinate this kind of thing until I'm completely dreading it. Luckily I have my mom, who so far is the world's best wedding planner. How I would plan this thing without her, I have no idea. It turns out wedding planning is a ton of fun when someone else is doing all the work!
I hope you'll put up with occasional wedding talk on here. I am slightly worried I'm not going to be able to talk about anything else for the next 10 months.
And this is the part when I transition seamlessly from wedding talk to Brussels sprouts.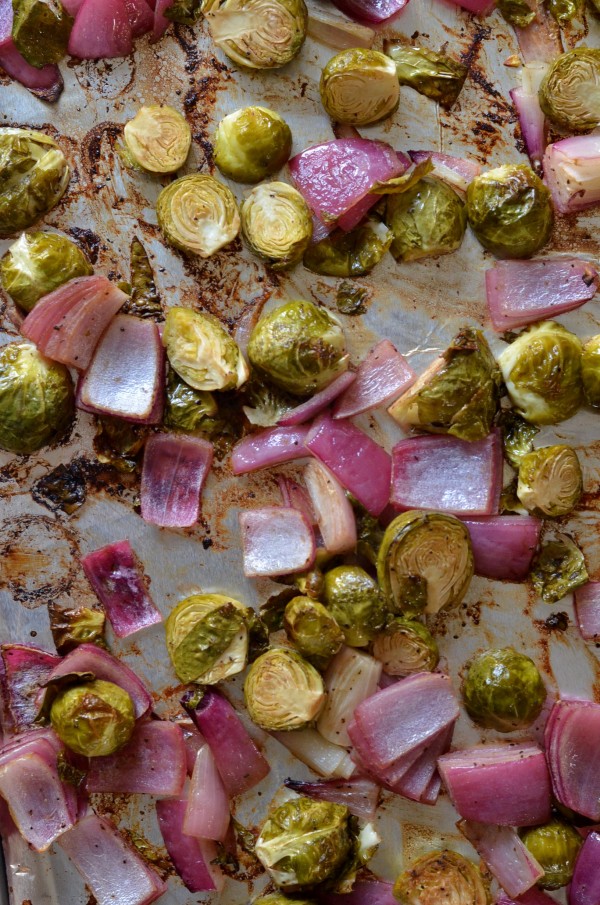 So… Brussels sprouts.
I had hoped to post this recipe in time for Thanksgiving, but you know, life got in the way. In the best way possible, of course.
I actually don't consider Brussels sprouts the ideal Thanksgiving food, because I love them roasted, and there just isn't oven space for those bad boys on turkey day. That big old bird – and stuffing, of course – totally takes precedence when it comes to oven space.
Oven space was actually somewhat of an issue during our Thanksgiving cooking. My apartment is teeny, so my parents and aunt and uncle rented a big house a few miles away. It could sleep and seat everyone… but we were shocked when my roasting pan wouldn't even fit in the only oven. Eek! My mom somehow wedged our 22-pound turkey into a smaller roasting pan and into the tiny oven, but forget about roasting anything else at the same time. I cooked the stuffing at my place, then reheated it once the turkey was out, and we ended up firing up the grill for the squash. It was interesting, to say the least, but we got by!
So Thanksgiving = no roasted vegetables. But on any other late fall or winter day, we should all roast Brussels sprouts!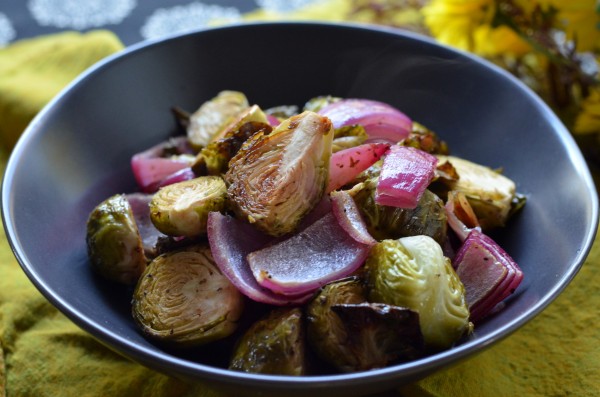 I have to admit that I love Brussels sprouts in almost any form, even just plain steamed. But roasted Brussels sprouts are on the next level. They develop a delicious caramelized flavor. The sprouts are tender, and any separated leaves get toasted and crispy – my favorite. And even better? Pair them with sweet roasted onions to balance out any Brussels sprout bitterness.
You need to hop on the Brussels sprout bandwagon ASAP!
Roasted onions and Brussels sprouts are an awesome combo, and for even more flavor, they are tossed with a sherry-dijon vinaigrette before roasting. It has just the perfect kick! The tang of the sherry and dijon mustard totally takes the veggies over the top.
These would be the perfect side dish for a meaty entree. Or a non-meaty entree, of course! We've also eaten them on a bed of spinach, topped with toasted pecans and dried cranberries. Such a yummy roasted vegetable salad.
I hope you can find room in your oven for these bad boys!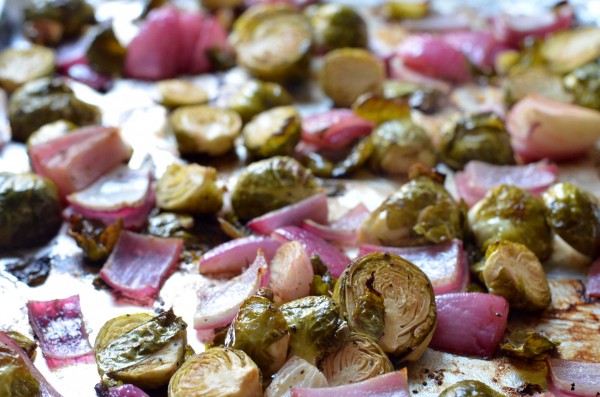 Sherry-Dijon Roasted Brussels Sprouts and Onions
Ingredients
1 lb Brussels sprouts, trimmed and halved (4-5 cups)
1 red onion, chopped into small wedges
1/4 cup sherry vinegar
2 Tbsp olive oil
2 tsp dijon mustard
sprinkle of salt and pepper
Instructions
Preheat oven to 400 and line a baking sheet with tin foil. (I highly recommend the lined baking sheet for easy clean-up on this one. I always learn the hard way!)
Place Brussels sprouts and onion in a large bowl. In a small bowl, whisk together sherry vinegar, olive oil, and dijon mustard. Pour over sprouts and onions and toss to coat.
Spread onto baking sheet in an even layer. Roast for 20-25 minutes or until starting to brown and caramelize, stirring once about halfway through. Serve hot! Enjoy.
Notes
These are best served right after roasting. I don't recommend cooked Brussels sprouts as leftovers.