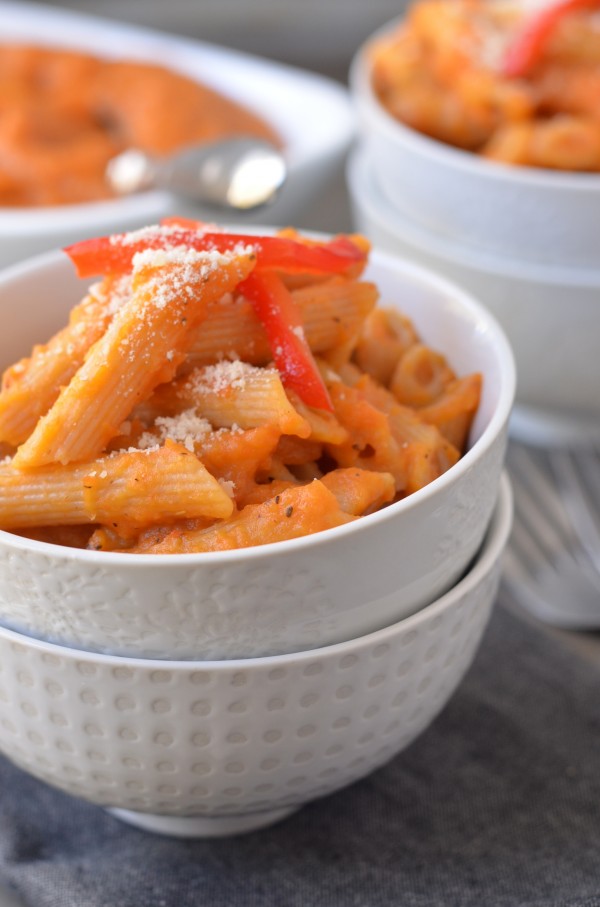 It is quite the orange week around these parts – food-wise, at least. On Monday we had sweet potato salsa, and today we're making use of my other favorite orange vegetable, butternut squash. Aaaand Friday will bring more squash! I guess I just can't get enough.
Will I turn orange by the end of the winter? Most likely.
As an aside, orange is actually one of my least favorite colors (except when it comes to food!), but I briefly considered using it in our wedding when we were planning it for October. Mostly because, in addition to loving orange veggies, I apparently love orange flowers. I will say, though, that changing venues and ending up with a September date was quite a relief. Better weather and no need to have any sort of fall theme! I'm one of those girls who has dreamed about her wedding since she was little (ashamed to admit it), and a fall wedding just wasn't what I'd envisioned. Nix on the orange!
September is quite far away, of course, and in the meantime I will stuff myself with orange foods. Mmmm.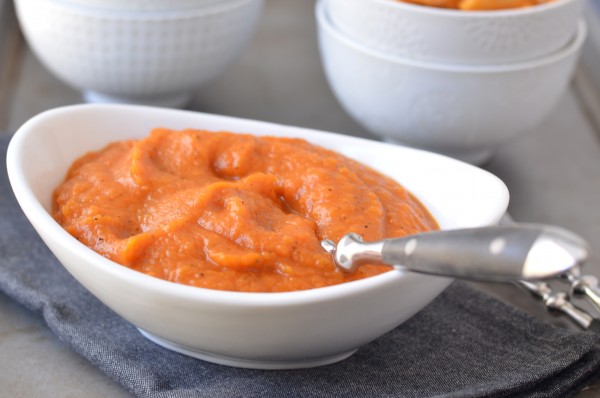 This pasta sauce is my version of Dave's Gourmet butternut squash pasta sauce, which I had for the first time at a friend's house last week. Yum! I knew as soon as I tasted it that I'd have to recreate it for you guys. And luckily the ingredient list was nice and short, making it easy to replicate at home. Now, I'm not sure it tastes exactly the same, but this version is pretty excellent, if I do say so myself.
What I love about this pasta sauce is the combination of tomato and butternut squash flavors. It tastes like a pasta sauce… yet also like squash. Does that make sense? I hope so, because I really can't think of anything better to smother a bowl of ziti in.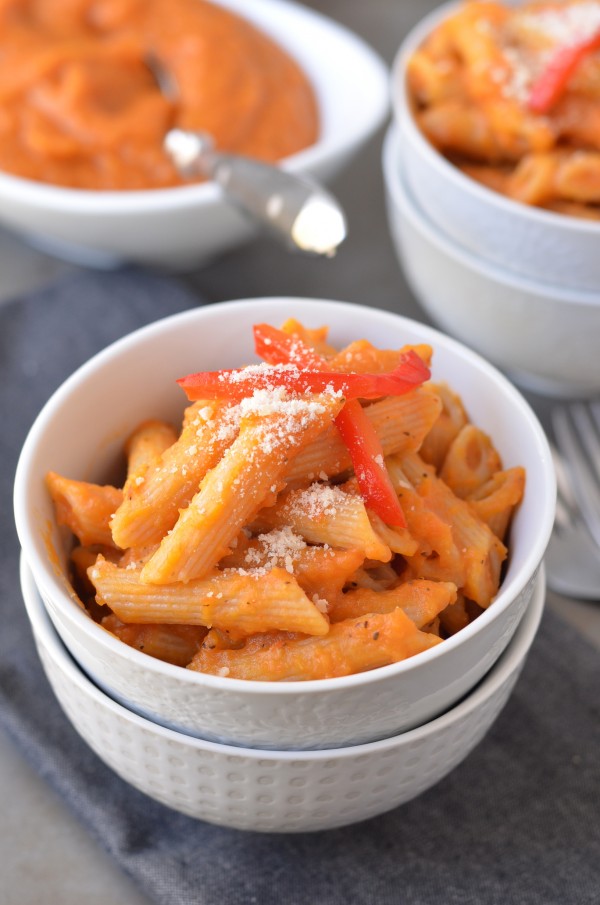 This sauce also has roasted red pepper, garlic, and a couple other veggies for flavor. Don't be afraid of the amount of garlic! This is pasta sauce, you know… and I'm pretty sure if you're Italian, you'll double the garlic anyway :)
Top with a sprinkle of parmesan cheese, and you have a hearty, wintery bowl of squashy goodness!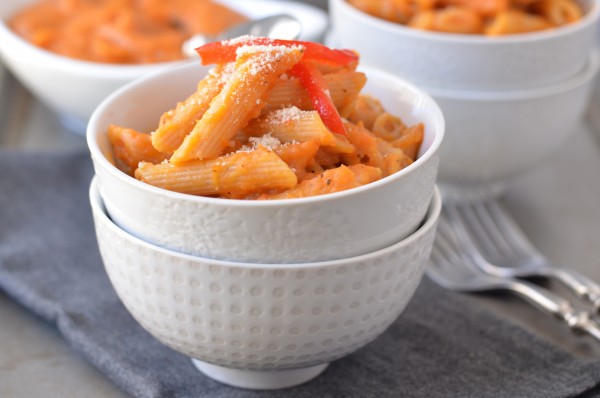 Butternut Squash Pasta Sauce
Ingredients
For the sauce:
3 cups packed roasted butternut squash (from about 1/2 of a large squash)*
1/3 cup roasted red peppers* (jarred or see below for roasting instructions)
2 Tbsp butter
1/2 yellow onion, diced
2 stalks celery, sliced
4-5 cloves garlic, minced
6 Tbsp tomato paste
1 Tbsp sugar
sprinkle of salt and pepper
squeeze of lemon
1 cup water
For serving:
Instructions
Melt butter in a pan over medium-low heat. Add onion and celery and saute until onion is translucent. Add garlic and saute another minute. Add tomato paste, sugar, and salt and pepper, and stir to combine. Saute another minute. Remove from heat and add to the bowl of a food processor (or blender) along with squash, roasted red pepper, and lemon. Process, streaming in water as necessary to achieve desired consistency. I like to let mine run for a few minutes for a smoother texture.
Serve atop pasta with a sprinkle of parmesan cheese. Enjoy!
Notes
*To roast the squash: Preheat oven to 425. Cut a large (about 4-lb) butternut squash in half lengthwise and scrape out seeds. Place cut side-down in a glass baking dish and fill with 1//2 inch of water. Bake until fork tender, about 45 minutes.
*To roast the red peppers: Preheat broiler. Cut pepper in quarters and remove veins and seeds. Place on a baking sheet covered in tin foil with skin facing up. Broil until skin is completely blackened, 6-10 minutes, depending on your broiler. Remove from oven and place pepper in a Ziploc bag. Zip and allow to steam for 10 minutes. Peel off skin and discard. I used about 1/2 of a pepper.