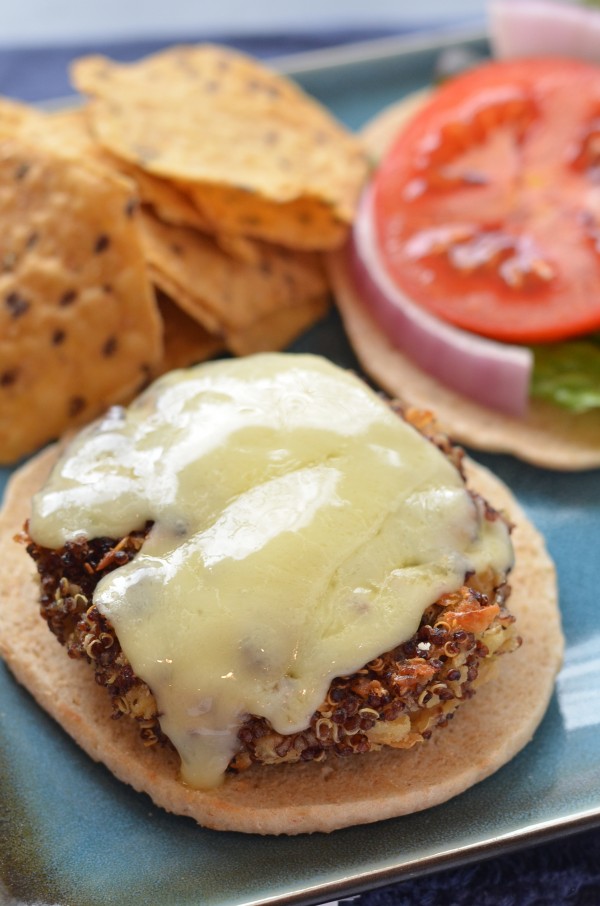 Can I get an amen for Friday?
I know this is the second week back from the holidays, but I'm still feeling like the 5-day work week is pretty brutal. I deeefinitely got used to working just a day here and there over Christmas and New Year's, and these endless 5-day weeks stretching from here to Memorial Day are so unwelcome. Just the thought makes me want to curl up in my robe and slippers and take a nap.
Actually, pretty much all thoughts make me want to do that. I am sleepy with a side of lazy, and the fact that I'm always freezing just makes my robe that much more appealing. Mmm fluffy robe. Can I wear that thing to work? That might make my week better…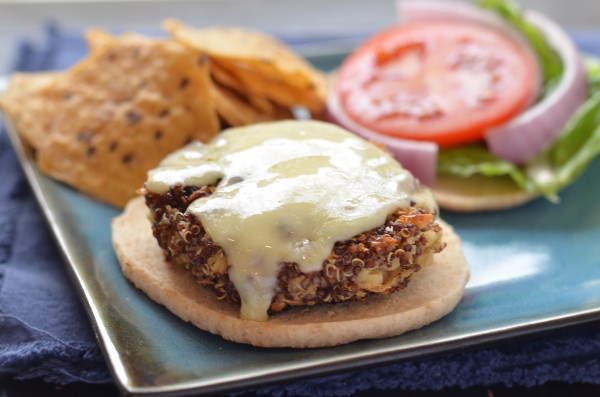 Anyway, in addition to the weekend bringing not-work, I am also excited for this weekend because we are getting our engagement photos taken! We're planning on doing them mostly outside (brrr! can I wear my robe?) and had to postpone last weekend because of weather, which was disappointing. This weekend we're going to show up looking our best and let our photographer work her magic! Magically make us not look awkward, that is. Fingers crossed that we get some good shots!
But enough about engagement photos, let's talk about quinoa! It's in the blog name, after all.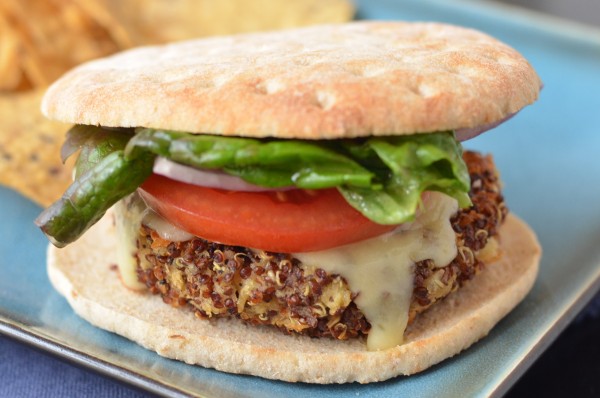 You may not have considered the possibility before, but the texture of quinoa is awesome in a burger. I feel like the chewiness of it actually does a better job mimicking the texture of beef than most bean burgers, know what I mean? And even better than beef, the outside of these quinoa burgers get deliciously crispy when pan-fried. There are also panko bread crumbs packed in there for extra crunch! The beans keep it tender and help hold everything together, and the whole combination is pretty magical.
These quinoa burgers are super easy to make and have just a handful of ingredients, most of which I bet you could rustle up from your pantry no problem. I originally made them to use up leftover quinoa after accidentally making about 10 cups worth for dinner one night… oops. Tell me it happens to you, too? If it does, I suggest a double batch of these bad boys.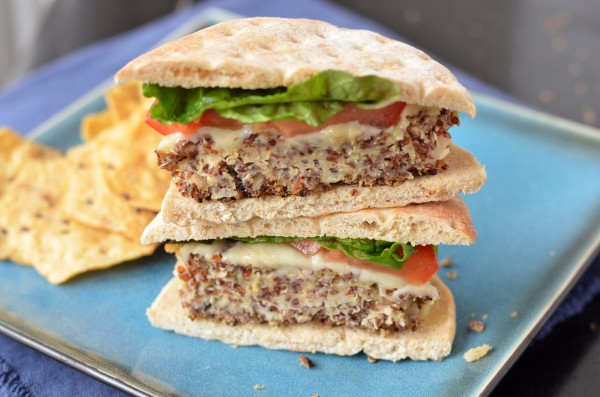 You just have to make sure you have some burger fixins on hand for when the craving strikes! And once you try these for the first time, that may be often.
With any burger, the melty cheese totally does it for me. You could probably tell by the pictures that these are no exception…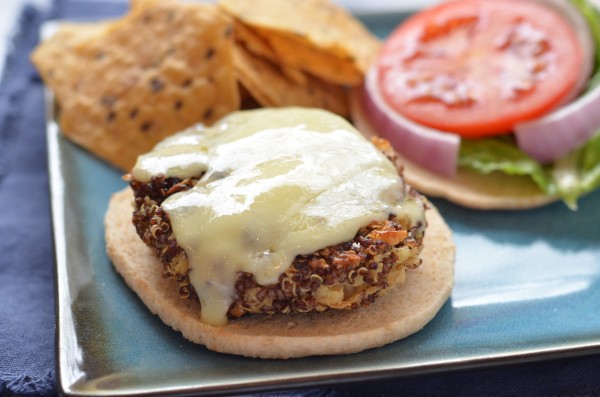 Pure crunchy, quinoa-y, melty, cheesy heaven.
Enjoy your weekend, friends!

Easy Quinoa Burgers
Ingredients
For the burgers:
15-oz can cannellini beans
2 cups cooked red quinoa
1/3 cup panko bread crumbs
2-3 cloves garlic, minced
salt and pepper to taste
1 egg, lightly beaten
olive oil for pan-frying
For serving:
thinly sliced cheddar cheese
hamburger buns
onion
lettuce
tomato
mustard
Instructions
In a large bowl, mash beans together with a fork. (If you do this in a food processor, pulse it just a few times - process them too much and they'll turn to a bean dip!)
Mix in quinoa, bread crumbs, minced garlic, salt and pepper. Taste and add more salt and pepper as necessary. Add the egg and stir until thoroughly incorporated. The mixture should clump up.
Wet your hands or coat lightly with oil to prevent sticking. Form patties - you should get about 4. For best results, cover patties and refrigerate for at least 30 minutes before continuing.
Heat about 1 Tbsp of olive oil in a nonstick skillet over medium-low heat. Add several patties (I can fit 3 at a time in my skillet) and fry until golden-brown on one side. Carefully flip, add a slice of cheddar cheese if desired, and fry for several minutes on the other side. You want to flip the patties only once if possible, as they're fragile.
If burgers are done but cheese is not yet melted, you can preheat your broiler and broil in the skillet until cheese is fully melted.
Serve on hamburger buns with your favorite burger fixins! I used onion, lettuce, tomato, and mustard. Enjoy!