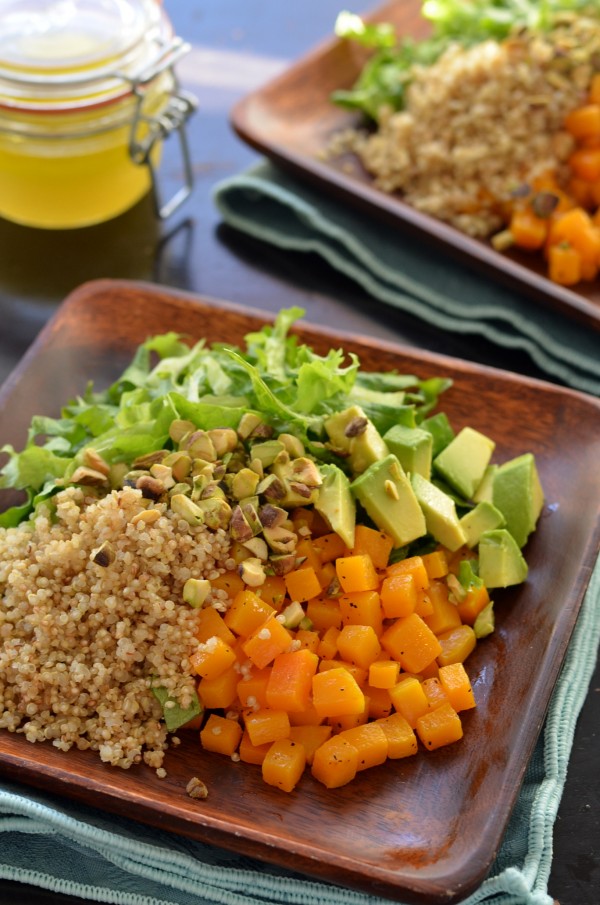 I'm glad you were all so intrigued by Monday's carrot butter recipe! Sarah brought up a good point – that carrots in a sweet recipe aren't that foreign of a concept after all… just think of carrot cake. Duh! Why didn't I think of that? So none of you are allowed to be skeptical of carrot butter any more. Carrot cake in vegan dip form! :)
Today, though, we've still got some orange in our food, but it's not cake (or even carrots). It's a chopped salad with roasted butternut squash! Mmmm.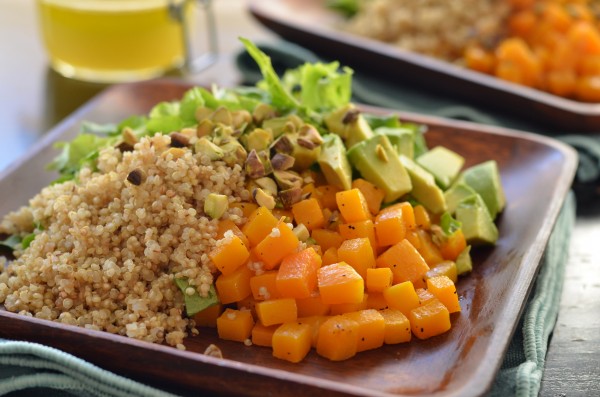 Before we get to the salad, though, I wanted to mention that it's mid-January and there has been nary a mention of New Year's resolution-setting on this blog. I'm not a big one for New Year's resolutions. They tend to come at other times of the year for me, like the looking-good-in-your-wedding-dress time, the stop-slacking-at-work time, and the running-another-half-marathon time. But then sometimes, all those times collide… like in my life right now in the new year. And so those things (look good in my wedding dress! give 100% at work! run a half marathon in May!) aren't New Year's resolutions; they are just things I plan on doing in 2014. I think it's going to be a busy year!
I would ask you what all this has in common with a salad… but I think you already know.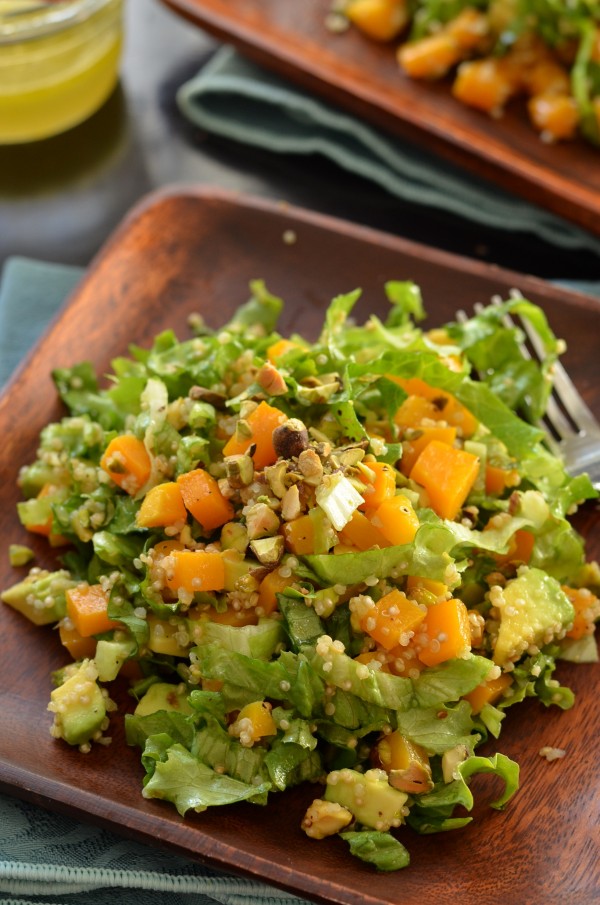 It's that time of year when we're all trying to eat more salads. Why does that have to happen at the coldest time of year? I guess because we were busy filling ourselves with stick-to-the-ribs winter food in December. I know I was! Anyway, it's an unfortunate coincidence that leads us to eat cold food in January, and that's why my wintertime salads must have roasted vegetables on them. It's my way of making even my salads warm and comforting in the winter.
This recipe, like my other chopped salad, is inspired by the seasonal chopped salad at one of our favorite pizza restaurants. Their chopped salad always includes quinoa, which is a great way to add chewy texture. And the pistachios! The pistachios are what make this salad so delicious. I want to add pistachios to every salad I eeeever make for the rest of my life. They are just that good.
I topped this salad with my favorite dressing: olive oil, a squeeze of lime, and a drizzle of honey. I don't think I can ever go back to bottled salad dressings after making my own with citrus. When I'm feeling super lazy, I just squeeze a wedge of lemon or lime over my salad and call it a day. Adding some honey and getting out a whisk is pretty fancy compared to that! But not really. It is super simple and hiiiighly recommended.
Here's to eating delicious food while we keep our New Year's resolutions!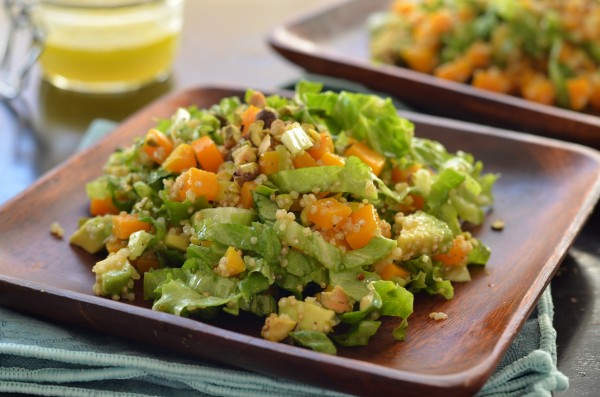 Roasted Butternut Salad with Honey-Lime Dressing
Ingredients
For the salad:
4 cups peeled and chopped butternut squash
olive oil
salt and pepper
1/2 cup uncooked quinoa, rinsed
about 6 large leaves of lettuce, rinsed and chopped
1 avocado, chopped
1/3 cup shelled pistachios, toasted and chopped
For the dressing:
juice of 2 limes
3 Tbsp olive oil
1 Tbsp honey
salt and pepper to taste
Instructions
Preheat oven to 425. On a baking sheet lined with parchment paper, toss chopped butternut squash with a drizzle of olive oil and a sprinkle of salt and pepper. Roast for about 20 minutes, until squash is tender but not browned, stirring once about halfway through.
While the squash roasts, cook quinoa according to package instructions.
Whisk together dressing ingredients (lime juice, olive oil and honey) and season to taste with salt and pepper. Set aside.
When butternut squash and quinoa are done cooking, place in a large bowl with lettuce and avocado. Add dressing and toss. (You may have a bit of dressing left over.)
Top with chopped pistachios and serve immediately. Enjoy!