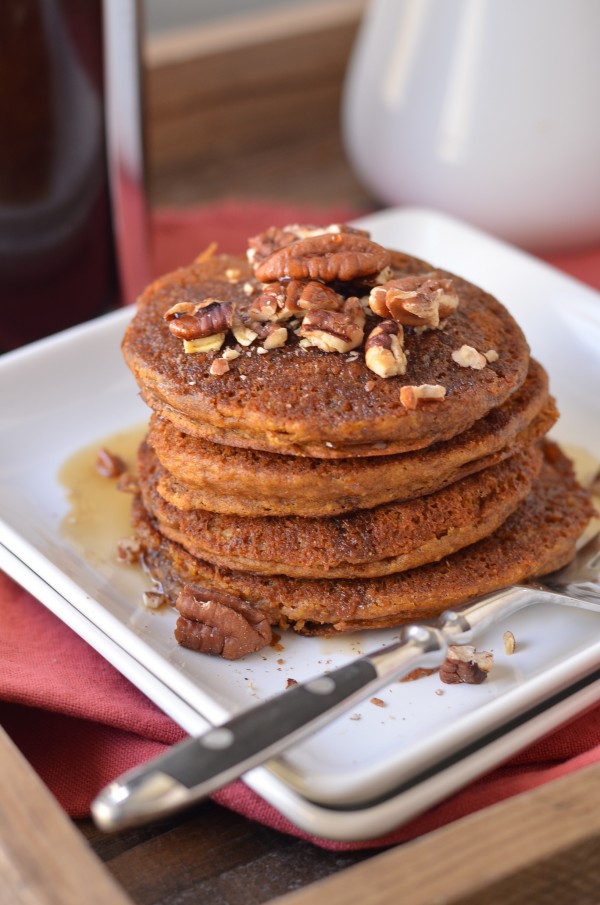 I never believed bloggers who claimed to bake with vegan ingredients just because they ran out of butter and eggs. Pshhh. You just know people want to see vegan recipes!
But, ahem, now I believe it, because I fully intended for these pancakes to have eggs. Then I got home from the grocery store and realized I had no eggs. Welp. Vegan pancake time.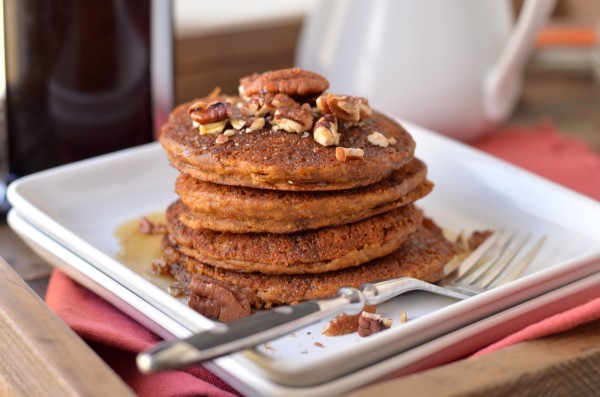 Aaaand that's when this recipe from Minimalist Baker came to my rescue! I feel like other bloggers' recipes are such a godsend when I'm in a pinch like that. I especially liked this recipe because Dana mentioned that she'd tested it 8 times to get the consistency just right. Eight! That is exactly what I wanted to hear. You see, Nate's sister was staying with us and I wanted to be a good hostess, not make everyone wait around all day while I tested my own vegan pancake recipe. You know?
As it turned out, I take FOREVER when I make a recipe for the first time, not to mention the slooooow torture that is heating up my electric burners, so everyone had to wait around for their pancakes all morning anyway. Oops. But that's what the holidays are for! Hanging out with family on lazy mornings (and of course eating pancakes). Right?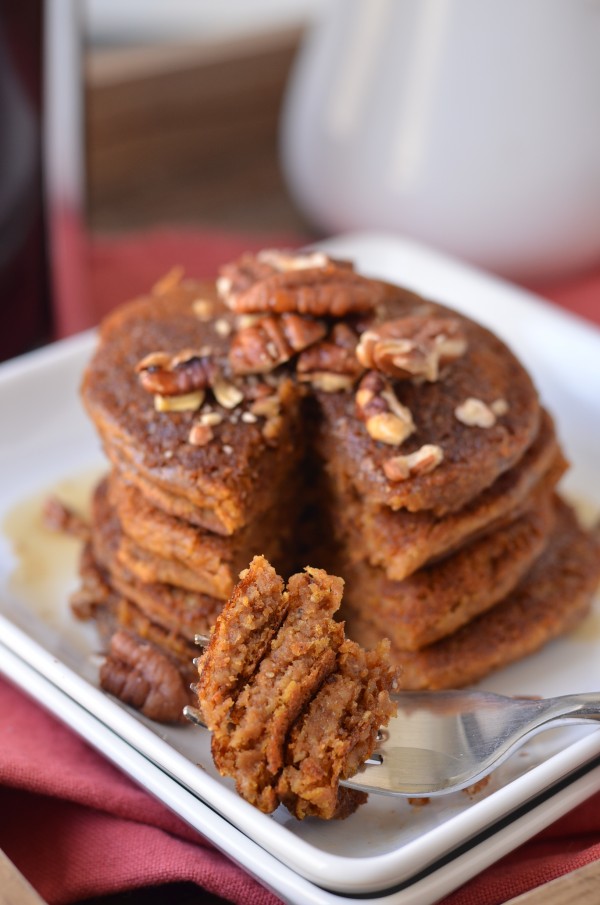 These pancakes have a great tender and fluffy texture that I loved, due to several things:
First of all, the buttermilk substitute made of almond milk and cream of tartar. I read in Cook's Illustrated recently that milk and cream of tartar makes the best buttermilk substitute, because there's no flavor from the lemon or vinegar that's often used as a substitute to curdle the milk. Not only is this substitute vegan, but it means you won't end up with a mostly-full container of buttermilk at the back of your fridge for a week after making pancakes. Hooray!
Second, using half whole wheat flour and half oat flour. I love the texture of oat flour, and felt like it really added some bulk to these pancakes. Just grind up some oats in your food processor or blender and you're good to go!
I should also mention that you'd never know these were vegan. And there's not a flax egg in sight! Pure magic.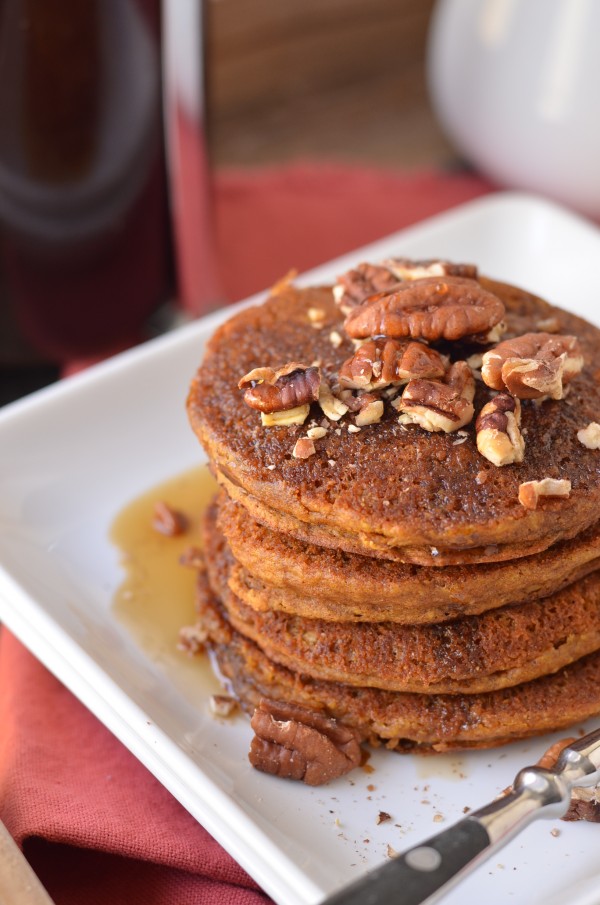 I knew these would be a hit in our house because they are basically a pancake version of the oatmeal we've eaten every single weekday morning since September. (Would you guys like to see it? Or is microwaved oatmeal too boring to count as a recipe?) And I was right – Nate was not at all disappointed when I made this recipe two weekends in a row to perfect it. He even hinted for them a third time, too… I don't think I knew what I was getting myself into!
Have a great weekend filled with relaxation and (hopefully) pancakes!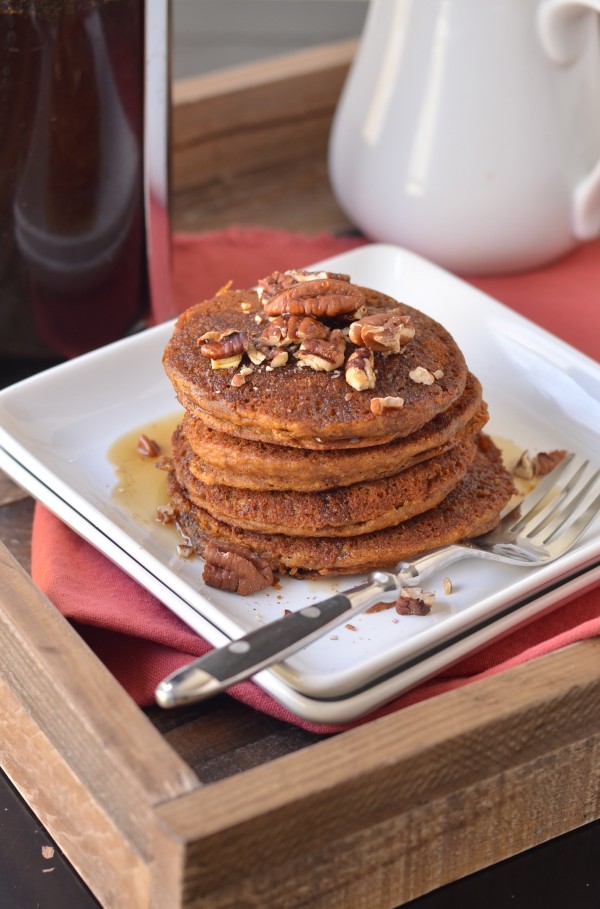 Vegan Pumpkin Spice Pancakes
Yields:
6-8 small pancakes (serves 2-3)
Ingredients
Wet ingredients:
3/4 cup + 2 Tbsp plain unsweetened almond milk
1/2 Tbsp cream of tartar
1/3 cup packed pumpkin puree
3 Tbsp brown sugar
1 Tbsp olive oil
1 Tbsp maple syrup
1/2 tsp vanilla extract
Dry ingredients:
1/2 cup whole wheat flour
1/2 cup oat flour (1/2 cup oats ground to a powder in a food processor), or use all whole wheat flour
2 tsp pumpkin pie spice
1 tsp baking powder
½ tsp baking soda
pinch of kosher salt
Other:
vegan butter or neutral cooking oil
maple syrup
pecans
other desired toppings!
Instructions
In a large bowl, whisk together almond milk and cream of tartar. Let sit 5 minutes to curdle.
After 5 minutes, whisk in remaining wet ingredients.
Place a sifter over the bowl with the wet ingredients and sift in all dry ingredients. (If not all of your oat flour will sift in, it's fine to just dump it in afterwards!) Gently whisk until combined. Allow to sit for 5-10 minutes to thicken. This is important!
While the batter sits, preheat a griddle or non-stick skillet over medium-low heat. (I especially recommend doing this the entire time your batter is sitting if you have electric burners like I do!)
Add a small pat of vegan butter or drizzle of cooking oil to the skillet to coat it evenly. Using a 1/4-cup measure as a scoop, drop pancake batter into skillet, leaving plenty of room in between. (I can get 3 pancakes in my large skillet.) Cook several minutes on the first side, until edges begin to darken. Flip and cook 1-3 minutes longer on the second side. Repeat with remaining batter.
Serve topped with maple syrup and sprinkled with pecans or other toppings of your choice. Enjoy!