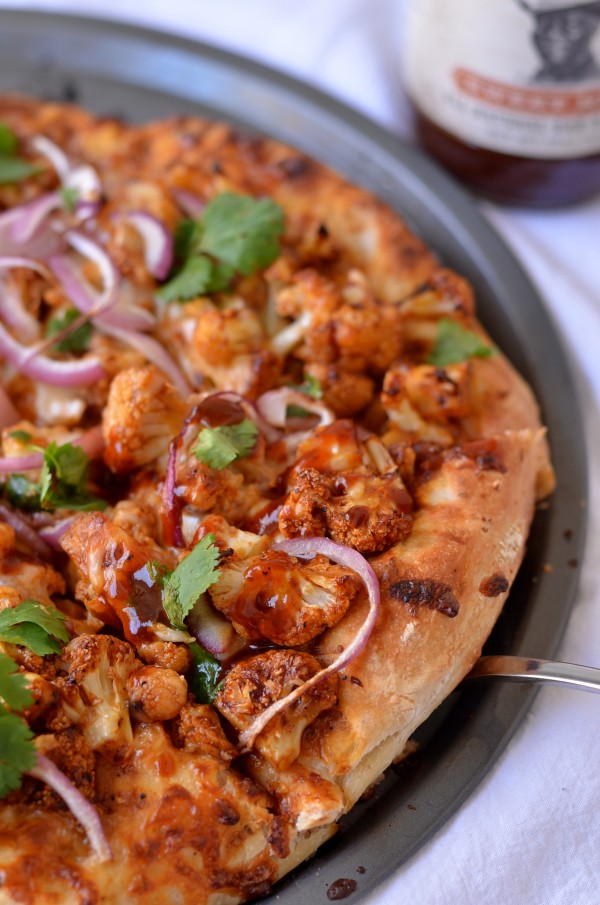 I hope you're as happy as I am to see yet another cauliflower recipe!
I seriously can't get enough of this stuff lately. I made Asian Orange Cauliflower for dinner last week, followed by this pizza twice this weekend. I'm officially a huge cauliflower fan.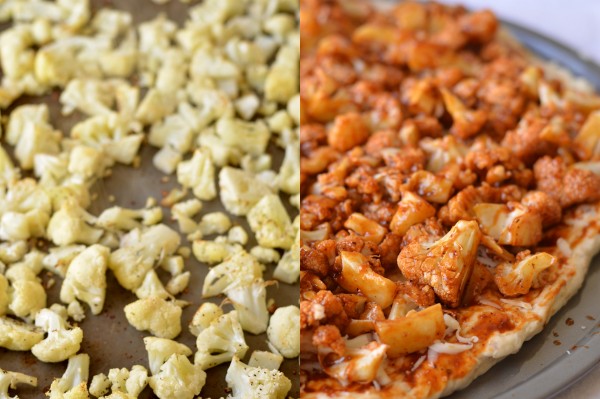 When I say cauliflower pizza, you may assume that this is one of those gluten-free cauliflower crust deals. Not so. I've never tried a cauliflower crust recipe, mostly because I sure do love picking up fresh pizza dough from Whole Foods when I'm too lazy to make it myself. Given the recent cauliflower craze in my life, though, I'm sure a cauliflower crust is in my future.
But for now, it's any kind of crust you like (feel free to double up on cauliflower!), topped with roasted cauliflower that's been smothered in barbecue sauce. I'm relatively certain that nothing with barbecue sauce has ever come out of my kitchen before, but blogging is great for expanding the horizons like that. Also, Nate sure didn't voice any complaints about this pizza appearing twice in one weekend, so I have a feeling the barbecue flavor is here to stay around these parts.
Speaking of barbecue sauce, it's worth mentioning that the sauce you use will 100% make or break this pizza. Thinly sliced red onions and chopped cilantro add some nice depth of flavor, but really, it's all about the sauce. I tried a few different kinds, and concluded that if the sauce you use isn't finger-lickin' good, the pizza won't be, either. So spring for the good stuff!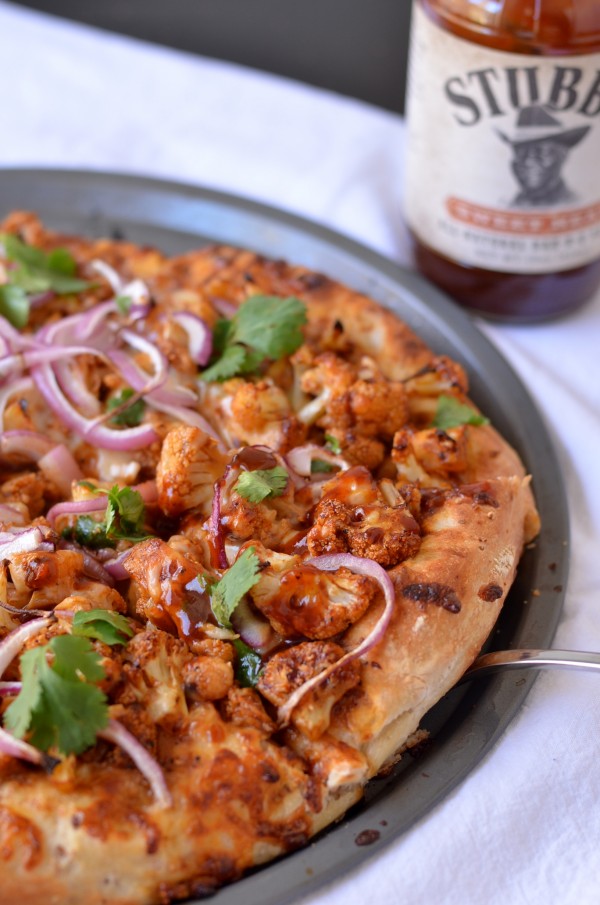 This pizza is addictingly delicious. I couldn't stop picking off just one more piece of cauliflower! And then licking my fingers. I just may become a barbecue lover yet.
Hope you all love this pizza as much as we did!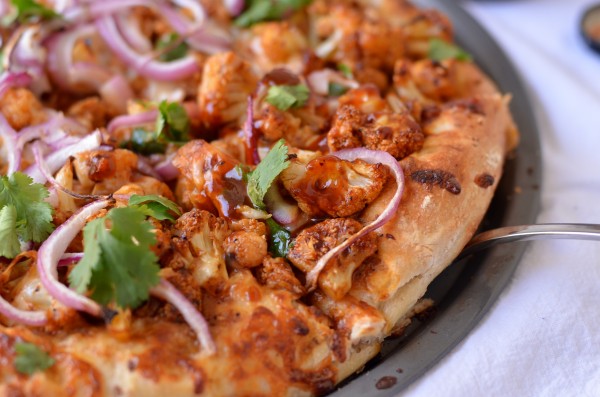 BBQ Cauliflower Pizza
Ingredients
1 head cauliflower, chopped into small florets
1 Tbsp olive oil
sprinkle of black pepper
olive oil or cornmeal to keep the pizza crust from sticking
1 pizza dough
1/2 cup + 2 Tbsp barbecue sauce, plus extra for drizzling
4 oz mozzarella cheese, grated
1/4 red onion, thinly sliced
chopped cilantro
Instructions
Preheat oven to 425. On a baking sheet, toss chopped cauliflower with olive oil and a sprinkle of black pepper. Roast until cauliflower is tender and beginning to brown around the edges, 20-25 minutes, stirring once.
Spread pizza dough on a round baking sheet, using olive oil or cornmeal to keep it from sticking. Spread about 2 Tbsp of the barbecue sauce over the crust and top with half of the mozzarella cheese.
When cauliflower is done roasting. pour it into a bowl and toss with the remaining 1/2 cup barbecue sauce. Spread over the pizza and top with remaining cheese and the sliced red onions. (It will look like a lot of onions.)
Cook at 425 for 12-15 minutes, until crust is golden brown. I like to increase the heat to 500 for about 3 minutes at the end of the cook time to get everything nice and browned.
Remove from oven and top with a sprinkle of chopped cilantro. Serve with extra barbecue sauce for drizzling. Enjoy!