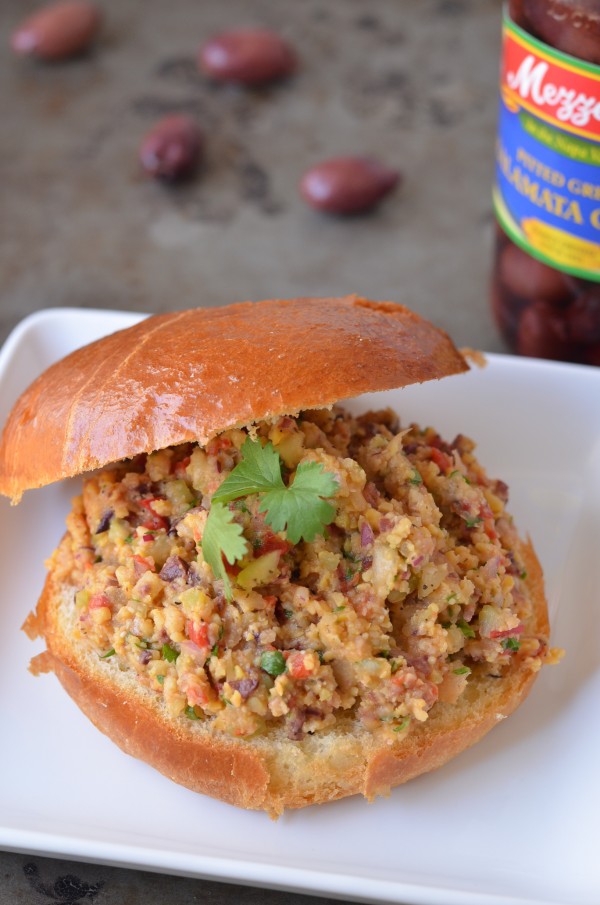 You won't believe this – I barely believe it myself – but this recipe is inspired by a pre-packaged sandwich I bought in the Salt Lake airport.
I'm almost embarrassed to admit how much I enjoyed that shrink-wrapped airport sandwich… except clearly I'm not, because I led off this post with it.
Airport food is usually to be avoided, especially as a vegetarian. It's terribly unfortunate, really, because nothing makes me so tired and cranky as travel (just ask my loving fiance…), and those are usually the moments when I could use some good food.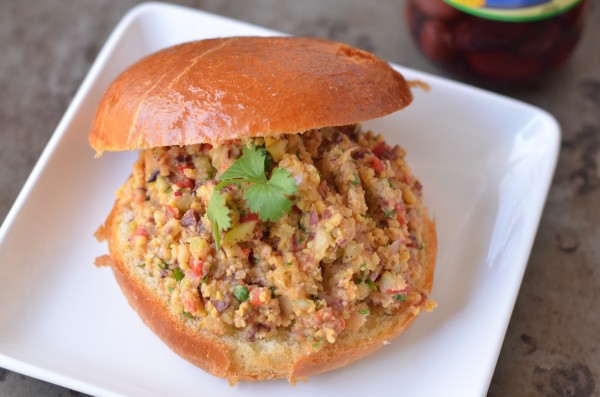 During one of our many cross-country trips in September, I was digging through a pile of turkey sandwiches in an airport kisok when I found a single mysterious chickpea salad sandwich. I almost jumped for joy (it's the little things in life) because I was thisclose to taking my chances on a portobello burger from Smashburger. Chickpea salad didn't sound incredibly appetizing, but at least it didn't have mayo.
No one was more surprised than me when it turned out to be absolutely delicious! I enjoyed it so much that I promptly snapped a picture of the ingredients, and resolved to make it for you ASAP.
And that was five months ago… but that's just how these things go.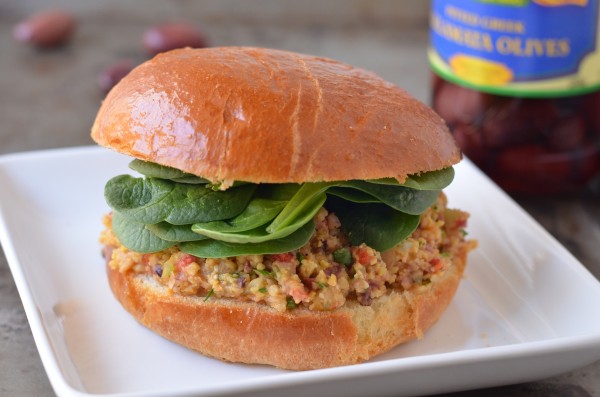 Please forgive the humble looks of these little sandwiches. They may look plain, but let me tell you about all the ingredients inside that are bursting with flavor: roasted red peppers! kalamata olives! red onion! cilantro! lemon juice! red wine vinegar! And not to forget the chickpea base, the diced cucumber crunch, or the olive oil that holds it all together.
Mayo schmayo.
I made this batch in a food processor, and found that they held together better that way. In previous iterations, I mashed the chickpeas by hand, then stirred in the remaining ingredients. The flavor is the same, and you won't have to wash the food processor, but just be warned that the sandwiches won't hold together quite as well if you mash by hand.
I hope you enjoy these vegan sandwiches as much as we did! They may have me thinking differently about airport food from now on… maybe.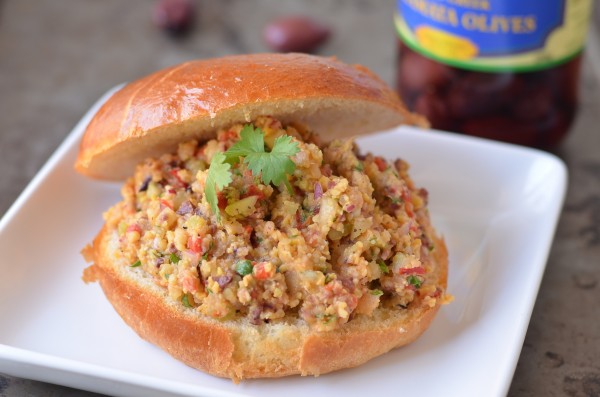 Mediterranean Chickpea Salad Sandwiches
Ingredients
15-oz can chickpeas, drained and rinsed
1/2 cucumber, peeled and finely chopped
1/4 cup jarred roasted red peppers, finely chopped
8 kalamata olives, finely chopped
1/8 red onion, minced
1/4 cup cilantro, minced
juice of 1/2 lemon
1 Tbsp red wine vinegar
1 Tbsp olive oil
salt and pepper to taste
For serving:
2 of your favorite buns (or use English muffins!)
spinach leaves
Instructions
Placed chickpeas in a food processor and puree for about 10 seconds, until finely chopped. The goal is not to make them into a paste or flour, but just to mash them more thoroughly than you could by hand.
Add the remaining ingredients to the food processor and pulse a few times to combine. Add more salt and pepper to suit your tastes.
Spoon the chickpea salad onto buns and top with spinach. Enjoy!