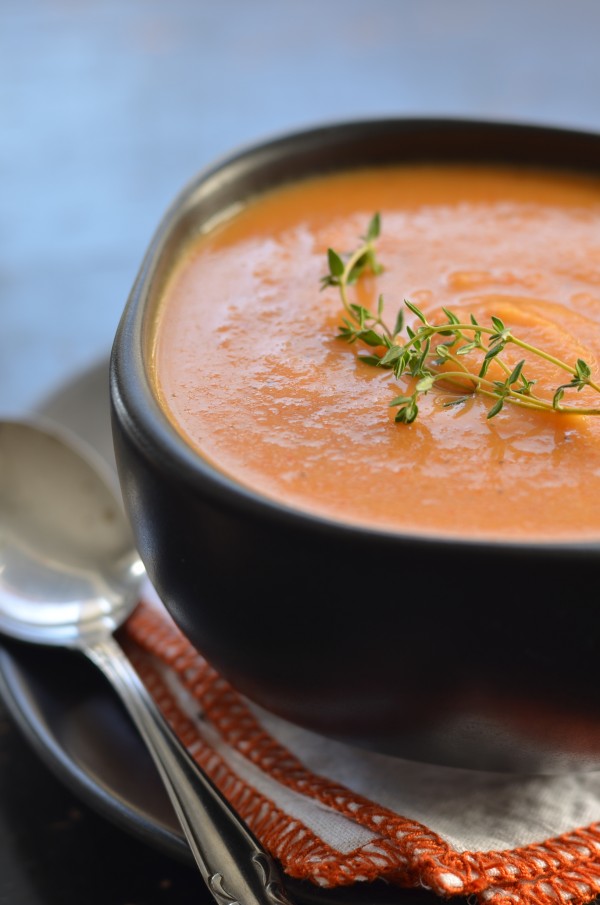 Good morning! Did everyone enjoy the Super Bowl last night? Or were you like me, and just there for the food, beer and commercials?
I have to say the commercials didn't really do it for me this year. I guess car commercials never really do… and there are sooo many of those. The Budweiser Clydesdales, on the other hand, just get me every time. Plus a cute puppy? Yes. That one definitely brought a tear to my eye, but I think last year's is still my favorite. The one with the guy who raises one of the Clydesdales? Too too cute.
But yeah, I guess I am mostly there for the food and beer.
I made a good Super Bowl dip this year, though of course I didn't get my act together to give you the recipe ahead of time. Oops? Planning ahead for food holidays is not really my strength, and for that I hope you'll forgive me. Rest assured I'll post that dip for you soon anyway. Maybe it can be a… Valentine's Day dip? Now you know I haven't planned for that one, either.
But what I do have planned is soup!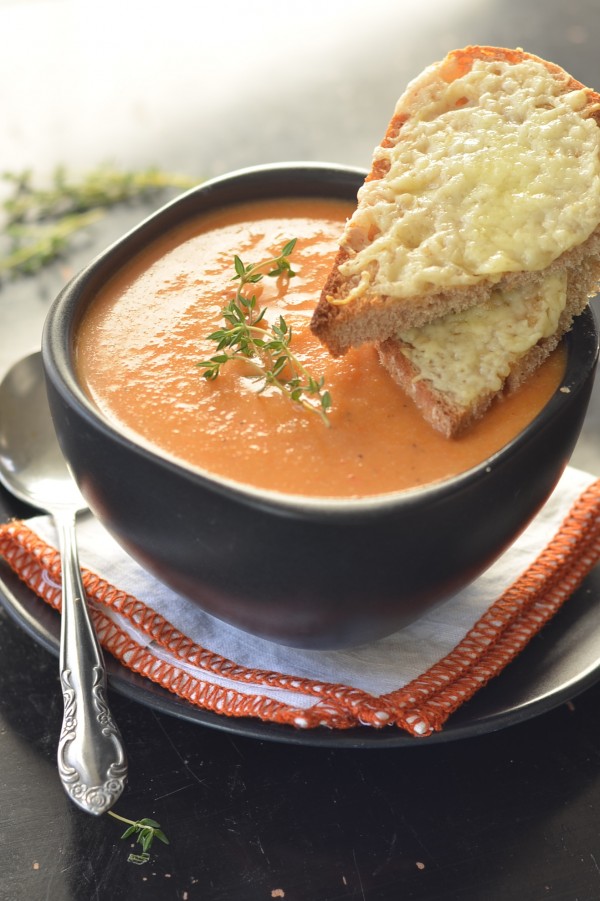 A vegan soup chock full of roasted red peppers, thyme, and cauliflower.
It is definitely the perfect time of year for soup. The time of year when you're cold, but maybe you're also lazy. You are in hibernation mode. OK, I'll speak in the first person. I am in hibernation mode. As I type this, I am sitting in front of our space heater under a blanket, wearing a sweater, slippers and a scarf. Did I mention it's cold in our apartment? This is the position I find myself in most nights, and the thought of spending too long out from underneath a blanket in order to cook our food seems like frigid, frigid torture. Get it in the pot and get me back into my cave! I mean chair. And then give me some soup.
Soup is a great one-pot meal. You can get all your veggies in there – no need for a side salad – and still make it hearty enough to fill you up.
But in case you didn't notice, I added a little something extra on the side of this one.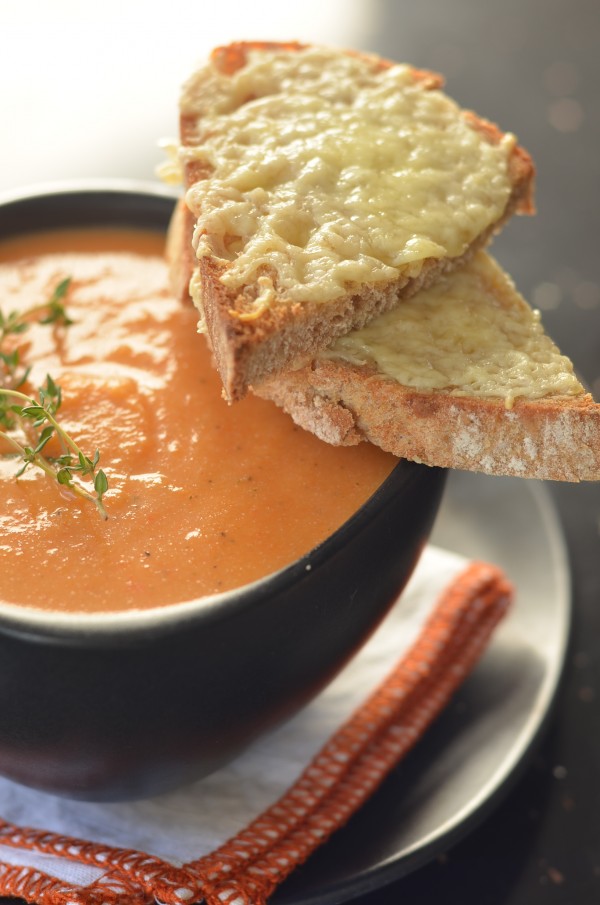 CHEEEESE.
Making those cheesy toasts was an extra two minutes outside of my blanket well spent.
This is totally the grown-up version of tomato soup with grilled cheese. So much fancier because it's roasted red peppers instead of tomatoes, and also because we can call these cheesy toasts "cheddar toast points," AKA the fancy restaurant name for cheese melted on top of toast. Cut into triangles. I would say it tastes even better when you call it toast points, but I'm pretty sure toasted bread and melty cheese taste good in any combination.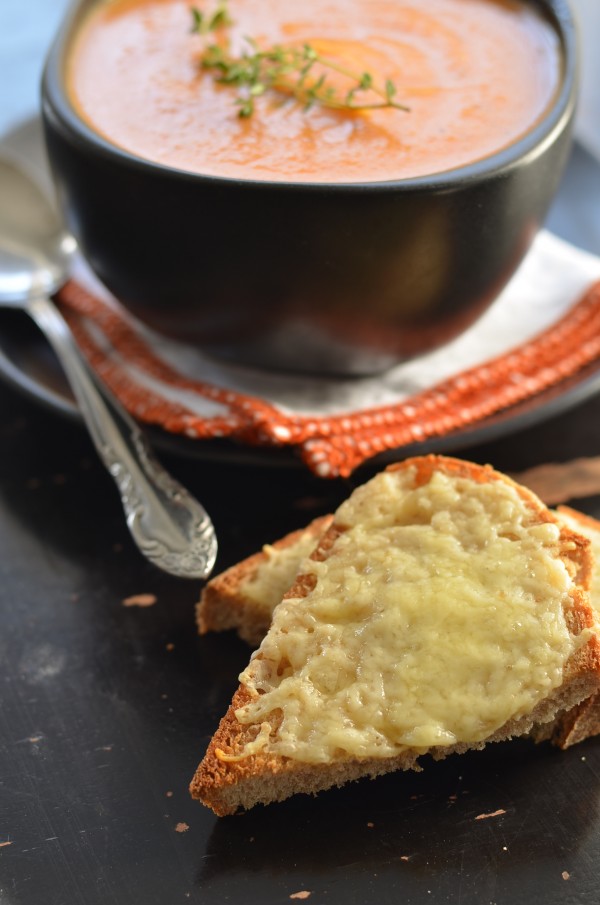 I loved the roasted red pepper and cauliflower flavors together with the thyme. It tastes vaguely Italian, and you could even add in a few other Italian spices if you wish. I just wanted to keep things simple with this one, though. Simple and tasty!
This soup is good on its own, but let me tell you that if you're not opposed to a little dairy, it really takes it up a notch. Dunking these cheesy toasts in your soup is an obvious win, but I also liked a scoop of Greek yogurt stirred into it. Just a little something extra to complement the roasted red pepper flavor. Goat cheese or feta would also be good! Now I am just thinking of all the types of cheese that would be good… and the answer is all of them.
Vegan soup + cheese for the win!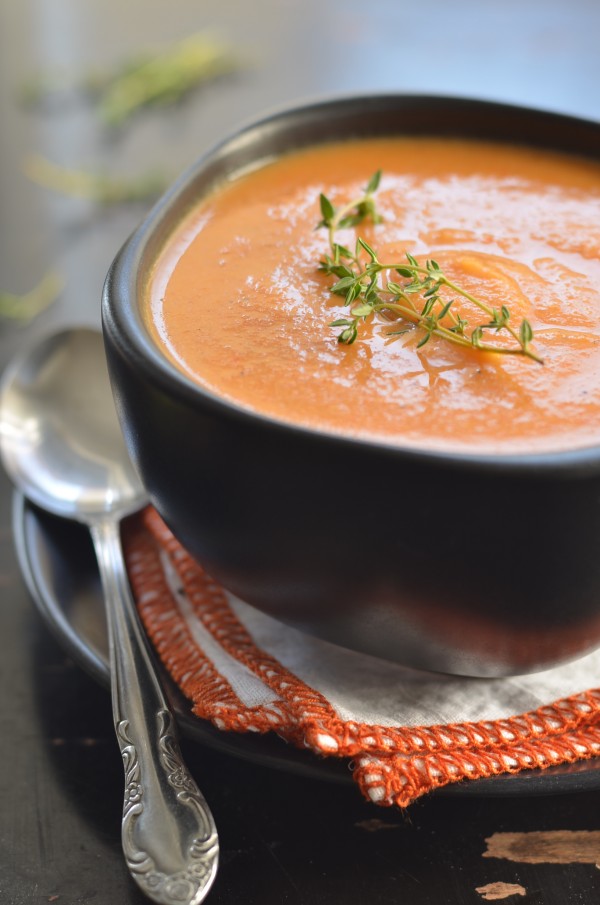 Roasted Red Pepper and Cauliflower Soup
Ingredients
For the soup:
4 red bell peppers
2 Tbsp olive oil
2 leeks (white and green parts only), rinsed thoroughly and sliced
2 stalks celery, sliced
1 carrot, diced
1 head cauliflower, chopped
10-12 sprigs thyme
1 bay leaf
6 cups vegetable broth
For the cheddar toast points:
sliced whole wheat bread
grated white cheddar cheese
or, serve with Greek yogurt
Instructions
Preheat your broiler on high. Remove stems and seeds from bell peppers and cut in halves or quarters. Place skin facing up on a baking sheet lined with aluminum foil. Broil and skins are completely black, rotating sheet as necessary. The timing will depend on your broiler, so check often. Remove charred peppers from broiler, drop into a Ziploc bag, and seal. Set aside to steam while you prepare the rest of the soup.
Heat olive oil in a large pot over medium heat. Add sliced leeks, celery, and carrot, and saute until beginning to soften, about 6 minutes. Add chopped cauliflower, thyme, bay leaf, and broth. Cover and simmer until cauliflower is tender, 20-25 minutes. Remove from heat. Remove and discard the thyme and bay leaf.
Remove peppers from the plastic bag. Peel off the charred skins and discard. It's okay if some bits of the skin still stick to the pepper. Add the peppers to the soup. Puree with an immersion blender, or in batches in a regular blender, until smooth.
Top slices of bread with mounds of grated cheddar and toast until cheese is melted and bubbly. Slice into triangles.
Serve soup with cheddar toast points. (Or skip the toast and serve with a dollop of Greek yogurt.) Enjoy!