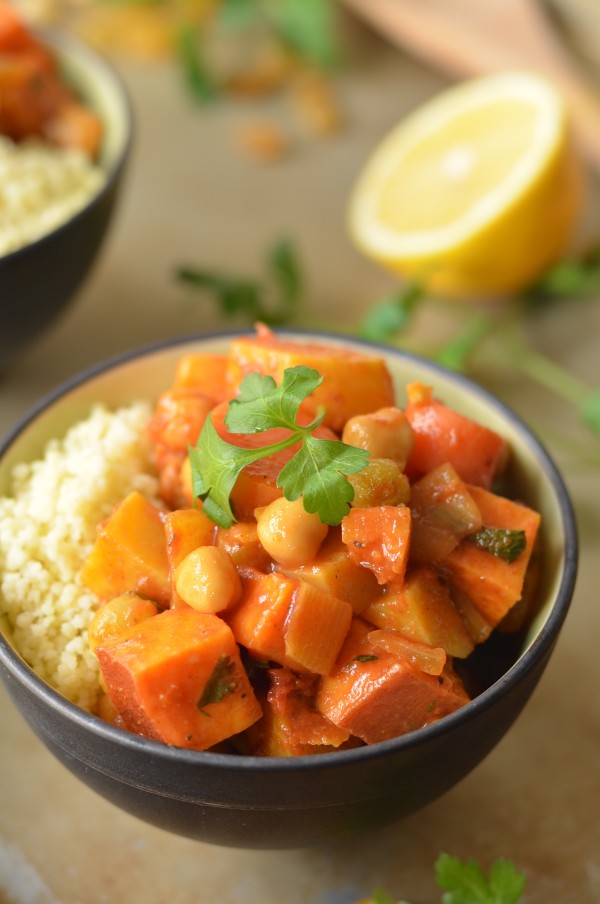 Hello Monday! Hello President's Day. And hello new favorite meal.
Do I say that a lot? I feel like I do. I have a lot of new favorite meals, I guess. Like one or two a week. I'm gonna go ahead and say that's why I started blogging.
Anyway, this meal is certified extra special, because I made it twice in the past two weeks, despite the fact that it makes a huge amount. So yes, I've essentially been eating this for 14 days straight. It's my personal little veggie heaven.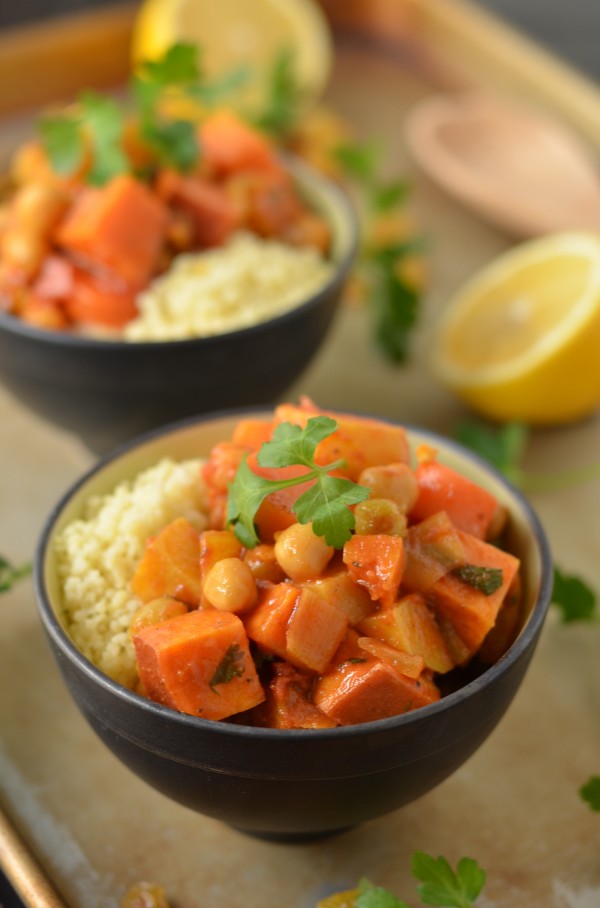 So what is it, anyway? It's a tagine. Ta-what? Tagine, pronounced "tuh-jhean." Tagine is a Moroccan stew that typically contains meat and is named after the awesome-shaped pot it's traditionally cooked in. Not to worry, we're making ours in a regular ol' pot, since a tagine is apparently the only thing available on Amazon for which I didn't register. Not that I didn't want to… but I have a hard time justifying the space that single-function kitchen items take up. And I think it's safe to say we're going to have to move because of all the kitchen stuff I did register for… so anyway, no tagine necessary for today's recipe. And apologies for the tangent, but apparently I have to bring my wedding into every conversation. It will only last for… 7 more months? Sheesh.
So we've got a pot. And we basically throw a whole mess o' root veggies in that pot – specifically carrots, sweet potatoes, and golden beets. (I used beets of the golden variety because I wanted to avoid this whole dish turning bright pink. But if that's your thing, go to town with red beets!) Also to that pot, we're adding a healthy amount of warm spices like cumin, coriander, cinnamon, and paprika. There are a handful of other ingredients, too (raisins, chickpeas, tomato paste, etc.), but those are the essentials. (Oh and raisin haters: you can totally use chopped dried apricots instead of the raisins.)
The result is a fragrant vegan stew that will take the edge off a cold winter's day like that. And with these sweet root vegetables, the raisins, and the warm spices, the flavor is decidedly sweet. It's worth mentioning that ahead of time, because if you're against some sweetness in your entree, this one probably isn't for you. We're not adding sugar or anything like that, it's just that the sweetness that naturally collects in a plant's roots really comes through in this dish. It is so unique and I loooove it.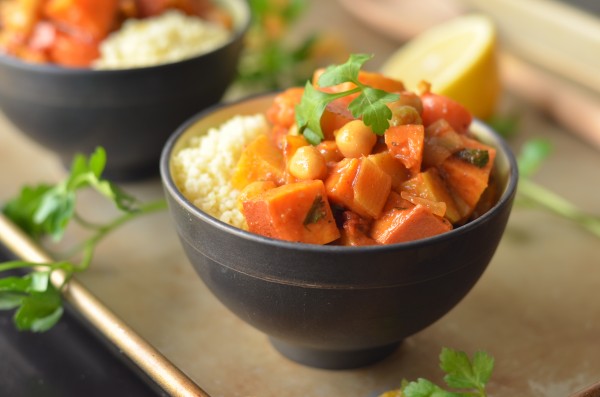 I've been really into saucy dishes lately, and this is no exception. The vegetables are good, but my favorite bites are the kind scraped from the bottom of the pot, full of tomato sauce, raisins, chickpeas, and sweet bits of onion. Throw a few spoonfuls of couscous in the mix and I am THERE. I don't make couscous too often, but I can already tell that's going to change after digging a box from the depths of my cabinets for this recipe. Couscous has been under-appreciated in my life so far, and I probably have some penance to do or something. Penance that involves eating more couscous.
There are too many things in my life that I resolve to eat more of. And also less of. They don't really balance each other out, and it's quite a conundrum.
Leftover lovers alert: This tagine is amazing re-heated. It's good on the first day, but it's absolutely amazing on the second, third, fourth and fifth days. Oh, and the recipe makes quite a lot. Did I mention that?
I would go so far as to say that I recommend making this meal a day ahead of time and reheating it. The sweetness and the spices really come together after a day of sitting, and it's equally good reheated or cold. Perfect if you like to simmer a big pot of food on a Sunday afternoon and pack it up for your lunches all week, which is precisely what I did.
There's nothing quite like a scoop of hearty vegan stew on an overcast winter day. Hope you love this recipe, friends!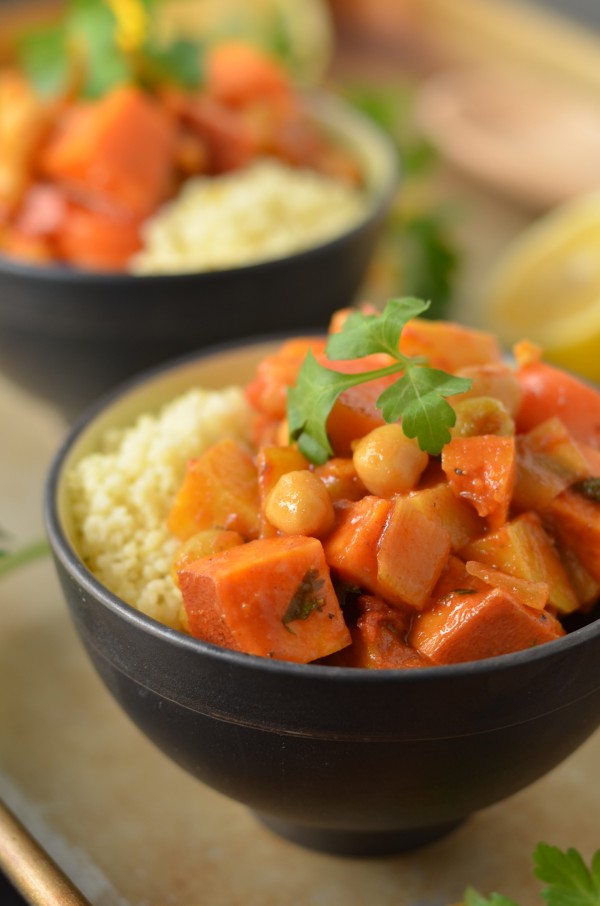 Root Vegetable Tagine
Ingredients
For the tagine:
2 Tbsp olive oil
1 yellow onion, chopped
ground black pepper
2 cloves garlic, minced
1 Tbsp tomato paste
2 tsp cumin
2 tsp coriander
1 tsp smoked paprika
1 tsp cinnamon
4 golden beets, peeled and chopped (about 2 lbs)
1 medium sweet potato, scrubbed but not peeled, chopped (about 1 lb)
2 carrots, chopped (can peel if they are hairy, otherwise no need to peel)
1 cup golden raisins
2 cups vegetable broth
1 14-oz can diced tomatoes in juice (low sodium if possible)
juice of half a lemon
1 14-oz can chickpeas, drained and rinsed
1 cup mixed chopped fresh cilantro and parsley, plus more of each for garnish
For the couscous:
3 cups vegetable broth
1 Tbsp olive oil
2 cups dry couscous
Instructions
In a large pot or Dutch oven, warm the oil over medium heat. Add onions and a sprinkle of ground pepper and saute until beginning to soften, about 6 minutes.
Add the garlic, tomato paste, cumin, coriander, smoked paprika, and cinnamon, and saute another minute or two, until fragrant.
Add the beets, sweet potato, carrots, golden raisins, broth, diced tomatoes, and lemon juice. Stir well, then cover and bring to a simmer.
Simmer until vegetables are tender, 30-40 minutes.
Meanwhile, make the couscous. Bring the vegetable broth and olive oil to a boil in a small pot. Stir in couscous, cover, and remove from heat. Let stand 5 minutes, then fluff with a fork before serving.
Returning to the tagine: Once vegetables are tender, add the chickpeas, cilantro and parsley and simmer 5 to 10 minutes longer.
Serve on a bed of couscous, sprinkled with chopped parsley and cilantro. Enjoy!