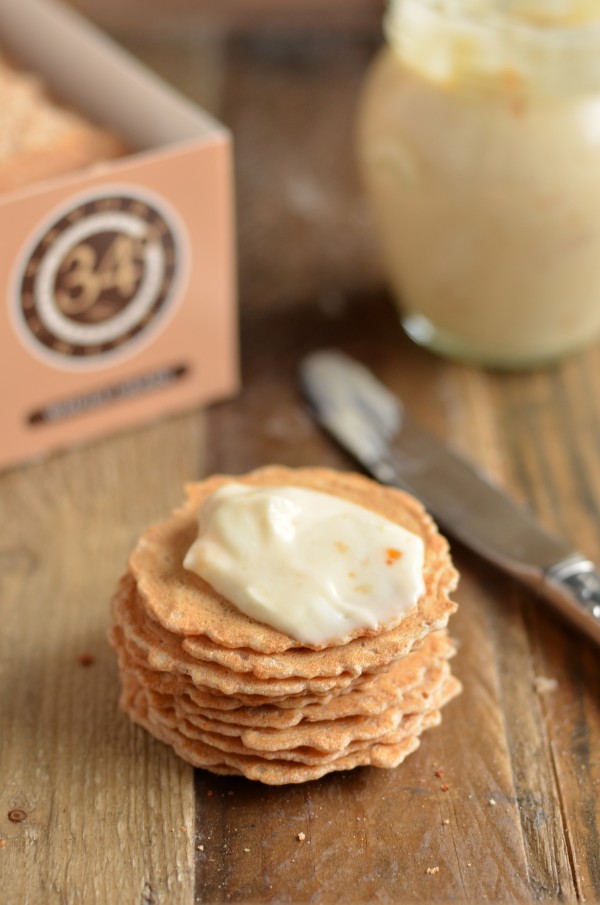 Happy Friday!
First of all, I have to say that I'm so glad you all love chocolate cake as much as I do. Not that I suspected otherwise… but, you know, I like bonding with you over cake. It's kind of like a girls' night, you know? We bond as we chat and eat chocolate together. My favorite.
Yesterday the phrase "I love you like a fat kid loves cake" popped into my head. Actually, I heard a wedding ceremony (on TV, thank goodness, not real life) where the bride included that phrase in her vows! Is it just me, or is that a little weird and… insensitive? Also, it implies that the speaker does not love cake, which I would hope to be false. Especially given the cost of wedding cakes. If you are gonna pay for a wedding cake, you better freaking LOVE that cake.
Anyway, let it be known that I love cake. Whatever that makes me, so be it!
But we are not here to talk about cake. We're here to talk about goat cheese. Remember the time I put goat cheese on top of cake? That was awesome, and I think I've mentioned it in every post since. But I digress. Goat cheese. Focus.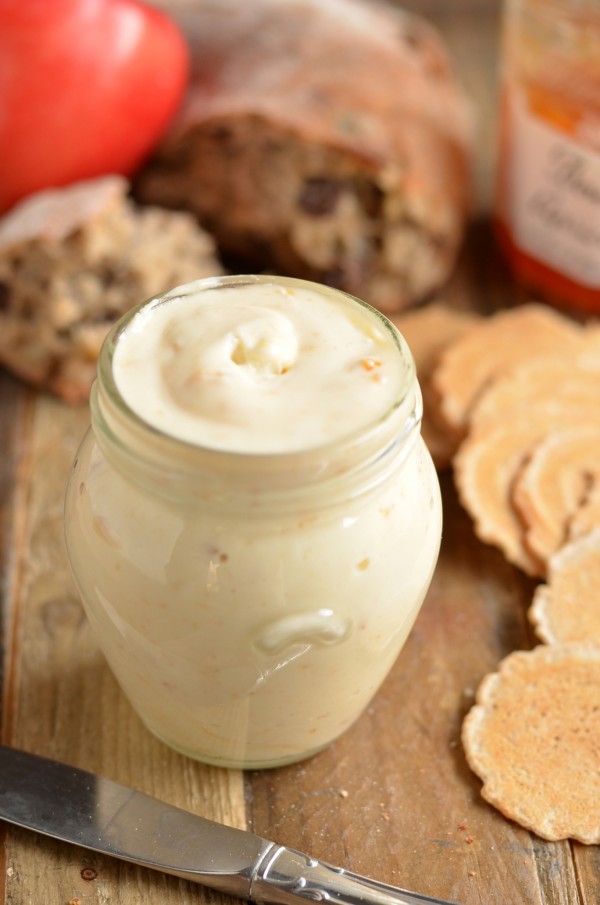 I got the idea for this honey apricot goat cheese spread at our winter farmer's market, which I ironically went to for the first time last weekend… when it was no longer winter. At least I made it! The winter market is more geared toward stands run by local bakeries, chocolate makers, etc., and less towards the fresh fruits and veggies. Can't say I minded! Nate and I probably enjoyed more than our fair share of samples as we made our way around.
This apricot honey goat cheese spread was probably our favorite find. After sampling extensively at a local cheesemaker's stand, we took home a tiny tub of this cheese. It was sweet but still had some of that nice goat cheese tang, and tasted awesome on crackers. I quickly realized there were only three ingredients, and blended up another batch for us to enjoy later! It didn't go to waste, either.
Speaking of crackers, have you tried these 34 Degrees ones?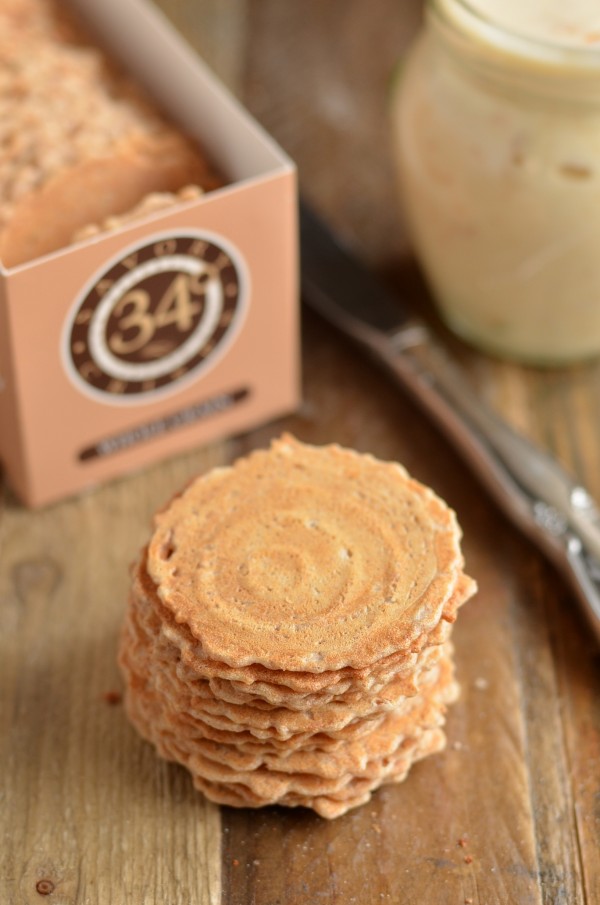 I'm not working with 34 Degrees – they definitely don't know I exist – but I love these crackers. Or "savory crisps" as they're called on the package, which is actually pretty accurate. They're super thin, wafer-like crackers and they're deliciously crispy. They are pretty amazing with soft cheeses!
A jar of this cheese spread would make a great party appetizer or hostess gift. And it's extremely easy to whip up – the only kind of appetizer to serve at a party, in my opinion! Just mash the goat cheese, honey and apricot jam together with the back of a fork, or pulse a few times in your food processor. Using a fork will get you a chunkier, spreadable texture, while the food processor will make it much drippier. I personally prefer the stiffer version made by hand, but if you wanted to make a big batch, the food processor would definitely be easier. Speaking of which, goat cheese looks like much more volume in the little logs its sold in than when it's made into a spread like this. The recipe below makes less than half a cup! I definitely recommend doubling the recipe if you're serving a larger group.
Grab some crackers and go to town!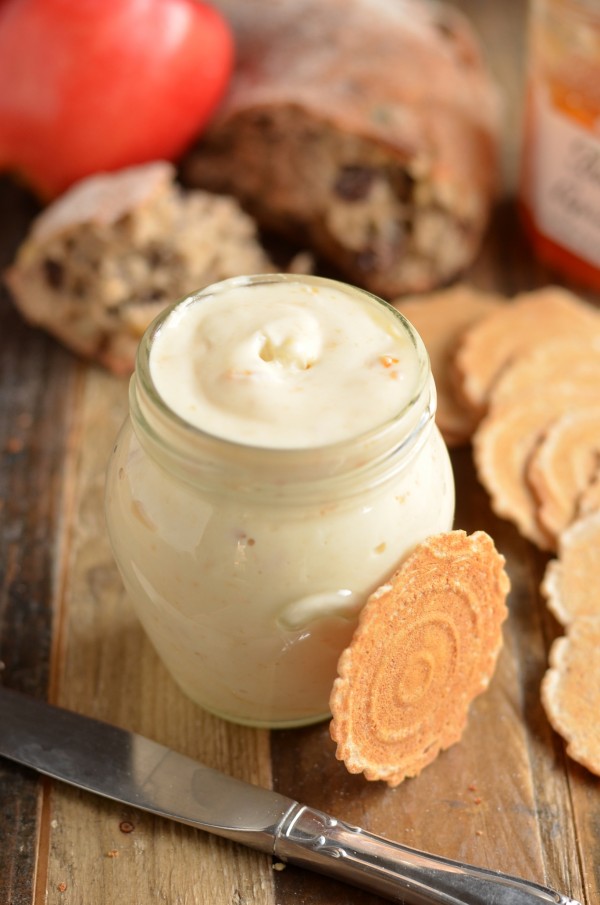 Honey Apricot Goat Cheese Spread
Ingredients
6 oz goat cheese
2 Tbsp apricot jam
1 Tbsp honey
Instructions
In a bowl, mash all ingredients together with the back of a fork. (Alternatively, they can be pulsed together in a food processor. The texture will be much drippier if using a food processor.)
Serve with crackers and enjoy!