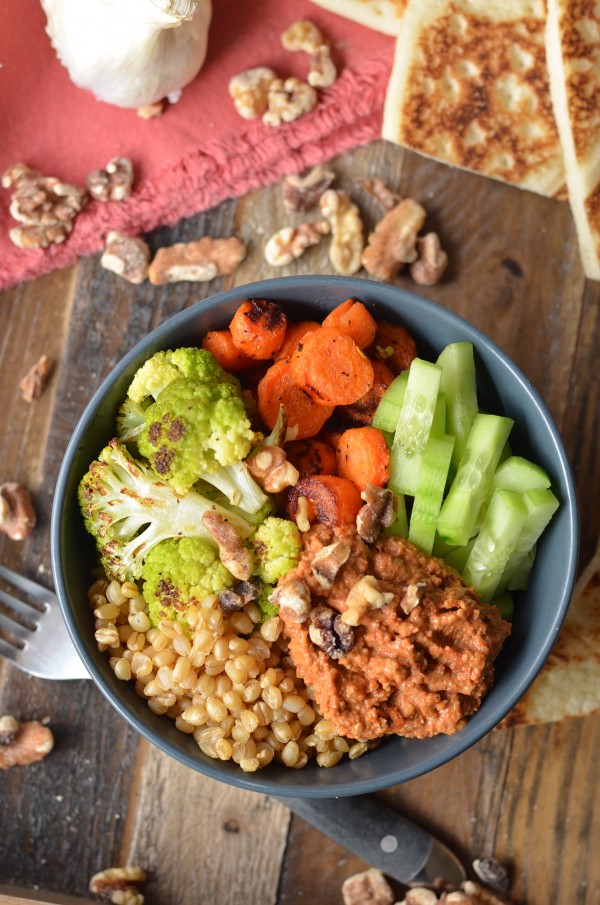 Thank you for all your sweet comments on Monday's post. You all sure know how to comfort a girl! Even when that girl is being a self-indulgent whiner. Oops!
I'm going to take my complaining down a notch. As I think we all know, Sunday anxiety is way worse than the actual work week. So next week, feel free to give me a virtual slap if I let out a peep about my busy schedule!
Still, I appreciate Monday's virtual hugs. You are all way too sweet, and I can't believe my luck that we get to hang out and talk about food together all the time. Seriously!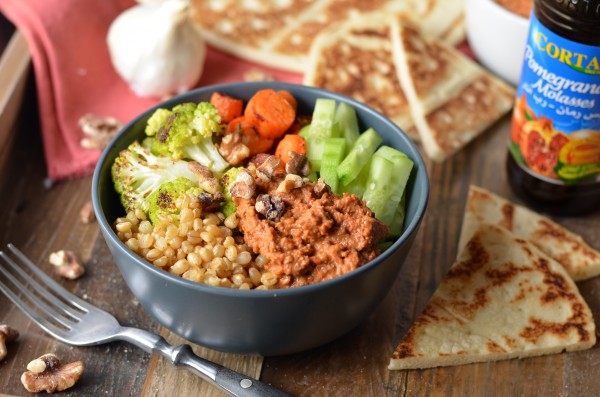 We are still enjoying the double batch of muhammara I made last weekend, and this has been one of my favorite combinations: a bowl of wheat berries and roasted veggies topped with a big dollop of that rich spread. It's not exactly earth-shattering (more like fridge-emptying!), but it's still high on the deliciousness scale.
Nothing is quite as satisfying to me as a big bowl of hot food, and this fits the bill right here. I can't claim that I'm freezing my butt off in Utah right now like so many of you on the East Coast are (it's been in the 50s – sorry!), but I can pretty much get behind a roasted veggie bowl at any time of year. Not to mention the fact that offices are universally freezing, and this pretty much makes the perfect leftover meal for lunch! Mmmm.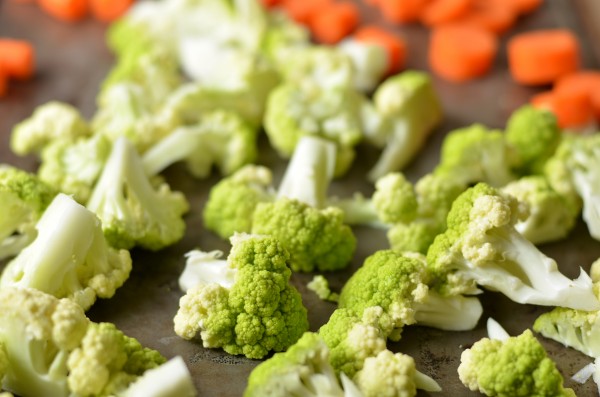 Remember that old Reese's commercial with all the different ways to eat a Reese's? I'm pretty sure we could make one for veggie bowls like this. You might be one of those people that likes every bite of food to be different… and with all the textures going on here, this is the perfect bowl for you. Or you might be like me, who likes each bite to have a little bit of everything. Chewy wheat berries, tender roasted veggies, crunchy cucumber, and creamy muhammara… I stirred it all together and then dug right in!
Or maybe dip the vegetables in the muhammara? Or eat everything out ofone of those plates with dividers so nothing touches?
I don't know, I was just trying to think of enough ways to make a commercial out of.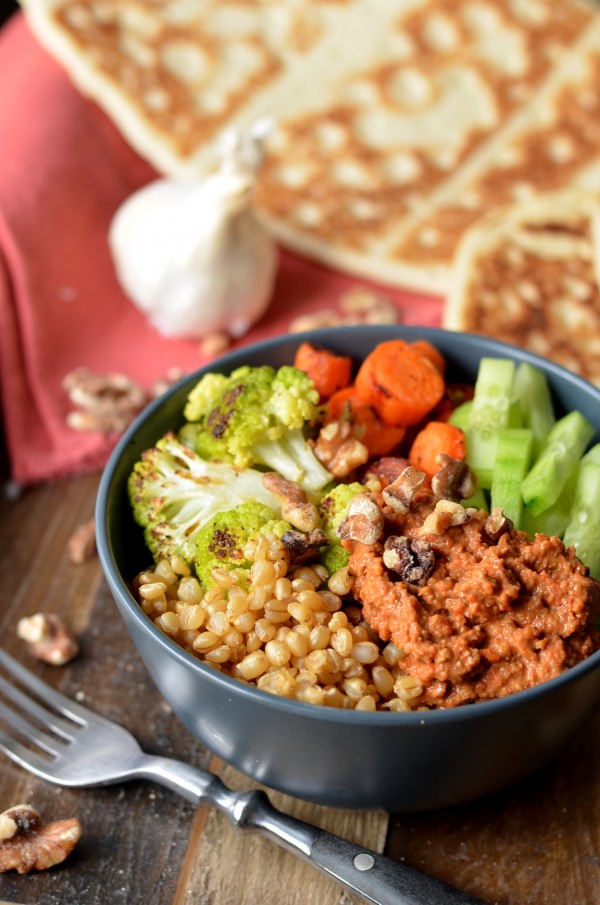 Who needs a Reese's when you have muhammara? It adds richness and tons of flavor to what would otherwise be a pretty unexciting bowl of dry veggies and rice. It is nutty, creamy, garlicky, and oh so delicious! You will deeeefinitely want some in every bite.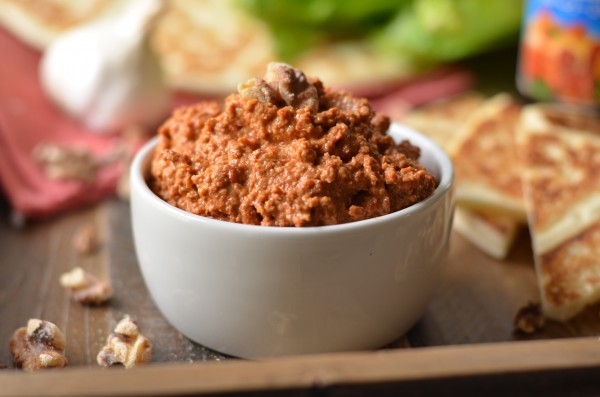 I love using wheat berries in bowls like this for their insane chewiness. They're not gluten-free, though, and they do take a bit longer to cook. My second choice would be brown rice, because it also has chewy big grains. For a shorter cooking time, I would choose quinoa, or even red lentils. The options are as endless as the odds and ends you want to use up!
And now I must go throw a bowl of this together for lunch tomorrow. Want me to save you some?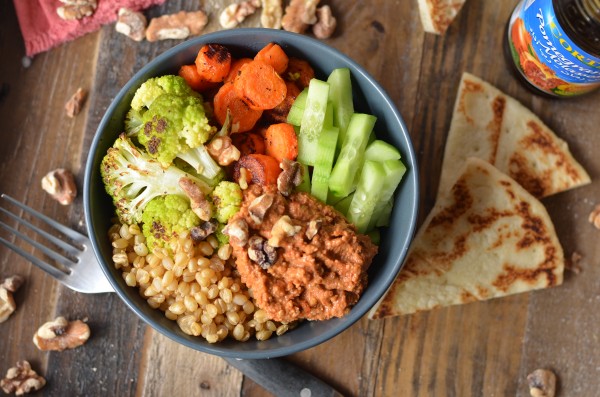 Muhammara Roasted Veggie Bowl
Ingredients
3/4 cup uncooked wheat berries
1/2 head cauliflower, chopped into bite-sized florets
4 medium carrots, peeled and chopped
1 Tbsp olive oil
salt and pepper
1 cucumber, peeled and cut into thick matchsticks
1/2 cup prepared muhammara
pita wedges for serving (optional)
Instructions
Rinse wheat berries. Add to a small pot and cover with an inch or two of cold water. Bring to a bowl and simmer until grains are plump and chewy, about 55 minutes. (Do this ahead of time, and the meal will take practically no time to prepare!)
Meanwhile, preheat oven to 425. Spread chopped cauliflower and carrots on a baking sheet together. Toss with olive oil and a sprinkle of salt and pepper. Roast until beginning to brown, 20-25 minutes, stirring once.
To serve, arrange wheat berries, roasted veggies, and cucumber matchsticks in a bowl. Top with a scoop of muhammara. Serve with pita wedges on the side if you'd like. Enjoy!
Notes
The vegetables listed are a suggestion, but feel free to use whatever you have on hand.