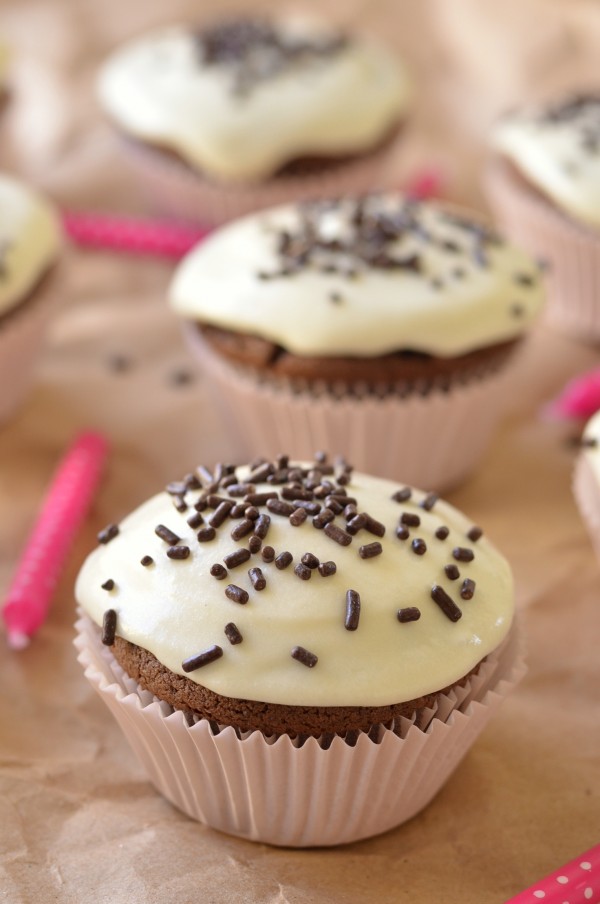 There is a time for whole grain flours, hiding vegetables in cakes, and nixing frosting in favor of a light dusting of powdered sugar.
Today is not that time.
And that's because today is my 27th birthday!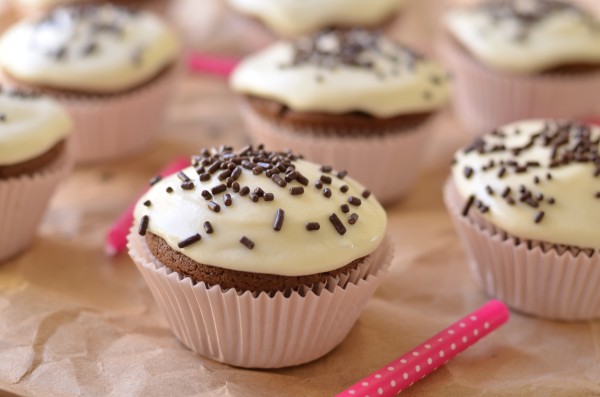 So no raw, gluten-free, vegan desserts today. It's my party, and I'll eat goat cheese frosting if I want to.
And I reeeeally want to.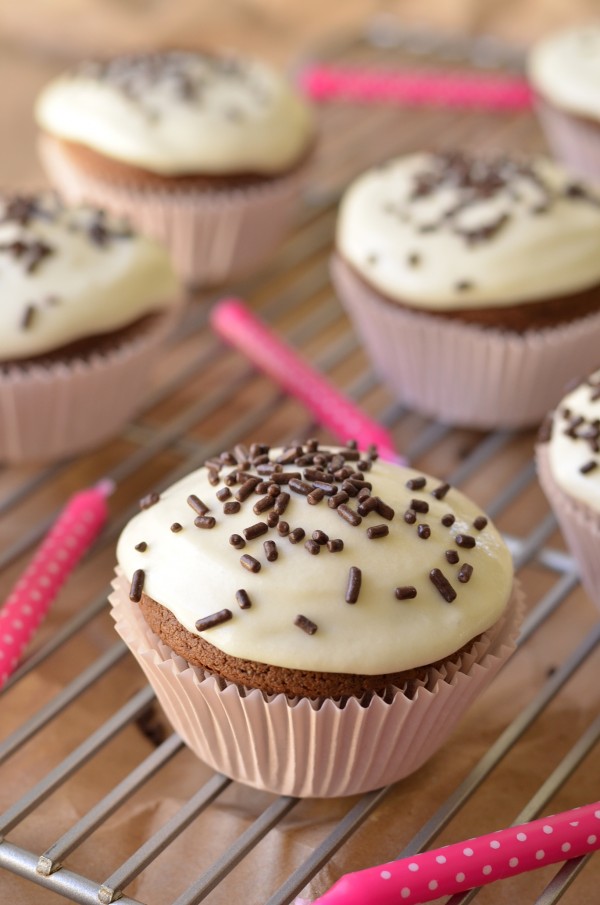 27 is a bit of a scary age for me, but also one I'm very excited for. Scary because 27 was my parents' age when I was born (gulp). And while I do (kinda) feel like a grown-up at 27, I'm not feeling that grown-up. Suffice it to say there won't be any little Nate-icas running around while I'm 27.
But what I am looking forward to is six months from today, when I'll wake up for the first time as Mrs. Krah. Eek! It's pretty exciting to be turning 27, knowing that this is the age I'm getting married at. Exciting, but also weird. I signed up for an October race the other day and realized my name would be Erica Krah by then, so that's what I registered as. It was pretty surreal! The wedding still seems very far off… but six months from today, it will all be over!
The wedding is clearly trumping my birthday in the excitement department right now, given that it's pretty much the only exciting thing about 27. The older I get, the more I feel like the best thing about birthdays is CAKE.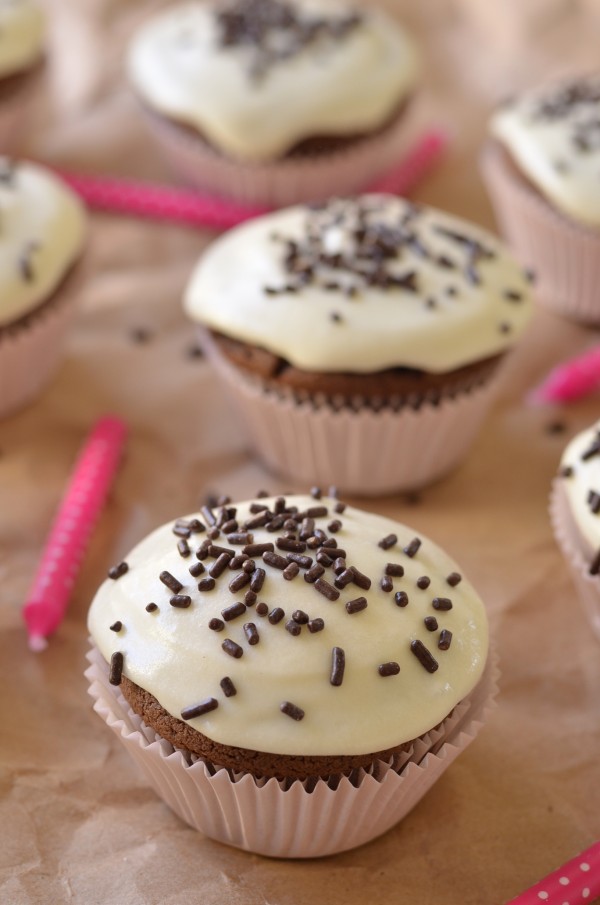 I mean, really, what is a birthday without cake?
Birthday cupcakes have become a blog tradition for me (meaning that this is the second time I've done it… whatever). Last year's were delicious, and I'm not gonna lie, I thought about bringing the peanut butter back for round two. But I had to resist, because there was an ingredient glaringly missing from last year's cupcakes: CHOCOLATE. And that was a situation that had to be remedied.
I tried out a chocolate cake recipe from Rose Levy Beranbaum's The Cake Bible for these cupcakes. While the end result is a pretty standard (albeit amazingly fluffy) chocolate cupcake, the batter is unlike anything I've ever had before. It is whipped into silky clouds of pure chocolate heaven – you would almost think it is a frosting. I would have taken a picture for you, but I made these in the morning, when the light in my apartment isn't the best. (Sigh.) Anyway, I am in love with this cupcake batter. And the end result isn't too shabby, either.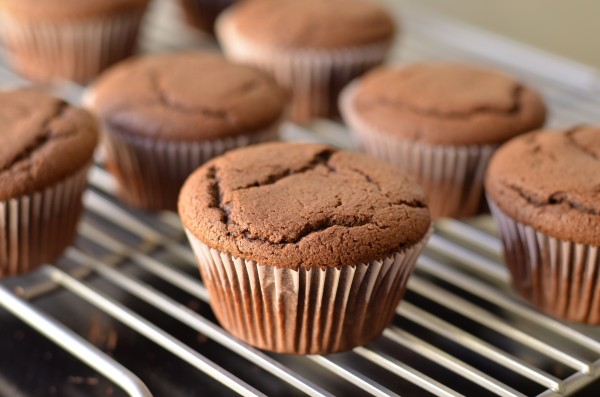 The original cupcake recipe I followed yielded two dozen cupcakes. But let's face it, unless you're baking for your kid's kindergarten class, two dozen cupcakes is just two many! I know in a household of two it's way too many. I don't even have any containers that hold that many cupcakes, meaning not all of the leftovers can be brought into work with me the next day. Baaad idea. So I scaled down the recipe to just 8 little cupcakes. So much better! And so much cuter. Aaaand there might not even be any leftovers… muahahaha.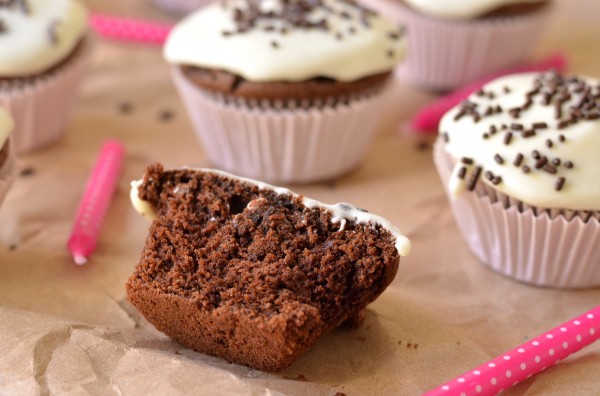 This picture was definitely taken right before a long run. Cupcakes as pre-run fuel? Don't see why not!
Birthdays are a wonderful excuse for that kind of thing :)
But in case you couldn't have guessed it, my favorite part of these cupcakes is the frosting.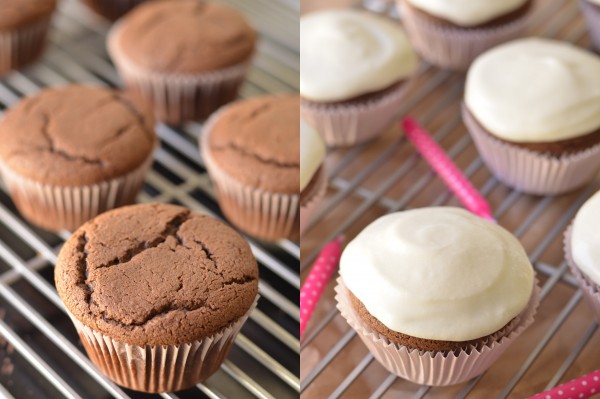 I really wanted to find the perfect frosting to grace the tops of these chocolaty little cakes. Goat cheese frosting for the win! I tested it against cream cheese frosting and, while the two actually taste pretty similar, the goat cheese version was less sweet with just a bit more tang, which I love. And I mean, if the idea of a goat cheese frosting doesn't get you excited… well, I'm sorry. I'm the birthday girl. You can use cream cheese instead :)
Hope you love these cupcakes as much as we did! Have a great weekend. I promise I'll eat some cake for you.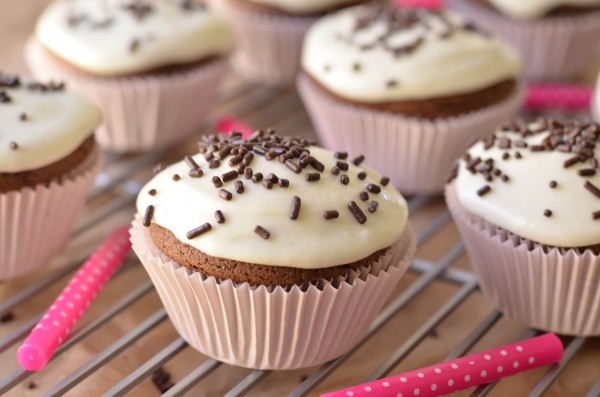 Small Batch Chocolate Cupcakes with Goat Cheese Frosting
Ingredients
For the cupcakes:
1/2 cup boiling water
1/3 cup Hershey's cocoa powder
1 egg
1/2 tsp vanilla extract
1 cup sifted cake flour (or use Joy The Baker's method for turning all-purpose flour into cake flour)
1/2 tsp baking soda
2/3 cup packed light brown sugar
1/4 tsp kosher salt
6 Tbsp unsalted butter, at room temperature
For the frosting:
5-6 oz goat cheese, slightly softened*
4 Tbsp unsalted butter, at room temperature
1/2 tsp vanilla extract
2 cups powdered sugar
Instructions
For the cupcakes:
Preheat oven to 350. Place cupcake liners in 8 cups of a cupcake tin.
In a small bowl, whisk together boiling water and cocoa powder. Set aside until cooled to room temperature. (Place in fridge or freezer for quicker cooling.)
In another small bowl, whisk together egg and vanilla. Once chocolate mixture is at room temperature, whisk 1/4 of it into the egg mixture.
In the bowl of a stand mixer (or a large bowl), sift together cake flower and baking soda. Stir in sugar and salt. Add the butter and remaining chocolate mixture (the one without the egg). Beat on medium speed until the batter is a big fudgy mass. (If mixture is still dry with chunks of butter, your butter is too cold. Microwave the mixture - not in a metal bowl! - for 15 seconds, then continue beating.) Continue beating for another 1-2 minutes to develop the batter's structure.
Add egg mixture 1/3 at a time, beating to incorporate and scraping down the sides between each addition. The batter should be very smooth and stiff.
Spoon batter into lined cupcake tins, filling about 3/4 of the way.
Bake on the center rack of the oven for 16-18 minutes, until a toothpick inserted in the center of a cupcake comes out with moist crumbs. Place on a cookie rack and cool fully before frosting.
For the frosting:
Beat together goat cheese and butter until smooth. Add vanilla and sift in powdered sugar. Beat until fully incorporated, scraping down the sides of the bowl. Refrigerate until ready to use.
Spread frosting on top of cooled cupcakes. Enjoy!
Notes
*Goat cheese should be colder than room temperature; you can remove it from the fridge a half hour or so before making your frosting. Warm goat cheese will make your frosting too soft.
Adapted from
The Cake Bible
by Rose Levy Beranbaum.