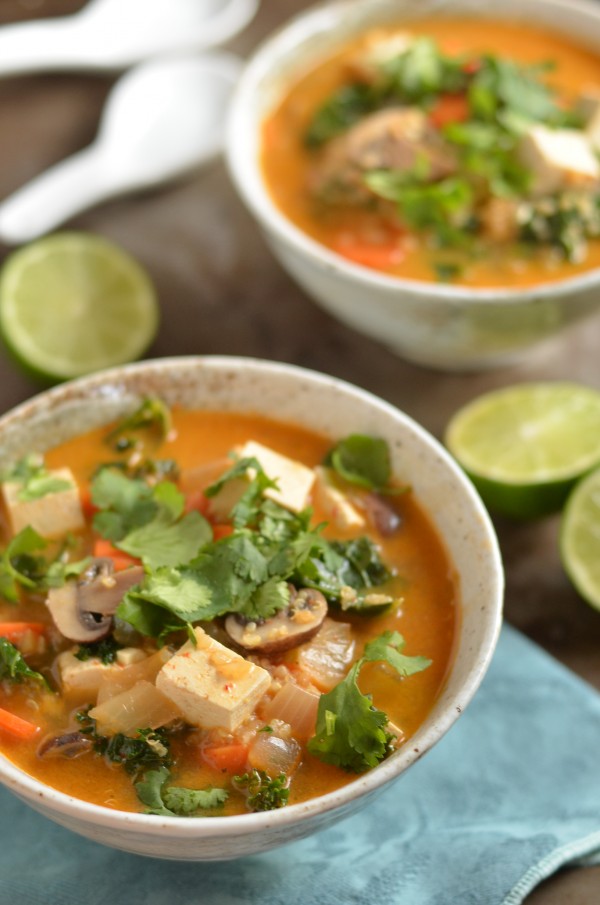 Hiya!
Are you surprised that I want to talk about curry today?
Prooobably not. Curry seems to be all that's on my mind lately – in popcorn, in peanut sauce, and now in soup. What can I say? I <3 curry. And I especially <3 coconutty curry as a spicy base for a veg-filled soup.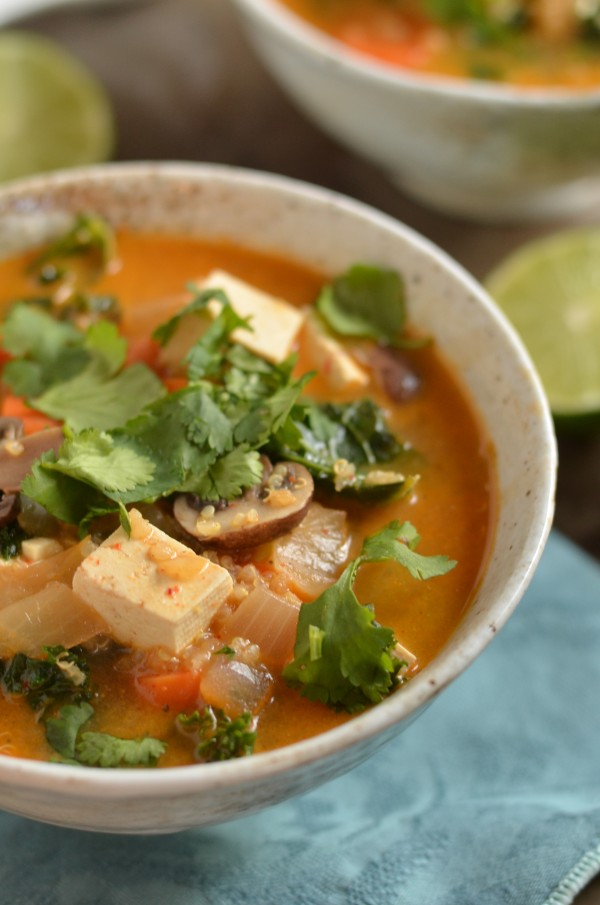 This soup is a mix between authentic (lemongrass, Thai basil, Thai chilies) and inauthentic (quinoa and kale). I hope you guys are OK with that – I know I am. Mostly, I wanted to use red curry as a base for a soup, but then I quickly realized that I wanted to add quinoa and kale to it. Quinoa and kale happen to be my two favorite soup additions. They add such great texture, and I love that they hold up no matter how many times you reheat the soup. (You know the same isn't always true if you've used, say, noodles and broccoli before.) So curry, quinoa and kale it is! A rockstar combo, if I do say so myself.
And when it comes to the more "authentic" ingredients? Well, you certainly don't have to use them if they're not accessible to you. You could skip the lemongrass and use regular basil and a few jalapenos just as easily. Whatever floats your boat! We are lucky to have an awesome Asian market nearby – one of my favorite places to go exploring. Buuuut you definitely don't need to go to the store, never mind the Asian market, to make a good soup.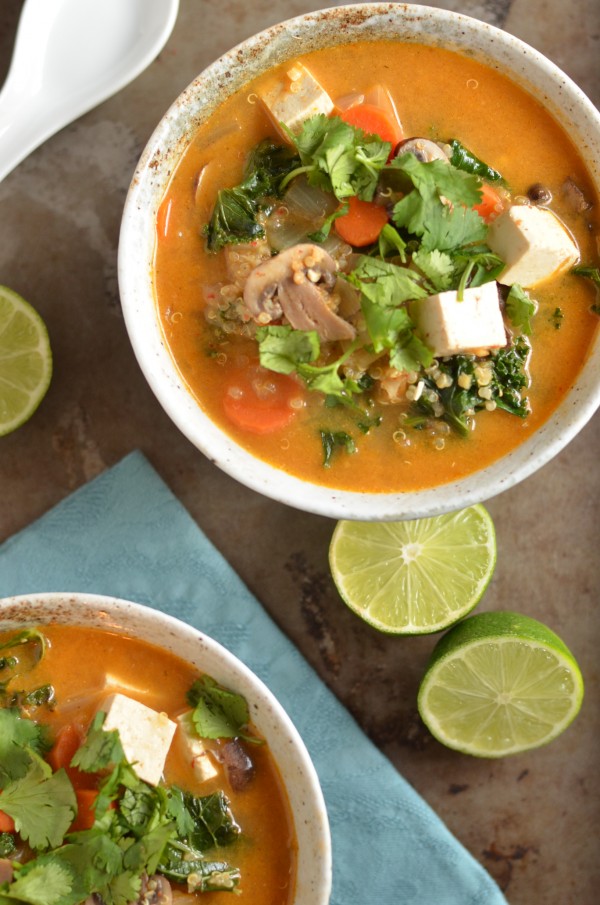 Depending on the curry paste you use, this soup can be quite spicy! That is one of my favorite parts. I know I've eaten a good bowl of soup when I'm sweating from the spice afterwards. Nate? Not so much. I'll make a spice lover out of him yet, but it might be a painful journey for him in the meantime.
There is a pretty long ingredient list going on here, but don't let that scare you away. It is really half pantry items and half veggies. Hard to argue with that! I resisted the urge to add even more types of veggies in here. It's too easy to get carried away, spend hours chopping, and end up with either 1) more of a stew than a soup or 2) a huuuuge pot of soup. Ever happen to you? Nope, me neither. Never ever.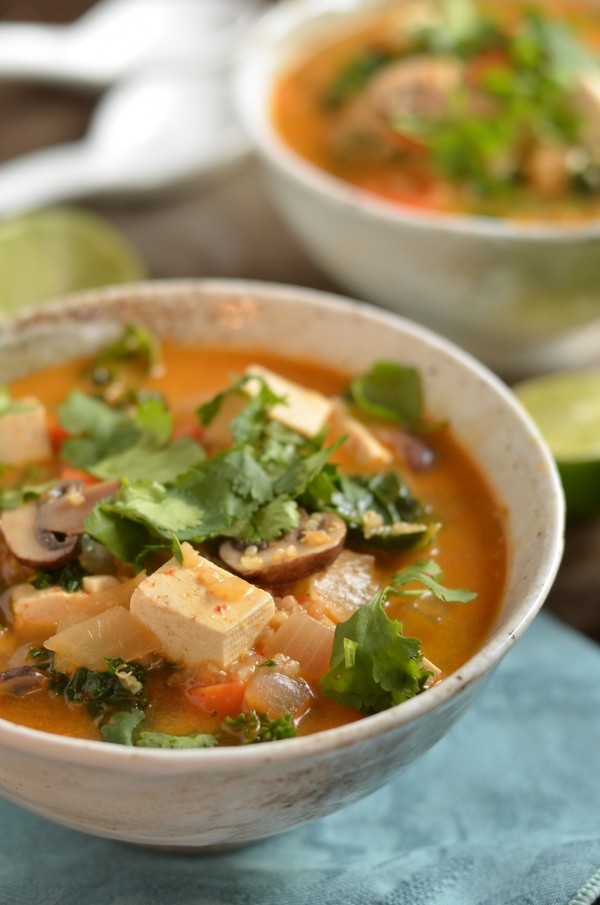 As the days get longer, I find that I can actually take pictures of our dinners in natural light (as long as we eat early enough) and use them for the blog. Hallelujah! Gone are the days of cooking meals at 2 pm just to take advantage of the scarce natural light. Thank goodness! That is just time consuming, and my time on the weekend can better be spent hiking and outlet shopping, which is exactly how I used it this weekend. Oh, and baking an insane chocolate cake. But shhhh. I'll tell you more about that on Wednesday.
We're lucky that it's actually warm enough here to go hiking in March. But it's also still that weird in-between weather where you wear gloves and a scarf in the morning and drive home at night with no jacket on and the windows down. It's the kind of weather where you need soup! Except you would need soup in the morning, according to that picture that I just painted. Shh. We'll wait for the sun to go down, and then we'll eat our soup.
Mmmm love me some quinoa soup!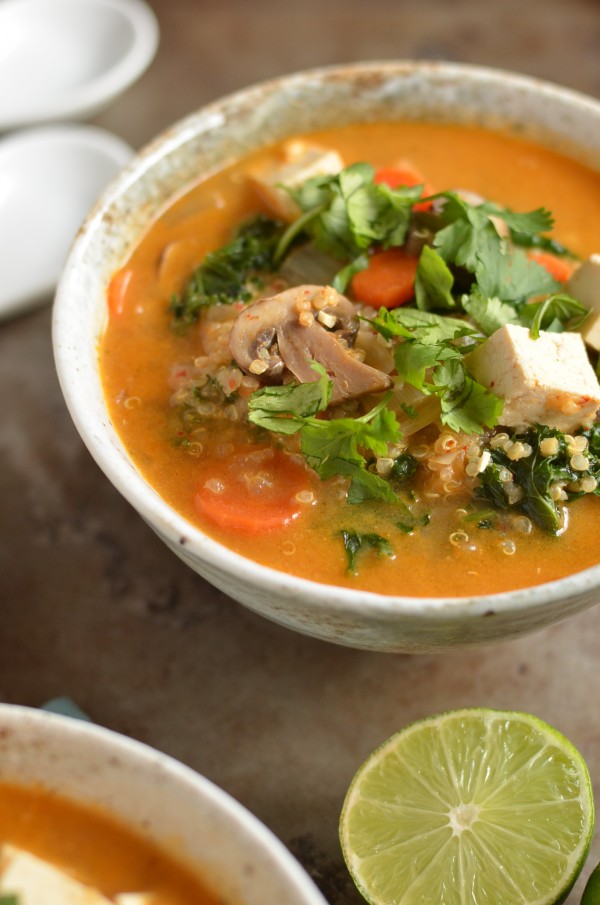 Thai Red Curry Quinoa Soup
Ingredients
1 Tbsp coconut oil
1 yellow onion, chopped
2 carrots, peeled and sliced into coins
3 cloves garlic, minced
1 Tbsp minced fresh ginger
3 Tbsp red curry paste (paste, not sauce!)
14-oz can light coconut milk
4 cups vegetable broth
1/2 cup dry quinoa
1 Tbsp low-sodium soy sauce or Bragg's liquid aminos
1 Tbsp packed brown sugar
8 oz brown mushrooms, sliced
2 Thai chilies, pierced several times with a knife
1 stalk lemongrass, cut into 2 4-inch pieces
10-12 leaves Thai basil, torn
juice of 1 lime
14-oz block extra firm tofu, cut into small squares
1 head curly kale, torn into small pieces
lime wedges for serving
chopped cilantro for serving
Instructions
Heat coconut oil in a soup pot over medium heat. Add onions and carrots and saute about 5 minutes, until beginning to soften. Add garlic and ginger and saute another minute. Add curry paste and stir until it coats all vegetables.
Add the coconut milk, broth, quinoa, soy sauce, brown sugar, mushrooms, chilies, lemongrass, basil, and lime juice. If more liquid is necessary, add another cup of water or broth. Cover and bring to a simmer. Reduce heat and simmer about 15 minutes, until quinoa is cooked.
Stir in kale and tofu and simmer until heated through, about another minute. Remove from heat.
Serve with lime wedges and plenty of chopped cilantro. Enjoy!