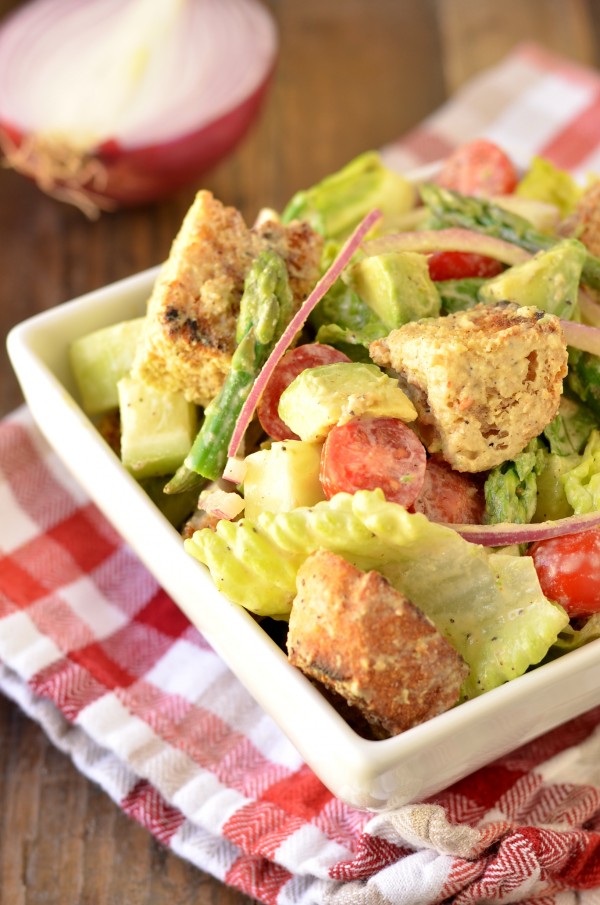 I think we should celebrate springtime today.
To my friends in the Northeast still caught in the polar vortex, I apologize. Here in Utah, the birds are chirping, the crocuses are blooming, and I'm starting to feel like I should be spending time outside instead of huddled in front of the space heater wearing a robe and a hat.
Daylight savings seems to mark the beginning of spring here. It's pretty lovely, even though I dread "springing forward" past an hour of sleep. I can hardly believe the sun doesn't set until 7:30 tonight! That's a guarantee that I won't be leaving work in the dark. The mornings are a different story… back to running with my uber-dorky headlight on. But even that won't last for long.
I hope it's nice and warm and sunny where you are, too. Otherwise you might be getting mad. Because I thought we could celebrate the milder weather with a fresh springtime salad today.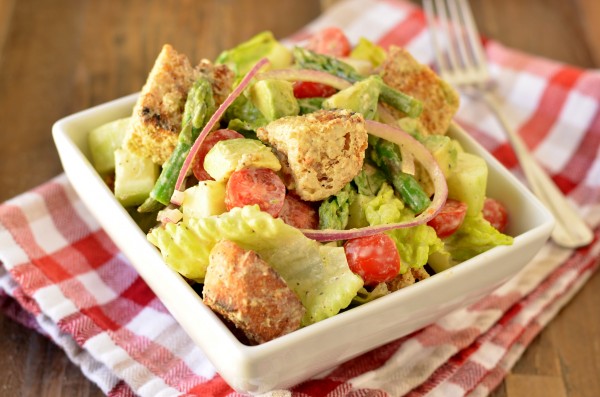 I recently made a vegan Caesar dressing for the first time, and well, it pretty much blew Nate and me away. It tastes different from non-vegan Caesar, but in the same way that any homemade dressing will taste different from store-bought. I honestly don't think you'd know it was vegan (unless you eat a lot of tahini, in which case you might be able to pick out the tahini flavor). I was afraid to tell Nate (tahini hater numero uno) what it's made of when he asked, but he wasn't scared off, which is really saying something. He requests it regularly, and I've been finding an excuse to eat it on top of everything, from salad to pasta to roasted veggies. I have to say that this panzanella is probably this dressing's highest and best use, though.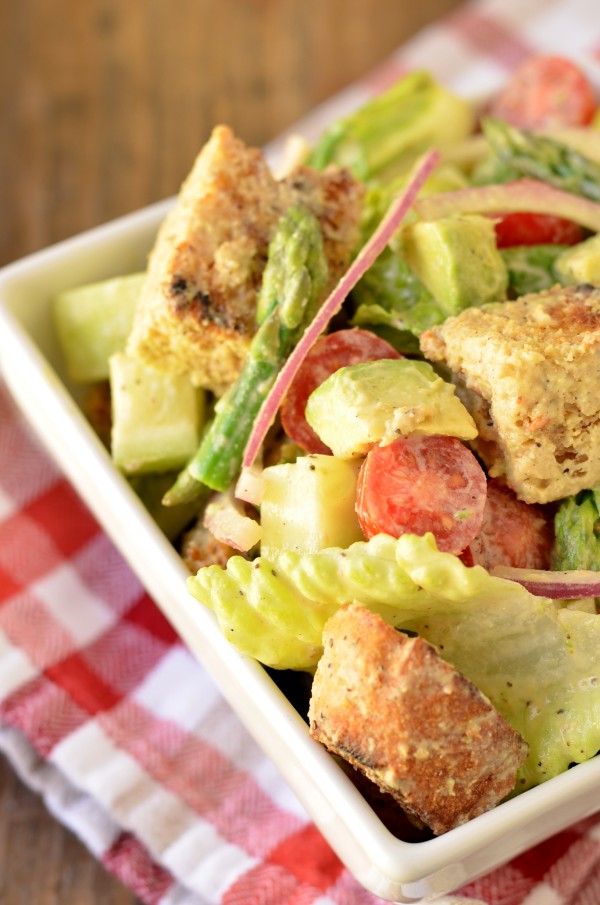 If you're going to make panzanella, you have to make the bread the star. We're doing that in two ways: by using thick slices of crusty bread (a loaf of French or Italian bread will work – no weak sandwich bread here!) and by pan-frying it with olive oil and spices.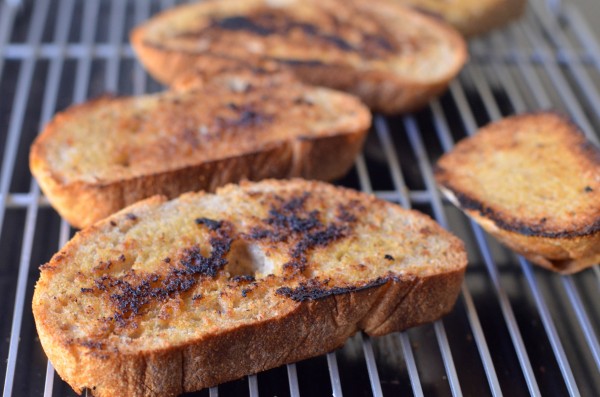 The result is a salad full of big, chewy crouton-like pieces of bread. Yum. And drenched in that vegan Caesar dressing? It seriously doesn't get any better. I couldn't stop picking pieces of bread out of this salad before, during and after taking pictures. Could. not. stop. It is just so good!
The bread and dressing are what make this salad, in my opinion, but I threw a boatload of veggies in there for good measure. Romaine hearts (a staple for a Caesar salad!), cucumber, avocado, grape tomatoes, and even a few stalks of blanched asparagus. So much freshness going on in one hearty salad!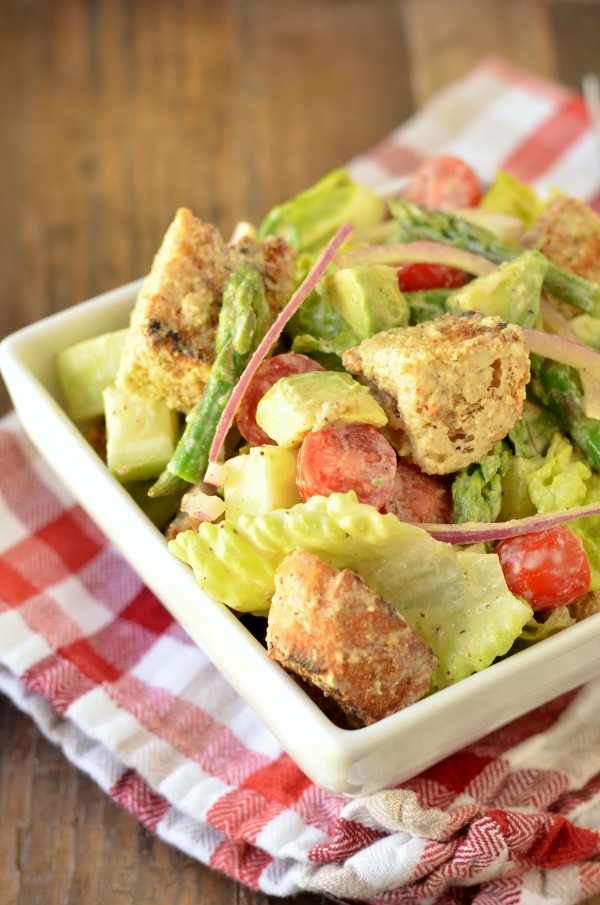 This recipe makes one huge bowl of salad. Perfect for sharing with friends – maybe if someone is firing up the barbeque? Go ahead, be those people that get overly excited and have a cookout when the thermometer hits 50. This salad will be perfect for it, especially because I get a kick out of surprising people when they find out a dish they love is vegan.
Of course, if you're tempted to de-veganize the whole shebang at the last moment by adding a handful of shaved parmesan… well, I wouldn't be one to judge.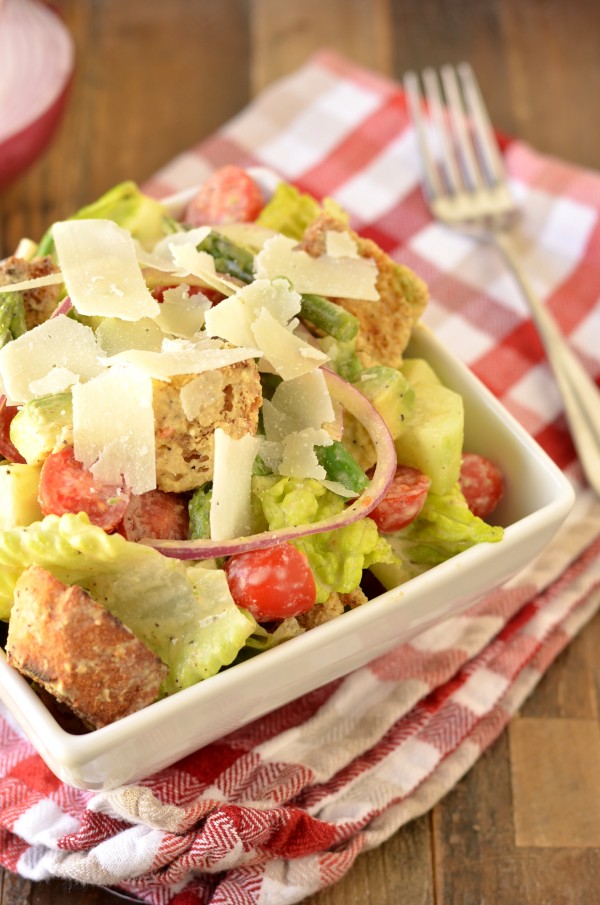 Tell me it's springtime where you are, too? Also, tell me I'm not jinxing myself into a big ol' snowstorm with all this spring weather talk :)

Vegan Caesar Panzanella
Ingredients
For the salad:
4-5 thick slices crusty bread
1 Tbsp olive oil
garlic powder
onion powder
5 cups chopped hearts of Romaine
1 lb asparagus, trimmed
10 oz cherry or grape tomatoes, halved
1 avocado, chopped
1 cucumber, peeled and diced large
1/4 red onion, thinly sliced
For the vegan Caesar dressing:
juice of 1 lemon
1 clove garlic, roughly chopped
1/4 cup tahini
3 Tbsp nutritional yeast
2 tsp dijon mustard
1/2 tsp ground black pepper
sprinkle of cayenne
1/2 cup water
Instructions
Brush both sides of the bread with olive oil and sprinkle with garlic powder and onion powder. Place in a pan over medium-high heat and brown on both sides. Remove from heat and set aside to cool. Cut cooled bread into large cubes.
Meanwhile, make dressing by blending all ingredients together.
In a large bowl, toss the bread, lettuce and 2/3 of the dressing together. Set aside to soak up the dressing for at least 15 minutes while you prepare the rest of the vegetables.
Bring a pot of water to a boil and simmer asparagus until bright green but still crunchy, 2-3 minutes. Drain and rinse for 1-2 minutes with cold water to stop the cooking process. Chop into 1.5-inch pieces.
Add asparagus and remaining vegetables to the bowl with the bread and lettuce. Top with remaining dressing and toss to coat. Serve and enjoy!