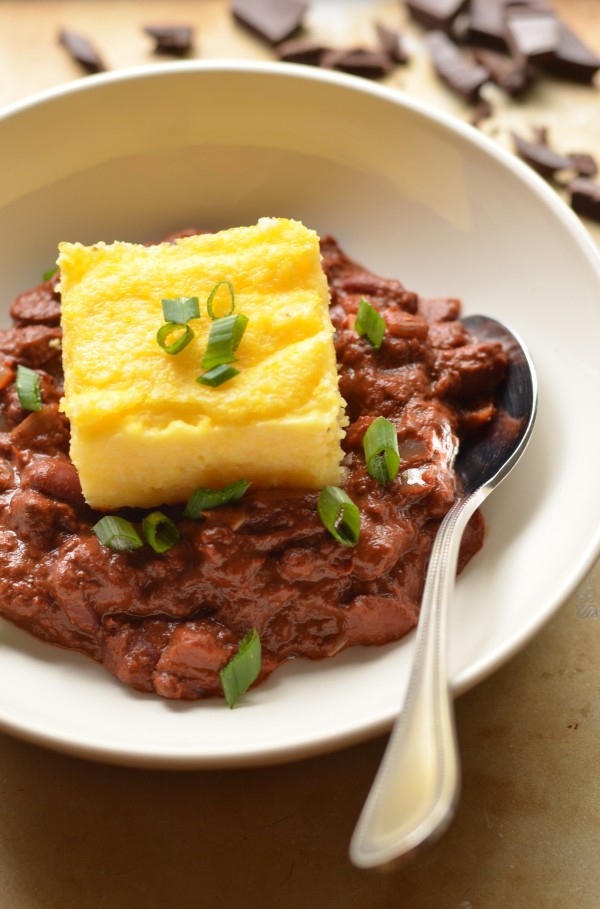 So much for seasonally-appropriate meals.
Maybe I should be posting light dishes filled with tender spring vegetables, but this right here is called a chili craving that doesn't care about the temperature. And I have to share it with you because it's just so tasty! Plus I'm sure there's still a spring chill in the air for some of you out there.
For some reason, I had the intense desire to make chili last week. Or maybe it was the intense desire to eat chocolate for dinner? Either way, this chili was born. And as luck would have it, the skies really clouded up before I had the chance to take these pictures. Sigh. Well, I guess you weren't going to eat chili on a sunny day anyway, were you?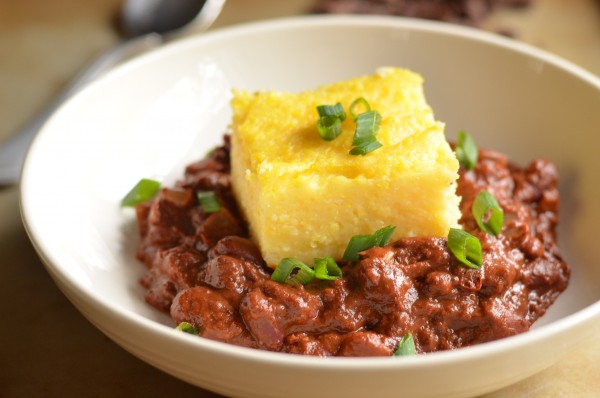 Elephant in the room: this chili has chocolate in it. Many chilies call for a tablespoon or so of cocoa powder, but here we're taking it to the next level with cocoa powder and chopped semi-sweet chocolate. This isn't a "secret ingredient" chili – you can definitely taste the chocolate, and yet it somehow isn't weird. Fact.
Did you ever think you would chop an onion and a bar of chocolate next to each other on your cutting board? You might feel a little loco while you're doing it. Like, OK, I need to clean this cutting board before I chop the chocolate! Oh wait, no I don't. Maybe I should just to be safe? But no, no you don't. This is a recipe where the onion and chocolate are going into the same pot. And while all that cutting board craziness is going on, I recommend that you take a little piece of chocolate and dab some chopped chipotle on top of it. It will lay all your fears about the weirdness of this meal to rest.
This is a beautiful silky chili with a deep smoky flavor, thanks to the chocolate and chipotle. Nate said it smelled like a mole while it was cooking, and I have to agree. It does have some of that mole flavor! But with the beans, it's distinctly a chili.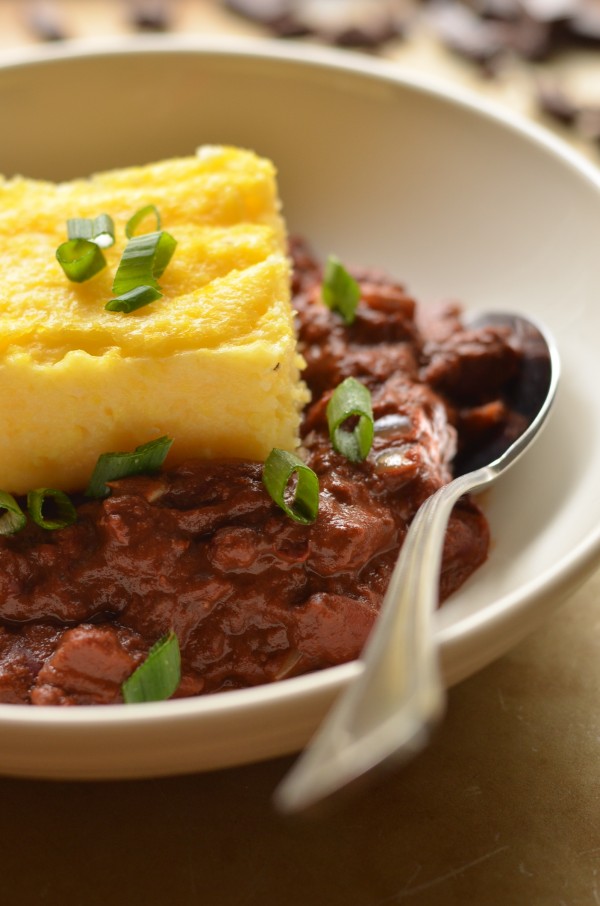 And of course I had to serve it with my new obsession, polenta. Although really, you could eat this chili alone or with rice or a potato – the polenta is optional. Just a nice way to incorporate polenta into allll of my meals.
This polenta simmers for a few minutes on the stove, then is transferred to the oven to bake into perfect golden squares. It's best done a bit ahead of time so that it can firm up. If there's no time for such foolishness, you could serve it soft, like grits, rather than waiting for it to solidify.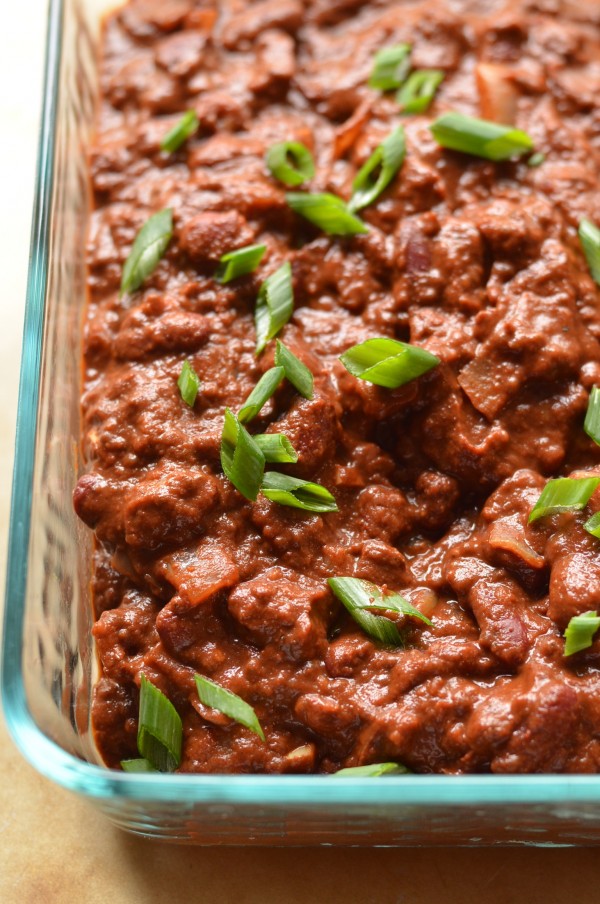 Like any chili, this makes  THE BEST leftovers – good thing, since after making it twice in the past week, I've got quite a bit leftover! I would say it tastes more tomato-y and less chocolaty on day 2, after the flavors have had time to combine. It's perfect for warming up with at lunchtime in a freezing cold office. We're just entering the season where the AC in my office building is going into overdrive, and a hot lunch is definitely the highlight of my workday.
I would say this chili is about a medium on the spiciness scale. Yes, we're adding chipotles, but only two in the whole pot. Nate, on the other hand, thought it was off the charts spicy, and couldn't believe I could finish a bowl without drinking my entire glass of water. He didn't seem to like my idea of going on a spiciness conditioning plan, either… not sure why not.
So yes, lots of chipotle-filled leftovers for me this week!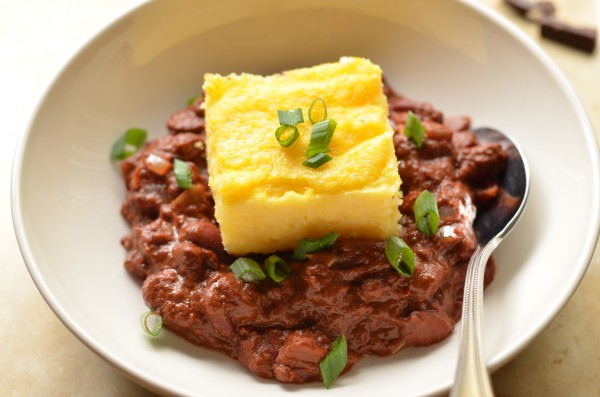 Chipotle Chocolate Chili with Baked Polenta
Ingredients
For the polenta:
1 cup polenta meal/corn grits
4 cups water
1 tsp kosher salt
2 Tbsp unsalted butter
1/2 cup grated cheddar cheese
For the chili:
1 Tbsp olive oil
1 yellow onion, diced
2-3 cloves garlic, minced
28-oz can crushed tomatoes
2 15-oz cans kidney beans, rinsed
2 chipotle chilies (from a can of chipotles in adobo), minced
2 Tbsp chili powder
2 Tbsp unsweetened cocoa powder
1/2 tsp cumin
1/2 tsp oregano
1/2 tsp ground black pepper
1/4 tsp cinnamon
2 oz dark or semi-sweet chocolate, chopped (I used Ghirardelli 60%)
2 Tbsp chia seeds
Instructions
To make the polenta:
The polenta should be made ahead of time so that it has time to firm up enough to cut into squares. It can be done even several days beforehand and then reheated.
Preheat oven to 350. Grease a 9x9 baking dish and set aside.
Bring water to boil in a medium pot. Once boiling, add the salt and stir in the polenta meal. Stir constantly for several minutes until the polenta thickens and no longer separates from the water when you stop stirring. Reduce heat, cover, and simmer for 10-15 minutes.
Remove from heat and stir in the butter and cheese. Spread into the prepared baking dish and bake for 30 minutes. Set aside and cool until firm enough to cut into squares, at least half an hour.
To make the chili:
Heat oil in a large pan or dutch oven over medium heat. Add the chopped onion and saute until soft and even beginning to brown, about 5 minutes. Add the garlic and saute another minute.
Add the remaining chili ingredients except for the chia seeds. Stir to combine. Cover and bring to a simmer. Reduce heat and simmer for about 30 minutes, scraping the sides and bottom of the pan once or twice to make sure nothing burns.
Remove chili from heat and stir in the chia seeds. The sauce will thicken up as you stir them in. Cool for several minutes before serving.
To serve, cut the polenta into squares and place in individual bowls. Top with several scoops of chili. Enjoy!