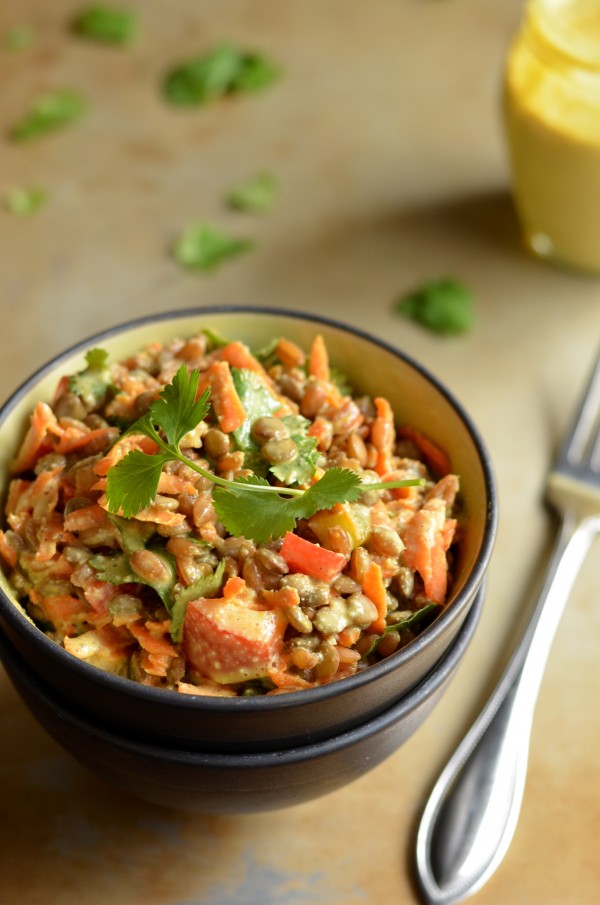 Happy Friday!
I am breathing a sigh of relief that this week is over. It was a busy one, that's for sure. Not that that's unexpected, but just… phew. Friday. I would imagine you feel the same?
Usually my Friday posts tend to be fewer meals and more desserts, breakfasts, snacks, and the like. Let's face it – I am tired by the end of the week, and that is the kind of recipe that gets me excited to tie on my apron and get in the kitchen over the weekend. Healthy meals? Meh. I get enough of those Monday to Thursday. BUT today we are bucking the trend with this warm curry salad. Mostly because I got over-excited about polenta earlier in the week and just couldn't save that post until Friday. But also because I think it's worth throwing together a pot of this over the weekend, if not because you're super excited about it at the time, then because you most certainly will be excited about having healthy leftovers in your lunchbox come Monday or Tuesday.
But let's back up. Warm curry salad? What the H-E-double-hockey-sticks is a warm curry salad?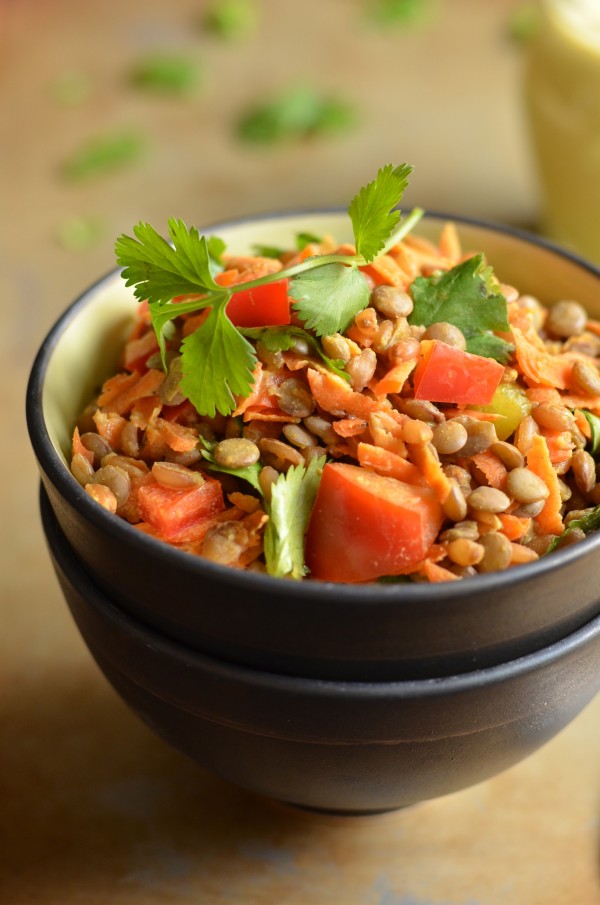 Note: I can say "H-E-double-hockey-sticks" because I live in a town where people say things like that all. the. damn. time. Oh, did I say damn? I meant gosh-darn. Love you, Utah.
Anyway, what I meant to say is that if curry and salad had a kid, it would be this meal.
The idea is that you have a healthy and filling base with lots of yummy texture – lentils and wheat berries – that you then load up with veggies and a delicious coconut curry tahini dressing. It's served warm, and is especially great reheated. It's hardly a salad – no greens! – and hardly a curry dish, because curry powder is just blended into the dressing. I guess it's just the perfect healthy, satisfying marriage of the two.
And the key to it all is this sunny little jar of coconut milk dressing.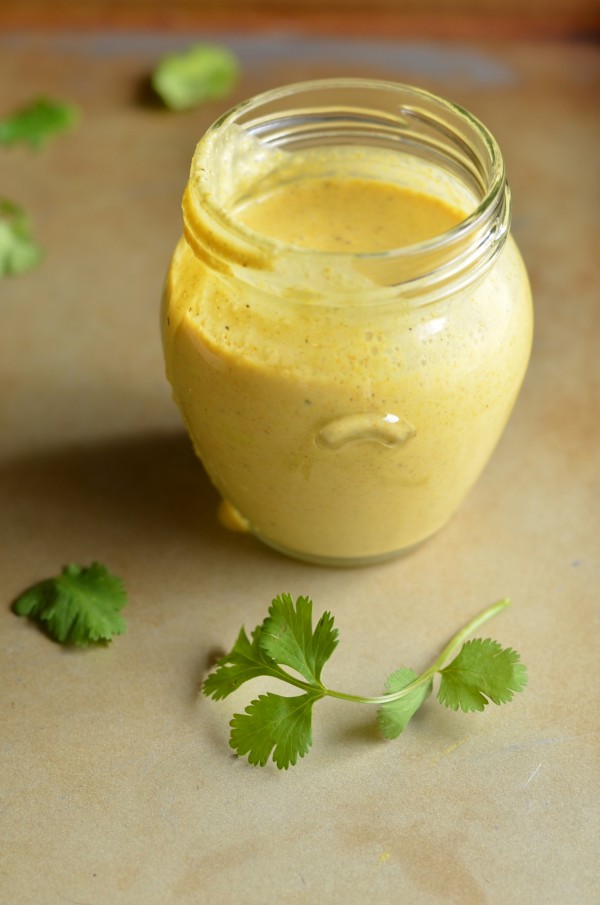 It kinda looks like a mustard dressing, but it is no such thing. Curry all the way! Plus a few more ingredients, blended up to pack a big flavor punch. The tahini adds a thicker texture and some nutty complexity, and I also threw in a couple cloves of garlic. I just loooove a good garlic tahini dressing, especially in a warm dish like this. You must try it if you never have before!
The dressing is pretty strong, so you can sauce up your salad just as much as you'd like. Barely there or supah saucy.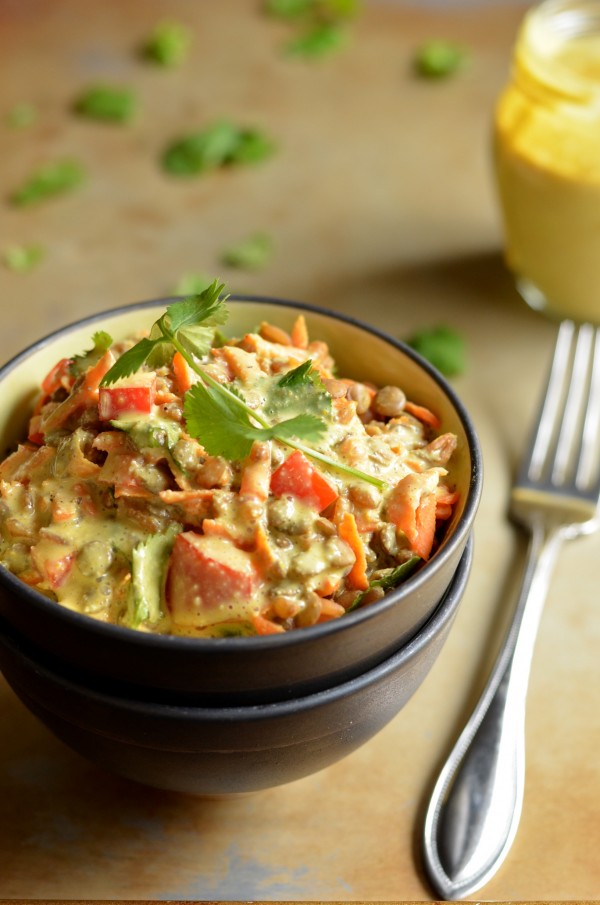 I clearly recommend the latter.
I used a bell pepper and carrots in this recipe, but it's certainly adaptable to your favorite veggies, or just the ones you're desperate to use up. I would just caution not to use anything that won't taste good hot. Like, um, cucumber? Not so great reheated. And I know because I made that mistake… maybe I made it twice. Also avocado. Do not add those things.
OK, it's Friday, and you're still listening to me drone on about a salad. Go get on with your life and your weekend! And then maybe cook this, yes?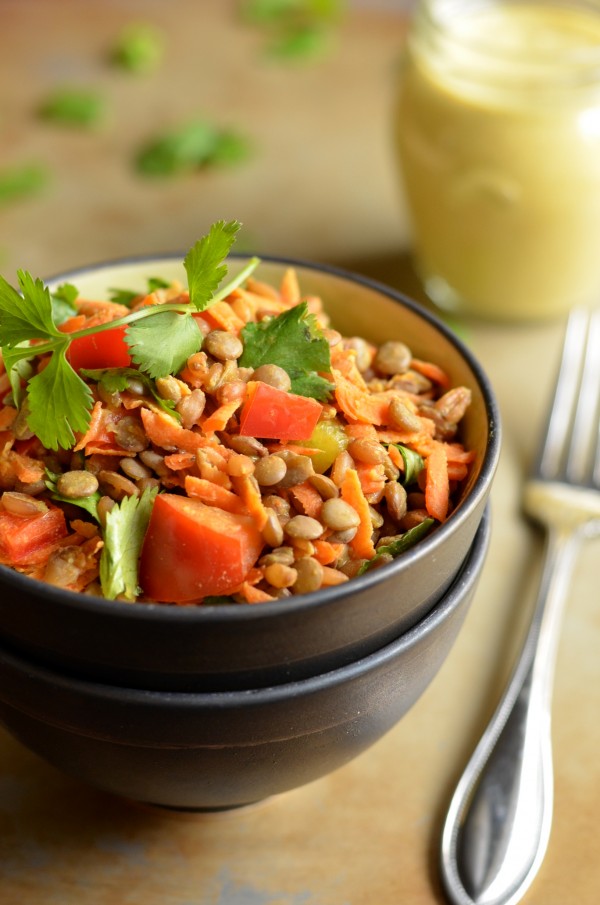 Warm Curry Salad
You can make this a one-pot meal if you cook the wheat berries and lentils together. If you have already cooked the lentils and wheat berries, even easier.
Ingredients
For the salad:
1/2 cup uncooked green lentils, rinsed
1/2 cup uncooked wheat berries
2 carrots, grated
1/2 red pepper, chopped
1 cup chopped cilantro leaves (about 1/2 a bunch)
For the dressing:
1 cup coconut milk
2 Tbsp tahini
1 Tbsp yellow curry powder
1 tsp honey
juice of 1 lime
2 cloves garlic, roughly chopped
Instructions
Add wheat berries to a small pot with 1 3/4 cup water. Simmer for 20 minutes, then add rinsed lentils. Return to a simmer and cook 30 minutes longer, or until lentils are thoroughly cooked. Drain any excess water.
Meanwhile, prepare the dressing by blending all ingredients together.
Add chopped pepper, grated carrot and about half the dressing to the pot with lentils and wheat berries. Heat vegetables through. Remove from heat and stir in cilantro.
Serve with remaining dressing on the side. Enjoy!