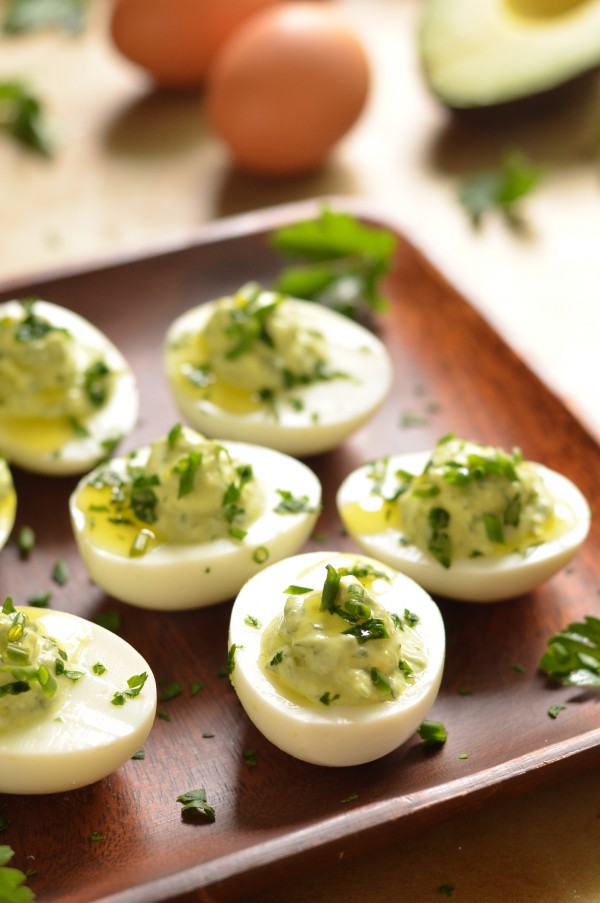 OK, so I totally missed the deviled egg boat this year. Apparently deviled eggs are an Easter thing? I never knew this, though it makes sense, of course. One of my favorite things post-Easter is seeing all my co-workers with young kids bring dyed eggs to work for lunch. Taking one for the team. Because let's face it, no one really wants to eat the eggs after they're dyed. They have flecks of blue on them and stuff. Not appetizing.
But we're talking about deviled eggs. To tell the truth, I haven't thought about deviled eggs in years. Then Easter happened, and the blogosphere blew up with the darn things! And I was like, wait, why didn't IIIII do that? Major deviled egg envy. So now I'm doing it.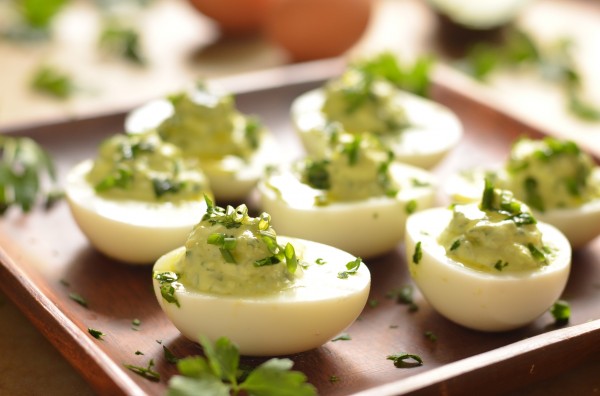 Luckily, there happens to be another brunch occasion this weekend – Mother's Day! I do love any excuse for a big brunch. And moms are awesome, and deviled eggs are awesome, so it's only natural that the two should go together. Yes?
Now these deviled eggs are a little different because (as you may have noticed) they're GREEN. Green eggs and ham, anyone? I don't know about you, but I'd much rather have eggs that are green because of avocado and herbs than some of the other green eggs out there. Alarming.
My green eggs, on the other hand, I find pretty adorable in their green-ness.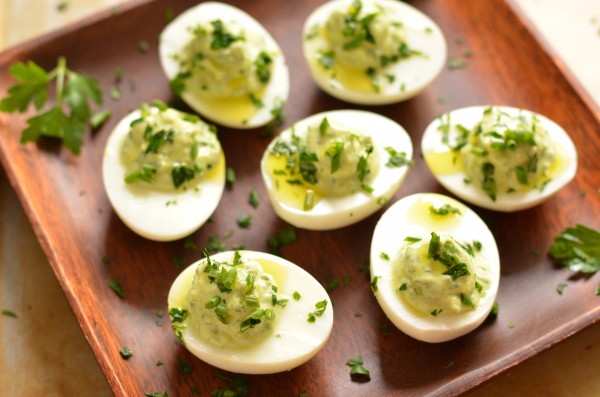 The other great thing about using avocado and herbs is that they're quite healthy! Deviled eggs have a bad reputation for being heavy on the mayo, but that is not the case here. Mayo and I are not really friends. Nope, here I went with avocado and Greek yogurt for that creaminess without any of the gross stuff.
Oh, and I tossed half the egg yolks. You can use all of them, if you want, but I thought keeping the cholesterol to a minimum was probably a good thing. That totally means you can eat twice as many, right?
Duh.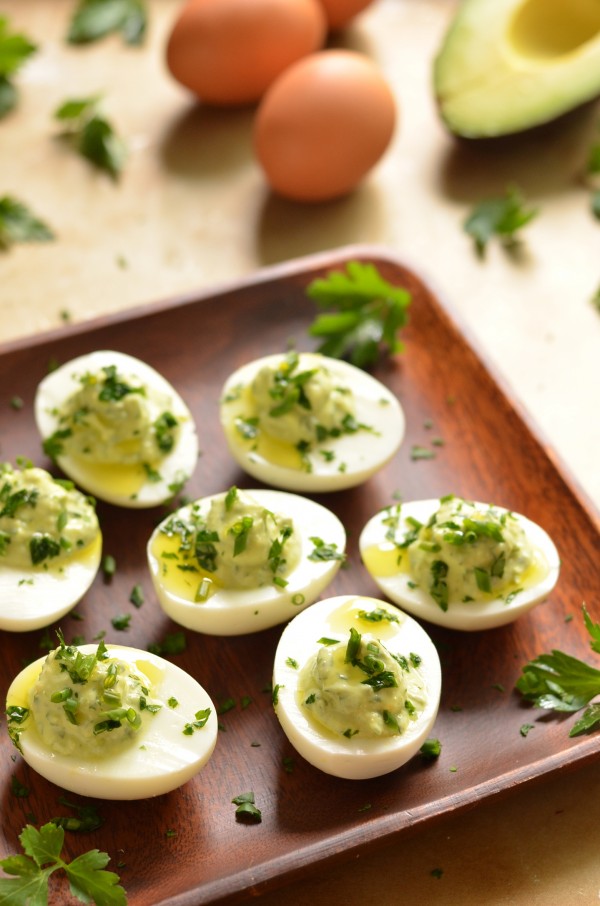 This is a special Mother's Day because I actually get to be with my mother! And both my grandmothers, and Nate's mother. I am back in Massachusetts for my bridal shower, with so many women I love! I can't wait to see them all… and maybe eat deviled eggs together.
Happy Mother's Day to all the moms out there!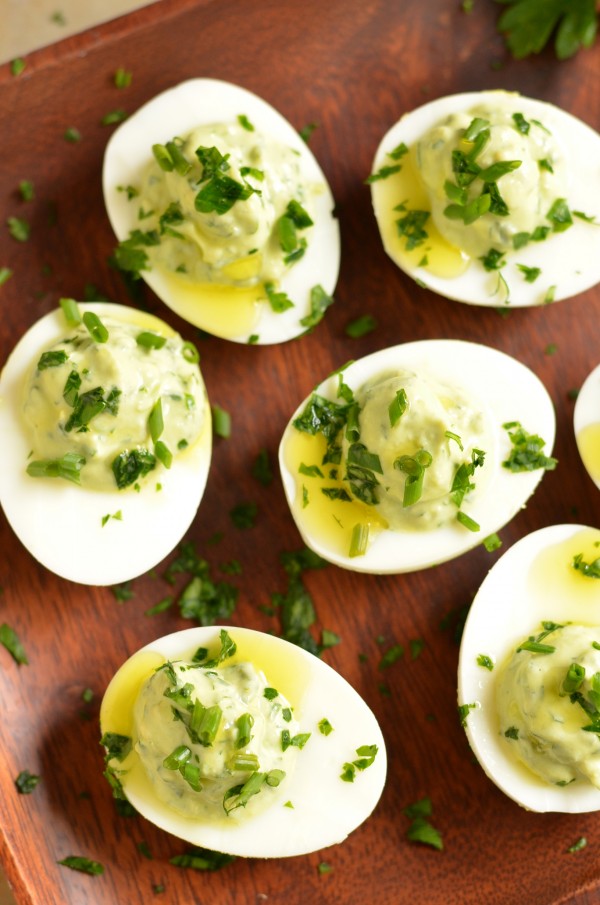 Avocado Herb Deviled Eggs
Ingredients
1/2 dozen eggs
1/2 avocado
1/2 cup Greek yogurt
2 Tbsp each finely minced fresh basil, parsley, and chives plus additional for topping
2 Tbsp freshly squeezed lemon juice (from about a half lemon)
kosher salt
white pepper
olive oil
Instructions
Place eggs in a small pot. Cover with an inch or two of cold water. Bring to a boil and keep at a rolling boil for 1 minute. Reduce heat and simmer for 10 minutes. Drain hot water and submerge eggs in cold water. Change the water several times to keep it cold. If you are making the deviled eggs immediately, cool the eggs thoroughly, even adding ice to the water. If cooking the eggs ahead of time, just get them down to room temperature, then return to the fridge for several hours before continuing.
Peel eggs and rinse to remove any stubborn bits of shell. Cut in half lengthwise. Remove yolks, placing half of them in a medium bowl and discarding the other half.
To the bowl with the eggs yolks, add the avocado and Greek yogurt. Mash together until smooth and creamy. Stir in the chopped herbs and lemon juice. Add salt and pepper to taste; I used about 1/2 tsp kosher salt and a sprinkle of pepper.
Arrange egg whites on a serving plate. Fill with avocado-herb mixture using a small spoon. (You may have some filling leftover; it can be eaten on toast or crackers.) Drizzle with olive oil and sprinkle with leftover chopped herbs. Serve and enjoy!