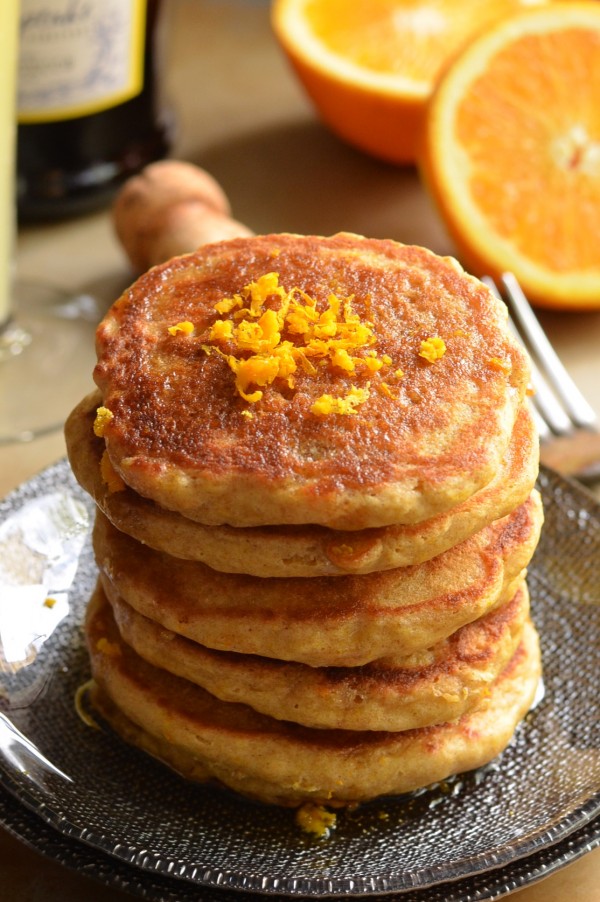 One of the best ideas I've had recently involves putting booze in your breakfast.
Champagne, to be exact.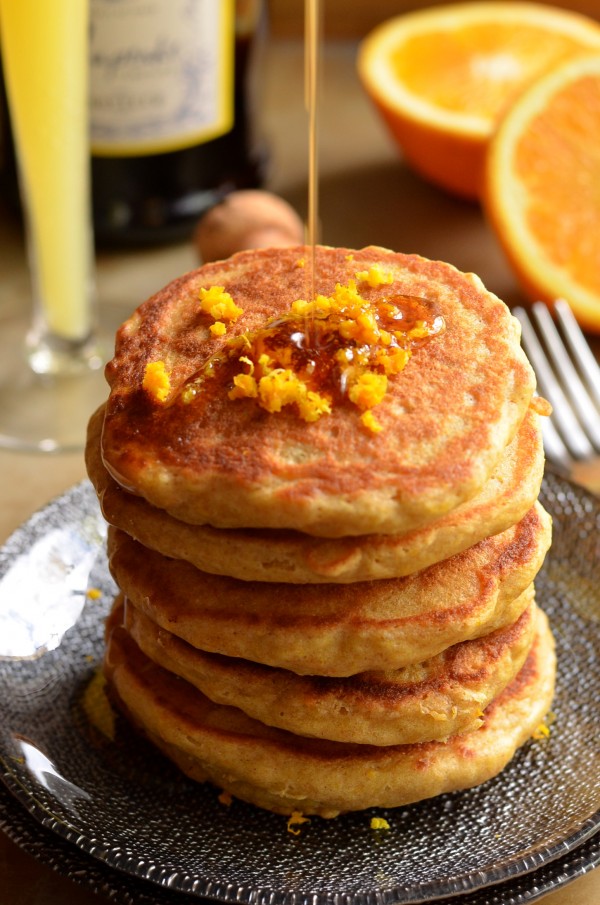 A Wednesday morning breakfast? Most likely not. But just put these in your back pocket for Sunday, yes? I've had them in my back pocket for quite a while. I think I posted about them on Instagram weeks ago. Well finally it's pancake time – thank goodness.
These "mimosa" pancakes squeeze the flavors of your favorite brunch cocktail into your favorite brunch food. OK fine, mimosas are admittedly not my favorite brunch cocktail (that would be Bloody Marys!), but put those flavors in a pancake? Different story! The champagne gives off a delicious, almost yeasty fragrance as the pancakes cook, making your whole house smell amazing. If you live in an apartment building, your neighbors are guaranteed to be jealous! And it's no secret that champagne and orange make a great brunch flavor combo, so I've added orange zest as well.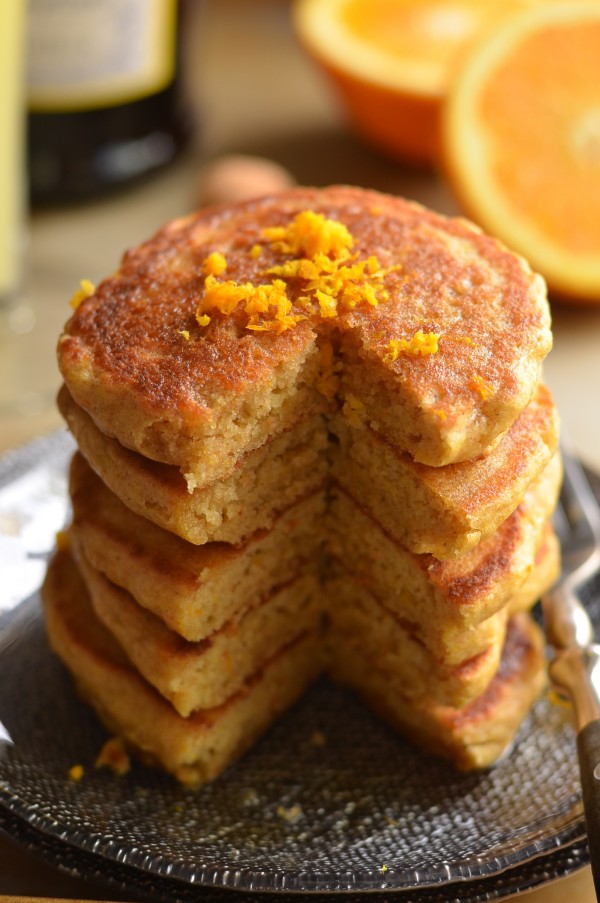 With a whole cup of champagne inside each batch, these pancakes taste pretty decadent. (Luckily the orange makes them totally acceptable to eat at breakfast time… I think that's how that works, right? Champagne = nighttime, but champagne + orange = daytime? Oh good.) I recommend them with maple syrup and a strong cup of coffee.
And, um, can I have a Bloody Mary on the side?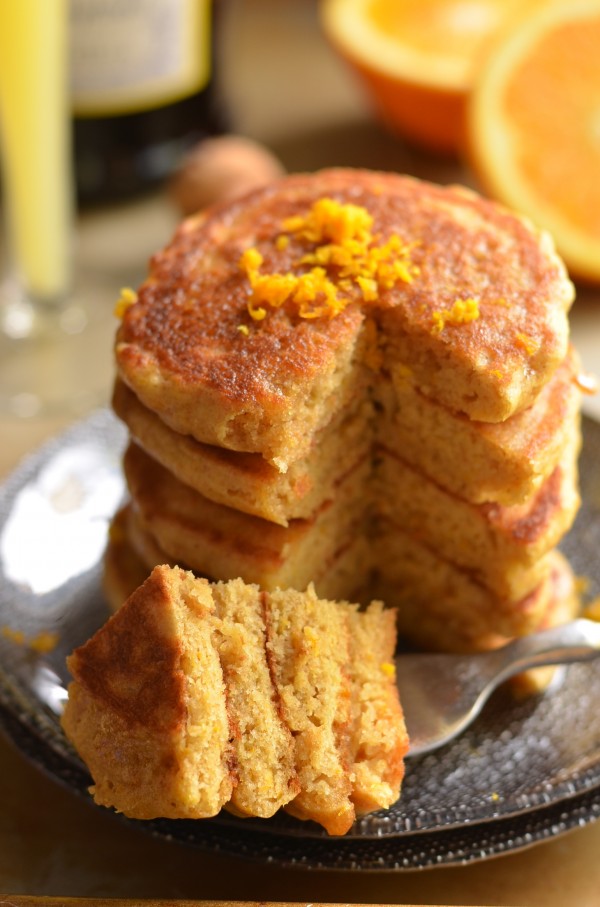 Speaking of sides, let me end with a few side notes:
1. A redesign! Things will start looking a bit different around here shortly, if they don't already – it probably depends how late in the day you're reading this. I've been working with the lovely Heather Mackan to give Coffee & Quinoa a makeover, and can't wait until it's up for the world to see! Heather's work will make this blog not only more beautiful, but hopefully easier to navigate as well. Check back soon if you're not seeing the redesign yet. Please excuse the formatting funkiness you're bound to see over the next few days, and feel free to email me at coffeeandquinoa@gmail.com with any problems you notice. I'm psyched.
2. I'm currently in Nashville for work, and would love any and all recommendations you have as far as what to see and do while I'm here! Where should I shop? Most importantly, what should I eat?! It's my first time to Nashville, so tell me, please!
That's it as far as recipes this week, because I've been traveling so dang much lately. I hope to be back on Friday with a fun post for you! But if it doesn't happen… well, I was busy at the Lady Antebellum concert working very hard in Nashville.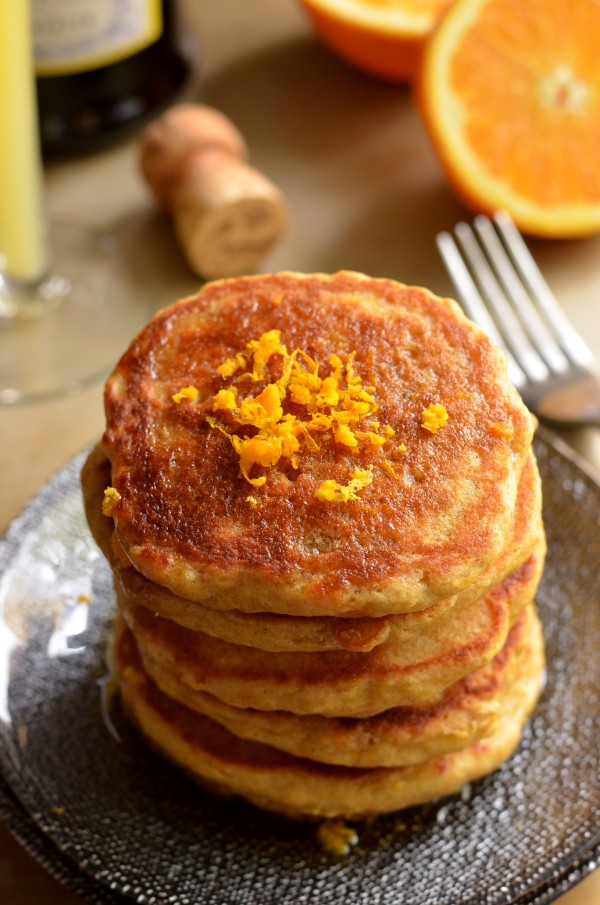 Mimosa Pancakes
Ingredients
3/4 cup whole wheat flour
3/4 cup all-purpose flour
1/2 tsp baking soda
1/4 tsp baking powder
2 Tbsp sugar
1/2 tsp kosher salt
1 cup champagne (I used prosecco)
1/4 cup milk (I used almond milk)
1 egg
2 Tbsp butter, melted
zest of 1 orange (about 2 Tbsp)
Instructions
In a large bowl, sift together the flours, baking soda, and baking powder. Stir in the sugar and salt.
In a separate bowl, whisk together the champagne, milk, egg, butter, and orange zest.
Gradually pour the wet mixture into the dry mixture. Whisk until just combined. Let sit for 10 minutes to thicken up.
Melt a small pat of butter in a griddle or non-stick pan over medium-low heat. Drop a scoop of the batter on. Cook for several minutes, then flip and cook until done on both sides. Repeat with remaining batter. (You may have to reduce the stove temperature as you go to avoid burning the last few pancakes.)
Serve and enjoy!