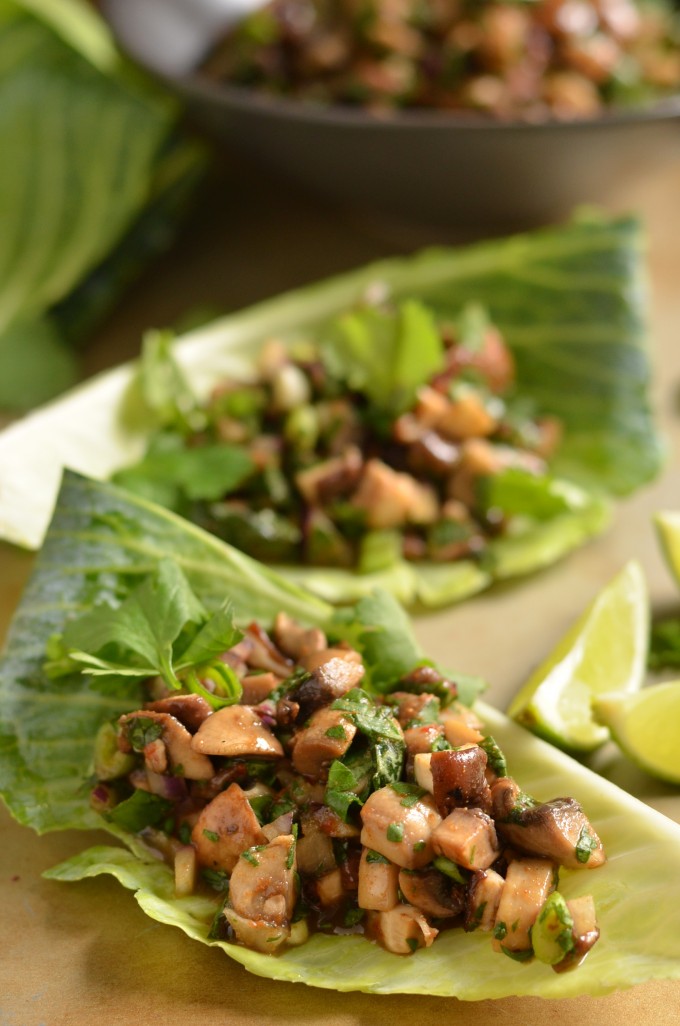 Lately…
I cannot stay awake in shavasana for.the.life.of.me.
I'm considering making a Warby Parker purchase and doing the glasses thing. (Thoughts???)
I can't believe that I graduated from college 6 years ago this weekend.
It feels like summer and I am getting excited for summer travel plans!
I registered for a July half marathon and am hoping to PR by dropping some lbs. We'll see!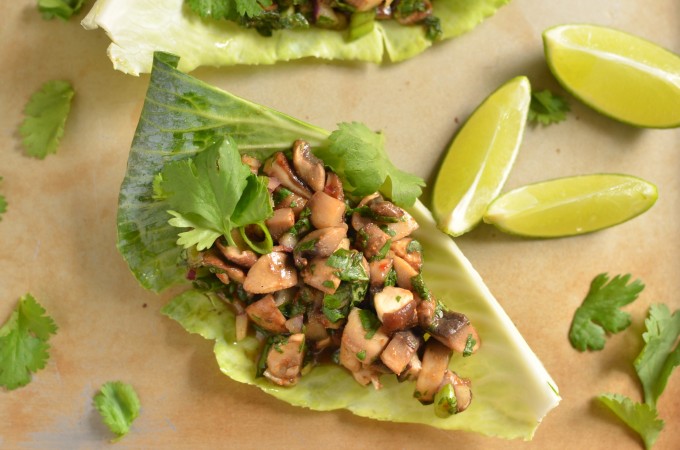 Lately…
I'm feeling extra lazy when it comes to cooking. Luckily this coincides with warm weather a.k.a. salad weather!
I'm majorly procrastinating planning the rest of my wedding.
I'm loving my job… which unfortunately translates into more time spent working and less time spent blogging and wedding planning.
I can't help but dance when this song comes on.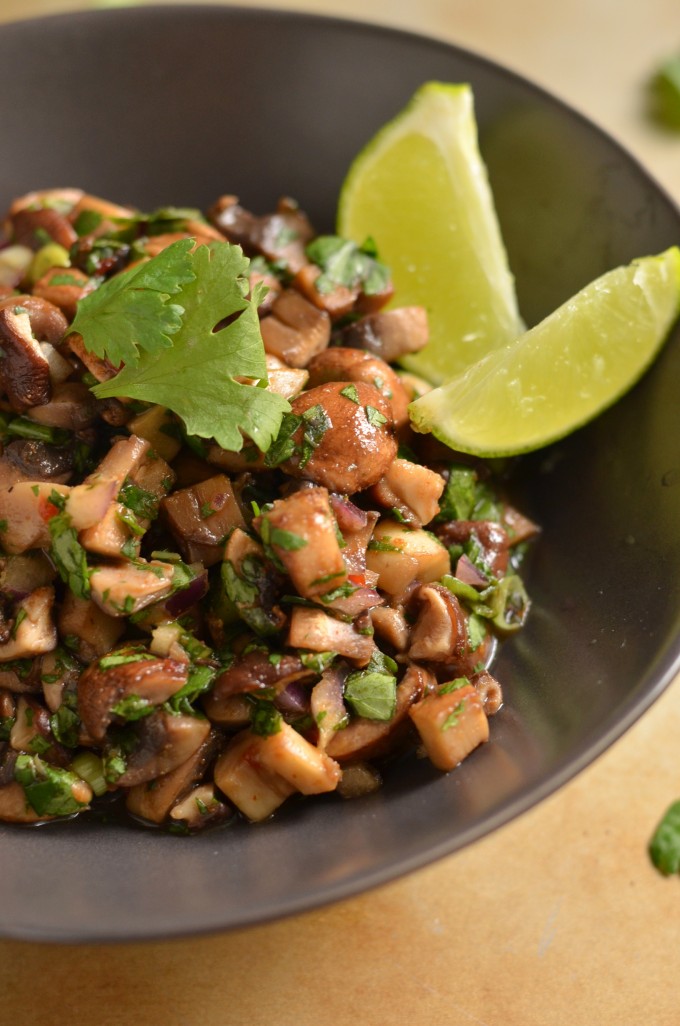 And lately I am loving this mushroom larb!
You may have seen larb gai/laab gai (lettuce wraps with chicken) on Thai menus. Well, this is a mushroom version! I was a bit skeptical as to whether these 'shrooms could compare to the fabulous flavors of my old favorite larb gai, but I was pleasantly surprised. This dish is literally bursting with flavor! It has a comfort food feel, but is so light it won't weight you down a bit. And it's easy enough that you can even cook it when you're as lazy as I've been lately. In fact I've made it twice in the past week.
Heads-up to all you veg-heads: This recipe is not quite vegetarian, as it has a bit of fish sauce in it. Feel free to sub with soy sauce, but I can't vouch for the results. What can I say? I'm a fan of the fish sauce. (Well, is anyone really a fan of fish sauce? You know what I mean – I'm a fan of the flavor it adds to certain dishes.)
That's it from me. What have you been up to lately?! Wishing you all a wonderful long weekend filled with fun, sun and friends!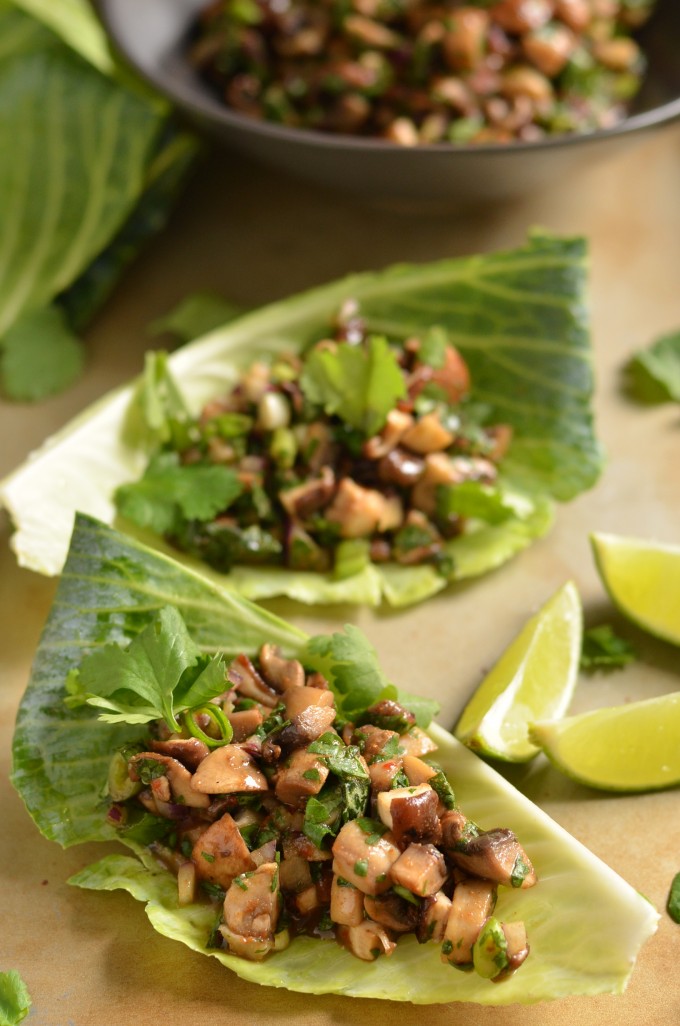 Mushroom Larb (Thai Mushroom Lettuce Wraps)
Ingredients
1 tsp olive oil
1 lb mixed mushrooms, roughly chopped (I used shiitake, cremini, and white)
1/4 cup chopped fresh cilantro plus extra for serving
3 tbsp minced red onion
3 tbsp chopped fresh mint or basil
2 green onions, thinly sliced
1 tbsp roasted rice powder (don't skip this!)
2 tbsp lime juice (plus extra lime wedges for serving)
2 tbsp fish sauce (substitute soy sauce for vegetarian)
1 tsp chili garlic sauce
cabbage or lettuce leaves for serving
Instructions
Heat olive oil in a nonstick skillet over medium heat. Add the mushrooms and saute until they begin to brown and release their juices (6-8 minutes).
Remove from the heat and drain excess liquid. Place mushrooms in a large bowl. Stir in the cilantro, red onion, mint/basil, green onions, and rice powder.
Separately, mix together the lime juice, fish sauce, and chili garlic sauce. Stir into the mushroom mixture.
Serve with cabbage or lettuce leaves for scooping. Garnish with extra cilantro if desired. Enjoy!