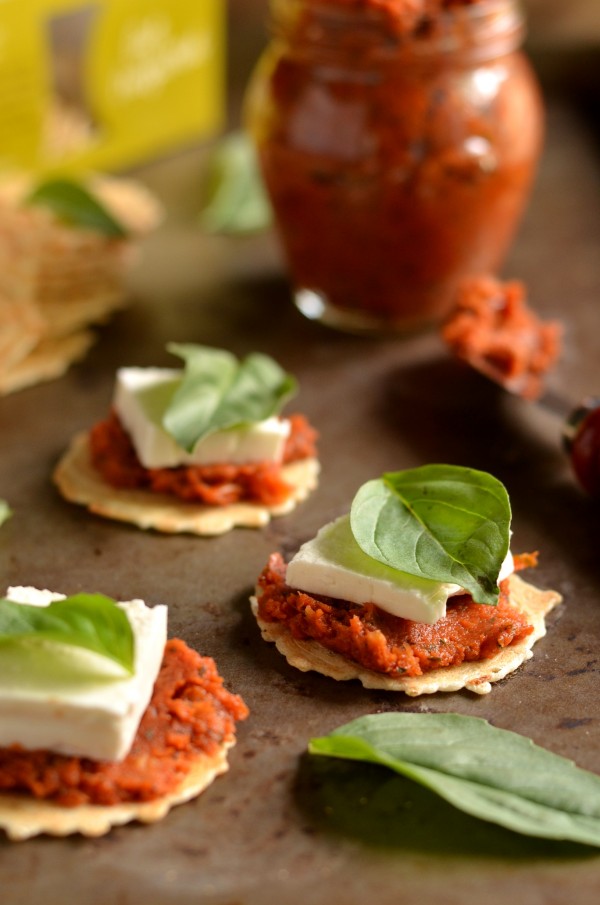 I am feeling a little sentimental today.
This weekend I was back in Massachusetts for my bridal shower, which my mom hosted down at my parents' beach house. Eleven women that I love spent the whole weekend showering me with affection, pouring me wine, and celebrating my happiness. It. Was. Wonderful.
There's something about everyone I love – and live so far away from! – coming together to celebrate me that just gets me. I think it's safe to say that I'm going to be quite emotional at my wedding. Good thing I picked bridesmaids' dresses with pockets – someone better bring the tissues!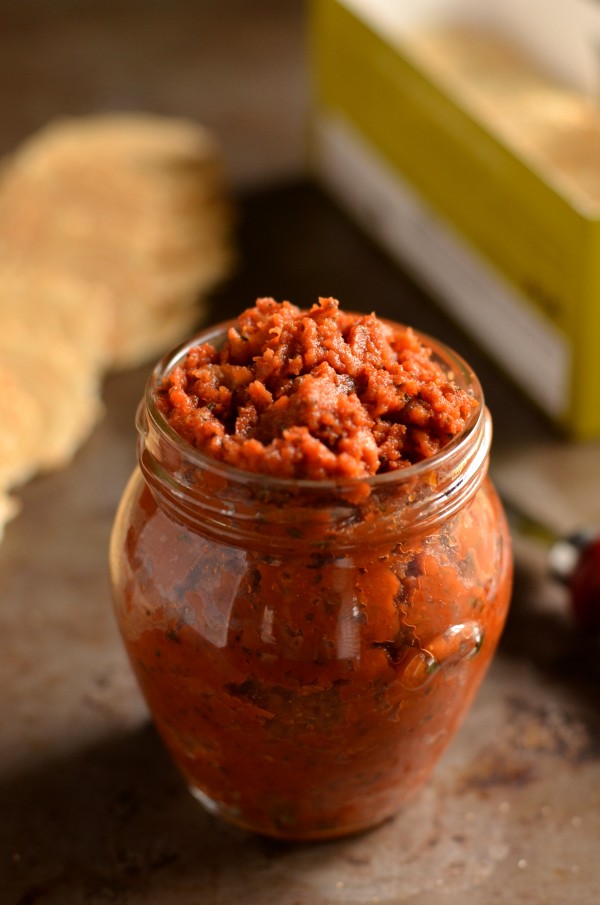 In addition to reminding me how lucky I am, this weekend also reminded me of several of my mom's recipes I can't believe I forgot. One orzo salad in particular that I hope to bring you soon… oh man is it good.
Food is definitely love in my family!
As a bridal shower present, Nate's mom had sent a huge box of spices, salts and other goodies out to Salt Lake a few weeks ago, and a huge bag of sulfite-free julienned tomatoes was one of the ingredients I was most excited to cook with. I knew they were destined for this recipe as soon as I saw the big orangey-red bag of them.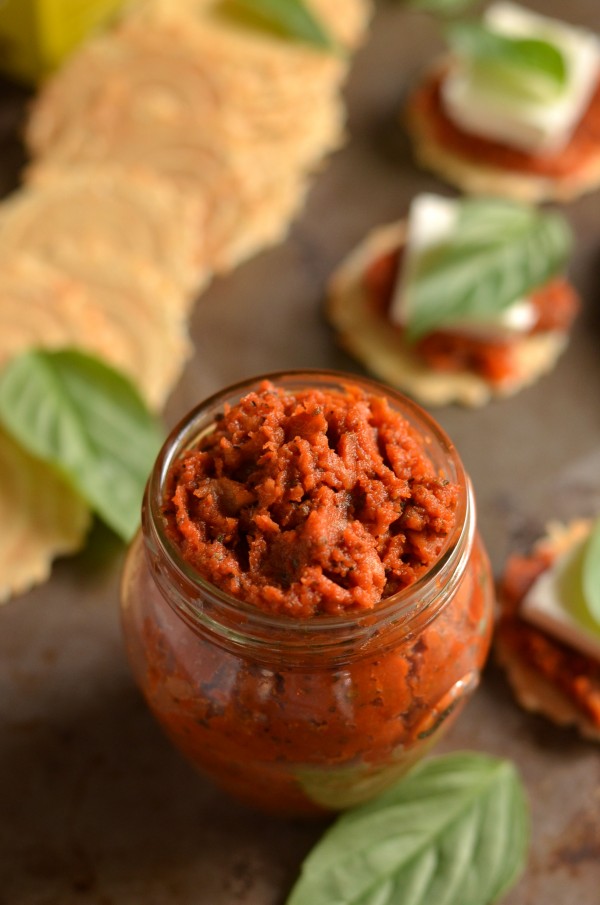 This spread is made mostly of rehydrated sun dried tomatoes, tomato paste, and olive oil. Spices and a bit of maple syrup add extra flavor and complement the sweet, fragrant tomatoes. The idea came from Bruegger's Bagels sun dried tomato spread, which is famous (in my life) for being the key ingredient in their Herby Turkey sandwich. You should try that sandwich, if you haven't already. Or just whip up a batch of this stuff yourself, cause it is goooood. And combined with feta, a fresh basil leaf, and these rosemary crisps, it is just out of this world!
This spread + creamy cheese + herbs. You need that combo in your life.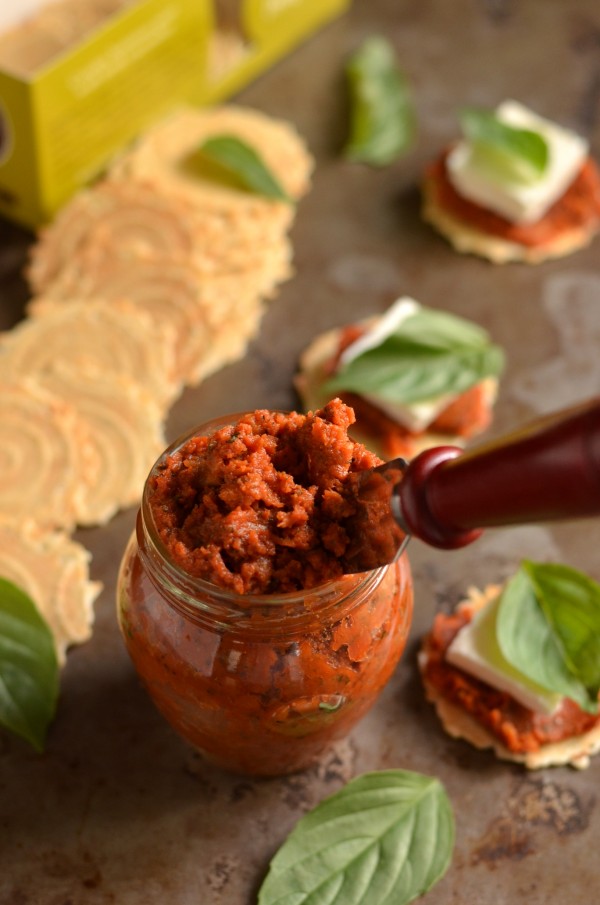 I knew I had a winner when Nate, who thought he wasn't a sun dried tomato fan, admitted after one bite, "I guess I do like sun dried tomatoes." That's what I'm talking about!
After we finished stuffing our face with crackers and feta, we enjoyed the leftover spread on a grilled cheese. YUM – hiiiighly recommended. I also have a feeling it would be delicious on a grilled veggie sandwich or pretty much any kind of burger. Or spread on pizza or mixed into a soup? I must try all these things.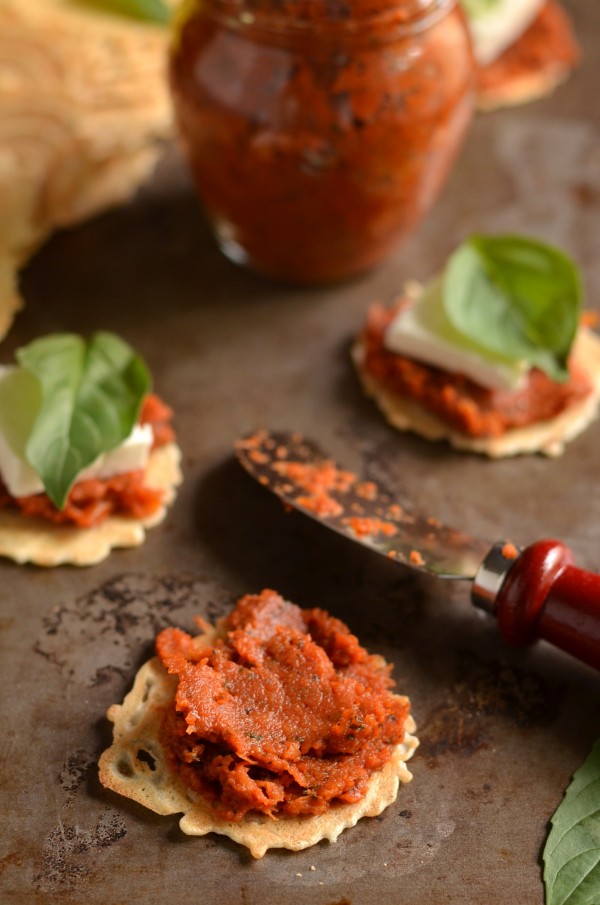 Starting with something sentimental and ending with obsessing over food – I feel like that's pretty much par for the course in my blog posts these days.
I hope you all had just as delightful a weekend as I did. Also, I hope you'll make this spread – it can only make life better. Grab some crackers and dig in!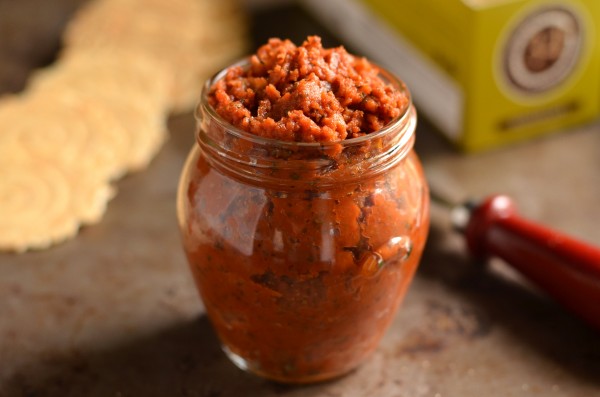 Sun Dried Tomato Spread
Ingredients
2 cups julienned sun dried tomatoes (NOT soaked in oil)
6-oz can tomato paste
1/4 cup olive oil
2 Tbsp maple syrup
1 Tbsp dried basil
1 tsp oregano
1 tsp garlic powder
1/2 tsp kosher salt
1/4 tsp onion powder
For servng:
crackers
sliced feta cheese
fresh basil leaves
Instructions
Place sun dried tomatoes in a small pot. Cover with cold water. Heat until hot but not boiling. Remove from heat and let sit for 30 minutes. Drain and place rehydrated tomatoes in the bowl of a food processor.
Add remaining ingredients to the food processor. Process to a paste consistency, stopping to scrape down the sides as necessary. Taste and adjust seasonings.
Serve on crackers with feta and basil, or however you desire! Enjoy.