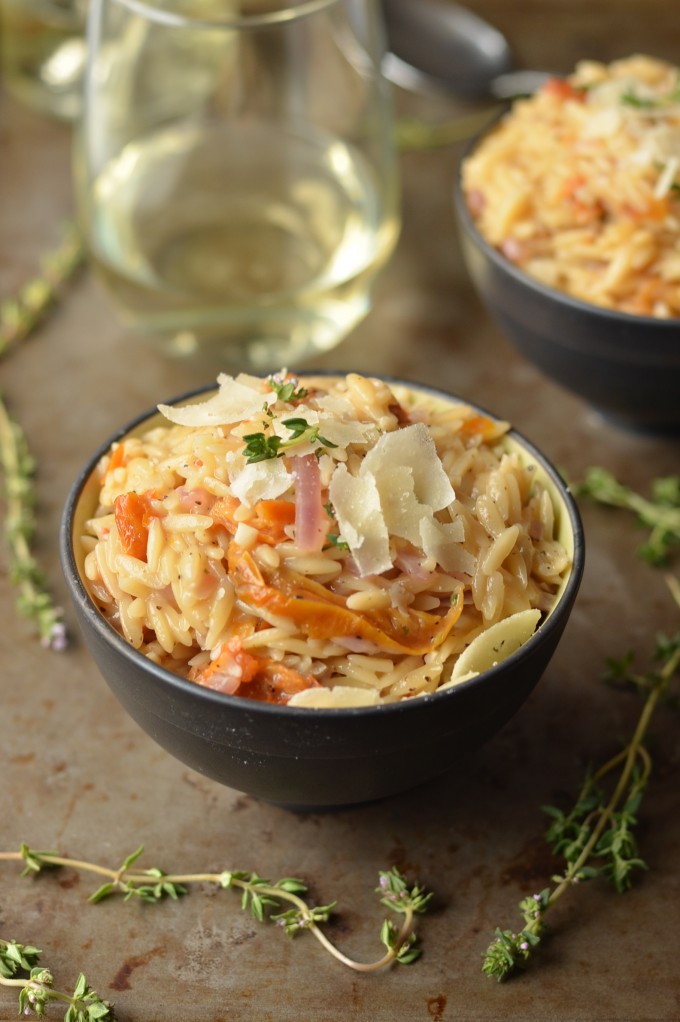 I am just bursting with excitement to share today's recipe with you. Because: ORZO RISOTTO <– Did you know that this could happen?!?
I certainly didn't until the topic came up at work the other day.
It's probably no big surprise that food is a frequent topic of conversation at work. A lot of my work friends love to cook, too, so we're constantly peering into each other's Tupperwares, asking what's for lunch and how it's prepared. What might be a surprise is that they are mostly single guys! I never thought I'd be sitting around with a bunch of bachelors talking about homemade naan recipes… or that one of them would turn me on to a new kind of risotto.
I guess that begs the question why they're single. Well, due to a whole host of commitment issues, bad habits, and other personal flaws, no doubt.
Eh, you win some, you lose some. And I obviously win, because I got this risotto recipe.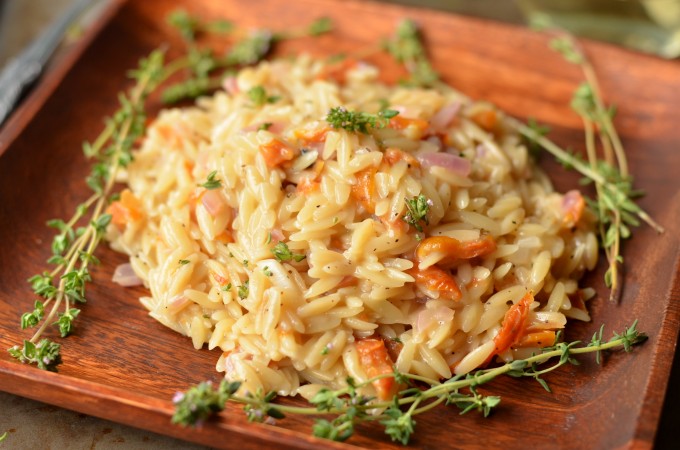 Recipes like this are what friends are for. (Also, I'm totally joking about being single because of flaws… duh.)
By the way, I decided after taking the above picture that risotto should not be photographed on plates. But it does show how creamy and truly risotto-like this dish is… so I had to show you anyway. Can't you just imagine digging into a warm, cheesy spoonful?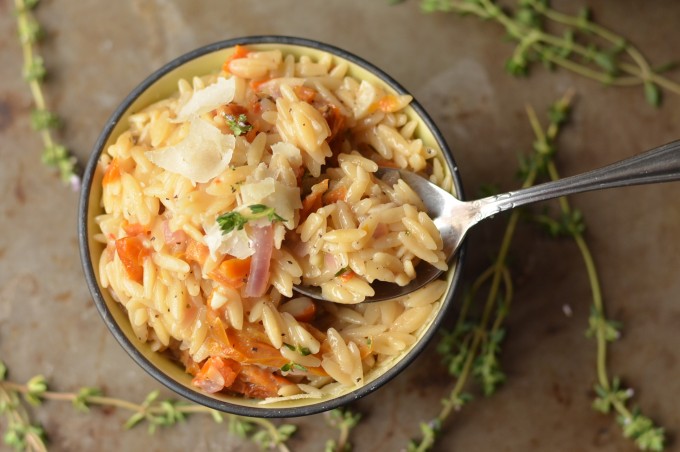 Speaking of cheese, here's a conversation I had just with Nate while watching an episode of Modern Family where Mitchell takes care of Cam while he's sick:
Me: Am I a good caregiver?
Nate: Yeah! You buy me cheese!
Um… what? I guess someone likes his parm, in sickness and in health. Til an empty cheese drawer do us part.
P.S. that happens THREE MONTHS from today! Saying our I dos, that is. Also probably an empty cheese drawer… at least I hope so, because I just booked our wedding flights and we'll be gone for over a week. And I'm not planning on coming home to any stinky fridges. Can't waaaaait!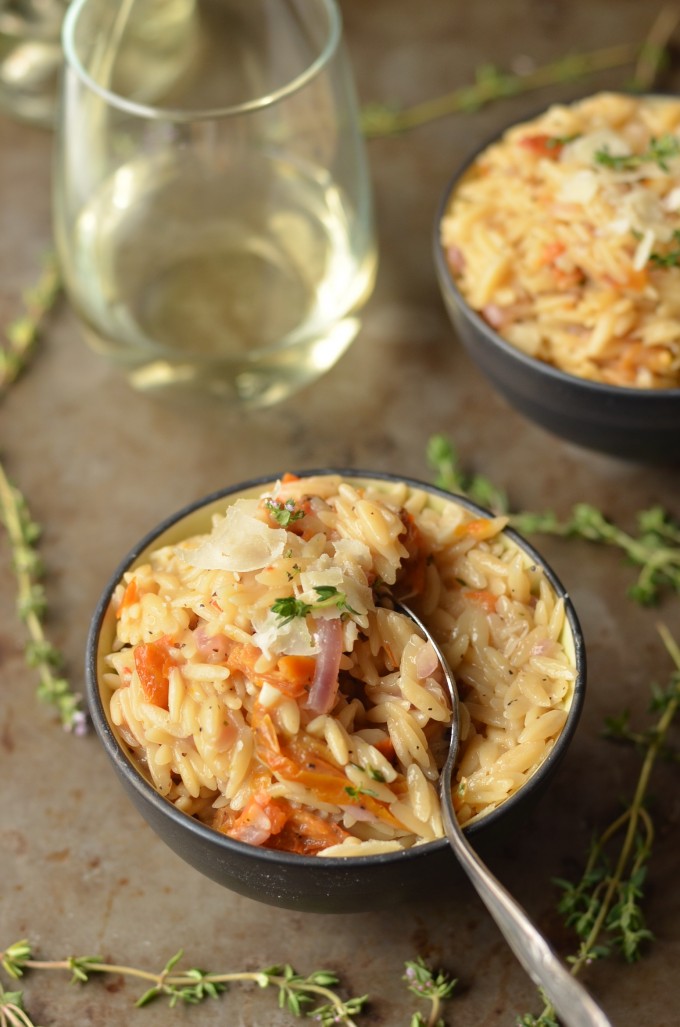 OK, risotto. Focus!
So, orzo risotto may sound oxymoronic, or like just another pasta dish, but it's actually an awesome and easy risotto variation. You cook the butter, onions, and garlic like a regular risotto, then add the orzo and liquid and simmer til it's done. It ends up creamy and delicious, and involves a lot less stirring than regular risotto. (Ain't nobody got time for that!) I flavored this batch with sun dried tomatoes and chopped fresh thyme, which is arguably the most beautiful herb out there.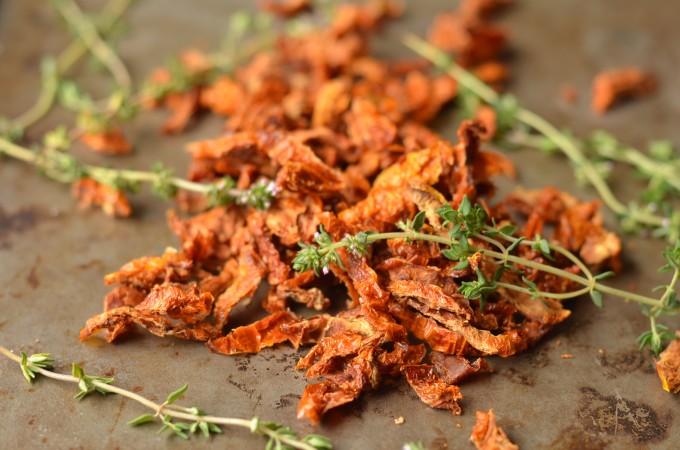 And pretty tasty, too.
One of the best parts of this dish is that glorious smell of butter and onions sauteing on the stove. It's probably one of the best smells in the world. Certainly a better smell than butter and onions still stinking up your carpeted apartment the next morning.
Eh, you win some, you lose some. And I say this risotto recipe still wins!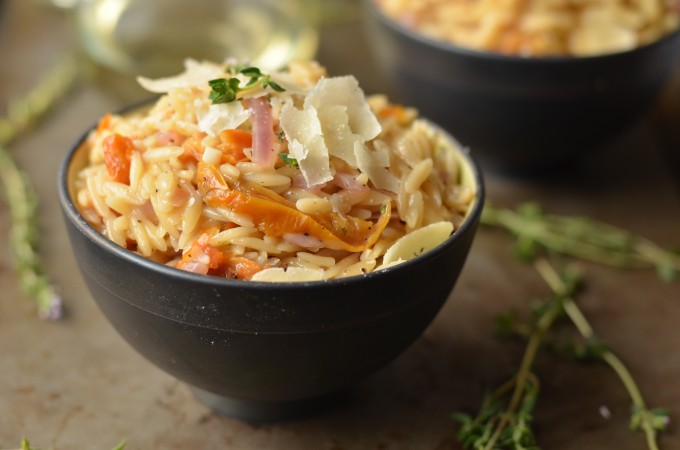 Easy Orzo Risotto with Sun Dried Tomatoes
Ingredients
1/2 cup sliced sun dried tomatoes (dried, not packed in oil) + 4 cups water
3 Tbsp unsalted butter, divided
1/2 red onion, finely diced (1 to 1.5 cups)
1/2 tsp kosher salt + to taste
ground black pepper
4 cloves garlic, minced
2 cups dry orzo pasta
1/2 cup dry white wine
1 Tbsp minced fresh thyme
1/2 cup grated parmesan cheese + extra for serving
Instructions
Cover sun dried tomatoes in water in a small pot. Heat until warm but not yet simmering. Remove from heat and let soak at least 10 minutes. Drain, reserving liquid.
Meanwhile, melt 1 Tbsp butter over low heat in a heavy-bottomed pot. Add diced onion, 1/2 tsp kosher salt, and a sprinkle pepper and saute until soft and beginning to brown, about 5 minutes. Add garlic and saute another minute.
Melt remaining butter in with the onion and garlic. Stir in orzo and saute for 1-2 minutes. Add sun dried tomatoes, 3 1/2 cups of the soaking liquid, wine, and thyme. Increase heat and bring to a simmer. Reduce heat to low and simmer uncovered until orzo is tender, 9-11 minutes, stirring occasionally.
Remove from heat and stir in parmesan cheese. Taste and adjust salt and pepper as necessary. Serve with additional parmesan for topping (and try not to burn your mouth). Enjoy!