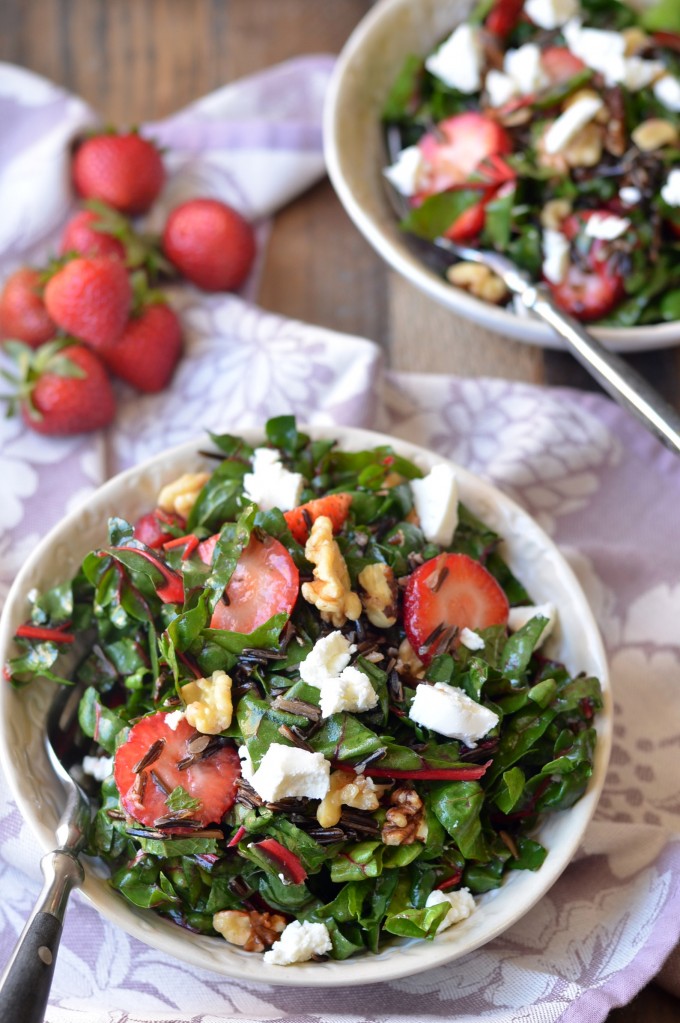 We've been making our way through a long list of movies to watch, and this weekend was The Five-Year Engagement with Jason Segel and Emily Blunt. Have you seen it? Maybe a bit chick flick-y for Nate, but I thoroughly enjoyed it. It was a liiiittle close to home at times, as the whole premise of the movie is that he is miserable after they move across the country for her post-doc. Had I seen it a few years ago, I probably would have been terrified to make the same move for Nate… well, more terrified than I already was! But all's well that ends well. Our engagement is going to be a short 10 months, and I haven't even become a sweater-knitting crossbow hunter during my time in Utah. Nope, just a running-obsessed food blogger… is that better or worse? I'll let you decide.
Between our list of movies, Nate's House obsession, and the World Cup going on right now, it's shocking that our TV ever gets turned off. And I even skipped last week's episode of The Bachelorette! That's how you know there's too much other TV being watched.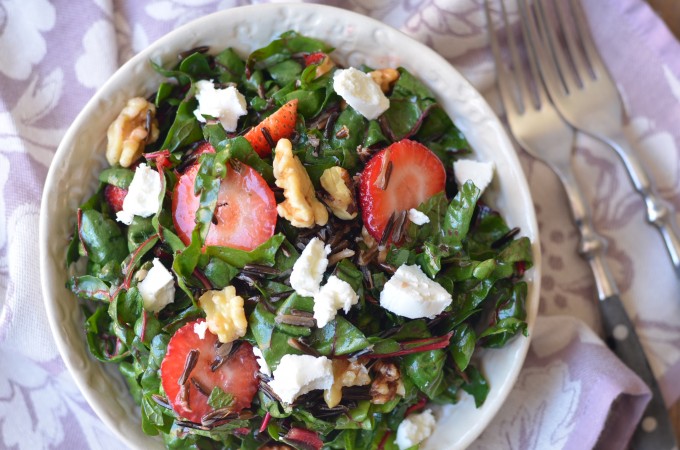 Speaking of The Bachelorette, have you seen this Jim Gaffigan bit about McDonald's? Nate says The Bachelorette is my McDonald's. I say my McDonald's is gorging myself on peanut butter and chocolate. Or reading People magazine on the elliptical. Anyone want an update on the Kardashian wedding? I didn't think so. That's OK… I could have worse flaws, I think.
This salad, on the other hand, is completely virtuous. It's got nothing in common with McDonald's. I mean, hello – look at all that Swiss chard!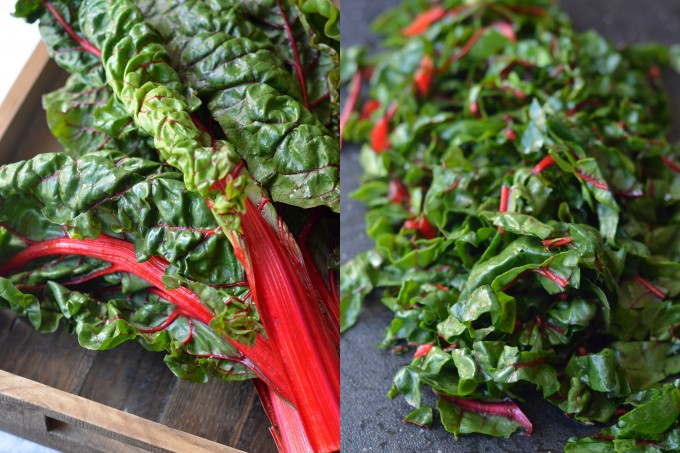 Beautiful, fresh, and chock full of nutrients. It basically erases any and all peanut butter and chocolate consumption. And when you see a certain post later this week, you'll know why that's necessary.
Sorry for the teaser… I just couldn't help myself. We'll stick with the salad for the time being.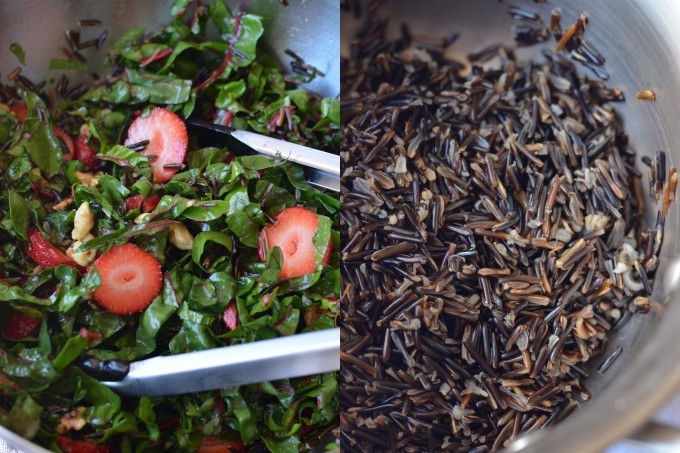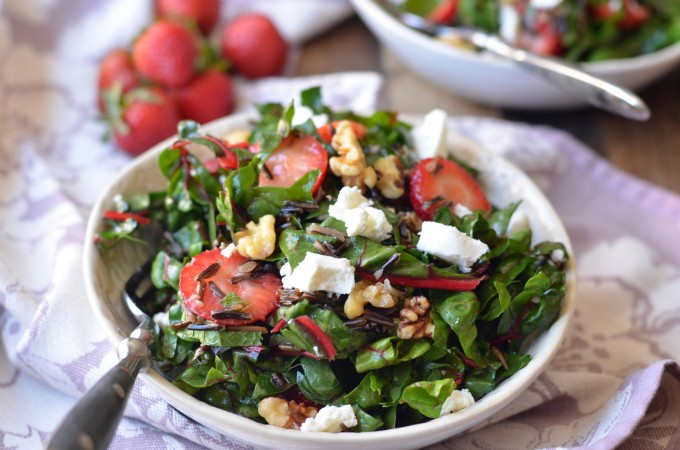 This salad is a magical combination of flavors and textures. Both the chard and wild rice have some bitterness to them, which is balanced out by the sweet strawberries, fresh mint, and creamy goat cheese. I'm trying to add whole grains to my salads lately to make them complete and satisfying meals. The wild rice in here is just the ticket! Plus, I dare you to feel deprived after eating a salad filled with strawberries and goat cheese. It's pretty much impossible.
OK, so now I have to ask you: What's your McDonald's? And don't even say "eating too much salad." No one is that virtuous!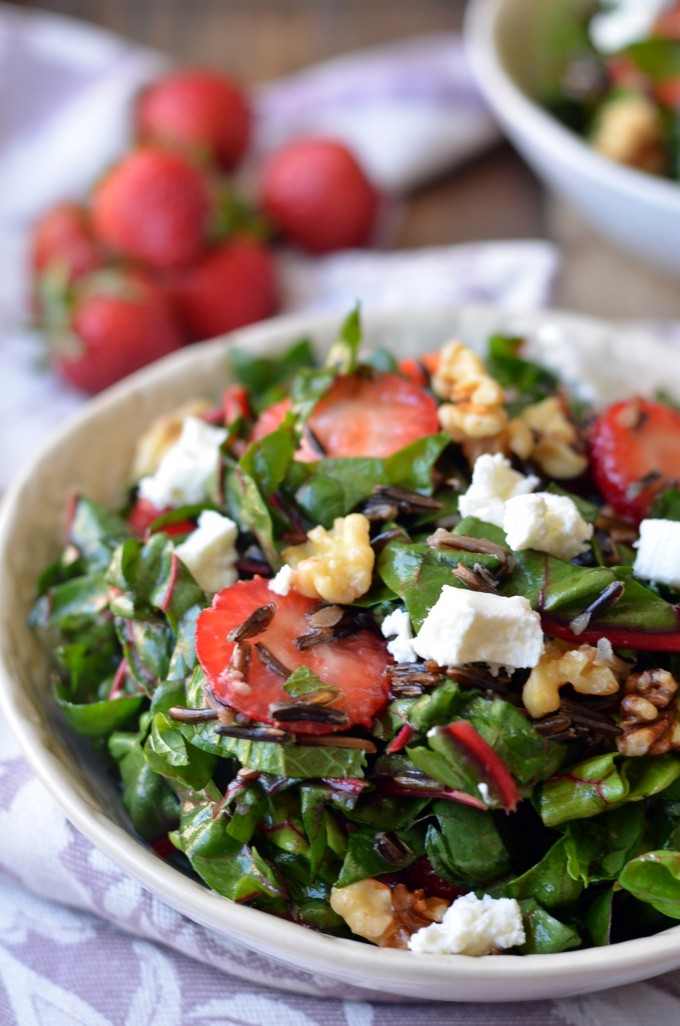 Strawberry, Swiss Chard and Wild Rice Salad
Ingredients
For the salad:
heaping 1/2 cup dry wild rice
1 bunch Swiss chard (about 5 stalks), rinsed and dried
1/4 cup packed fresh mint leaves, thinly sliced
2 cups sliced strawberries
3/4 cup walnuts
3 oz goat cheese, crumbled
For the dressing
1/3 cup fresh lemon juice (about 1 1/2 lemons)
2 Tbsp olive oil
1 Tbsp honey
Instructions
Rinse and drain the wild rice. Add to a small pot with 3 cups of water. Simmer for 45 minutes, or until tender. Drain and set aside to cool.
Meanwhile, make the dressing by whisking together the lemon juice, olive oil, and honey. (You can microwave for 10 seconds so that the honey dissolves more easily.) Taste and adjust. I like my salad dressings low on the oil, so you may consider adding more olive oil to suit your tastes.
Separate the tough Swiss chard stems from the leaves. Discard the stems or save for another use. Roll up the leaves lengthwise (like a cigar) and slice thinly. Add to a large salad bowl.
Add the cooked wild rice, sliced mint leaves, strawberries, and walnuts to the bowl with the chard. Pour about half of the dressing over the salad and toss to coat. Top with crumbled goat cheese for serving. Enjoy!
One year ago:
Honey Thyme Ice Cream
and
Caprese Grain Salad with Spelt