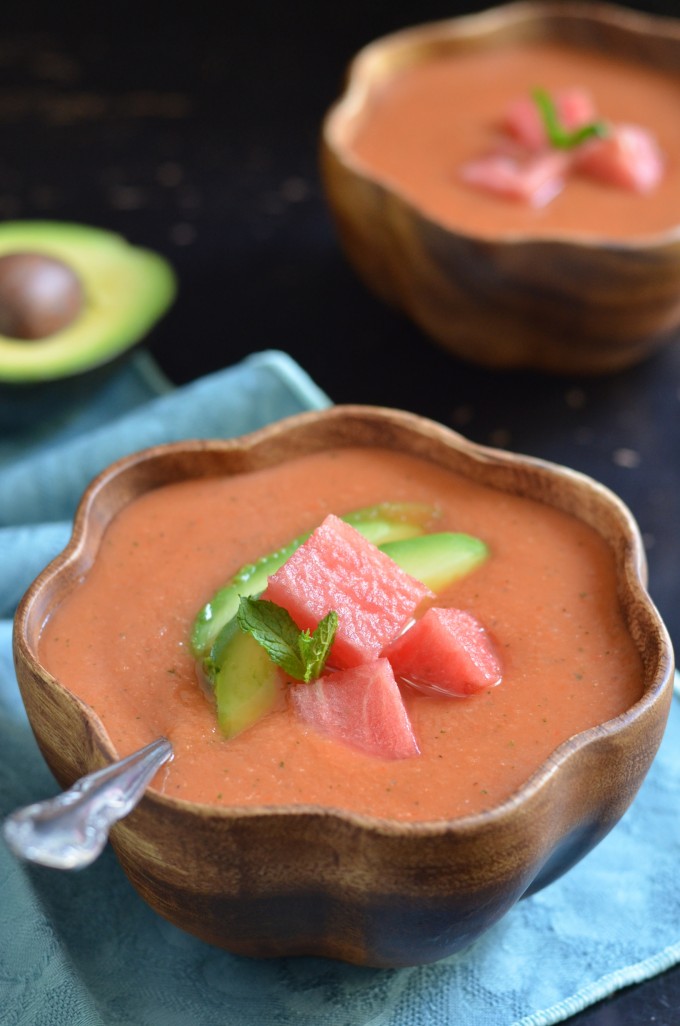 I think I may have died and gone to heaven.
Not the kind of heaven where you get all your tax dollars back in a lump sum (because, all religion and politics aside, let's face it: that would be awesome), but the kind where you're surrounded by watermelon. How thrilled would you be if the reward for a lifetime of good deeds was towering cubes of juicy watermelon everywhere you turned for the rest of eternity? I think I would be pretty pumped. If I'm lucky, my tax dollars will be tucked in there somewhere, too.
Sigh… a girl can dream.
The main surprise here is that I even tried a new kind of gazpacho. Prior to this fabulousness, regular tomato gazpacho was the only flavor ever to grace my blender. My mistake, because I've been missing out big time! I was inspired to blend up this batch after enjoying a particularly delicious cup of watermelon gazpacho at a restaurant, and now I'm afraid this may turn into the Summer of Gazpacho. I mean, I can't think of a single fruit or vegetable that wouldn't taste delicious as part of a tomato-y chilled soup. Maybe that's an exaggeration… I haven't brainstormed very hard. But still, you get the picture: YUM.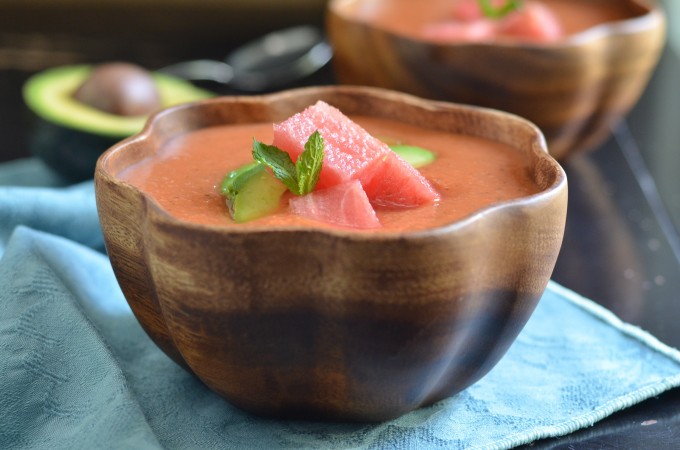 I blended this gazpacho up as smooth as possible (you'll be able to do even better if you have a high-speed blender!), strained it, then served it with slices of avocado and chunks of watermelon. The avocado adds creaminess (no dairy necessary!) and makes it feel more substantial, then the chunks of sweet watermelon just take it over the top. I can't even describe the goodness that is a spoonful of slightly acidic gazpacho with a big juicy chunk of watermelon in it. Summer flavors in all their sweet, glorious perfection.
Also, how much fun is it to slurp pink soup? It makes me feel like a kid again. And isn't that what heaven – I mean summer – is all about?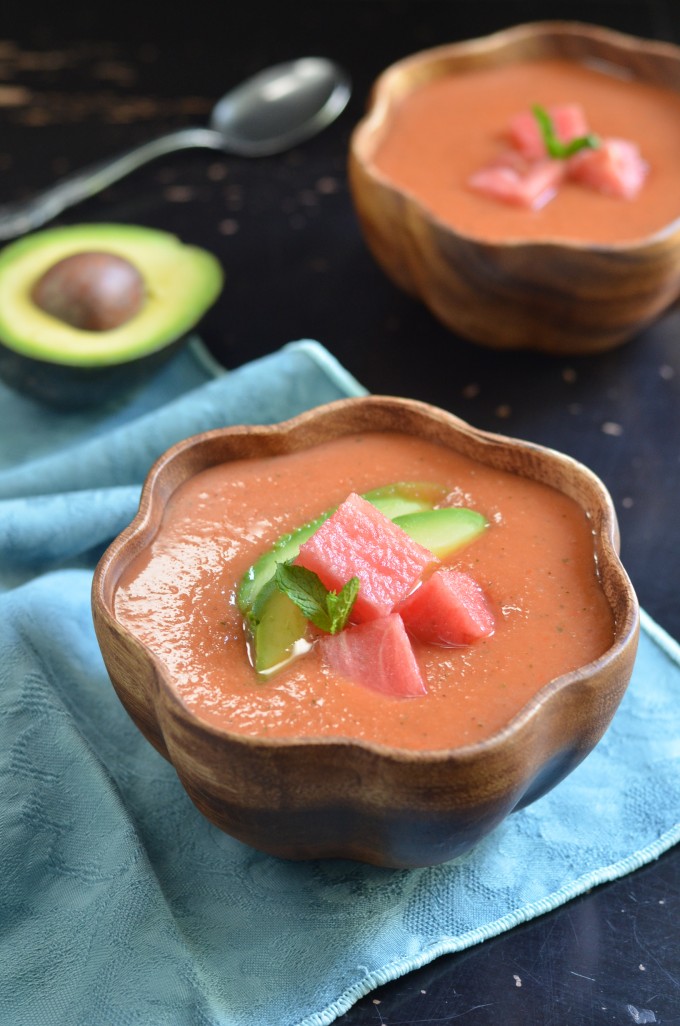 Watermelon Avocado Gazpacho
Ingredients
7 cups seedless diced watermelon, divided
2 avocados
1 cucumber, peeled, seeded and diced
4 vine-ripened tomatoes, diced
2 red bell peppers, diced
3 inner celery ribs, diced
1 cup diced red onion
2 cloves garlic, diced
1/4 cup fresh mint leaves, plus extra for garnish
3 Tbsp fresh lime juice
2 Tbsp red wine vinegar
kosher salt and ground black pepper to taste (I used about 1/2 tsp of each)
Instructions
Puree 5 cups watermelon in a high-speed blender and strain through a mesh strainer into a large bowl. In batches, puree 1 avocado, the cucumber, tomatoes, bell peppers, celery, onion, garlic, and mint, and strain into the bowl with the watermelon. Discard any solids that won't strain through. (If you're having difficulty straining, you may want to combine all the ingredients before straining, or skip altogether.)
Stir in lime juice and red wine vinegar and season to taste with salt and pepper.
Refrigerate for at least an hour before serving. For best results, prepare a day ahead of time.
To serve, garnish with slices of the leftover avocado, the remaining chunks of watermelon, and a few mint leaves. Enjoy!