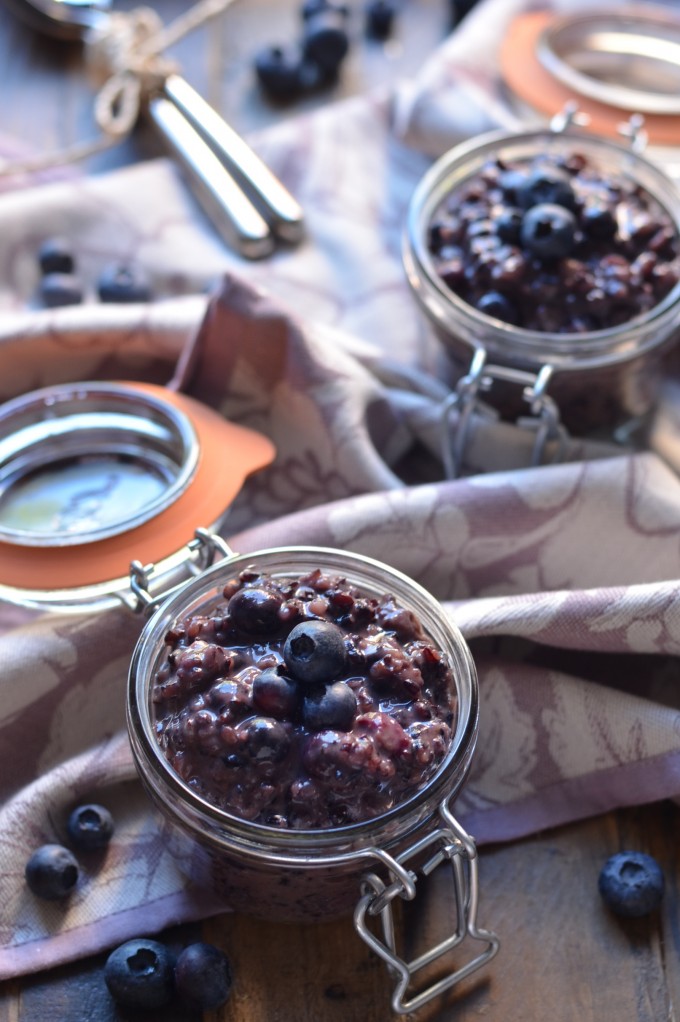 Summer berry season is ON.
These glorious juicy little berries are the #1 (food-related) reason I look forward to summer. Have I said that before… perhaps about tomatoes? peaches? basil? Blasphemy. Berries are my all-time favorite summer food.
And just because it's fun, here are my top non-food-related reasons to look forward to summer: Dresses (my credit card bill has been insane lately, and Anthro and Banana are to blame), Martha's Vineyard (headed there in a month!), and just generally the warm weather. If you ask me, there's no better feeling than walking out of the house without taking the time to stop and bundle up first. I think those that live in a warm climate year-round take that feeling for granted, but I most certainly do not! Well, not usually. I'll be complaining about the heat before you know it… so just remind me that I always prefer warmth to cold!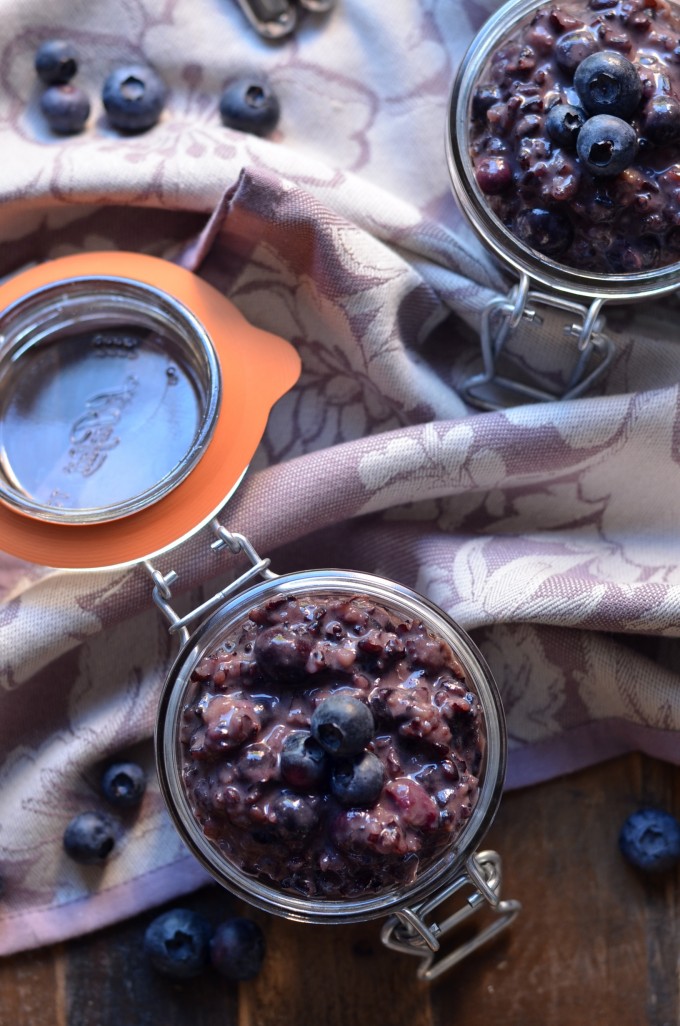 I also love how easily those summer dresses pack into a suitcase. Today I'm headed back to Boston to do girly wedding planning stuff with my mom, and I threw all my clothes for the long weekend into a carry-on with plenty of room to spare. If you know me, you know that is quite the feat! Girlfriend does not pack light. I mean, I haven't gotten to the toiletries yet – and I'm pretty sure those don't get skimpier in the summer – but I think I'm going to get by with my smallest carry-on. Summer dresses FTW!
So since I mentioned it, can I just derail this pudding parade to talk about wedding stuff for a second? OK good. Because this weekend we get to do the following: Cake tasting. Florist meeting. Hair and makeup trials. Eeek!! Maybe we'll even have to test out a few signature cocktail recipes. Life is tough, you guys. I cannot wait!
P.S. Am I really flying across the country just to get my hair done? Shhhh. Let's get this pudding parade back on track.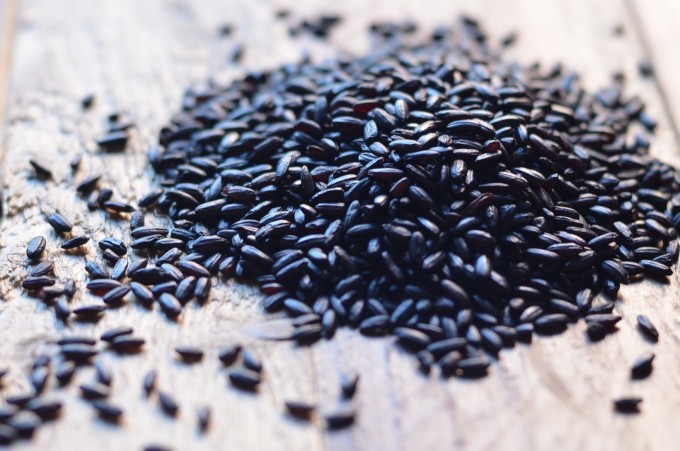 Forbidden (black) rice makes me happy, and I loved the idea of making it into a pudding with blueberries. Black and blue pudding? Or maybe just purple. Anyway, after thinking about it for years, I finally made it happen… and oh boy, you should too. Rice pudding is so much more satisfying that your garden variety pudding – something you can really sink your teeth into. And if you love classic rice pudding, you'll get a kick out of this colorful, fruit-filled version.
Blueberries were a no-brainer for the color combo with the black rice, and I added the banana in after enjoying some banana and blueberry oatmeal the other morning. It just seemed so right. I love the flavors together, and as a bonus, the banana decreases the amount of added sweetener necessary. Just 2 tablespoons of maple syrup in this whole recipe!
Does this stuff look appetizing or not? I can't really decide.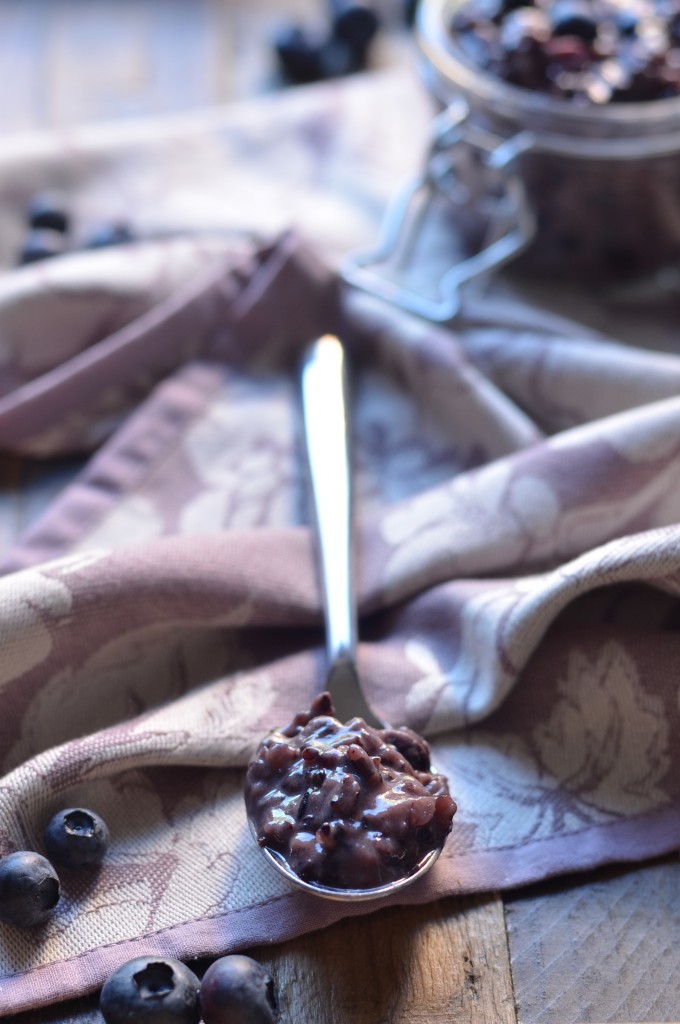 Hopefully the intrigue factor outweighs the, um, lumpy-purple-food factor.
Oh, and it's vegan! Vegan pudding is not something you come across every day, folks. This version is made with coconut milk (the canned kind) and rice milk (which you can find in the refrigerated section among the other non-dairy milks). I've tried it with both full-fat and low-fat coconut milk, and can report it's delicious with either. So knock yourself out with whichever you prefer! The pudding thickens up, even sans eggs, after a bit of stovetop simmering. It's like magic!
Speaking of stovetop simmering, a warning: you will burn your tongue "taste testing" this recipe. It is unavoidable, so don't say I didn't tell you so.
Have a lovely rest of your week and weekend! I hope to report back on all things wedding-related next week :) Plus a giveaway!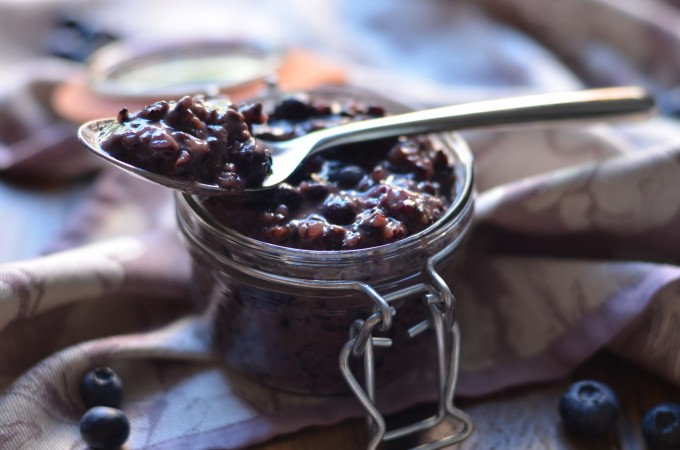 Blueberry Banana Forbidden Rice Pudding (Vegan)
Ingredients
1/2 cup forbidden rice
3/4 cup water
1/4 tsp kosher salt
1 cup coconut milk (low fat or full fat from the can, well stirred)
1 cup rice milk such as Rice Dream
2 Tbsp maple syrup
1 ripe to overripe banana, mashed
1 cup blueberries
1/2 tsp vanilla extract
sprinkle of cinnamon
Instructions
Place rice, water and salt in a large pot and bring to a boil. Simmer, covered, until rice is tender and water is absorbed, about 35 minutes.
Stir in coconut milk, rice milk, and maple syrup. Return to a simmer uncovered. Continue to simmer, stirring often, until liquid is reduced and the mixture is creamy. For me this consistently takes 25-30 minutes, but I suspect that if you are at sea level it will take as little as 10.
Stir in the bananas, blueberries, vanilla and cinnamon. Simmer for another 5 minutes, stirring frequently.
Pour into a serving dish, cover, and refrigerate at least two hours before scooping into individual bowls to serve. Pudding is best enjoyed on the first day made (but can be made the night beforehand in a pinch.)