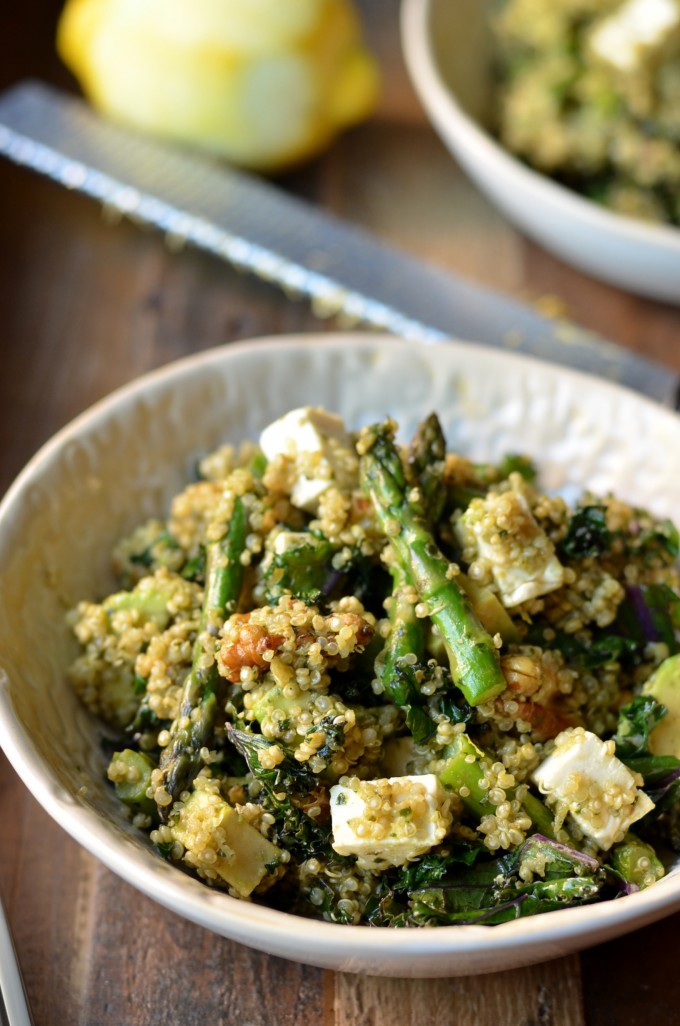 Do I have an exciting post for you today!
You may remember my friend Julia of The Roasted Root. Julia is a health food maven and blogger extraordinaire. She's known for her gluten-free goodies, savory stews, and kick-ass kombucha, but most of all, the girl can roast a mean root. Not a beet, carrot or tuber gets by her without being turned into something fabulous. Julia is very clearly inspired by vegetables, and so I'm over-the-moon excited about the release of her second cookbook, Let Them Eat Kale!
I can't think of anyone more perfect than Julia to spend months in the kitchen with countless bunches of beautiful leafy greens, chopping, massaging and braising to her little heart's content. And now you and I get to reap the benefits. Julia was sweet enough to send me a copy of her book to review (plus another to give away!). Let's just say I think there are splotches of drool on my copy.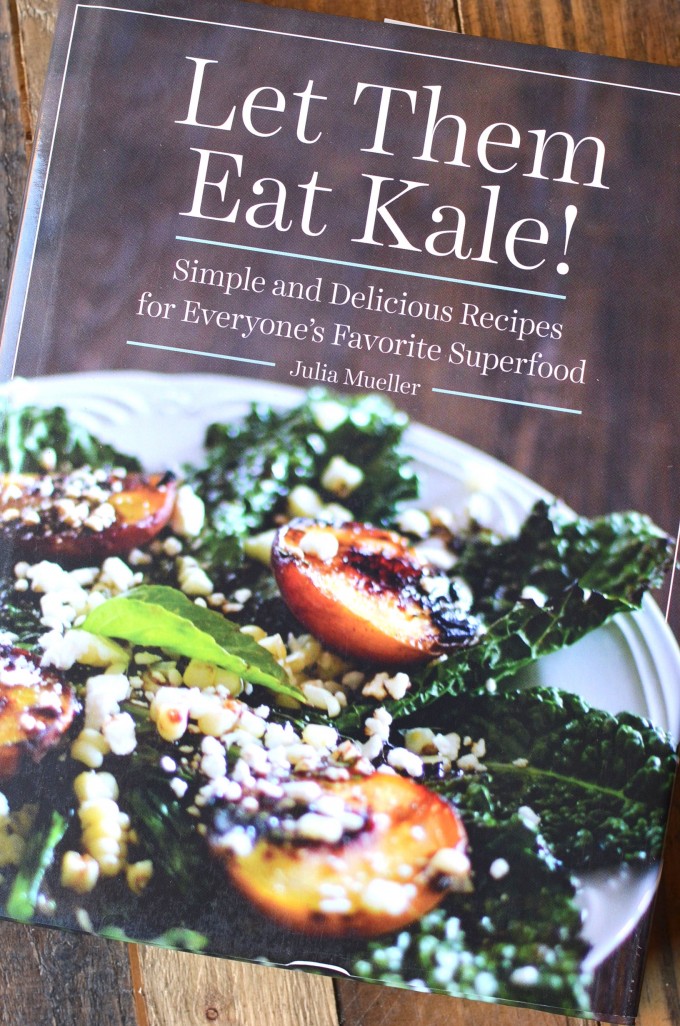 This is one seriously gorgeous book. Julia knows what she's doing behind a camera, and I can't get over how sexy she makes a bunch of leaves look.
Plus she's not afraid to hit you with all the info. The book's introduction breaks down the health benefits of kale (um, it's some pretty good stuff!) and different kale varieties, as well as kale gardening tips and cooking techniques. Whether you're intimidated by such a fibrous yet trendy veggie or just want to take your love of kale to the next level, I think you'll learn something by leafing through the pages. Who knew these greens were so versatile?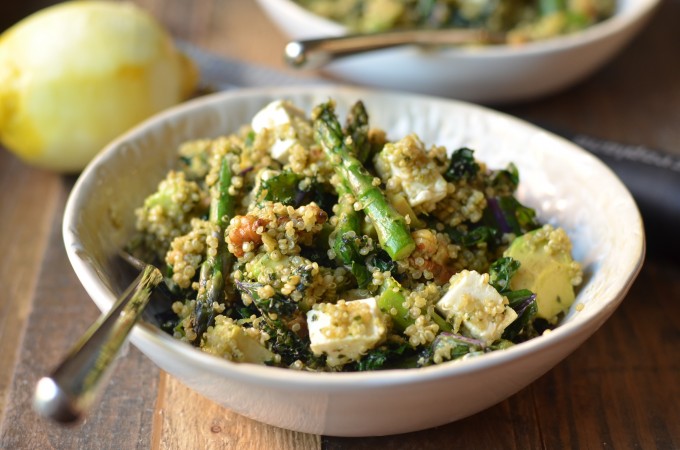 The book contains almost 200 pages of recipes featuring this virtuous veggie, with sections for:
– Breakfast
– Appetizers, Side Dishes, and Snacks
– Salads
– Soup, Stews, and Chilis
– Main Dishes
– Sauces, Salsas, and Spreads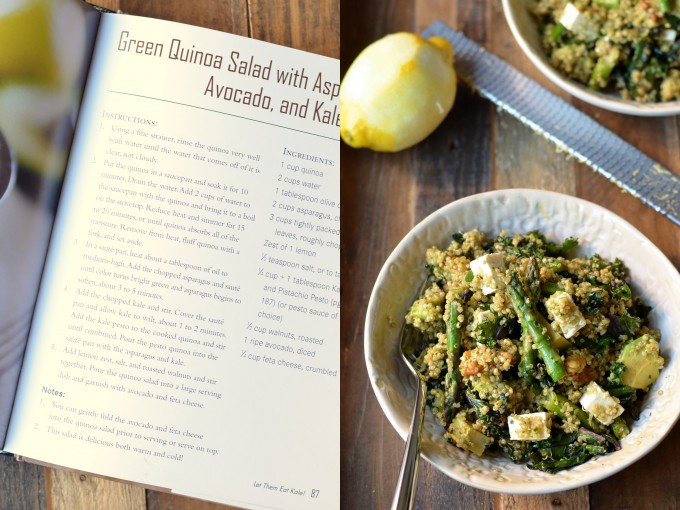 I picked out this Green Quinoa Salad with Asparagus, Avocado and Kale Pesto to stuff in my face cook and photograph for you all. Isn't it gorgeous? The recipe called my name as soon as I saw it… perhaps because of that key quinoa ingredient I love so much :) And it did not disappoint. In addition to the quinoa and sautéed kale, this salad is packed full of flavor with pesto, lemon, asparagus, and feta. Truth be told, I'm surprised it lasted long enough to snap a few photos. Definitely the kind of recipe that I sneak a few bites of in between photos until I finally toss the camera aside and just eat my lunch already.
Pesto + quinoa: I am hooked. I'm pretty sure we're going to be eating a version of this salad every week all summer long. It is THAT good.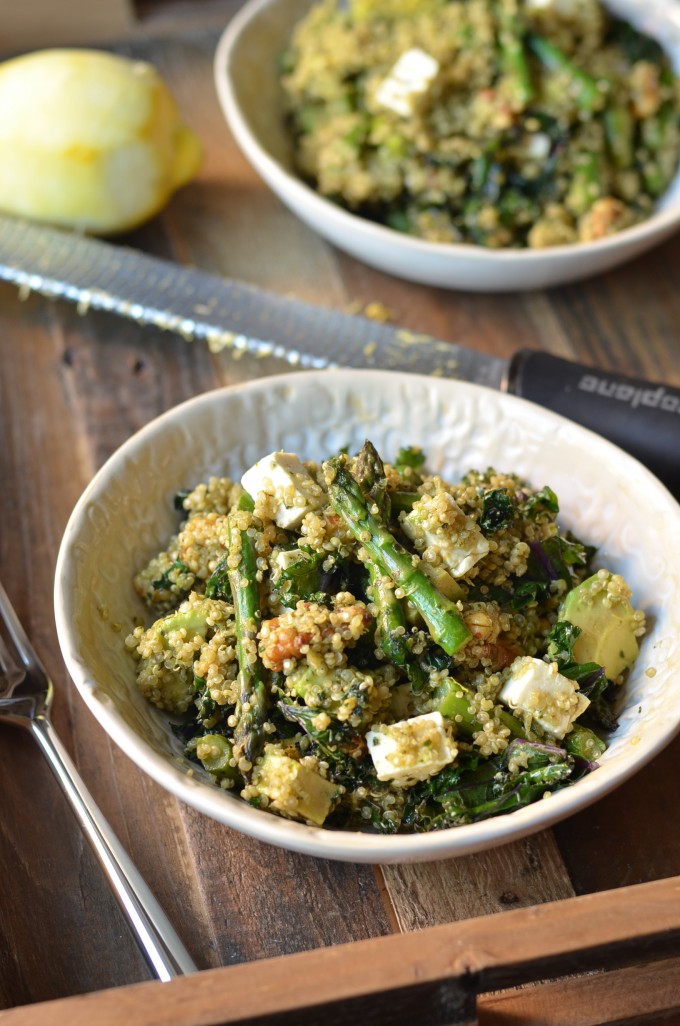 It may have been no contest as far as which recipe to make first, but there are about 17 others on my list:
– Huevos Rancheros Bake (um YES)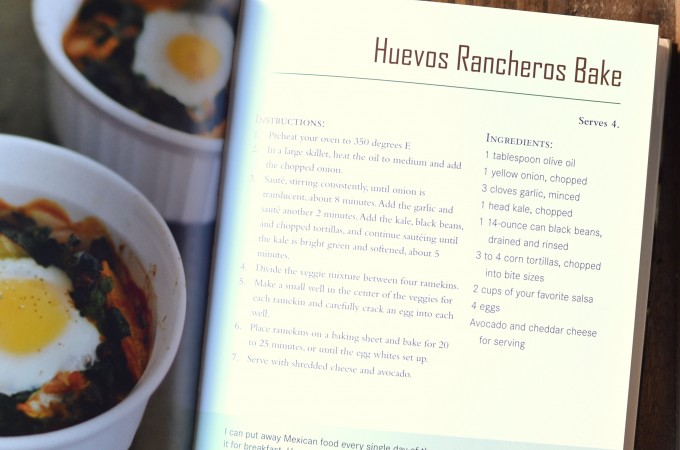 – Cheesy Mashed Yams (with kale, obviously)
– Grilled Kale, Peach and Corn Salad with Basil Honey Balsamic Vinaigrette (on the cover!)
– Cauliflower and Kale Yellow Curry (you know I love a good curry)
– Creamy Portobello and Kale Quinoa Bake (can't resist the quinoa!)
– Sauteed Shrimp and Kale Tacos with Pineapple, Corn, and Kale Salsa (you have to check out these pictures – YUM)
Do you think I'll turn green if every one of my meals for the next week has two servings of kale in it? Hmmm maybe Student Dr. Nate can answer that question for me…
And now, on to the best part: the giveaway!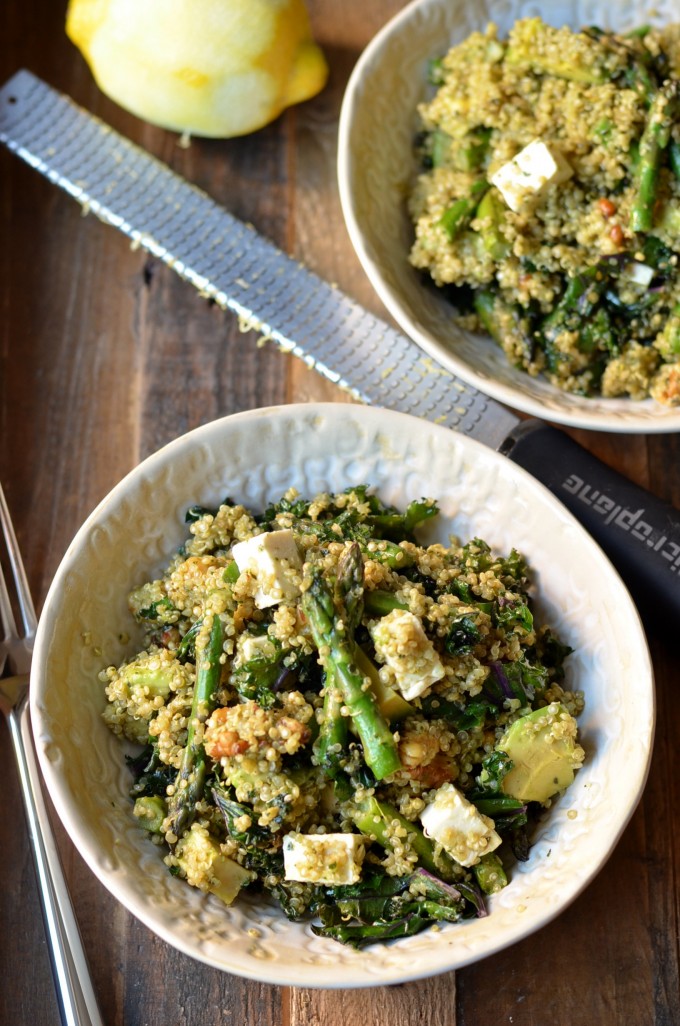 I'm giving away a copy of Let Them Eat Kale! to one lucky reader. To enter, just leave a comment on this post telling me the last time you ate kale and how it was prepared! Or tell me about a kale recipe you're itching to try :)
The giveaway is open until Sunday July 27th at midnight Eastern time. This giveaway is now closed.
Congrats to Julia on bringing this book into the world. I am so excited to see the fruits (and veggies) of your labor! Give 'em kale, girl!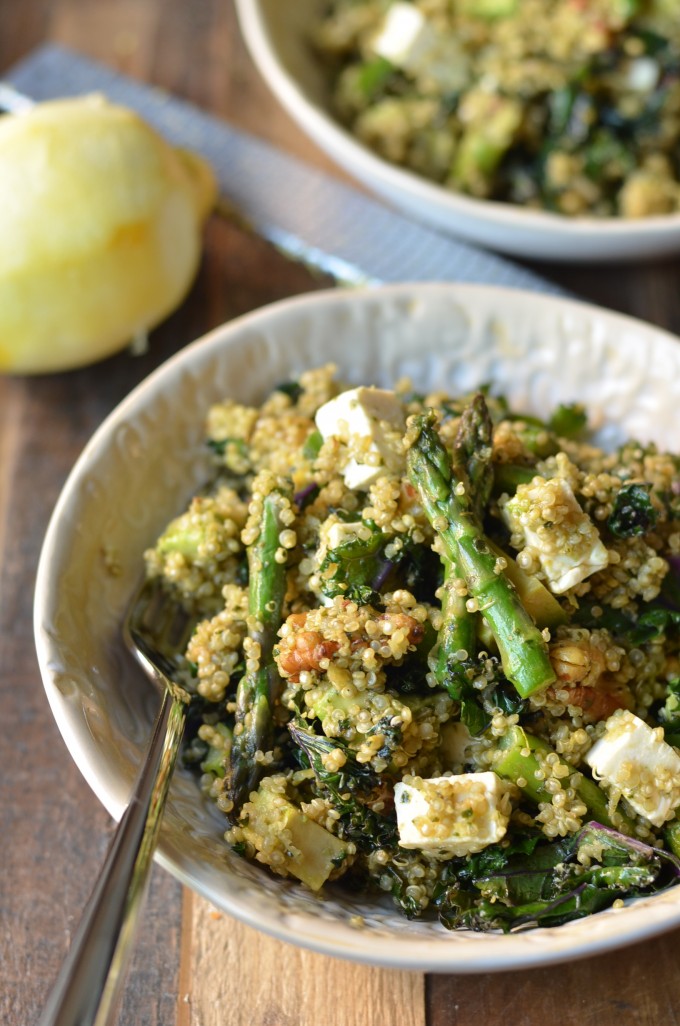 Green Quinoa Salad with Asparagus, Avocado and Kale Pesto + a Giveaway!
Ingredients
1 cup quinoa
2 cups water
1 Tbsp olive oil
2 cups asparagus, chopped
3 cups tightly packed kale leaves, roughly chopped
zest of 1 lemon
1/2 tsp salt, or to taste
1/4 cup + 1 Tbsp pesto sauce of choice (Julia has a delicious-looking Kale and Pistachio Pesto recipe in the book!)
1/2 cup walnuts, roasted
1 ripe avocado, diced
1/4 cup feta cheese, crumbled
Instructions
Using a fine strainer, rinse the quinoa very well with water until the water that comes off of it is clear, not cloudy.
Put the quinoa in a saucepan and soak it for 10 minutes. Drain the water. Add 2 cups of water to the saucepan with the quinoa and bring it to a boil on the stovetop. Reduce heat and simmer for 15 to 20 minutes, or until quinoa absorbs all of the moisture. Remove from heat, fluff quinoa with a fork, and set aside.
In a saute pan, heat about a tablespoon of oil to medium-high. Add the chopped asparagus and saute until color turns bright green and asparagus begins to soften, about 3 to 5 minutes.
Add the chopped kale and stir. Cover the saute pan and allow kale to wilt, about 1 to 2 minutes. Add the pesto to the cooked quinoa and stir until combined. Pour the pesto quinoa into the saute pan with the asparagus and kale.
Add the lemon zest, salt, and roasted walnuts and stir together., Pour the quinoa salad into a large serving dish and garnish with avocado and feta cheese.
Notes
You can gently fold the avocado and feta cheese into the quinoa salad prior to serving or serve on top.
This salad is delicious both warm and cold!