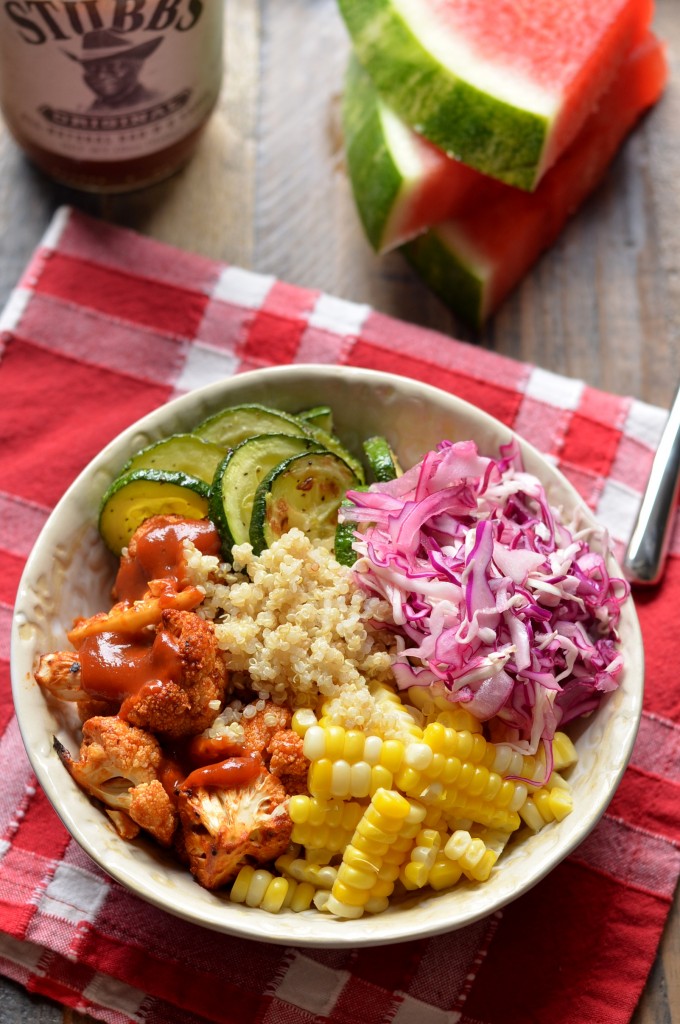 The wedding gifts we registered for are bordering on what my dad likes to call a "life upgrade."
Do you know what he's talking about? When you make one change that snowballs, leading to bigger and bigger changes to accommodate the first. My favorite example of this is when a friend of mine brought home a Great Dane puppy… and then had to buy an SUV because she couldn't fit in his car. And then a new house because his townhouse was also too small.
Life. Upgrade.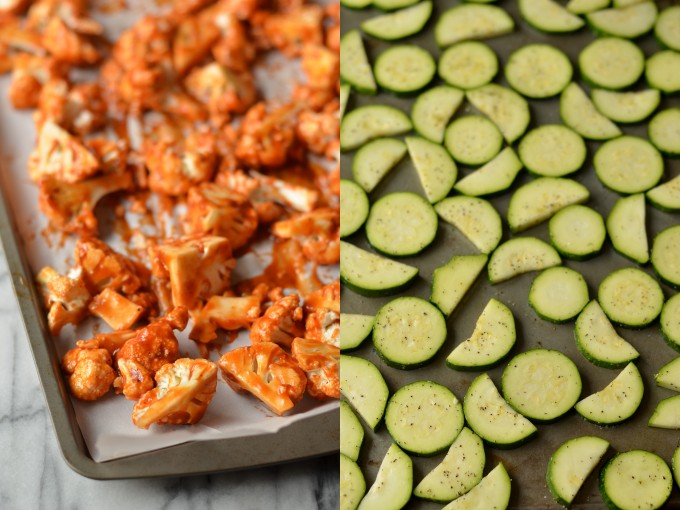 We did not register for a Great Dane puppy. In fact we didn't register for anything too ridiculous at all. I even removed the rice cooker and KitchenAid mixer after deeming them unnecessary space hogs. But even with what remains, I'm not sure where we'll put it all. We registered for mostly kitchen stuff, and we just have a very small kitchen.
We briefly considered moving, even buying a place, to get a bigger kitchen. But how ridiculous is that? I really wanted a Sodastream, so I decided to become a homeowner? No, I just won't do it. I cannot have a life upgrade caused by a Sodastream. I'd like to think I have more common sense than that…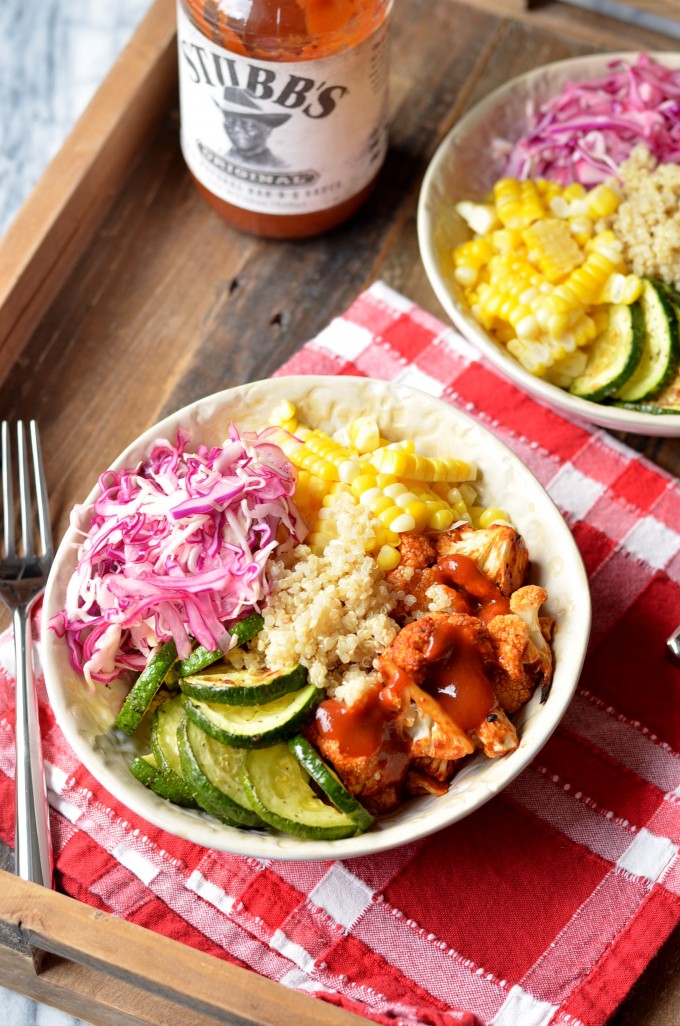 So we decided to resign our lease, tiny kitchen and all. And then I had a kind of brilliant idea the other morning. What if we turned our guest room, which is next to the kitchen and currently serves as more Crate & Barrel box graveyard/food photography studio/storage room than guest room, into a dining room? We could get a dining room table like real adults (ooooh), we would have space to actually have people over for dinner (ahhhh), and we could get some storage cabinets to hold glassware, serving dishes, and blog dishes! Woo hoo! I think it's a pretty genius idea, especially since we've hosted guests a whopping total of twice in the past year.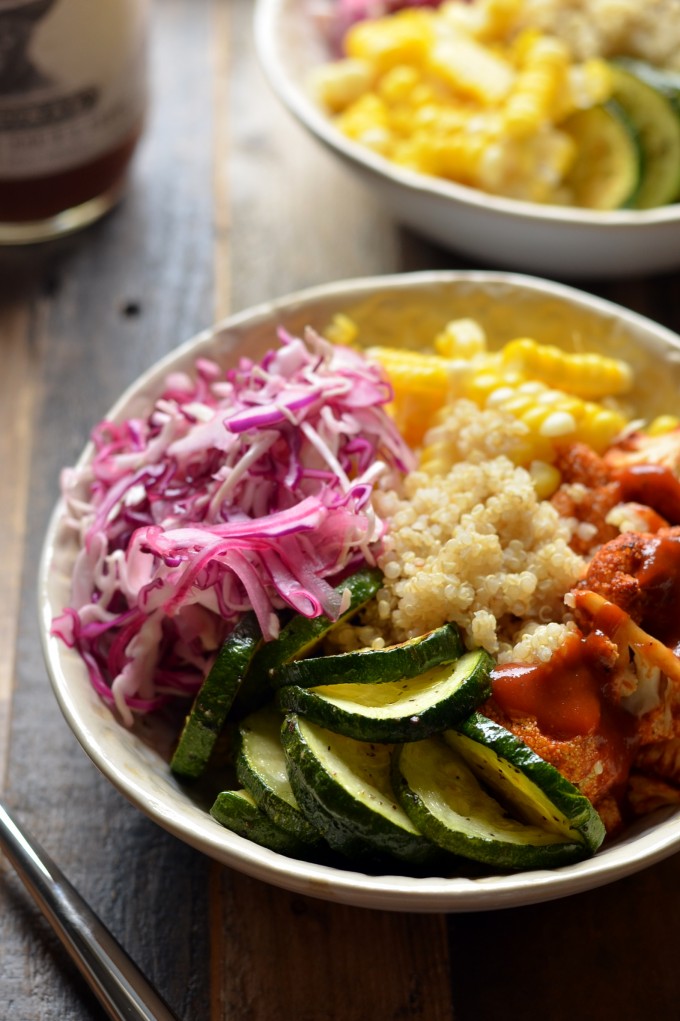 So if you were planning to stay with us in Salt Lake… sorry, my Sodastream took your bed. I'll get you an air mattress or something.
To add to that, our landlord is planning to build a deck off of – guess where? – our soon-to-be dining room! Outdoor space + indoor entertaining space – this takes care of ALL the less-than-ideal parts of our apartment. And walking through the dining room to go outdoors to grill will be so much less weird than walking through a bedroom to grill. Like, dropping grilled zucchini on the bedspread? That'd be weird.
Redecorating a room is a minor life upgrade, but I think I can handle it. I say that until I start actually shopping for this oh-so-adult dining room table. Once I look at a few prices, I have a feeling I'll be downgrading from Pottery Barn to Craigslist quicker than you can say "honeymoon fund."
Well, in the meantime, we don't have any outdoor space, we don't have a grill, and we don't have a dining room. So I made this "barbecue" meal in the oven, took pictures of it in the guest room, and ate it at the table that occupies the 36 inches between our kitchen and living room.
(The table that I trash-picked from an airport hotel in my office park. Like I said, downgrading from Pottery Barn in a heartbeat.)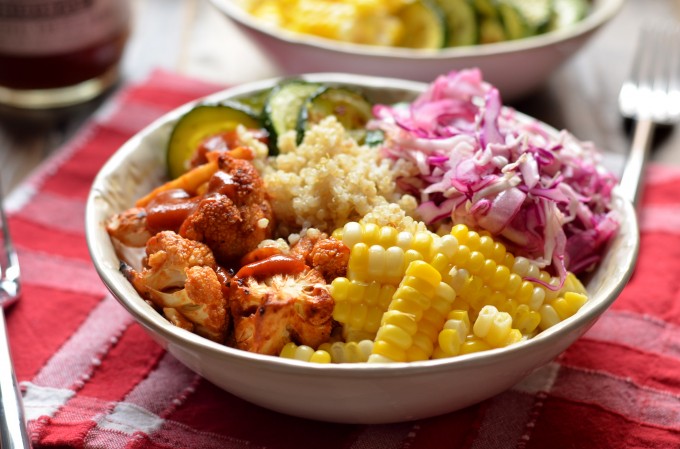 This baked BBQ bowl is for all you other apartment-dwellers out there who want summer flavors but have to cook them inside. I kind of just threw everything I'd want to eat at a barbecue into a bowl. You could easily serve it all on a plate, but I'm a bit obsessed with big, hearty bowls recently.
Putting all the components together takes some doing, so it's definitely a meal for when you're not afraid to dirty a few dishes. (Or make the quinoa, slaw and corn ahead of time!) I have to say the leftovers are fantastic, so it's a great meal to make on a Sunday and eat all week. Now you know what my lunch is today :)
I hope you love these flavors as much as we did!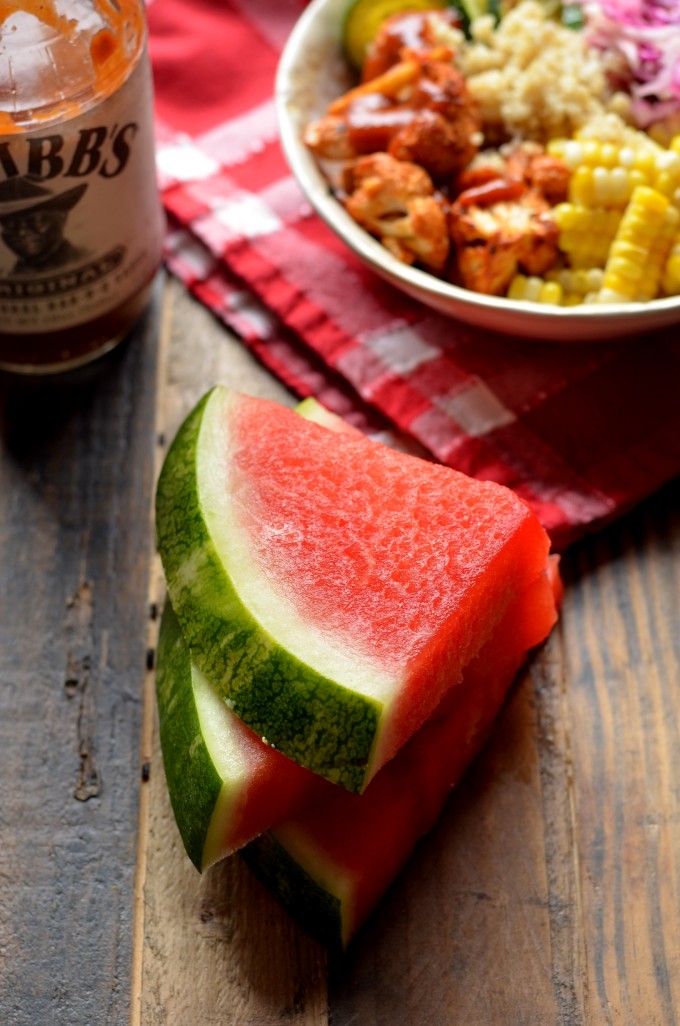 Summer Baked BBQ Bowl
Ingredients
1/2 cup uncooked quinoa, rinsed
1 head cauliflower, chopped into bite-sized pieces
3/4 cup barbecue sauce + additional for serving
2 zucchini, sliced
1/2 Tbsp olive oil
salt and pepper
2 ears corn, shucked
2 cup shredded cabbage (I used a combination of red and green)
juice of 1/2 lime
2 Tbsp apple cider vinegar
1 Tbsp sugar
Instructions
First, cook the quinoa. Place the quinoa in a small pot with 3/4 cup water. Simmer until tender, about 15 minutes. Fluff with a fork and set aside.
Next, roast the cauliflower. Preheat oven to 425. Line a baking sheet with parchment paper. Toss chopped cauliflower with barbecue sauce and spread on the lined baking sheet. Roast until tender and beginning to brown, 20-25 minutes, flipping halfway through.
Roast the zucchini. Drizzle sliced zucchini with olive oil and sprinkle with salt and pepper. Spread on another baking sheet and place in the oven with the cauliflower. Roast for 15 minutes, flipping halfway through.
In the meantime, cook the corn. Bring a pot of water to boil. Add the ears of corn and simmer for 4-5 minutes. Remove and set aside until cool enough to handle. Once cooled, slice the kernels off the cob.
Final step - make the slaw! Combine the cabbage, lime juice, apple cider vinegar, and sugar and toss to coat.
Arrange ingredients in bowls. Drizzle with additional barbecue sauce. Enjoy!