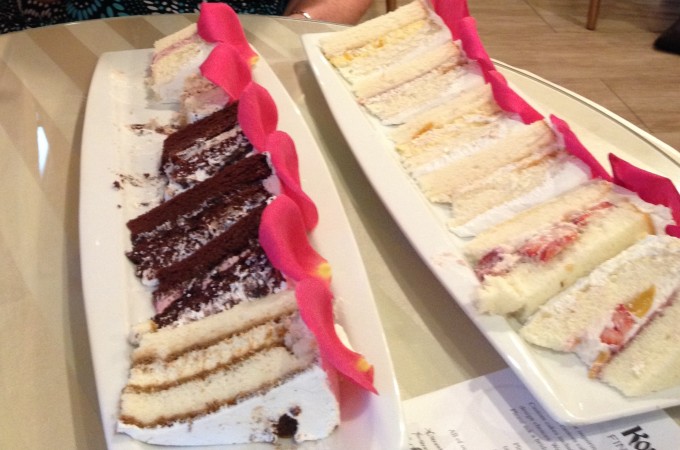 Bridezilla on the loose!
So far, the most fun part of wedding planning has been anything that makes it seem real. Seeing Nate in his suit… getting my hair and makeup done… seeing our venue in all its summer beauty. Those last two happened this past weekend when I went back to Massachusetts for what I'm deeming Wedding Whirlwind Weekend with my mom. Nate had to stay back in Salt Lake and my dad was out of town, so the two of us had a few marathon days of wedding planning mayhem. Hair and makeup trials, cake tasting, stationery selection – we tackled pretty much the whole of the remaining wedding to-do list. It was almost more than we could handle – my head hit the pillow pretty hard on Saturday night! – but we got so much done. And after meeting with the florist at our venue on Saturday, I had (for the first time) a completely stress-free wedding dream: that it was our wedding day, the weather was perfect, and I was so unbelievably happy I could barely contain myself.
I guess that's the feeling that comes with getting stuff done. Quite the contrast with the first wedding dream I had, in which I walked up the aisle and Nate wasn't there. Hah!
Guess which one I hope becomes reality in September?
Saturday we did hair trials. I loved mine, though it took a few tries. The final style used only 6 bobby pins (SIX!) and looked great all day. Now if I can just order dry, sunny weather for my wedding, that will be perfect. All the couples that got married in New England this past weekend totally lucked out!
Sunday was makeup trials. The makeup artist came to our house and we sat out on the porch in a lovely breeze while she made me up. I kept telling her to go darker – our wedding is in the evening – but I felt kind of like a drag queen after wearing it all day. Gonna have to go a liiiiittle more natural on the day of… especially on the brows. YIKES did I have some brows on me.
Is this boring? I feel like it must be, but at the same time I can't stop myself from just spewing it. I'm also trying to tell you stuff without actually telling you anything, because I feel pretty strongly that I want a lot of the wedding to be a surprise. Sorry about that – I promise pictures after the fact! If there were an internet-wide Snapchat, I would send you one right now. Wait, no, that's super creepy.
We also ate our weight in sugar this weekend. I can't even believe how many different kinds of cake there were to taste… but you can see the irrefutable photo evidence above. And then there was the box of pastries they handed us on our way out of the tasting: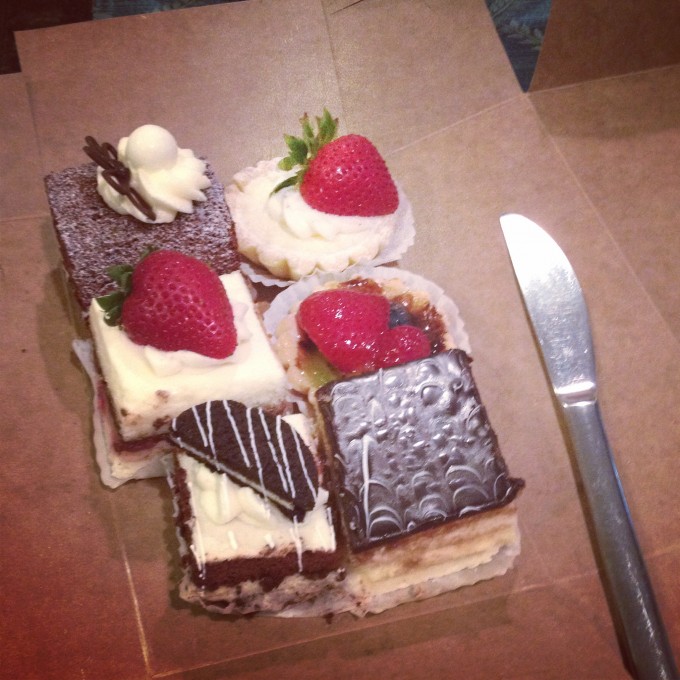 Aaaand we ate every bite.
OK, so the cake: It's going to have four layers, and we chose two different flavors. Again… can't tell you what. I'm trying to have a little something for everyone, while not having it taste too typically "wedding." No raspberry filling for this bride! Easier said than done, but I'm pretty happy with what we chose. Fingers crossed that I actually get to eat some. If nothing else, I'm sure to get at least one bite from the slice Nate will probably smash all over my face at the first opportunity.
Good thing I have a trusting groom who lets me pick all this stuff out. That probably says something about the way we balance each other, huh?
The wedding to-do list is still long, including some pretty important items… like getting the invitations out. (Yeah, that's gonna be necessary.) But at this point it's clear that everything will get done, and rain or shine, we're really getting married in just about two months. Woo hoo!
I also feel compelled to mention that despite all the wedding talk, it's the marriage that really matters to me. You know, the part where I get to spend the rest of my life with the man I love? I must admit I like getting caught up in the silly wedding details, but if I wake up on September 21st married to Nate, everything will have gone as planned.
I say that… aaaand then I find myself in the stationery store for three hours, flipping out to my mom over papaya vs. persimmon and letterpress vs. thermography. WHY does this stuff apparently matter to me so much? Crazy talk, I tell ya.
P.S. My mom's the best.
Have you planned or helped to plan a wedding? What were your favorite and least favorite parts?
Last but not least, don't forget to enter my giveaway of the Let Them Eat Kale! cookbook!